How to Live Frugally on One Income: 27 Habits You Need to Start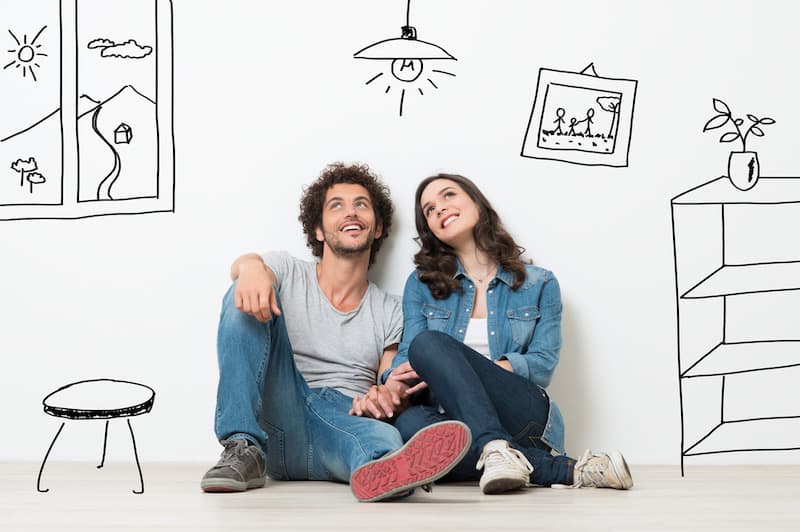 This post may contain affiliate links. If you decide to purchase through my links, I may earn a small commission. Read my disclosure page for more info.
So, you've only got one income to live off and you're wondering how the heck you're going to do it. 
Maybe it was a choice, or maybe it's suddenly necessary because of a job loss, but either way this is where you're at.  
And while you may feel slightly worried at this moment, you should know that you aren't powerless. 
Why?
Because your expenses and your spending are within your control. You can reduce, track, and eliminate expenses through careful budgeting and frugal living strategies. 
With these skills, learning how to live frugally on one income is more manageable than you may think. And today, we're going to look at 27 key habits you need to start, so that you can not just live but live comfortably on one paycheck. 
Is it possible to live off one income?
I know it might seem scary or impossible, but yes, you can live off one income. 
There are many couples or households that decide to live off one income even when both people are still working. They use one income to cover all expenses and the other paycheck just goes straight towards savings and debt repayment. 
As well, millions of families choose to live off one income, so that one person can be a stay at home parent and avoid costly childcare. 
So yes, it's possible and not unheard of at all!
How do people survive on a single income?
People who are able to survive and live comfortably off one income all have 2 things in common: 
They can control their spending and budget well. 
Their single income is greater than their cost of living.
You'll want to make sure that you and your household tick both these boxes. You'll need to create a budget and be able to cut expenses and limit spending on non-essentials. 
Also, you should determine whether your one income can cover your current living expenses, both fixed (housing, insurance, etc.) and variable (food, entertainment, etc.). If so, with some further cuts to expenses, you'll be able to both live and even save on one income. 
Can I still save money while living on one income?
There's no reason why you shouldn't be able to still save money while living on one income. If you take necessary measures to significantly reduce your expenses and budget your income, you should still have money leftover that can go towards savings and paying off debt. 
In fact, if you're living paycheck to paycheck on a single income and just barely scraping by, then you need to find ways to add additional income through side hustles or finding part-time work. 
No matter how many sources or how much income you have, you should always be saving towards the future, eliminating debt, and moving towards financial freedom.
Related Read: 21 Things I Stopped Buying to Save $100k
How should I prepare to live on a single income?
Living on one income means you have less wiggle room (so to speak) when it comes to maintaining financial stability. 
So to avoid financial hardship, going further into debt, or constantly worrying about money, there are a few things you both should do in order to prepare to live on a single income. 
If you haven't done all of these things, that's okay. With thorough budgeting and frugal lifestyle choices, you can still progress through these steps even on one income!
1. Create a budget. 
Creating a budget is key to controlling your spending and making your one income go further. 
2. Save up a rainy day fund.
You should prioritize saving up a rainy day fund of at least $1,000-$3,000 to cover unexpected expenses, such as car repairs, unexpected medical bills, etc.
3. Save up an emergency fund. 
Once your rainy day fund is in place, try to save 3-6 months worth of expenses for an emergency fund. This will give you peace of mind if you temporarily lose your income from a job loss or other setback.
4. Pay down debts. 
Ideally, you won't have credit card debt and have paid off or refinanced your student loans so they're more manageable. All monthly debt payments still need to be paid, even on one income. Otherwise, you're going further into debt due to accrued and compound interest.
Frugal Living on One Income: 27 Ways to Cut Expenses and Save Money
1. Budget your money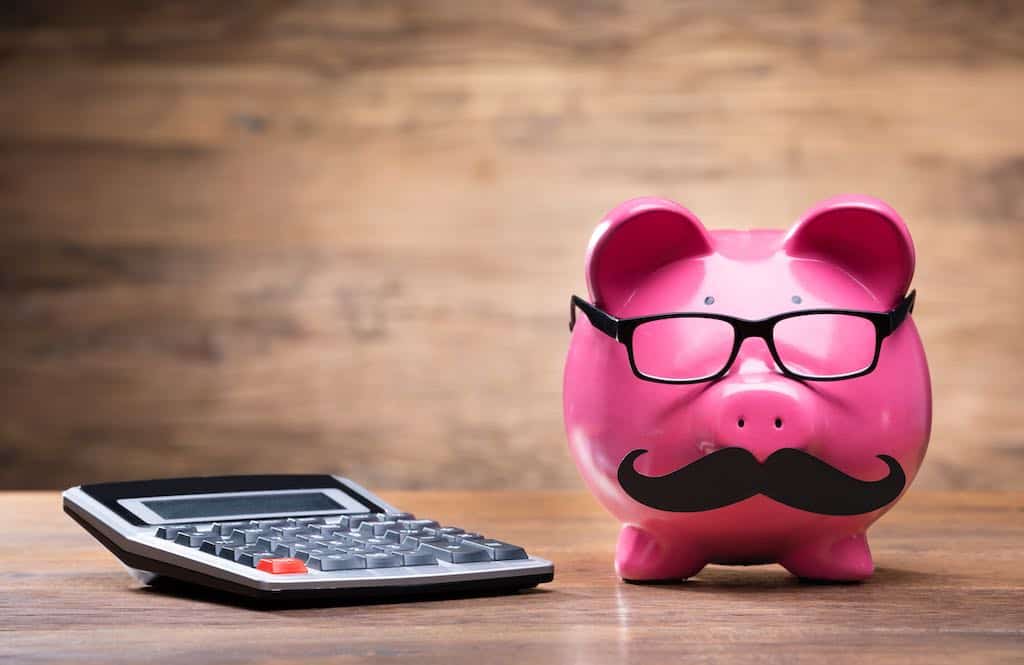 This is listed number 1 for a reason!
With only one income, budgeting becomes even more important to achieving and maintaining financial stability. 
Now, I know: 
Budgeting gets a bad rap, and isn't on everybody's top 10 list of funnest things to do. It involves math (yuck!) and tediously tracking every dollar spent. 
But tracking your spending is necessary, especially when money is tight and you need to save up that rainy day fund or even just make it to next payday. 
And you might not believe it, but:
Budgeting can actually be quite fun, once you get the hang of it! 
Just start simple. And with my 11 step guide to starting a simple budget, you'll be a budgeting pro in no time. It walks you through how to separate fixed and variable expenses, track what I call your monthly spending allowance, and determine ways to cut expenses and live more frugally. 
Also, when creating a budget, make sure you understand the difference between gross pay and net pay, especially if you pay taxes at the end of the fiscal year! You don't want to be budgeting with the wrong income amount, otherwise you'll be in for a mighty surprise! 
2. Meal plan every week
In order to live frugally on one income, your first plan of attack should be the meals you eat.
We all know that dining out and getting take away is more expensive than cooking at home. So now's the time to stop your Chili's addiction (oh, how I love you chicken crispers) and start meal planning.
Meal planning is key to reducing your food costs and food waste. Choose one day every week to sit down and sort out what meals you'll eat that week. From that meal list, create your grocery list and ONLY buy items that you need.
Related Read: How to Meal Plan Like a Pro (and Save $200+ a Month!)
3. Cut back on eating out
Like I said before, restaurants and bars will be the death of your budget! With a single income, you'll need to reduce the frequency that you dine out. 
Or, at the very least, you'll need to spend less when you do go out. 
In your budget, track how often you typically dine out or get delivery. Then first, focus on reducing the number of times per month. 
If you can quit altogether, great! But don't punish yourself if you can't. Your budget should fit you and allow for some spending on things that make you happy. Otherwise, budgeting will feel like a punishment! …and it shouldn't be. 
Instead, simply reduce the number and/or set a target spending amount each month.
4. Buy cheap (and healthy) food
Our food costs and grocery spend is the biggest area that we can all cut back on. 
However, it's important eat not only cheaply, but health as well! Yes, you can eat from the Taco Bell dollar menu every day, but is that really the cheapest option? Is it the healthiest?
In fact, some of the cheapest foods at the grocery store are actually some of the healthiest too. Take seasonal vegetables, for example. While everyone else is paying higher prices for out of season veg, you can save big by buying ones that are in-season. 
To save big at the grocery store, check out these 55 cheap and healthy foods everyone should add to their grocery list. You'll be eating frugally in no time!
5. Get cash back at the grocery store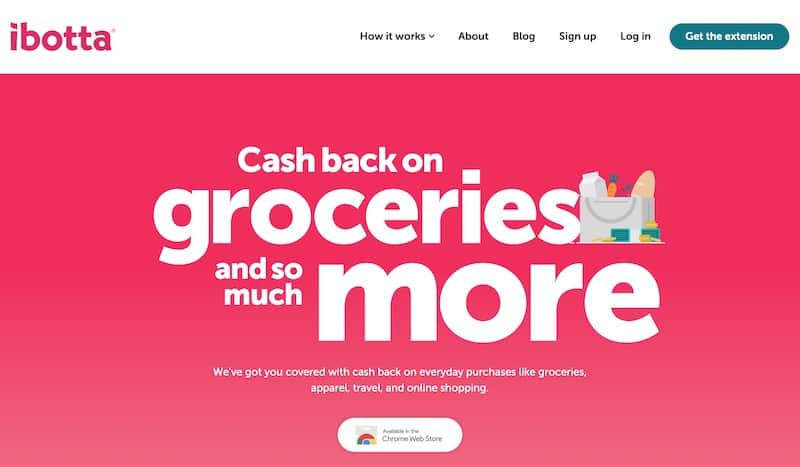 Every time you visit the grocery store, you should be earning cash back. This is FREE money, back in your wallet, that'll help you save money even while on a single income. 
Ibotta is a free app for Android/iOS that gives you cash back at thousands of your favorite stores, including:
Walmart Grocery
Costco
Aldi
Target
Whole Foods Market
Trader Joes
Kroger
Safeway
Jewel-Osco
Meijer
…and tons more. 
All you have to do is download the Ibotta app and link your store loyalty accounts. Then, add Ibotta offers to your list within the app. When you use your loyalty account, you'll get cash back on qualifying purchases within 24 hours!
Ibotta also gives you cash back via online shopping and 10% cash back by using store gift cards. 
Sign up for Ibotta today and you'll get a $20 Welcome Bonus as well. What's not to love?  
6. Buy in bulk
Here's a not-so-exciting term: "unit price." 
Yeah, I know…
But whether you've noticed them or not, your grocery store displays these on every item. The unit price tells you how much you're paying per unit of measurement. For example, your favorite yogurt's price tag might show something like $0.12 per oz. 
So why pay attention to unit prices?  
Because they indicate whether or not you're getting the most bang for your buck. 
For items with a long shelf-life, buying in bulk will save you a lot of money over time. Yeah, the cost upfront is higher, but in the long run you'll actually pay less per unit of measurement. 
Items to buy in bulk and save money on include any and all:
pantry items
toiletries
vitamins and supplements
pet food/treats
laundry detergent
cleaning supplies
batteries
office supplies. 
7. Drink water
Water is the stuff of life, literally. And it's cheap too! So ditch the bottled water and pricey (and bad for you) pop. 
Instead, drink more water throughout the day and carry it with you, so you don't have to buy it from the gas station or convenience store. 
Around the house, in the car, and at work, I'm always carrying my trusty thermos filled with water. And ya know what? I even get my Starbucks drinks in there. Honestly, it's probably my most-used item (and that's saying a lot when you use your Apple TV as much as I do).  
Make sure to invest in a quality, BPA-free, stainless steel one. Check out the Thermos brand or Hydro Cell and Contigo models. I prefer these because they're more versatile and can be used for water, tea, and coffee. 
8. Use Amazon's Subscribe and Save

Living frugally one one income isn't easy. But by focusing on saving money on items you purchase regularly, you'd be surprised how much further your income will go. 
With Amazon's Subscribe & Save program, you can save up to 15% on those everyday essentials you can't live without and get FREE shipping. You'll see the Subscribe and Save option when you purchase a product on Amazon.
So for items like coffee, laundry detergent, soap, shampoo/conditioner, toilet paper, etc., you can subscribe to these items and lump these into one auto-delivery every month. By doing so, you'll save 15%! 
Prime members can also save 20% on subscriptions to certain products as well!
And if you ever want to cancel a product subscription, no problem. You can manage and cancel at any time with no fees attached.  
Again, if you're not taking advantage of these money-saving opportunities, your leaving money behind! 
Related Read: 55 Clever Products That'll Save You Money in the Long Run
9. Cut out non-essentials 
Cutting out non-essential purchases is vital to a frugal living lifestyle and will help you survive on one income.
So what are non-essential purchases?
Well, pretty much everything outside of your fixed expenses and food. This might sound extreme, but we're talking need-to-live essentials and don't-need-to-live non-essentials. 
First tackle non-essential purchases like clothing, dining out, movie/event tickets, hobby expenses, etc. These are things that are great when you have money, but will eat away at your single income. 
For non-essentials, either stop spending money on them completely, or track them and reduce your spending over time. This will help you live more frugally when money's tight. 
Related Read: 75 Easy Frugal Living Tips with a BIG Impact
10. Get cash back online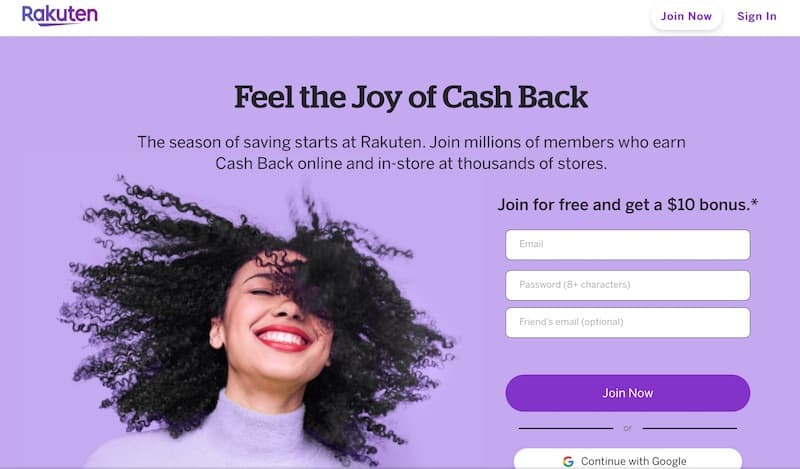 When you're living on one income, now's not the time to leave free money on the table, err online I mean. 
Rakuten is a free browser extension that automatically alerts you to cash back opportunities and available coupon codes. Whatever you're browsing online, Rakuten will let you know if it's cheaper elsewhere and show you cash back opportunities right on the product search results pages! 
Rakuten works with over 2,500 online stores and thousands of brand name products, so you can save money on tons of different products you regularly buy. 
Sign up for free at Rakuten and you'll get a $10 Welcome Bonus when you spend your first $25 online with Rakuten!
11. Do a No-Spend Challenge
Yeah that's right: 
Challenge yourself to not spend money!
No-spend challenges are my secret sauce to fixing my spending when it gets out of hand. These challenges also kick you in the butt to start living more frugally and learn to save. 
The best thing about no-spend challenges is that they go hand-in-hand with budgeting. With budgeting, you find areas where you should spend less. 
And how do you spend less on certain items? 
Yup, you guessed it: a no-spend challenge.
Your no-spend challenge can last however long you want, be it a day, weekend, or even month! For example, I've challenged myself before to not spend at Target for a month (*tear*), and my outrageous Target-sprees haven't happened since!
To start your very first no-spend challenge, make sure to read…
Related Read: How to Do a No-Spend Challenge and CRUSH Your Savings Goals
12. Reduce your housing costs
Surviving on a single income might mean you need to also tackle fixed expenses in your budget, like housing. 
Although downsizing can be a great way to reduce costs and balance our your cost-of-living to income ratio, this isn't realistic for most people. 
I mean, moving is easier said than done! 
But besides downsizing, there are ways to cut your housing costs. One example is to rent out your spare bedroom(s) with Airbnb. This is a great way to make additional income, especially if you live in or around a popular travel destination. 
Also, for you homeowners out there, you should always be researching refinancing opportunities at lower interest rates than your current mortgage. 
And if you can't lower your mortgage rates any more, or rent out any more bedrooms, then and only then consider downsizing and moving. It's a big step and should only be done if it's something you want or it's necessary for you to be able to live on one income. 
13. Cut the cord
Cable ain't cheap! So stop paying for it. 
In fact, the majority of Americans pay between $51-$100 per month for cable tv! Think about all the other, better ways you could use that money…
I mean, who watches all those cable channels anyway?
Chances are, you could probably just do with 1 or 2 streaming services like Netflix and Disney+ and have plenty of entertainment. 
As well, major networks like NBC, ABC, and CBS have free streaming services on their websites and smart TV apps. So why pay all that money??
And cable television isn't a must these days, as cheaper streaming alternatives like Sling TV pop up every single day. 
So cut the cord! Your wallet will thank you for it. 
14. Start some side hustles
Living frugally isn't just about finding ways to save money, it's also about finding ways to make money. 
And when you're living on one income, every dollar earned can make a huge difference. 
Start exploring the myriad ways you can make money online these days. If you're an artist, make money with your art. For writers, start that blog!
You can even make money online chatting to people and get paid to name companies. 
The point is, find a side hustle that piques your interest and get to it! Whether it's you or your partner, making money online has truly never been easier. 
Which brings us to…
15. Make easy money online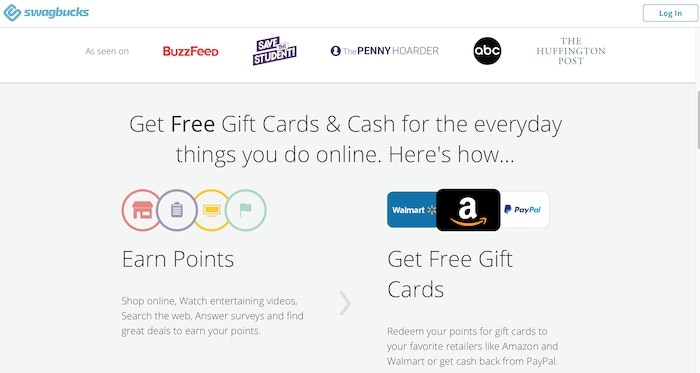 Paid surveys and rewards programs are the easiest ways to earn online and get free gift cards and PayPal cash. 
No, it won't make up for one lost income, nor will they make you overnight rich. 
But surveys are quick, they pay, and turn any downtime you have into a money-making opportunity. 
And if you don't earn much with one survey or rewards program, sign up for another and up your earning potential! 
Some of my favorite ways to make easy money online with surveys and rewards are:
Swagbucks—Get a $5 BONUS for signing up. Earn by searching the web, taking surveys, playing games, watching video ads, and more. 
Inbox Dollars—Get a $5 BONUS for signing up. Get paid to read emails, take surveys, play games, watch videos, and more. 
SurveyJunkie—One of the longest-running and most-trusted survey sites around. Get paid for surveys, participating in focus groups, and testing products
MyPoints— Get a $10 BONUS for spending $20+ through the MyPoints site. Earn by shopping online and taking surveys. 
Related Read: 25 Legit Ways to Make Instant Money Online
MyPoints
Earn gift cards to your favorite retailers or Paypal cash for doing your normal online shopping! Earning is a breeze with MyPoints. Get a $10 Amazon gift card for your first online purchase today!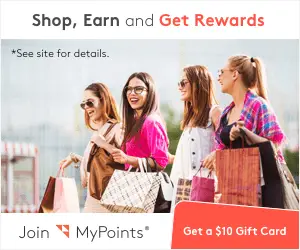 16. Get free stuff
In order to live frugally on one income, you gotta get free stuff when and where you can!
Now, I'm not suggesting you go dumpster diving here. 
BUT, I am saying that you need to leverage the power of the internet and find ways to to get free items. 
For example, not many people know about Amazon direct shipping opportunities that are circling around Facebook Groups. 
Also, for you Starbucks lovers out there, did you know there are clever ways to get free Starbucks drinks? 
The free stuff, it's out there! And you should start taking advantage of these offers as much as possible.
17. Get money back on price drops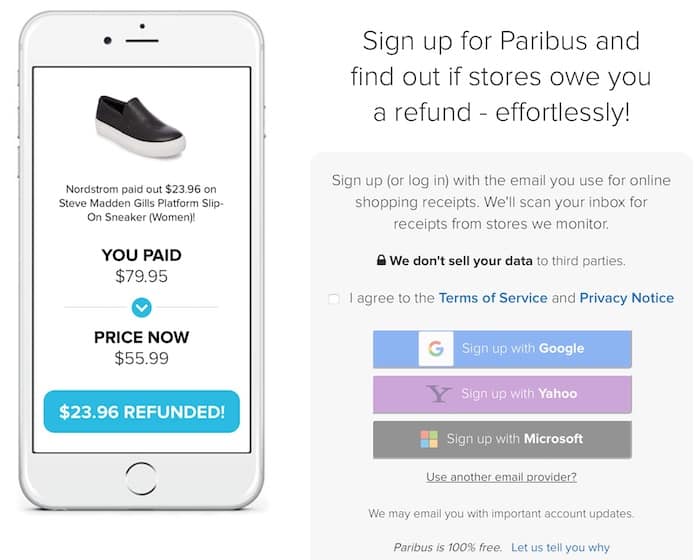 Every time you buy something online or in-store, you probably receive a purchase confirmation to your email inbox. 
Maybe you trash this immediately or chuck it into a folder, but how often do you take the time to track these purchased items for any subsequent price drops?
Yeah, didn't think so. 
But the good news is that Paribus does this for you. 
Paribus is free to sign up and monitors your emailed purchase confirmations for any price drops that occur. Then, you're immediately notified and Paribus helps you get a refund on the difference. It's that simple. 
Start getting money back on your purchases with Paribus today.
18. Use public transportation
Cars, and all the costs that come with them, are expensive. And according to the American Public Transportation Association, households can save nearly $10,000 by taking public transportation and having only 1 car. 
So if you're living in a city or suburb with good public transportation, use it!
Or, if you're living in a rural area or one without quality public transport, look into cheaper ways to get around like an electric bike. 
You should also carpool when you can, be it with colleagues on the way to work or friends to the pub at the weekend. These little ways to save money really add up!
19. Go outdoors for entertainment
Entertainment is a huge spending category in everyone's budget. This often includes things like concert/event tickets, movie tickets, trips to the bar, restaurants, streaming services and more. 
While I'm not at all suggesting that you stop having fun, however you do need to cut back in this category. 
An easy way to live frugally on one income and still have fun is by going outside for entertainment. Yes, I mean nature!
Instead of going to expensive restaurants, go hiking at your nearby forest preserve. Or go camping one weekend. Or, just simply go for long walks around your town or city! 
Nature has much more to offer than we give her credit for, so get outside and enjoy it. It's free!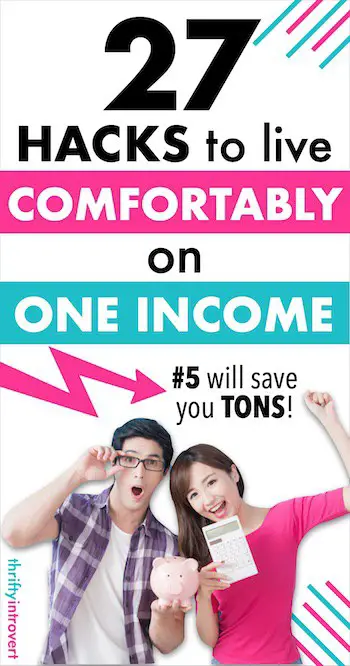 20. Try extreme frugality
With one income, it might be time to test out some extreme frugal living strategies. 
Extreme frugality isn't really as difficult as the name suggests. In fact, some extreme frugal tips are becoming more mainstream, such as making your own shampoo and starting a home garden. 
Experiment with some of these more extreme money-saving measures and find ones that suit your needs and lifestyle. You'd be surprised how easy some of them are to do! 
Related Read: 21 Extreme Frugality Tips That'll Save You Thousands
21. Sell things you don't need

Minimalism guys and gals, goes together nicely with frugal living! And your first step towards a more minimalist life is selling things you don't need. 
Sell clothes on Poshmark, appliances and furniture on Facebook Marketplace, and anything and everything on eBay and Craigslist. 
Also, for old iPhones and tech laying around, you can make money off them on Decluttr! 
If you aren't using it, get rid of it. Use the money to build up your rainy day or emergency fund instead. This extra money will help you be financially stable while living on one income.
22. Try a capsule wardrobe
Capsule wardrobes are all the rage. After all, they help you minimize your wardrobe and save tons of money on clothes each year. 
The idea behind the capsule wardrobe is that you limit your closet to a certain number of items, the most popular being 33 items. Then, you wear these 33 items for 3 months before creating another capsule wardrobe for the next season. 
Your capsule wardrobe should be filled with wardrobe staples, like a nice pair of blue jeans, black dress, and neutral colored shirts. Then, you add mix-and-match pieces to create multiple outfit combinations. 
To start your capsule wardrobe, check out this easy 5-step guide to creating your first capsule wardrobe. 
23. Go thrifting
To find those wardrobe staples for cheap and incorporate some unique pieces into your closet, go thrifting!
Not only do thrift stores have some interesting finds, they also help you save money on clothes. 
You can even sell your thrift store discoveries on Poshmark and make money! 
So visit your local thrift store instead of buying new clothes from the department store. It's an easy frugal living hack you can adopt in no time. 
24. Quit the gym
We all need more exercise. 
But do you know what we don't need? 
Expensive gym memberships. 
Quit the gym and instead workout and exercise at home or in your neighborhood. Go for a run or long brisk walk, do strength training at home, use YouTube videos as your virtual exercise instructor. 
You can even create a frugal home gym on a budget. Buy a yoga mat, decent exercise ball, and a good set of dumbbells that'll last you forever and are a fraction of the yearly cost of gym fees. 
Don't stop exercising, but use these frugal ways to stay fit and save money! 
25. Do it yourself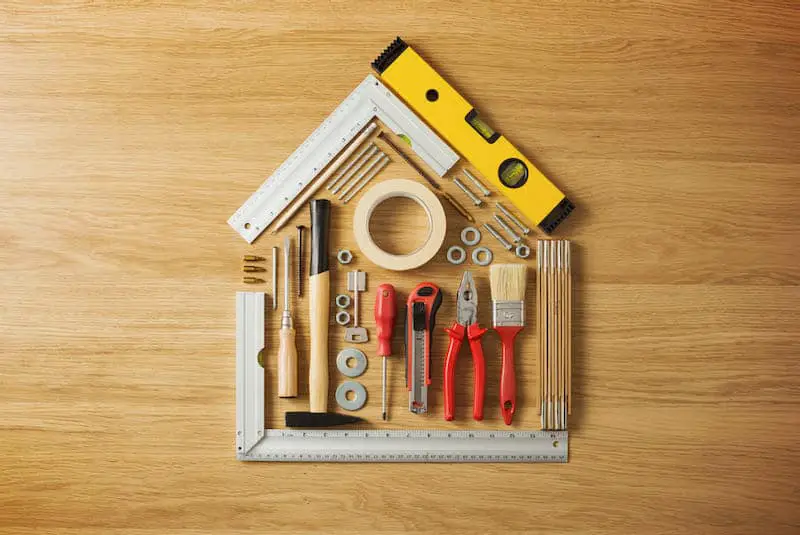 In order to live frugally on one income, you'll need to start doing repairs around the house yourself. 
But if you're not the handiest person around, then this is probably pretty intimidating at first. I mean, I barely know how to hang a picture and you want me to repair the bathroom sink?? Uh huh.
But not to fear, YouTube DIY videos are here to save you. 
So yes, instead of throwing away that old shirt because you don't know how to sew a button, watch a YouTube video. 
And before you call the plumber to fix that leaky tap, go on YouTube and give it a try yourself! 
I even surprised myself the other day when I replaced my MacBook Pro battery by myself! Thanks YouTube! (side note: that was terrifying). 
But when your income is limited it's important to do things yourself before paying someone else. And heck, you'll also learn some useful tricks that'll come in handy in the future too!
26. Stay away from temptations
If you've tracked your spending, then you've probably also come to terms with your vices. We all have them. 
Like I've said before, my money vices are Starbucks and Target. Oh, and Ben & Jerry's. …and probably pizza delivery too. 
While we can't avoid every spending temptation, we can definitely acknowledge they're there and try our best to reduce them. 
So if you have a tendency to spend a lot of money at a particular store, stop going or go less. 
And if your biggest temptation is the frozen food aisle at the grocery store, avoid it! 
Stay away from the temptations that cost you money and derail your budget. We can't all have willpower when face to face with things we love to buy, but we sure can avoid them like the plague!
27. Be a mindful spender
If you really want to learn to live frugally on one income or perhaps permanently adopt a frugal lifestyle, the most important skill you need to master is mindful spending. 
Mindful spending is the ability to distinguish needs from wants and being more aware of how you manage your money, flaws and all. 
Yes, it's easier to understand than it is to put into practice, but you can do it. By budgeting thoroughly, building your savings, and adopting frugal living strategies, you're already far ahead of the rest of the pack. All of these things bring with it the added bonus of mindful spending. 
So start paying attention to where every dollar goes. Question yourself every time you want to purchase an item. Do I need it, or do I just want it? Is it an essential or non-essential purchase? Will this item greatly benefit me in the long run, or just make me feel good today?
Mind your spending and your relationship with money will change. Suddenly, you'll know where your income goes. You'll save more. And you'll also be one step closer towards financial freedom.  
Final Thoughts on Living Frugally on One Income
Learning how to live frugally on one income isn't easy, especially if you haven't been the most money-conscious in the past. 
But ya know what they say:
There's no time like the present. 
Whatever money woes and bad money habits you had before, don't matter now. Anyone can revamp their finances and their relationship with money today and moving forward. 
Armed with these hacks, a simple budgeting system, and a willingness to try new things, frugal living on a single income is entirely possible. So start today and kick old you to the curb. You got this!
For more ways to save money, check out: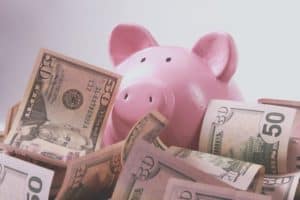 How to Live Frugally on One Income