45 Most Profitable Crafts to Sell and Make Money [in 2022]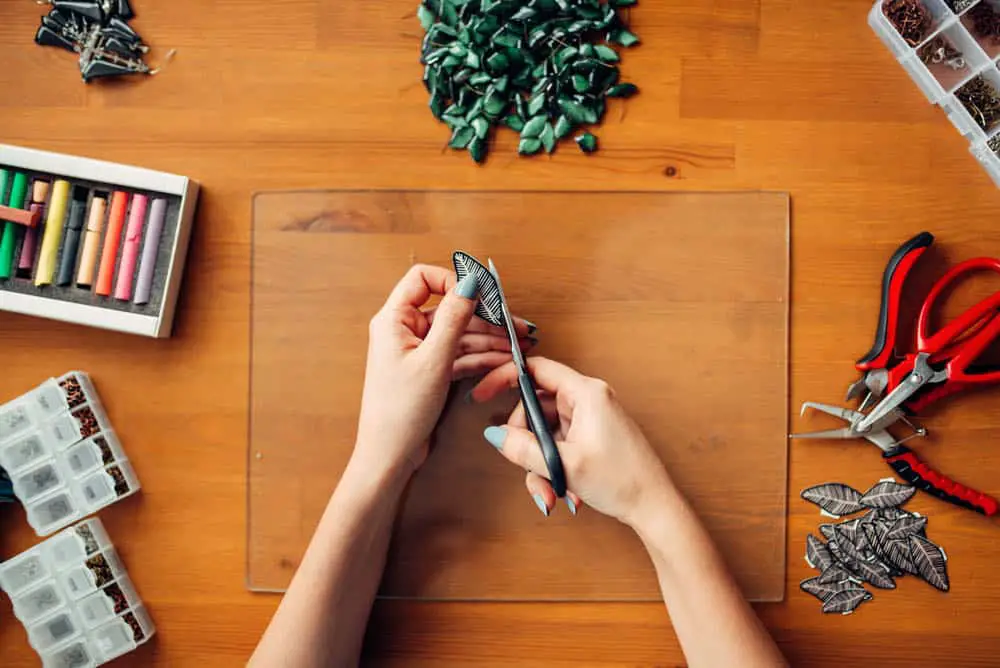 This post may contain affiliate links. If you decide to purchase through my links, I may earn a small commission. Read my disclosure page for more info.
Think your craft hobby is just that—a hobby? Think again. 
With all the mass-manufactured goods inundating our everyday lives, the demand for truly unique, handmade items is on the rise. 
Consumers want items that stand out from the crowd and better highlight their personality and individuality. They're tired of seeing that "Made in [distant country]" label, and instead want to better connect with the brands they purchase from. 
And as a crafts enthusiast, you can be that brand. 
So how do you make money online from crafts and create items people actually want to buy?
Well to be frank, you stick to crafts that make the most money. Here are 45 of the most profitable crafts to sell online, so you can start your craft side-hustle or booming business. 
Related Reads: 
Where can I sell crafts online to make money?
First things first, you can't just start crafting away and build up inventory without knowing where you're going to sell your crafts. That spare bedroom in your house would be overrun! 
Luckily nowadays, there are many different websites and online marketplaces that provide creatives like you a platform to make money online from crafts.
In fact, there are so many options to choose from, that you should spend a decent amount of time thinking about this one. You need to carefully consider which site (or sites) serves your target audience and will better help you grow your online business. 
Ideally, you'll want to choose 1-2 platforms. Then, focus your efforts on growing your audience solely on those site(s), so you can sell more of your products and scale your income.
Here are some of the most popular websites and services you can choose from. All of these are great places to sell crafts online:
What are the top sites to sell crafts?
It's difficult to say which are the best sites to sell crafts online for profit, mainly because it greatly depends on the type of craft, your target audience, and your marketing strategy. 
However, from the list above, I would argue that the 4 best sites to making money selling crafts online are:
1. Etsy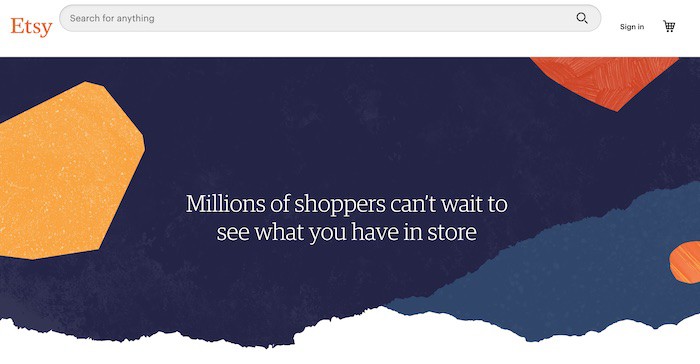 Etsy is the biggest online marketplace for crafts and handmade goods. It boasts the largest online audience, with over 81 million buyers worldwide. 
That being said, it should come as no surprise that the competition is pretty fierce on this platform, so you'll really need to stand out. At least initially, you'll probably need to pay to promote your listings, so they show up at the top of search results and get more eyeballs. 
Etsy's fees for selling are:
No monthly fees
$0.20 per listing (expires after 4 months, if not sold)
5% transaction fee
3% + $0.25 payment processing fee 
Related Read: 15 Best Things to Sell on Etsy (and Earn BIG)
2. Amazon Handmade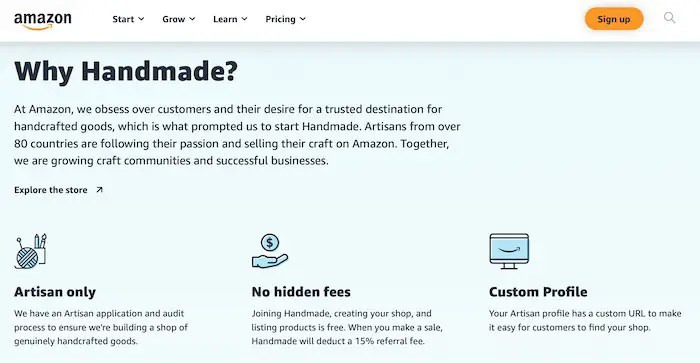 Amazon Handmade is available to artisans wanting to sell their handmade items to Amazon customers. Basically, with Amazon Handmade, Amazon is jumping into the Etsy market to get a piece of that sweet sweet pie. 
You should note that in order to start selling on Amazon Handmade, you'll first need to complete an application. Each application is then individually reviewed and audited before you can list your goods and setup shop. This ensures that the Amazon Handmade section is comprised of genuinely handmade crafts and other items. No mass-manufactured goods here, my friends. 
One benefit to selling with Amazon Handmade is that you can take advantage of the Fullfillment by Amazon (FBA) service, which gives you access to the Amazon warehouse network and nationwide delivery services. 
Also, nearly everyone shops on Amazon, so you have the potential to reach a lot of buyers!
Amazon Handmade fees include:
15% referral fee per transaction
No listing fees
3. Artfire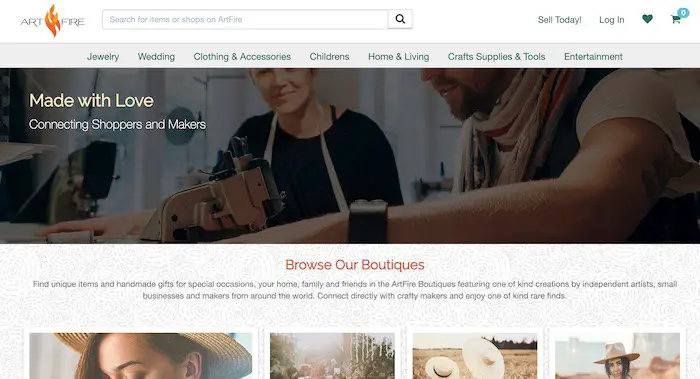 Artfire is another site to sell handmade items, vintage goods, and crafts online. Items must fall under their 7 main categories, which are jewelry, wedding, clothing & accessories, children, home & living, craft supplies & tools, and entertainment. 
Perks to Artfire include less competition than other platforms, whilst still reaching a large audience. Thousands of people use Artfire each month to find quality handmade items and crafts, so it's definitely a site to consider. 
Artfire's fee structure works like this:
3 membership plans to choose from—Standard ($4.95/month), Popular Shop ($20/month), and Featured Shop ($40/month)
Standard Plan has a $0.23 listing fee and 12.75% final valuation fee
Popular Shop and Featured Shop have no listing fee and 4.5% final valuation fee
4. Your Own Website
Selling crafts on your own website is probably the most cost-effective solution in the long run. This is because over time, your annual website hosting and domain fees are far less than per transaction and payment processing fees charged by other online marketplaces. 
Starting a website is fairly easy as well, thanks to hosting companies like Bluehost which provide a clear, step-by-step process to purchasing your domain name and installing WordPress—the website creation platform that powers the majority of sites online. 
With Bluehost, you can get a free domain (of your choice!) for a year and website hosting for as little as $2.95/month when you sign up for their 36 month plan. From there, you can design your website using free tools and sell your crafts via services like Shopify or WooCommerce. 
Obviously though, selling crafts on your own website means you'll need to drive traffic to your products via social media marketing and promotion. This takes more time but is extremely beneficial in the long run.
Why?
Because:
Your business is not reliant on other platforms' algorithms, which change frequently and entirely decide whether or not your listings show up in search.
Your audience is your own. You can build a stronger community around your products and have complete control over your branding and communication with your audience. 
You keep more of the profits. No listing fees, selling fees, and transaction fees here. Yes, you'll need to pay for hosting, your domain, and perhaps ecommerce options, but these are far less expensive over time. 
Like I said before, creating a website has never been easier thanks to Bluehost and the user-friendly WordPress themes available today. For a clear, step-by-step guide to creating your own website, check out my post:
Related Read: How to Start a Niche Website That Makes Money
Is making and selling crafts actually profitable? 
Yes, making and selling crafts can be a profitable side hustle or even full-time business. If you want proof, just take a look at CaitlinMinimalist who runs a 6-figure business selling jewelry on Etsy. Or, PlannerKate who sells thousands of stickers and planner accessories every month on Etsy. 
And for some more inspiration, check out the full list of top Etsy sellers to get a sense of the possibilities in the craft/handmade industry. 
It's important to note, however, that in order to make money from crafts you'll need to properly factor in the cost of materials and other overhead expenses. That way, you're pricing your products correctly, paying yourself a wage, and boosting profits that can be reinvested in the business. 
Some costs to consider are:
Materials and Supplies — the raw materials and craft supplies needed to make your product
Labor — your hourly wage and how much time it takes to produce each item
Storage — if keeping inventory in a warehouse or other storage facility
Packaging — packaging and labels for your items
Shipping — costs to ship your crafts to customers
As long as you factor these expenses into your pricing and target the right audience, then you can make good money selling your handmade items and crafts online.
45 Most Profitable Crafts to Sell and Make Money Online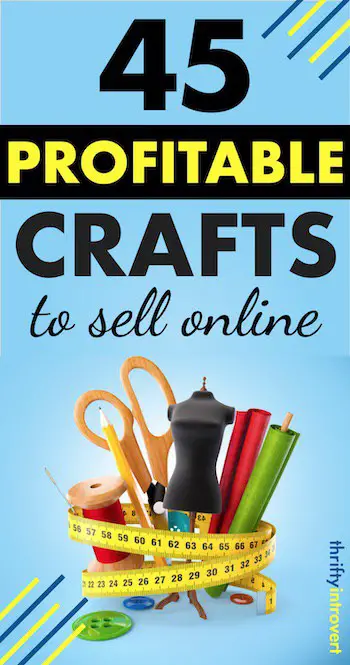 1. Jewelry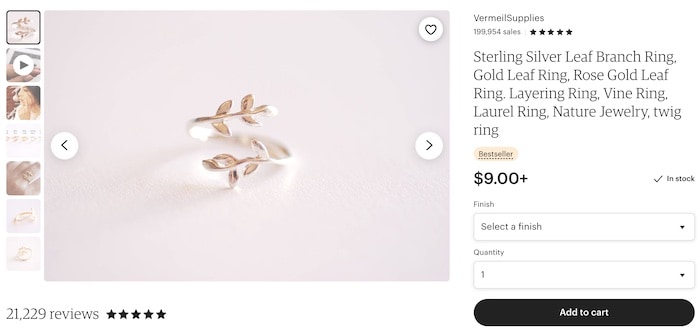 Jewelry is a big seller, if not the biggest, on almost every online crafts marketplace. Material costs can be kept fairly low as well, especially if you buy them in bulk. You can sell beaded jewelry, metal, silver, gold, etc. and make a good profit online, because everyone loves buying new jewelry for themselves, their partners, and for gifting!
2. Art & Photography Prints
If you're a painter, graphic design master, or killer photographer, then a great money-making craft idea is to sell your prints online. You can print and ship your images yourself, or utilize one of many print-on-demand (POD) services such as Printify. POD services do all the printing and shipping for you, you just have to setup your online shop and find buyers. 
Related Read: Top 5 Ways to Make Money Online as an Artist
3. Vinyl Wall Art Decals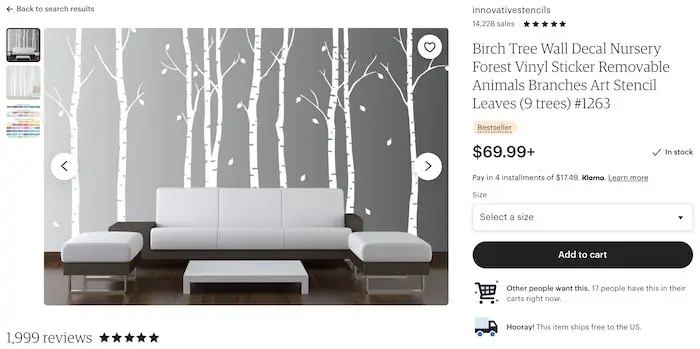 Vinyl wall art decals are incredibly popular these days, earning their spot on the list of most profitable crafts to sell. You can design your decals using Adobe software or other illustration program and print these at home with the right equipment. Yes, there are more overhead costs associated with vinyl decals, but you can also price these higher as well.
4. Farmhouse Signs
Farmhouse signs provide that weathered, rustic look to any space and are customizable, which makes them very appealing to buyers. You can repurpose used or old wood to create these and make your own stencils fairly easily.
5. Custom Name Signs
These are extremely popular for use in nurseries—and any time you can tap into the baby and children niche, you know you're golden. Custom name signs are a bit more difficult to make, as you need to cut the wood or other material into a quite delicate script font (typically). But for the hard work you put into it, the sale price for name signs is fairly high so you'll make your money's worth, that's for sure!
6. Door Hangers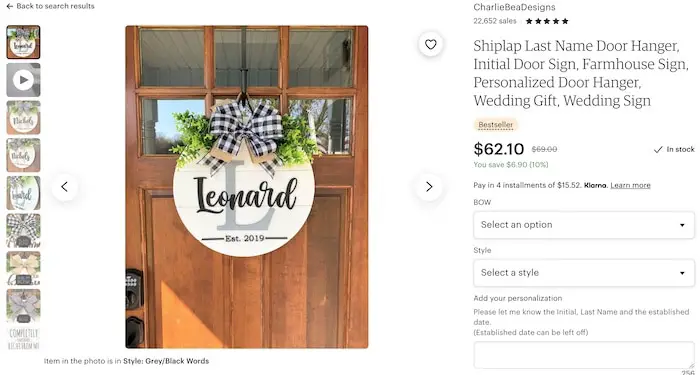 Door hangers are another profitable craft to sell online. These are typically hung on front doors and customized with the family name, initials, or a simple and friendly "welcome". If repurposing old wood is one of your craft hobbies, then this is a great way to make money.
7. Wall Letters
Similar to name signs, wall letters are individual cut pieces of wood or other material that allow people to spell out words, names, or phrases. Again, wall letters are widely used in nurseries and children's bedrooms.
8. Candles
Who doesn't love a cozy scented candle? Candles are extremely popular and actually fairly easy to make at home. You can buy wax, fragrances, and wicks in bulk and they'll last you through many batches of candle-making. And as we all know, the markup on candles is pretty high, so it can definitely be a profitable craft hobby!
9. Quilts
Quilts are absolutely beautiful and honestly, I have nothing but respect for those of you that can sew these intricate patterns together and choose the right fabrics in your sleep. Quilts are a great item to sell online and make money, but they do take time to make so you should factor that in. Alternatively, you can also simply sell your quilting patterns or quilting fabrics online and make a decent chunk of change too!
10. Pillows
Is there such a thing as too many throw pillows? Well I don't think so, and my couch proves it. Pillows are a quick and easy thing to make with low materials costs. And when it comes to designs and pillow style ideas, the possibilities are endless.
11. Coasters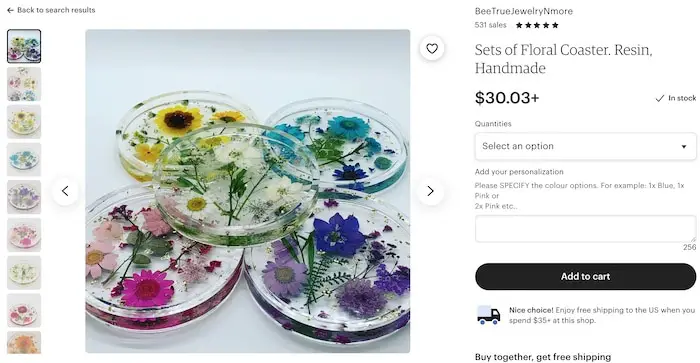 Another money-making craft idea is making and selling coasters. You can create wooden coasters, slate coasters, cork coasters, ceramic coasters…you name it. Make them customizable to really draw in buyers as well!
12. Picture Frames
You can create and sell custom engraved, painted, or just plain regular wooden picture frames. I've added these to the list of most profitable crafts to sell because there's a huge market for them out there, and you can really have fun coming up with new designs for these!
13. Stained Glass
Stained glass is just stunning. You can make stained glass lamps, suncatchers, windows, and even jewelry, believe it or not.
14. Hand-Painted Dishes
Another way for you painters out there to make money online is by selling hand-painted dishes! Large hand-painted serving dishes and glasses are especially popular crafts on online marketplaces. You can paint and sell individual dishes, or even sell entire matching dining sets.
15. Mugs & Tumblers
Humorous, nerdy, and clever mugs and tumblers are hot sellers on Etsy especially. These are incredibly easy to make, as almost all print-on-demand services (like Printify) will do the printing and shipping of these for you. You just upload your designs and sell—they do the rest!
16. All Things Mason Jar
What can't you make out of a mason jar? No, seriously. Mason jars can be used to make centerpieces, fairy lights, candles, flower vases, cups, and more. Something tells me you won't run out of ideas with this craft hobby.
17. Magnets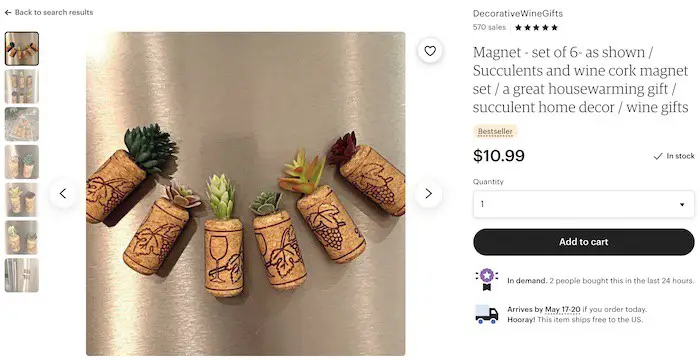 We all have a boring looking fridge that could use some beautifying, and magnets are the answer. You can create funny, clever, stylish, nerdy, and/or personalized magnets that sell like hotcakes on craft websites. And what can you make them out of? Well, anything really. Check out these cute wine cork magnets if you don't believe me!
18. Baby Blankets
Personalized baby blankets and crochet ones are huge hits and one of the most profitable crafts to sell online. Embroider baby names on them or custom print them with cute designs to really attract buyers.
19. Wooden Children's Toys
Parents are increasingly looking to avoid plastic toys, both to avoid harmful chemicals found in them and to reduce their plastic use. So wooden children's toys are making a huge comeback, to say the least. If you're an expert whittler, this craft can make you good money.
20. Plush Toys
Plush children's toys, especially unique and well-made ones, are another favorite of parents. With just a bit of fabric and stuffing, you make a decent profit selling these online. 
21. Children's Bows and Headbands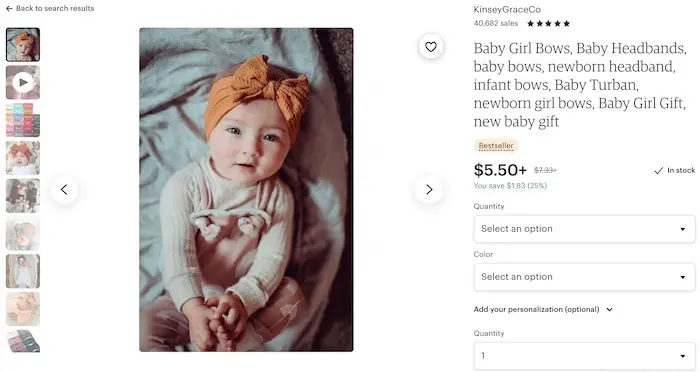 Is there anything cuter than a newborn baby with a bow on its head? Yeah, didn't think so. Bows and headbands for newborns and toddlers are a huge hit online, and this is yet another easy and relatively inexpensive craft to make.
22. Baby Onesies
Baby onesies with cute, clever little phrases are a popular gift or purchase for new parents. It's also extremely easy to design and sell your own custom baby onesies by using print-on-demand services.
23. Wedding Signs
Wooden and acrylic wedding signs are becoming a staple at every single wedding, if you hadn't noticed. And no, the beautiful couple (in most cases) isn't cutting and painting their own signs. They have enough to do! So if you've got an eye for beautiful fonts and stylish designs, this is yet another craft hobby that makes money.
24. Christmas Decorations
There's nothing worse than buying a bunch of cheap Christmas decorations that you pack away, only to find broken and useless next year. So what can you do to save these people the frustration and disappointment? Why, make some sturdy and beautiful Christmas decor that'll last them many holiday seasons.
25. Ornaments
Talking about broken Christmas decorations, ornaments are a BIG one. And, we're all tired of bland, cheaply-made ones too. You can create ornaments out of felt, glass, wood, and even knit them and sell them online. Throw in some personalization options, maybe a few clever pop-culture references, and they'll sell like crazy every year.
26. Birdhouses
These might not be the quickest things to make, but there's no denying the huge market out there for cute, handcrafted birdhouses. You can get really clever and fun with these too!
27. Flower and Plant Pots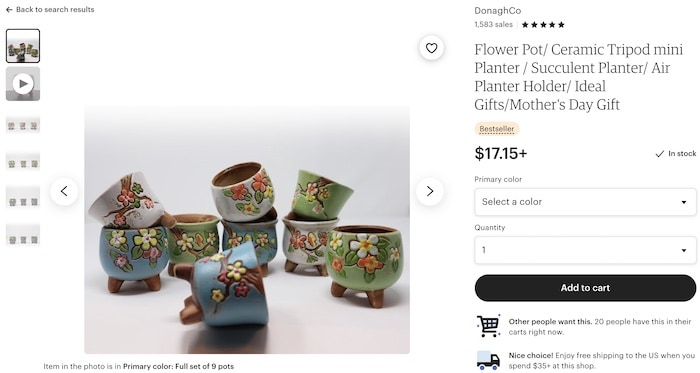 Another money-making craft idea is to make ceramic, stone, wooden, or even 3D-printed flower and plant pots. You'll need to consider materials, labor, and storage costs, but this is another big seller online.
28. Bath Bombs
I remember the first time I saw bath bombs at a Lush store years ago. Who knew then that these little products were going to explode?! All puns aside though, bath bombs are the best and another craft that makes the most money online.
29. Soap
Trying out different soaps and fragrances is practically a pastime for a lot of people. If you've got the soap skills, then why not enter the soap market with your own fragrances and recipe?
30. Lip Balm
Lip balms with natural ingredients are another profitable craft to sell. These are surprisingly easy to make and you can batch make them, saving you time and money. As well, the markup is pretty high on these, so you'll turn a decent profit.
31. Knitting Patterns
What's more profitable than selling knitted goods? Selling knitting patterns, of course! If you're a knitter, then you know it isn't always the easiest to do, especially when you're just starting out. So help the beginners out there with some of your best knitting designs and patterns.
32. Headbands
Headbands have made a comeback, y'all. Blame it on all those messy buns and updos we can't get enough of. You can sew or crochet colorful, beautifully designed fabric headbands online.
33. Headwraps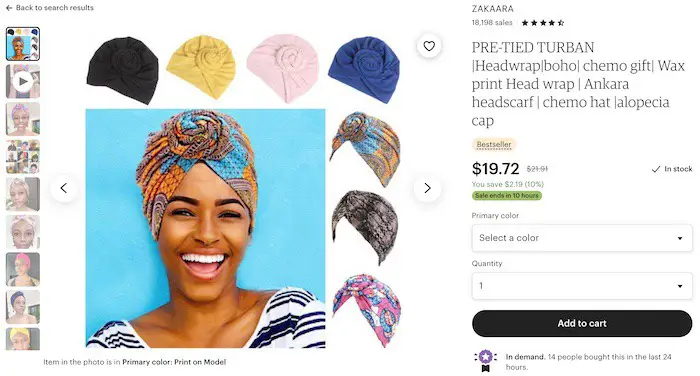 Another item you can sell (especially if you're already selling headbands) are headwraps. You can have fun sewing bright geometric patterns, more muted floral patterns, or neutral colors that match any outfit. These are fairly easy to sew and have a decent markup price.
34. Scarfs
Scarfs will never go out of style, which means there will always be demand for different scarf colors, styles, textures, and so on. It's another one of the most profitable crafts to sell because of this and how easy they are to make.
35. T-Shirts
Of all the crafts that make the most money, t-shirts undeniably deserve their place on the list. Everyone buys t-shirts. And for the graphic designers out there, or even those of you who just excel at coming up with clever little quips, you can create some awesome tees to fill this need. Also, POD services like Printify have the printing and shipping covered for you on this one.
36. Totes
I don't know about you, but I have totes for every occasion and every purpose. Funny, clever, and pop-culture-referencing totes are always on-trend and easy to design and sell online. Why? Yep, you guessed it: print-on-demand for the win, again!
37. Purses & Handbags
If totes aren't your thing, then some other handmade products you can sell online are purses and handbags. You'll have to put some labor of love into these, but they sell really well because—for a lot of people—handmade is better than over-priced designer bags any day.
38. Cards & Invitations
Cards and invitations, especially in the wedding category, are one of the crafts that make the most money on sites like Etsy. You can sell them as printables or use POD services to print your designs on proper card paper.
39. Stickers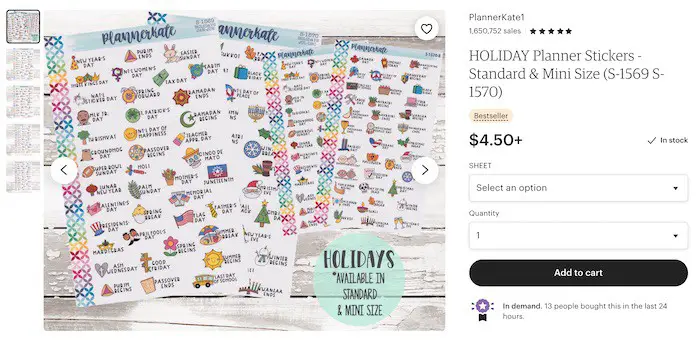 Did you have a sticker collection when you were a kid? I know I did! And who would've thought that grown-up adults would love stickers as much as they seem to? Believe me when I say: stickers are HUGE sellers. PlannerKate, one of the TOP sellers on Etsy, makes a killing selling planner stickers. Get in on this!
40. Journals & Notebooks
Despite all of the technology surrounding us in our everyday lives, nothing, I repeat, NOTHING will replace a good leather-bound journal or notebook. Putting actual pen to paper helps a lot of people (myself included) organize our thoughts, boost our productivity, and find presence in a messy world. You can meet this demand by creating cute, customizable journals and notebooks for the bullet journal-ers, avid diarists, and habitual scribblers.
41. Planners
Planners, both digital and physical, are another profitable craft to sell. Did I mention PlannerKate, the 6-figure Etsy seller? Yeah, it's in the name.
42. Printables
Printables and other digital downloads might take a bit of time to design and create, but once the listing is up, any sales you make are completely passive. Yes, passive income, my friends. You can make printable kids worksheets, printable planners, printable affirmations, printable cards, printable art…okay, you get the idea. 
43. Pet Clothes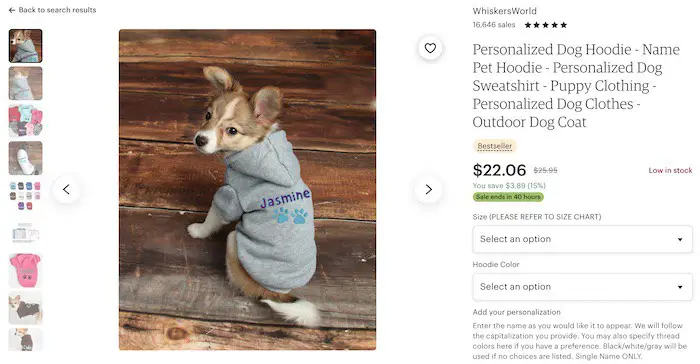 Bandanas, hoodies, pajamas, dresses, shirts, bow ties, and even complete wedding suits…geez we love our fur babies. Pet clothes are another big money-making craft idea, perfect for you master sewers. Offer custom embroidery for pet names, and they're sure to be a hit.
44. Personalized Pet Stuff
Any pet accessory that you can personalize for someone, will sell like hotcakes. Think: pet bowls, pet name tags, pet collars, pet harnesses, and more.
45. Dog Beds
I'm pretty sure that every dog owner goes through at least 3 beds in their dog's lifetime. So yes, there will always be a demand for more dog beds. The markup on these is high, and pet parents pay out, to say the least.
How do I price my crafts appropriately?
Pricing your crafts and handmade items can be tricky. See, you want to price your products competitively, while at the same time ensuring that each sale returns a decent profit. 
So how do you do that?
Here are 4 simple steps that'll help you price your crafts appropriately and not sell yourself short or overprice yourself out of the market.
Step 1: Calculate All Costs
If you're spending more money making crafts than you are earning, your business simply cannot survive. So the first thing you need to do is calculate all costs associated with producing, packaging, selling, and shipping each item. 
It's easier to think of costs as falling under 3 main categories—production costs, labor costs and overhead costs. 
Production costs will include expenses such as:
Materials and supplies
Packaging 
Labor costs mean the hourly wage you're paying yourself to:
Make the product
Package the product
Arrange shipping of the product
Conduct business-related tasks, such as answering emails, providing customer support, etc.
And overhead costs include things like:
Selling fees (listing fees, transaction fees, etc.)
Shipping materials
Shipping costs
It's easy to skip over labor costs in an effort to keep prices low, but you must factor in your time and your desired hourly wage into your pricing scheme. Surely, you're not doing all this for free! So you have to make sure you're paying yourself something in return. 
So for a quick example, let's say I make and sell bracelets. I'm trying to calculate all costs to make 1 bracelet, and discover:
Each one costs $1.50 to make (production cost).
My desired hourly wage is $20/hour and it takes 30 minutes to make (labor)
Selling fees and shipping costs work out to around $3/item (overhead cost)  
My total costs are: $1.50 + $10 + $3 = $14.50 (Base Price)
Step 2: Add Markup
Markup is what turns a profit. If you were to just sell your crafts at your base price, then you would only be breaking even at the end of the day. And this does not a business make! 
So what you need to figure out is your markup. It's where you include your profit margin, factor in any discounts you might offer down the road, and other incidental expenses. 
A good rule of thumb is that markup should be anywhere between 10%-50%. You should also note that this will actually be added twice before arriving at the retail price. 
You can play around with your markup percentage in order to keep your prices competitive as well. 
Going back to our bracelet example, let's say I want to test out a markup of 20%. My calculation would be as follows:
$14.50 (base price) x 20% (markup) = $2.9
$14.50 + $2.9 = $17.40 (Wholesale Price)
Step 3: Calculate Retail Price
The wholesale price is what you would charge a shop or retailer to purchase the item from you. It gives the retailer wiggle room to add their own markup and make a profit. 
But as someone selling crafts and handmade goods online, your retailer is Etsy, Artfire, or your own website. These all come with fees, so you'll need to add an additional markup to cover the associated costs. 
This is where you arrive at your retail price. You can adjust the markup percentage here to remain competitive in your pricing, so long as you cover selling costs. 
So for our bracelet example, let's say I want to test out a retail markup of 20% again. That gives me a retail price of:
$17.40 (wholesale price) + $2.9 (markup) = $20.30 (Retail Price)
Next, I would do some market research and compare my product to similar ones and their pricing structures. If $20.30 is too expensive for this particular item, then I can play around with a lower markup. Maybe I do 5%, so each bracelet is $18.27 for example. 
The important thing is that your retail price covers ALL of your costs, adds a profit margin, and provides you enough wiggle room to offer discounts and other purchasing incentives. 
How can I make more money from crafts? 
Not every craft shop or handmade business is going to survive out there. In many cases, people price their items too low, eliminating their profits, or price their items high to cover costs but realize it's way too high for the market. 
With any online business, it's a balancing act between staying competitive, standing out from the crowd, and making money. 
So what are some strategies to build a successful business and make more money from crafts? 
Here are 5 tips to make your craft hobby more profitable:
Buy materials and supplies in bulk. Purchasing materials and supplies used to make your products in bulk means you're paying a lower unit price per supply. Oftentimes, craft supplies sold in larger quantities save you money in the long run. 
Increase your profit margin. To make more money from crafts, you may need to adjust your pricing and increase your profit margin by playing around with your markup, for example. Or, another way to increase your profit margin is to save time on labor costs and find faster ways to make products. Maybe you batch make them or develop a faster production strategy. Either way, this will help boost your profits.  
Find your unique selling point (USP). What makes your product different to your competitors'? What can you tweak to better stand out and appeal to buyers? Who is your target audience and how can you better serve them? Figuring out the answer to each of these questions helps you determine your USP, which will in turn boost sales. 
Develop a clear brand and brand image. Consumers follow brands. Brand loyalty has a big influence on whether we purchase something or not. By coming up with a clear brand (catchy name, cool logo, consistent color scheme, consistent product images, etc.), buyers will remember you and be more inclined to purchase and become repeat customers.  
Devise a strong social media marketing and promotional strategy. Social media is where your audience is, no matter what niche you're in or what type of craft you're selling. Everyone is on social media. So get out there, on Pinterest, Twitter, Facebook, Instagram, and find your people. Engage with them and highlight your brand and USP.
Final Thoughts on Making Money From Crafts
At the moment, maybe your craft hobby is just a fun way to pass the time for you. It's relaxing, you enjoy it, and it provides you that much-needed creative outlet. 
But what if you actually made money from your crafts? What if you built it into a thriving online business, garnering loyal fans and a pocket full of profits? 
It might sound like the dream, but it's not a dream. People, just like you, are taking their hobbies and monetizing them. They're becoming online entrepreneurs and getting paid to do what they love. 
So why not you? And why not now?
For more money-making ideas, check out:
45 Crafts That Make the Most Money