15 Perfect Online Side-Hustles for Introverts to BOOST Your Income!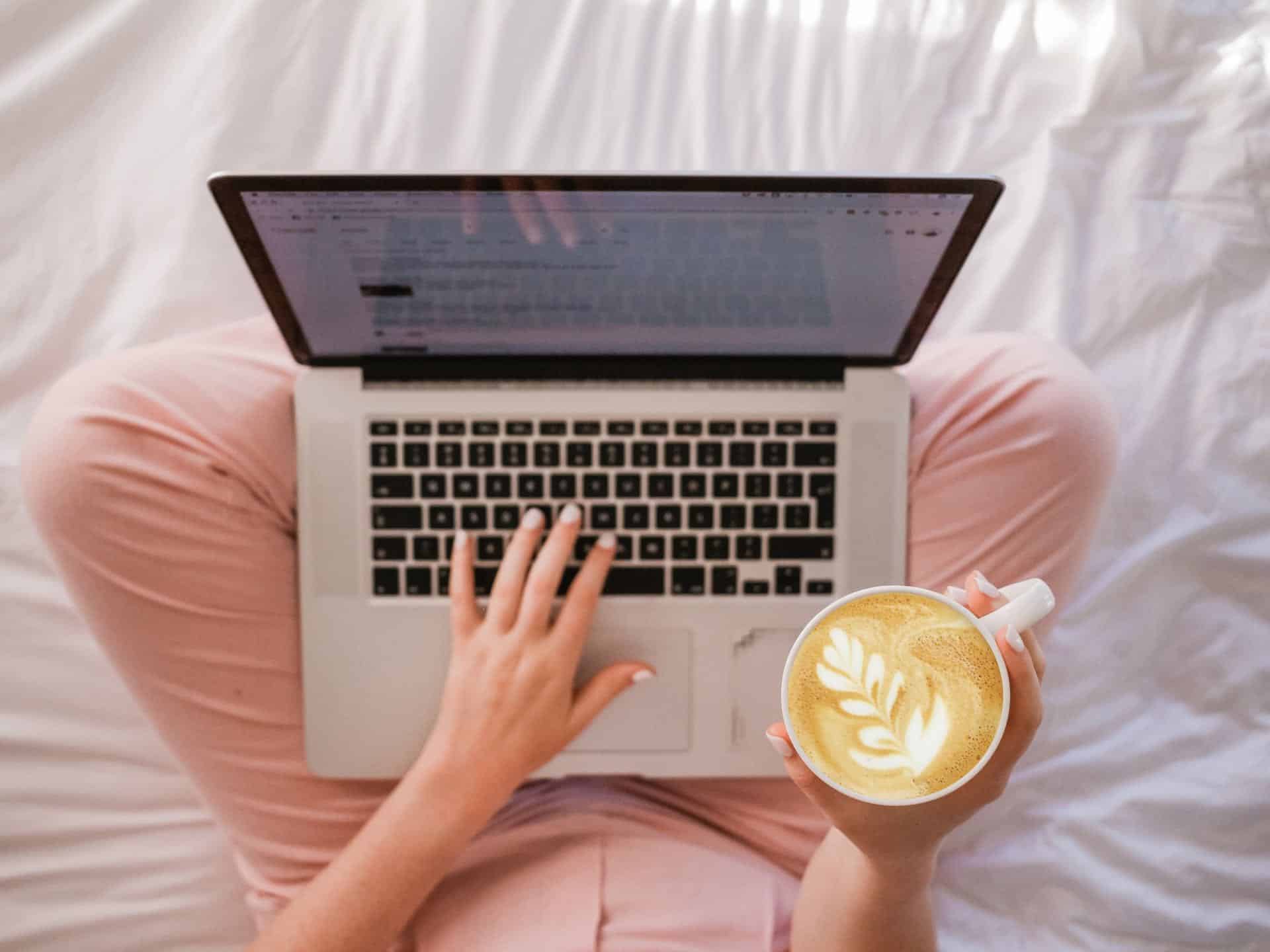 This post may contain affiliate links. If you decide to purchase through my links, I may earn a small commission. Read my disclosure page for more info.
Nowadays, everyone knows that the best way to boost your income and savings is through side-hustles.
The idea is simple: make money outside of your full-time job. It's a side-job or part-time job, but with a little extra hustle.
And as you know, I'm all about closing that gap between what introverts and extroverts earn. 
What's even more inspiring is that many people have also turned their side-hustles into full-time jobs!
Now, just as there are jobs that better suit introverts, there are also certain side-hustles that introverts can totally rock. 
Introverts need side-hustles where they can work independently or with a small group, and better yet, online side-hustles introverts can do without leaving the house! 
This ensures we have energy to spend time with the people who matter most in our lives. 
So here's my top 15 online side-hustles for introverts that'll boost your income from the comfort of your own home!
Related Read: 43 Creative Money-Making Ideas for Introverts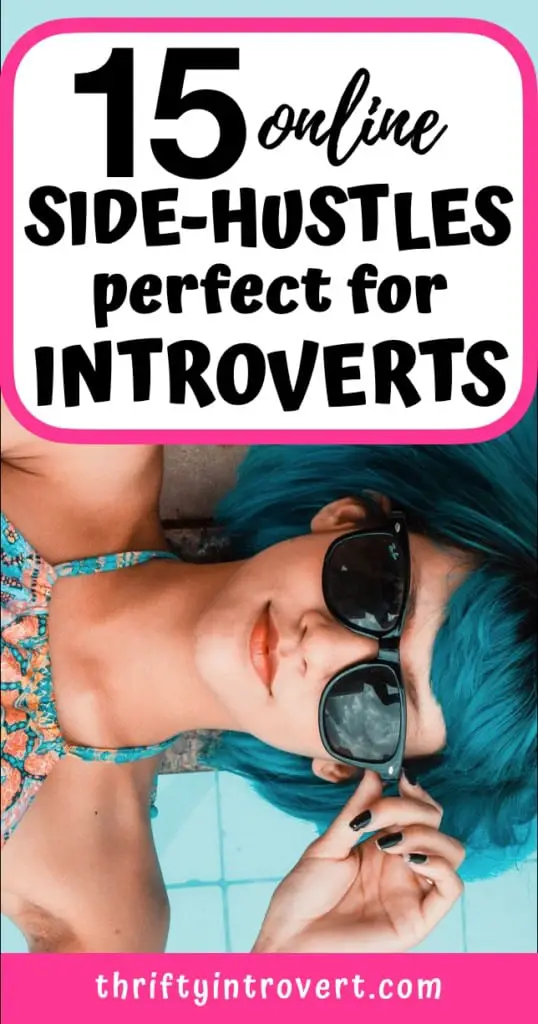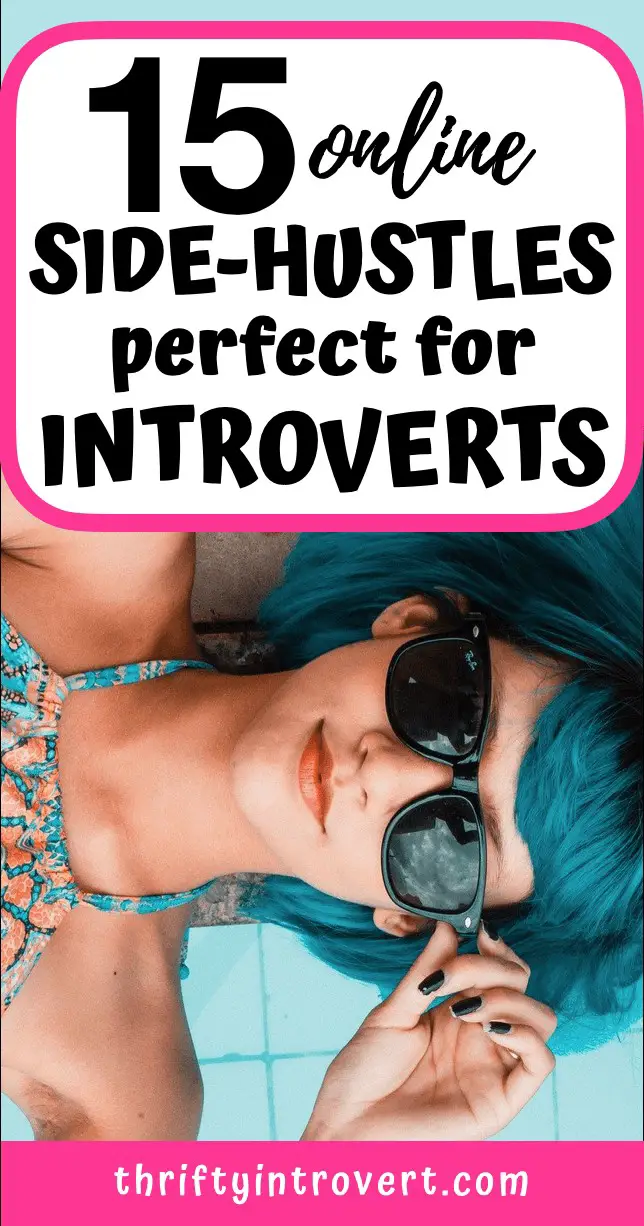 15 Perfect Online Side-Hustles for Introverts
1. Start a Blog
Blogging is one of the best online side-hustles for introverts.
I won't lie to you and say it's a walk in the park though…
But for all the work you'll put into it, blogging can be incredibly rewarding. You get to write about what you're interested in and help others learn more about it.
I think blogging is one of the best ways that introverts can start earning more money. 
If I could put it into an equation, it would be something like this:
Hobbies/Interests + Online Business Opportunities 

= 

HAPPIEST INTROVERT EVER
Your blog can make a nice side-hustle, part-time, or even full-time income!
But it's important to get started the right way and with affordable, quality hosting. My in-depth FREE guide to starting a blog will take you through all of the steps to making money online with websites.
As well, to make a blog profitable you'll need to learn from the best. Here are some of the best courses out there that have helped me get my 2 blogs off the ground:
Create n Go — I've purchased Lauren and Alex's ProBloggerBundle and I have to say, to get your blog started the RIGHT way, it's worth the investment. It includes their Launch Your Blog Biz, Pinterest Avalanche, and Six-Figure Blogger courses all for one discounted price.
Making Sense of Affiliate Marketing — Michelle's course on affiliate marketing is a staple of the blogosphere. She breaks down the strategies to get your blog making passive income through affiliate marketing.
Stupid Simple SEO — SEO (Search Engine Optimization) is like the holy grail of bloggers. If you can get your posts ranked on the first page of Google, you are able to drive some serious, consistent traffic. But like the holy grail, it's not easily attainable and there are a lot of intricacies to it. People have entire careers in SEO optimization! Luckily, Mike's course Stupid Simple SEO really breaks it down for you, so even tech-newbies can understand the formula behind SEO success.
2. Become a Proofreader
If you cringe seeing all those spelling and grammar mistakes on your Facebook news feed, then you my friend are a natural born proofreader.
As an English teacher, I feel your pain.
There's a difference between there/their/they're people!
…and don't even get me started on accept/except and affect/effect…
If you're shaking your head in disgrace at these commonly confused words, get your online proofreading side-hustle going TODAY.
Caitlin Pile over at ProofreadAnywhere.com has brought her expertise in general and transcript proofreading and put together an incredibly comprehensive course. It covers everything you need to know about proofreading, finding clients, and marketing your services. Check out her FREE webinar to learn more!
Before you know it, you'll be putting your mad English skills to use and earning extra money from your couch. 
3. Start Transcribing
What makes transcribing a great online side-hustle is that you can do it whenever you have time.
If you want to transcribe a bit of audio at 11:30pm, go for it. If you want to skip Saturday because you have a wedding to attend, no problem.
No deadlines, no clients. You simply listen to short audio clips and let your fingers type away.
Websites like TranscribeMe.com and Rev.com allow you to get started right away with little to no experience!
You'll simply need to be a fast typer with an eye for formatting and punctuation. TranscribeMe.com and Rev.com will have you study a transcription formatting guide and take a test before you're accepted. 
Afterwards, they'll send you short audio clips that you transcribe for money!
4. Run Facebook Ads for Small Businesses
Local brick-and-mortar shops as well as online businesses are looking for ways to get more people into their store and/or buy their online products.
And Facebook is the most powerful targeted advertising platform that can help them do this!
Bobby Hoyt and Mike Yanda over at Laptop Empires have made THE course on running Facebook Ads as an online side-hustle and helping businesses connect to customers.
Their Facebook Side-Hustle Course teaches you everything you need to know so you can start making an extra $1,000+ every month with only 2-3 hours of work per week!
The course includes:

An Introduction to the Facebook Ad platform
Detailed information about effective sales funnels
How to create Facebook ad campaigns — start to finish
Analyzing ad performance
Landing your first clients!
I've purchased the Facebook Side-Hustle Course and highly recommend it. They walk you through everything, step-by-step, and show you how to start this lucrative side-hustle. 
When I quit my 9-5 job and move back to the West, running Facebook ads is going to be my go-to online side-hustle thanks to the guys at Laptop Empires.
Related Read: How to Make Money Advertising for Companies Online
5. Create a Course About Your Hobbies/Skills
Introverts, there's a GOOD chance that you're an expert about something.
If there's one thing we love doing, it's learning everything we can about what interests us.
True story: I took an online course in Sindarin Elvish (one of J.R.R. Tolkien's invented languages).
Now, maybe creating a Elvish language course isn't in hot demand…*tear*…
But chances are you have some interests and skills that you can create a course about and start making money.
And no, you don't have to be an expert! If it's something you're really interested in, then chances are you're willing to BECOME an expert in the process. 
Creating a course from scratch takes a lot of hard work up front. But once it's done, it can be a nice passive income stream!
Sites like Udemy and Teachable make it easy to create a class on just about anything. 
So start turning your hobbies into income!
Related Read: How to Make Money with ANY Hobby – 7 Easy Steps
6. Take Online Surveys
Okay, so I know what you're saying…
Ugh, another person telling me to do online surveys.
But the truth is, the reason why people recommend them is because surveys are a great online side-hustle that'll help you make extra money in your free time.
Basically, you can turn that commute to work into money-making time. Or, got a free 30 minutes around lunch time? You can take a few quick surveys and make that little bit of free time inch you closer towards your savings goals.
Now, this IS NOT a side-hustle that's going to make you rich, but making just a little bit each day means you're still working towards your financial goals. 
Here are the top 3 online survey companies that I recommend:
Swagbucks — All you do is take online surveys, watch videos or movie trailers, and earn points. Then, redeem those points for gift cards to places like Amazon and Walmart. It's simple and you can sign-up today and start getting rewards.

Survey Junkie — Survey Junkie works with a few different survey websites and market research companies. It's simple: you take surveys, and get cash. So while you're sitting on the subway or pausing between episodes of a TV show, you can start getting paid.

Inbox Dollars — They offer a variety of ways that you can start earning cash back. You can take surveys, watch videos, play games, simply shop online and more! There are so many ways to start earning cash, it's unbelievable.
Related Read: 13 Highest Paying Survey Sites To Earn EASY Money
7. Surf the Web and Get Paid
This is another online side-hustle that isn't going to make you rich overnight…
But if you're doing some shopping anyway, why not get discounts and cash back?
Rakuten and Ibotta make it incredibly easy to start saving AND making money off of purchases that you make every day. 
All you do is simply download the Rakuten or Ibotta apps on your phone, and do your online shopping through there!
Or, shop through Rakuten.com or the Ibotta browser extension on your computer. 
Then, every purchase you make goes towards earning rewards and cash back. It's that easy.
Rakuten —Rakuten (formerly Ebates) offers cash back and discounts at some of your favorite online retailers. If you're looking to purchase something, do it through Rakuten and you can start getting discounts AND making money off purchases.

Ibotta — Whether you're shopping online or in-store, Ibotta has you covered. You can pay using the Ibotta smartphone app at over 50 nationwide or 150 online stores. Within 24 hours, you'll get cash back on your purchase.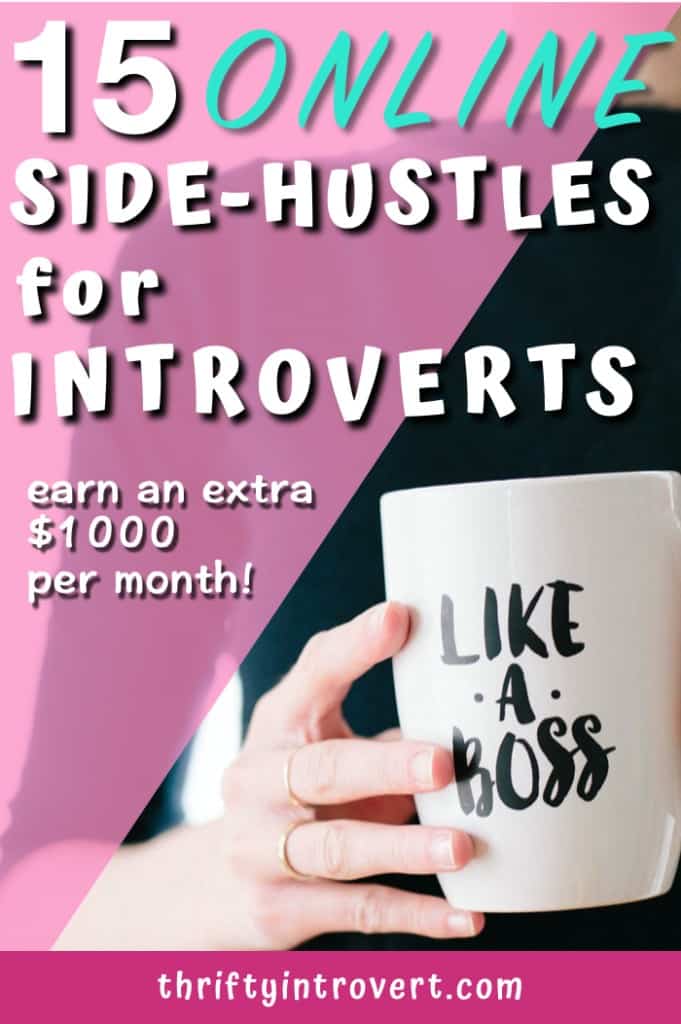 8. Teach English Online
As a teacher (currently), I know that standing in front of 25+ students and delivering a lesson can be draining as hell.
That's where online teaching can save you. 
Typically, you're teaching only one student at a time or small groups, which is ideal for introverts. 
You can also teach a range of ages from kindergarten to adults, whichever you prefer!
If you've never taught before, that's absolutely no problem! 
These online teaching companies provide you with the learning materials so it takes all of the lesson planning off your plate. 
You just bring the enthusiasm for your native language and a desire to help your students improve.
If you're interested in this online side-hustle, the best companies to work for are VIPKid and English First (EF). 
VIPKid is one of the biggest online learning companies today and has been ranked one of Glassdoor's Top 10 Best Places to Work.
Also, English First (EF) is an excellent company to work for.
I can confidently say that because I'm a former employee!
EF gives you the option to teach children or adults online. They're lessons are designed for you, engaging for both you and your students, and incredibly easy to follow!
Both VIPKid and English First let you choose the amount of hours you work and when you work, making this a very flexible side-hustle!
9. Tutor Online
If you're:
at least 18 years old
live in the United States
have a Social Security Number
have an internet connection
..then you can start tutoring online!
You do not need a teaching certificate to start helping others learn more about a subject. 
With Wyzant, you can off tutor services for anything, from algebra to writing to SAT prep.
Also, you can charge anything from $25-$60 per hour, making this a high-paying side-hustle you can do in your spare time. 
10. Walk/Sit/Board Dogs
Dog owners understand that dogs aren't just pets—they're members of the family.
It's no surprise then, that dog owners want to avoid boarding in kennels or leaving their dogs alone all day while they work.
This is where you, the side-hustling dog walker/sitter/boarder, saves the day!
You can offer your dog walking, sitting, or boarding services on websites like Rover.com. All you have to do is set up your profile and start advertising your services!
Your love for dogs can earn you anywhere from $20/hour for walks, or up to $60/night for sitting and boarding!
Getting paid to hangout and cuddle with some canines is a win-win. 
11. Start Freelance Writing
In this day and age, writers CAN actually make money. 
No more starving, penniless writers?!
So why not turn your writing skills into a good paying online side-hustle?
And as we know, introverts make great writers because of our strong written communication skills.
You can offer your freelance writing services for:
blog posts
online articles
copywriting
email newsletters
marketing materials
technical writing
ghostwriting
Jorden Makelle over at CreativeRevolt.com offers a start to finish guide to kickstarting your freelance writing career.
Even more impressive is Jorden's Fuck Yeah Freelance Blogging course, which tells you exactly how to craft blog posts that convert, so you can start earning $200-$400 per post!
Also, check out her free writing class that teaches you how to earn $1,000 through freelance writing in 45 days or less!
12. Be a Pinterest Virtual Assistant
We are in the era of Pinterest. As a visual social media platform, Pinterest is really taking off and bloggers and companies are noticing how Pinterest can drive traffic to their websites like no other.
If you have an eye for pin design, know how to make a headline pop out of the screen, and can engage with the Pinterest community, then this is the side-hustle for you!
Also, if you're already on Pinterest ALL the time, why not turn that time into money?
You can charge anywhere from $20-$50 per hour for your Pinterest services, and work as little or as much as you want every week. 
There are some excellent courses over at PinterestVA.com and Create and Go to help you kickstart your Pinterest VA side-hustle.
13. Be a Virtual Assistant
Virtual assistants are in HOT demand. 
Businesses today are increasingly looking for ways to boost their online presence and connect with customers.
But with this comes a ton of tasks that they need help managing.
This is where virtual assistants come in!
You can offer services like managing social media accounts, scheduling appointments and meetings, booking travel arrangements, responding to emails, you name it!
Virtual assistants are basically the secretaries of the online business world.
But the difference is that virtual assistants can make some serious money.
If you're new to this, Gina Horkey's 30 Days to Virtual Assistant Success will show you exactly how to start your virtual assistant business and turn it into a money maker.
This is one online side-hustle that can ultimately replace your full-time income PLUS some!
14. Become a Virtual Bookkeeper
Now, I'm not a numbers person but I'm sure there are some math nerds out there.
So put those mathematics skills to use as a virtual bookkeeper and start making some extra cash! 
As a bookkeeper, your job is to record and track expenses for businesses and make sure their accounts are up-to-date.
And the great news is, you don't have to be a Certified Public Accountant to do this.
All you need is an internet connection, knowledge of accounting software like Quickbooks, and computer skills. 
Check out the free class at Bookkeepers.com to get you started! 
15. Sell Your Stuff
If you have stacks of board games you never play, books laying around that you've already read, or an embarrassingly large collection of Magic the Gathering cards…
Sell your stuff online!
All that stuff's doing is sitting around gathering dust. Instead, make some money from it on sites like Ebay and Amazon. 
And if you're an artsy introvert who loves all things DIY, sell your creations on Etsy!
I absolutely adore Etsy because it's like the nerd watering hole—all the crafty people have gathered to sell me more geeky things than I could ever dream of. 
If I want a Lord of the Rings Prancing Pony beer mug, it's there. A custom ranger notebook for Dungeons and Dragons? Got it. 
Guys, there are nerds out there that want to buy the cool stuff that you create, trust me. There certain items that sell really well on Etsy, so if you've got the skills to make these then do it!
And if your products don't suit the nerd market, Etsy is the one-stop-shop for selling literally everything in every category: jewelry, wedding invitations, clothing, furniture, the list goes on! Just check out these most profitable crafts for some ideas!
Related Read: How to Make $300 FAST When You're Broke
Final Thoughts
If you've reached the end here and are feeling a bit overwhelmed, it's okay.
Starting a side-hustle can be nerve-racking for us introverts. We're putting ourselves out there, entering the crowded (and not always nice) online space, and having to market ourselves and network.
However, it's important that our voices are also heard.
Our ideas, passions, and skills need to be shared despite our instinctive reservations about doing so.
Side-hustles are about earning more money, but they're also a great way to share your strengths and build the life you want to live…by simply doing what you love.
And don't forget to sign-up to the Thrifty Introvert weekly newsletter for more money-making motivation and introvert entrepreneurship tips to keep you inspired.
So get out there introverts! Pick your perfect side-hustle and be an introvert BOSS. 😉
For more side hustle ideas, check out: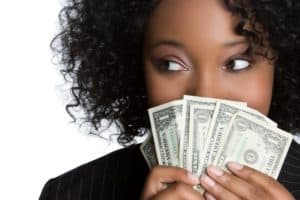 15 Side-Jobs for Introverts Looking to Make Money Online