How to Make Money Advertising for Companies Online [in 2022]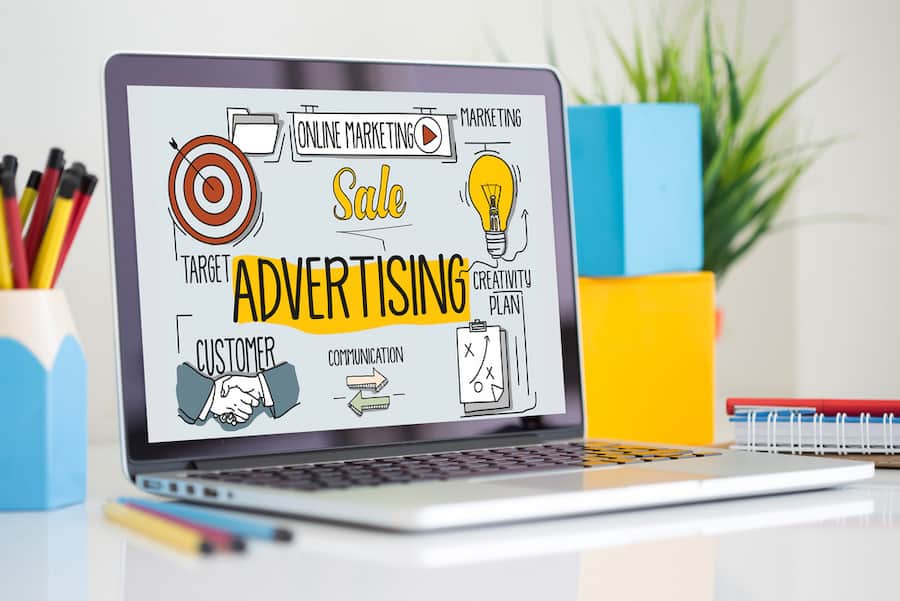 This post may contain affiliate links. If you decide to purchase through my links, I may earn a small commission. Read my disclosure page for more info.
Here's a fun fact for ya:
In 2020, nearly 356 billion US dollars were spent on digital/online advertising. 
Though many of us can't even comprehend that amount of money, this is actually excellent news for you. 
Why?
Because you can get a piece of that pie. Yeah you, you regular internet user just chillin in your pajamas. 
See, companies need online content creators, be it on blogs, YouTube channels, or Instagram accounts, to host their digital ads and promote their products. So by simply creating content and gaining followers, you can make a lot of money advertising for companies online. 
So whether you're starting a niche website or thinking about monetizing your hobby, I want to go over all the myriad ways you can get paid to advertise for companies online. 
In this guide, you'll learn about 7 ways you can make money doing online advertising through a website, your social media accounts, and more. Let's take a look…
How do I get started making money doing online advertising? 
First things first: 
In order to make money doing online advertising, you'll need either a website or a following on social media. Essentially, you'll need to be an online content creator. 
Maybe you've started a blog and are getting good traffic, or maybe you have thousands of followers on Instagram. Either way, you need an audience in order for companies to want to pay you to advertise their products/services. 
And yes, this is the hardest part. Building an online audience takes time, patience, and a lot of hard work! 
But:
We all start somewhere. 
Every influencer and every blogger started with 0 views, 0 followers, and $0 income. What made them successful was an unwavering drive and determination, even in the face of doubt, pessimism, and feelings of defeat.  
So to get started make money advertising, you'll need to:
Realize that you can make money too, and it's not too late. 
Choose your platform(s) and start creating content. 
Keep creating content even when the internet trolls emerge and you think you can't make your dream a reality.
Engage with your audience and promote products/services that fit your audience. 
If you do these 4 things, you're on your way to making a lot of money online and building an online business doing what you love. Just don't give up!   
Which companies will pay me to advertise for them?
The companies you work with and make money advertising for heavily depend on your niche, platform, and audience. 
But know this:
There are thousands of companies, large and small, that pay for digital advertising every year. They need content creators with established audiences in that company's niche to advertise their products.
So if you're a cooking Instagram-er, you'll get paid by companies that sell cookware, kitchen appliances, etc. Or, if you're a dog blogger, loads of dog toy, food, and pet accessory companies will pay you to advertise. 
And if you're advertising via affiliate marketing, each affiliate network works with thousands of different companies in different niches to help them find affiliate publishers. Trust me, there's no shortage of companies or niches you can enter!
How much can I get paid to advertise for companies?
The amount of money you can make through online advertising depends on many different factors, such as:
How large your audience is
How niche your audience is
How well you advertise products
Which advertising methods you use
Which platforms you utilize for advertising
So you could make an extra $100+ a month advertising for companies, or turn it into a 6+ figure online business. It all depends on your ability to sell effectively to your audience.
7 Legit Ways to Get Paid to Advertise for Companies Online
1. Display Advertising on Your Website or Blog
One of the most passive ways to make money advertising for companies is through display advertisements on your niche blog or website. 
TIP: If you don't have a website yet, make sure to check out my in-depth guide to creating a niche blog or website from scratch. It covers everything you need to know to start making a full-time income with niche sites!
Once your website is getting decent monthly traffic via Google or social media, you can "sell" ad space on your site. Then, every time someone views or clicks on one of those display ads, you get paid. 
In order to make money with display advertising, you'll first need to join an ad network. Brands and companies use ad networks to deliver digital ads for their product/service to publishers (like you!). The ad network is then responsible for finding and approving publishers, getting ads setup on their websites, and tracking ad performance and income.  
Ad revenue is measured in RPM or revenue per 1000 impressions. So for every 1,000 visitors to your site, you can earn $6-$20 or more, depending on the ad network you join.
As a website owner, you'll need to meet minimum traffic requirements to be approved for most ad networks. To pass the test, they'll want to look at one of two metrics: either your monthly pageviews or monthly sessions. 
Pageviews are every time a user lands on a page or post on your website. So 1 user could read 10 or your posts, resulting in 10 pageviews from that one person. 
Sessions are a bit different. When a user visits your site, their "session" begins. Even if they visit 20 pages in that one session and rack up 20 pageviews, that still only counts as 1 session. If they leave your website and come back, a new session will begin. 
Here are the 5 most popular display ad networks and their traffic requirements:
2. Affiliate marketing on Your Website
Chances are, many of the influencers and content creators you follow earn a majority of their online income through affiliate marketing. 
And for most bloggers and website owners, affiliate marketing coupled with display advertising is a winning combination. 
Why?
Because similar to display advertising, once you've setup your affiliate posts and are getting consistent traffic to them, it generates passive income. You set it and forget it, for the most part. 
So let's take a closer look at affiliate marketing and how you can make money advertising for companies online…
What is affiliate marketing?
Affiliate marketing is when content creators recommend products or services to their audience. When someone clicks their affiliate link and purchases the product or service, the content creator earns a commission. 
Essentially, whether you're a blogger, YouTuber, or Instagramer, you can get paid for selling companies' products. It doesn't matter which platform you're using, you can implement affiliate marketing on any website or social media platform. 
How much can you make with affiliate marketing?
It's difficult to say exactly how much money you can make via affiliate marketing, because really, the sky's the limit! 
It all depends on how much traffic your site gets, how well you advertise the products/services, and the commission you receive. 
That's why with affiliate marketing, you can really earn anywhere from $100 to $20,000+ per month! 
There are even bloggers like Michelle from Making Sense of Cents raking in $50,000 per month! She's created a course Making Sense of Affiliate Marketing that's perfect for beginners looking to get started with affiliate marketing. 
How do you start making money with affiliate marketing?
If you have decent traffic to your website, then you should get started with affiliate marketing right way. 
As with ad networks, affiliate networks will sometimes have traffic requirements before you'll be accepted. You'll need to research each networks' stipulations, so that your application is successful. 
And if you get rejected the first time, no worries. It happens to us all! Just focus on getting more traffic to your website and then apply again.  
Also, you'll only want to advertise for companies and products that fit your niche and your audience. So for example, don't go advertising dog toys on your fashion blog. That's a big no-no! 
To make money with affiliate marketing, it's all about matching products/services to your audience's needs/wants. So stick to affiliate products that make sense for your niche because that's the audience you serve. 
Here are some of the the largest and most popular affiliate networks to join:
And search for individual affiliate programs —If there's a product/service you'd like to promote, simply Google "____affiliate program". Some brands have their own affiliate programs and you apply directly to them.
3. Sponsored Posts on Your Website
Another way to make money with online advertising, is with what's known as sponsored posts. In order to get paid to advertise this way, you'll need to have a large enough audience, so this one's not for blogging newbies.
What are sponsored posts?
Sponsored posts are articles advertising and/or reviewing a particular product or service. The company pays the writer to advertise its product within the blog post.  
Most likely, you've read many sponsored posts without even realizing it. If you come across an article that's laser-focused on a particular product and how it can help you, chances are it's a sponsored post. 
Bloggers also have to disclose the sponsorship at the beginning of the article, even though us readers tend to skim past that bit anyway.
With sponsored posts, you can earn anywhere from $250+ per post, depending on the company and their budget. Alexis at Fitnancials makes $3,000+ per month with sponsored posts alone! 
Sponsored posts are a great way to monetize a website and make money advertising for companies, but it's important to follow a few best practices:
Only accept paid sponsorships from products/services that fit your audience and their needs/wants. 
Only do sponsored posts for companies and products that you believe in and fit your brand. 
Provide an honest review—both the good and the bad—of the product in your sponsored post. Nothing is perfect! If you say X product has no cons, then your audience will see right through you! 
4. Advertise with YouTube Videos
With over 2 billion users and 74% of adults in the United States watching videos, YouTube is one of the most popular ways to make money advertising for companies online. 
So whether you've already got a YouTube channel or just thinking about getting started, here are the main ways to get paid to advertise on YouTube:
1. Become a YouTube Partner
Once you have an audience on YouTube, then the first thing you should do is join the YouTube Partner Program. This allows you to start making money on YouTube. 
In order to be accepted, you'll need:
4,000 public watch hours in the last 12 months
At least 1,000 subscribers to your YouTube channel 
For a handy little overview of becoming a YouTube Partner and monetizing your videos, check out this YouTube video on YouTube's Partner Program. Woah, meta…
2. Make money with Google Adsense
Once you've signed up as a YouTube Partner, you'll create a Google Adsense account. This is what allows you to start getting paid for display advertisements on your YouTube videos. 
As the content creator, you get to choose where ads are placed and on which videos. For example, if you have a popular video with thousands of views, then you might increase the number of ads in order to earn more. 
To learn more about how YouTube ads work, check out this helpful video which gives you a behind-the-scenes look:
3. Use affiliate marketing
Just like with a website, affiliate marketing can generate a lot of money on YouTube. 
To make the most referrals and earn high commission income, there are 3 types of videos that perform really well for affiliates:
Tutorial videos — Where you teach someone how to do something using a product or service, step-by-step. 
Product reviews — Where you go over the pros and cons of a product/service and provide an "inside-look" and honest review. 
"Best Of" videos — Where you roundup the "Top 10" of something, for example, and go over each product or service.  
Okay, but how do you link to products in a video?
Well, the most common place to put affiliate links is in the video's description. Most YouTubers who earn this way provide a handy list of product(s) reviewed or talked about for viewers to click on.
4. Get brand sponsorships
For YouTubers with an enormous subscriber count and engaged community, brand sponsorships are perhaps the most lucrative monetization method on YouTube. 
Similar to sponsored posts, sponsored YouTube videos are paid for by brands and companies. They pay you to share a product/service with your audience and refer people. 
To find brand sponsorships, YouTube Partners with large channels can join the YouTube BrandConnect program which helps content creators land sponsorship deals with brands. 
And as I said before, with any and all sponsored content including YouTube videos, you need to make sure you're only promoting things that fit your audience and you believe in. 
5. Get Paid to Advertise on Social Media
Got a huge following on a social media network? If so, then you should make money advertising products/services on those platforms! 
If you haven't noticed, social media is kind big these days (understatement of the year), and brands are investing more and more money into influencer advertising, with a market size of nearly 10 billion. 
Why?
Because influencers and content creators have already built engaged communities and most importantly trust. Followers trust influencers to recommend valuable products/services that'll help them…and this, you guessed it, boosts sales significantly.  
So let's take a quick look at how you can get paid to advertise for companies on different social media networks…
Instagram
Instagram has grown into the biggest platform for influencer marketing, so if you want to make money with online advertising, this is probably a good place to start! 
There are 2 main ways to get paid to advertise products on Instagram: 
1. Affiliate marketing — You can place affiliate links in your photo description, bio, or use Shoppable posts. Check out my list of affiliate networks above. 
2. Sponsored content — Brands partner with you and pay you to advertise for them and refer sales. 
To find brand partnership opportunities and more affiliate products, also check out IZEA and ifluenz which are more geared towards Instagramers. 
And just like with blog posts, you'll need to disclose your relationship to the merchants you advertise. For instagram, this means you should include the #AD and/or #Affiliate hashtags at the beginning of your photo description. Don't forget!
Facebook
Facebook is another social media network where you can make money advertising for companies. 
You can:
Share affiliate links on your business' Facebook Page, via Status updates, or within Facebook Groups. 
Get paid to create Facebook ads for businesses. 
As with all social networks, you'll need to have a following in order to monetize on Facebook with affiliate marketing. So at the start, focus on building your brand and gaining an engaged following. You can even gather followers by running Facebook ads for your online business!
And the other way to make money advertising on Facebook is by creating and managing Facebook ads for other businesses. You can make $1,000-$2,000 per month per client. So if you take on 5 monthly clients, that's up to $10,000 a month!
To learn more about making money running Facebook ads, check out Laptop Empire's FB Side Hustle course. It'll teach you everything you need to know about the Facebook ad platform, how to get clients, and grow your ad business. 
Twitter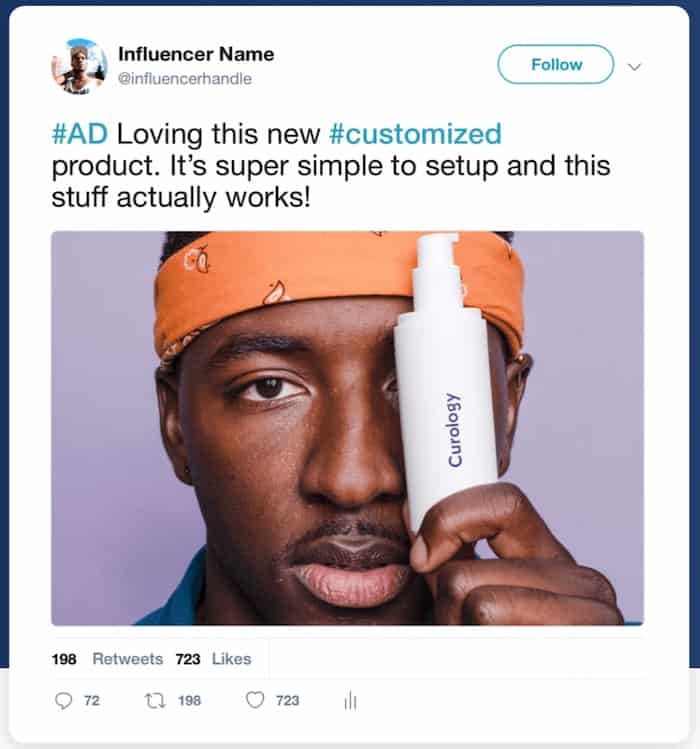 With a following on Twitter, you can also use this social network to make money advertising. 
Similar to other platforms, with Twitter you can make money via affiliate marketing and/or sponsored tweets. 
Affiliate marketing on Twitter is pretty straightforward. You write a tweet and include your affiliate link to a product/service. Just like Instagram, you'll need to include the #AD or #Affiliate hashtag at the start of your tweet. This lets your audience know that you're getting paid to advertise this product. 
Another way to make money on Twitter is with Sponsored Tweets. 
In order to get brand sponsorships, you'll need to have a large, engaged following on the platform. Then, you can sign up for Sponsored Tweets so that brands can connect with you. 
Pinterest
Pinterest is another great place to make money with affiliate marketing. 
In recent years, Pinterest has rolled out many changes to the platform that make it easier than ever to tag affiliate products in your pins and images. When a user clicks on those product tags and makes a purchase, you receive an affiliate commission. 
Pinterest is especially valuable for those of you in the crafts, DIY, cooking, fashion/beauty, and home decor niches, as these are the most popular categories for Pinterest users. 
So if you're a fashion/beauty blogger, you can upload attractive pins and tag the products that you're wearing—similar to Instagram's Shoppable posts. Then, every time someone clicks on those tags and makes a purchase, you make money. 
TikTok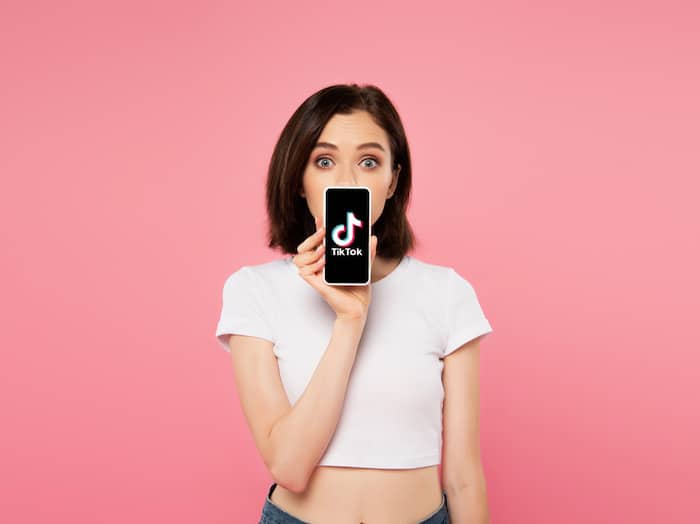 TikTok is a baby compared to other platforms in the influencer marketing and digital advertising industry. While it's experienced an insane boom in the last few years, TikTok and its creators are just getting their feet wet when it comes to monetization. 
Most TikTok influencers with thousands, if not millions, of followers are making money via sponsorships or selling their own merchandise or products on their websites. 
So far, affiliate marketing is difficult on the platform because you can't include links in videos. Instead, you would need to direct viewers off of TikTok—say to your own website or landing page—in order for them to click affiliate links.  
However, on the plus side, more and more businesses are starting to use TikTok ads. As all of this advertising money floods the platform, TikTok will need to establish a way to share ad revenue with creators—or face an uprising, I'd say. 
Currently though, the only TikTok-established way of making money is through their Creator Fund, which according to creators pays cents per day. 
But the fact remains that, because TikTok is so new, there's a higher demand for TikTok content than there are creators. So even though you can't get paid to advertise as easily as you can on YouTube, for example, you can grow a massive audience much more easily on TikTok at the moment. 
Clubhouse
Clubhouse is a newcomer to the social media realm and affiliate networks like IZEA are starting to support Clubhouse advertising. 
If you haven't heard of Clubhouse yet, it's a social network that allows users to congregate in audio-only chat rooms centered around different topics. Rooms are moderated by the hosts and users can join to chat or join to just listen.
Right now, you can only join Clubhouse if you receive an invitation from a current user. So while it may not be a way for you to make money advertising now, keep an eye on this one! Clubhouse is already growing in popularity, and I betcha it'll see the same explosion TikTok did in recent years.
6. Advertise Apps and Make Money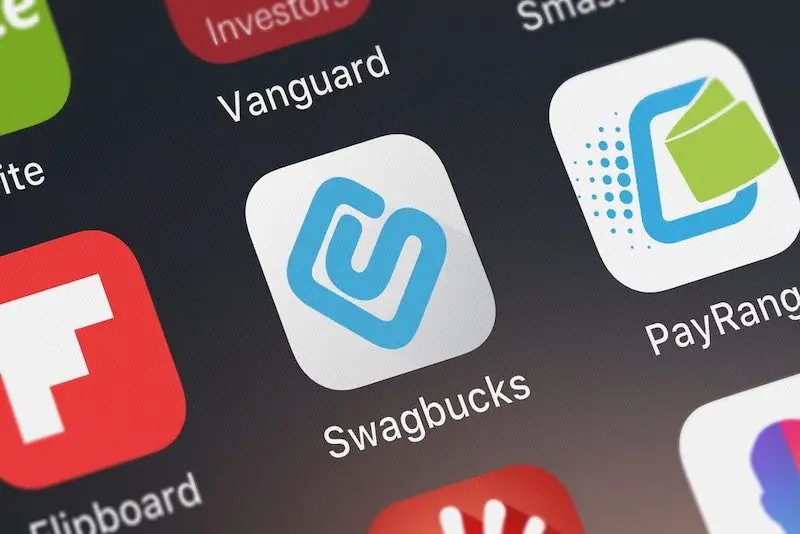 If you haven't yet signed up for any cash back or rewards apps, then you're missing out. 
These apps make it incredibly easy to get free money online by doing the simplest of tasks, like watching videos, playing games, searching the web, and even just doing your normal online shopping.
So the first thing you'll want to do is sign up for popular rewards apps, like:
Swagbucks — Get paid to do simple online tasks, like watch videos, play games, and surf the web. Instant $10 bonus when you sign up. 
Rakuten — Finds you coupons and cash back opportunities while you simply shop online. Get an $10 welcome bonus. 
Ibotta  — Easy-to-use cash back app for online and in-store shopping. You'll get an instant $20 bonus for signing up. 
In addition to these instant bonuses, you can also receive referral bonuses when friends or family members use your referral link. 
With Swagbucks, you'll get a 300 SB Bonus (worth $3) AND 10% of your friends/family SBs for life! So every time they earn SB on the platform, you make money. 
Rakuten offers a $20 referral bonus as part of their Refer-A-Friend program. 
And lastly, Ibotta gives you $10 cash for referring people to the app.
Add all those up, and that's $30+ for every person you advertise these apps to. Not bad! 
Related Read: 25 Legit Ways to Make Instant Money Online
7. Freelance as an Ad Specialist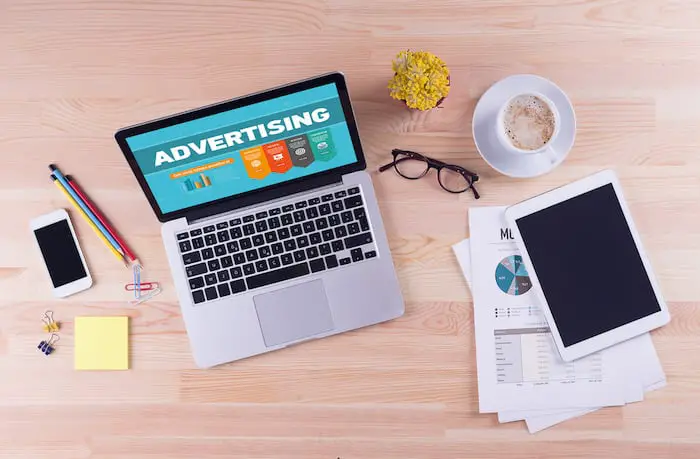 The final way to get paid to advertise for companies is by freelancing as an ad manager or ad specialist. 
As you've seen in this article, there are so many places for online advertising these days, and as a result, businesses and entrepreneurs often outsource digital marketing and ad creation for all of these platforms. 
And that's where you come in!
Ad specialists are responsible for keeping up on the latest advertising trends and developing and monitoring ad performance. They'll typically specialize (it's in the name!) in 1 or 2 platforms, so you don't have to know everything about every social media outlet or search engine. Whew!
So if any of these ways to make money doing online advertising have popped out at you, dive deeper into those platforms. 
If you're a Pinterest lover, learn about Promoted Pins.  If you've got an eye for killer Facebook ads, then start a Facebook Ads side hustle.
Ultimately, start by becoming an expert on platforms you already love, and then make money advertising for companies on those. 
Some great places to find gigs as an ad specialist are: 
Offline Ways to Make Money Advertising for Companies
So we've gone over quite a few ways to make money doing online advertising…but what about good ol' fashioned offline ways?
As it turns out: 
There are actually some pretty clever ways to get paid to advertise in the real world. 
While these methods won't make you millions of dollars every year, they are small side hustle ideas for you to think about. 
So let's take a quick look at 2 fun ways to make money advertising for companies offline…
Wrap Your Car
Got a car? 
If so, you can turn it into a money-maker. 
Car advertising is hardly new, but a lot of people don't take advantage of this easy way to make money by just simply driving around. 
Companies will pay you to advertise for them on your vehicle and drive around town a bit each day. That's it!
2 well-known car advertising programs you can sign up for are Wrapify and Carvertise. 
With Carvertise, for example, you can earn between $350 and $1500 per ad campaign! 
Most car advertising companies pay monthly, with an average between $300-$450 a month for wrapping your car. 
So if you're driving around anyway, why not turn it into an easy side hustle?
Get a Tattoo
For you hardcore advertisers out there, this method of making money is perfect for you. 
Companies will actually pay people to get temporary tattoos of their logos and advertisements. 
One of the most popular websites for doing this was Lease Your Body, but it seems their website is inactive, so at the moment you'll need to look elsewhere. 
Other places you might want to check out are Craigslist, eBay and Fiverr. Or, reach out to companies yourself and pitch them. 
Final Thoughts on Making Money Through Online Advertising
Online advertising isn't the easiest way to make money online, but it can be either a lucrative side hustle or a burgeoning online business. 
And that's what makes affiliate marketing, display ads, and sponsored content so appealing:
You can start building the foundations today and scale your revenue over time. 
And ultimately, making money with online advertising allows you to work from home and take back control of your time. 
So take the first steps towards making it happen today. Start that blog or learn how to grow your following on social media. 
Because the money…it's there.
For more ways to make money online, check out: