How to Make Money Online by Typing Names – Earn $300+ a Month!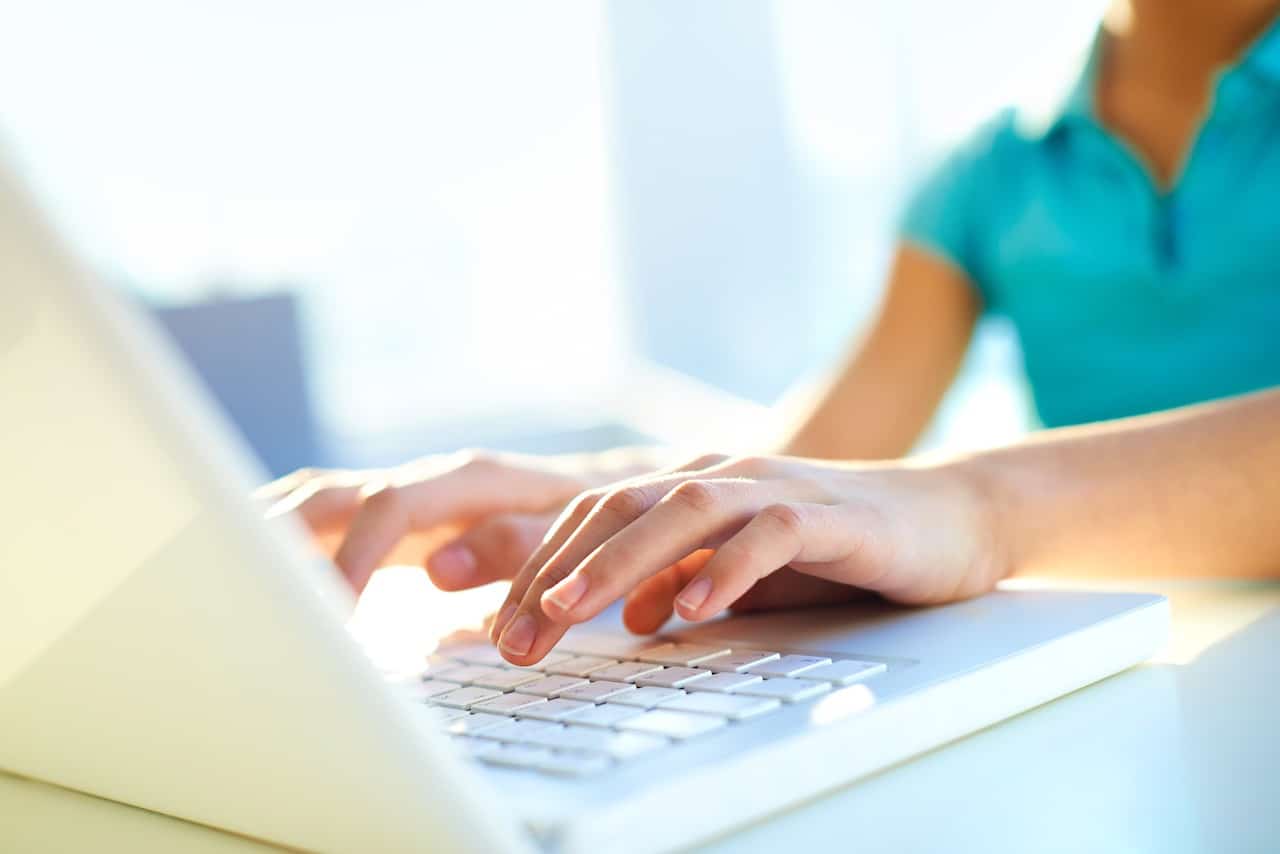 This post may contain affiliate links. If you decide to purchase through my links, I may earn a small commission. Read my disclosure page for more info.
It may not be well-known, but you can actually make money online by typing names. 
To be more precise, creating and selling names to companies!
By coming up with cool, imaginative names, you can easily earn $300 by typing names online—in as little as a week!
So today, I want to talk about this relatively unknown online money-making opportunity because I think it's yet another excellent side-hustle idea. 
Ready to get started? 
Here's everything you need to know about making money by typing names. 
Related Reads:
How can I make money online by typing names?
It may sound entirely unbelievable, but it's true: 
You can earn money just by typing names. And in fact, there are actually a couple of different ways to type names and make money online.  
But today, I want to focus on one typing side-hustle opportunity in particular which is offered by an online company called Squadhelp. 
Why Squadhelp?
Well, the reason being that Squadhelp actually affords you more opportunities to make money than other typing jobs. And as a result, it can be an incredibly profitable side job. 
So let's dive a little deeper into what Squadhelp is exactly and how you can make money online just by typing names. 
What is Squadhelp?
Squadhelp is an online crowdsourcing platform that helps new businesses discover great name ideas, logo designs, and taglines—all created by Squadhelp's online community of over 70,000 freelancers. 
On Squadhelp, businesses or entrepreneurs can purchase names/domains, logos, and branding that are created and sold by freelancers. They can choose to purchase these either on the Squadhelp Marketplace—an online shop of thousands of brand names—or by creating contests for freelancers to enter into. 
Here's an example of a brand name, domain, and logo design for sale on the Squadhelp Marketplace: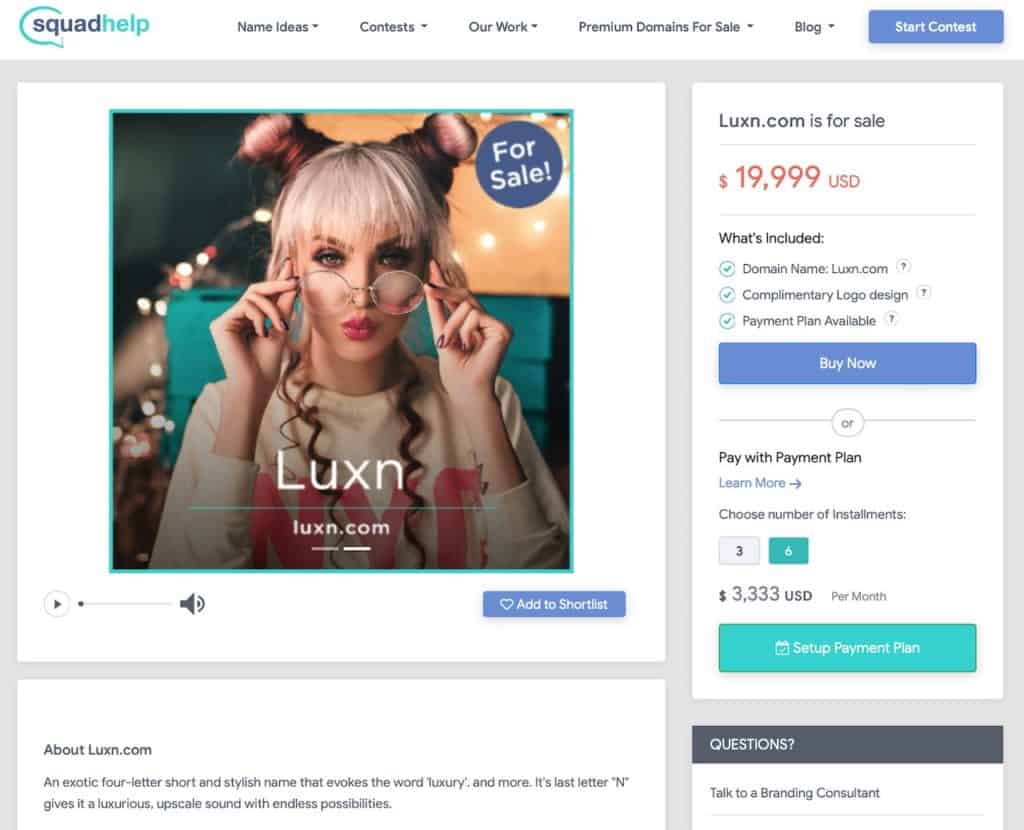 Did you notice the price tag on that one? 
If you're the creator of this business name, then you're going to make a killing when it sells. 
I say "when" because there's no shortage of businesses and entrepreneurs on Squadhelp. To date, they've helped over 14,000 brands worldwide find their perfect name. 
And it's no wonder why they choose Squadhelp, because businesses (known as "Buyers" on Squadhelp) can also:
Conduct audience testing on their shortlisted names
Have Squadhelp research and file for trademark protection
Partner with Squadhelp branding consultants to run contests and find and secure names, logos, taglines from start to finish
For more information about how Squadhelp works from a business's perspective, check out Squadhelp's very own video explaining how their platform works:
Is Squadhelp legit?
Yes, Squadhelp is a legit online crowdsourcing platform where you can get paid to name businesses and create logos. Squadhelp's online community comprises over 70,000 creatives worldwide, who have already helped over 14,000 businesses and entrepreneurs find names, logos, and slogans for their companies.
Also, Squadhelp currently has a 4.6/5 "Excellent" rating on Trustpilot. So if you want to get paid to name companies, or tap into thousands of name ideas for your business, then you should definitely incorporate this high rating into your decision-making. 
Can you make money on Squadhelp?
In short, yes. You can definitely make money creating names for companies on Squadhelp.
Just take a look at one of the top Creatives on the platform right now:
This Squadhelp member has already made a total of over $70,000 by winning naming contests and selling names on the Marketplace.
So there's definitely money to be made here.  
However, in order to really be successful on Squadhelp and make good money typing names, you'll need to come up with genuinely creative and original names, or if you so choose, logos and taglines. 
If you enter names into contests that aren't appealing or don't work well for companies, then you won't make much money using Squadhelp. 
The better your name ideas, the more likes you'll receive, and the closer you'll be to receiving what's known as Tier A Creative status. 
So if you have good name ideas, then how much money can you make?
Well, the amount of money you can make on Squadhelp depends on how many contests you enter, what the prize money is, how many you win, and if you take advantage of the Marketplace and sell on there. 
The prize money amount for each contest primarily depends on the pricing package a business purchased. 
To give you an idea, Squadhelp offers the following plans for business names, and you can see how much you'll earn for winning each type of naming contest:
Bronze — Business Cost = $299, Prize to Creative = $135
Gold —Business Cost = $449, Prize to Creative = $200
Platinum — Business Cost = $749, Prize to Creative = $300
Managed — Business Cost = $999, Prize to Creative = varies, but expect $300-$500
Related Read: 25 Legit Ways to Make Instant Money Online
How do I sign up for Squadhelp and earn money typing names?
Signing up for Squadhelp is easy, and better yet, free!
All you have to do is head on over to Squadhelp and click "Signup" in the top right-hand corner. 
You'll come to this account setup screen: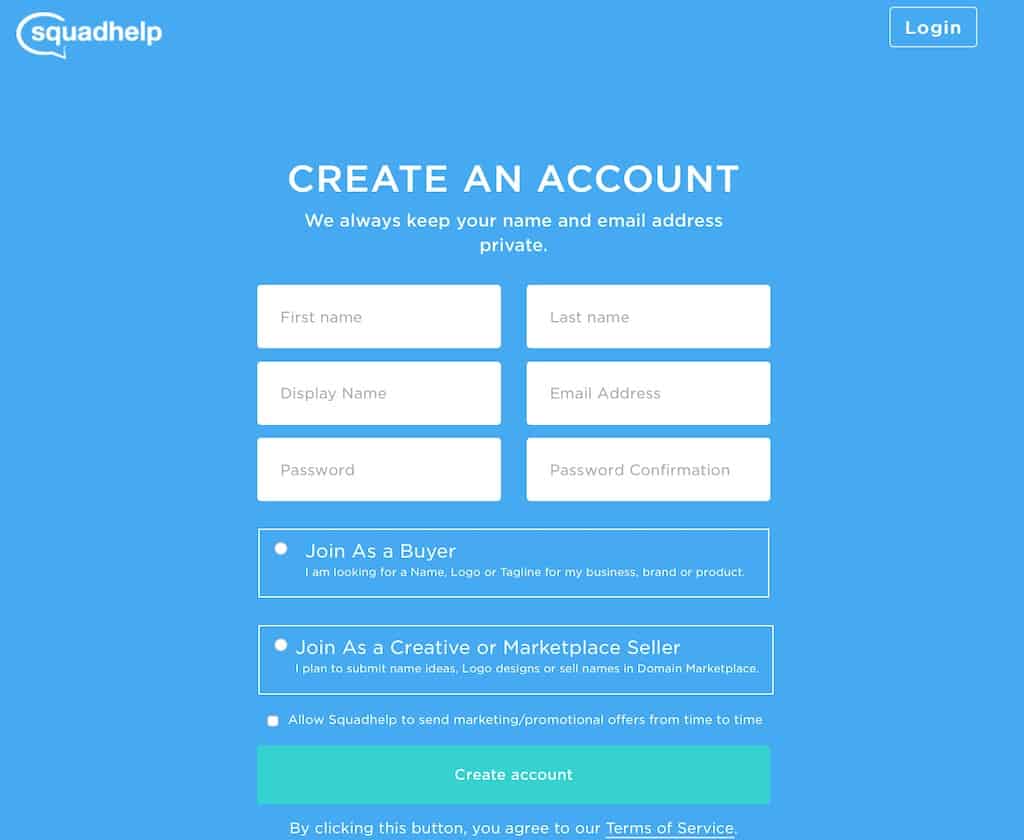 If you're wanting to get paid to name companies, then click where it says "Join as a Creative or Marketplace Seller."
After you join Squadhelp, you will be vetted, in a way, as a new Creative on the platform. They will automatically assign you only 2 contests for you to enter your ideas. You will not be able to enter any other contests besides these 2. 
Essentially, in these first 2 contests you must prove that you have good name ideas to contribute to the platform.
If businesses "like" some of your ideas in those first 2 contests, then Squadhelp will allow you to participate in any and all contests currently available to Creatives.
So next, let's take a closer look at contests and other ways you make money on Squadhelp…
How do you make money on Squadhelp?
1. Enter Contests
Now that your account is all setup, you need to enter naming contests and start winning them! If you want to make money typing names, this is THE best way to make that happen.   
Squadhelp contests usually run for about a week, and you'll typically win between $100-$300 per contest, although some do pay winning Creatives even more than that. 
You'll want to start by searching active contests that you can enter into. I recommend filtering the search results by Naming Only, Active Contests, and Prize Guaranteed. 
Here is what the search dashboard looks like: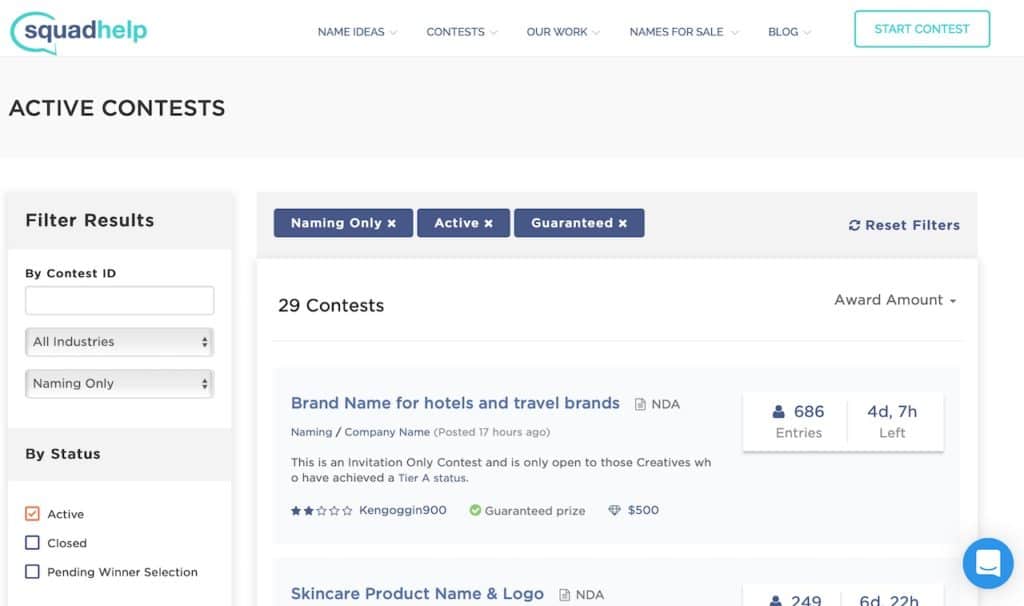 If you're curious about all the types of contests you can enter into, they are:
Naming Only
Naming and Taglines
Tagline Only
Logo & Design
So if you feel equipped to enter into any of these other types, then go straight ahead! Again, the more contests you enter into, the higher likelihood that you'll make money. 
Now as you're searching for naming contests, they'll say who can enter and what you need to do to enter. 
Take a look at a few contest descriptions below: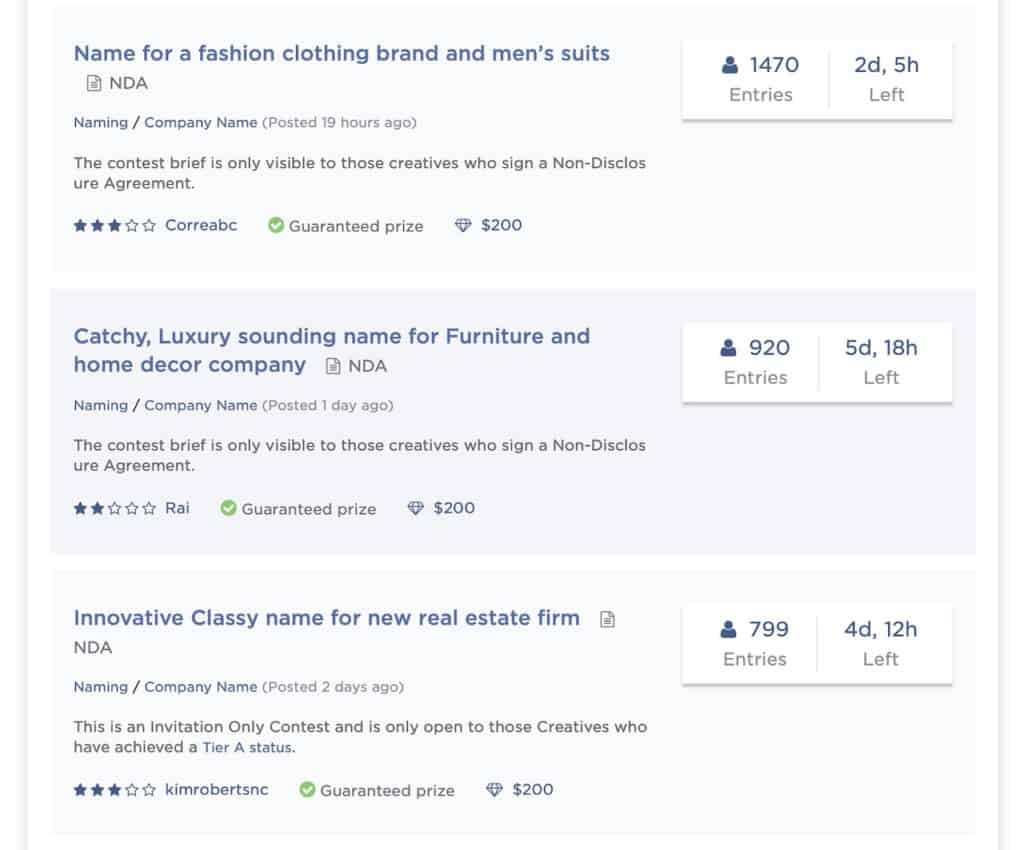 Notice that all of them (in this screenshot) require you to sign a non-disclosure agreement or NDA. This is to protect information contained within a company's branding project brief, which goes over information about their company idea, mission, business model, target audience—really everything a business doesn't want people potentially leaking to competitors. 
So don't worry about signing the NDA. In the world of business, and especially startup companies, it's pretty standard. 
Other things you'll notice about the contest search results, is that they'll specify the prize amount (by a jewel icon), the company's industry, and whether or not the contest is open to all creatives or what's known as Tier A Creatives. 
What are Tier A Creatives? 
Well, these are Squadhelp creatives that have proven over and over again that they have good naming ideas and (usually) have won multiple competitions or sold names on the Marketplace. 
So how do you achieve Tier A status?
The answer is simple:
Don't just enter random names into contests. Yes you can make money by typing names on this platform, but: 
Your names must fit the business's description, be unique, appealing, and also have a corresponding domain name available.
Don't worry though. Squadhelp will automatically check to make sure your clever name ideas are also available URLs or domain names. 
Now, once you've entered a contest, you'll be able to see how successful your name ideas have been. 
Businesses will mark your ideas as either:
No, thank you.

 

On right track.

 

Like it.
Love it.
Shortlisted.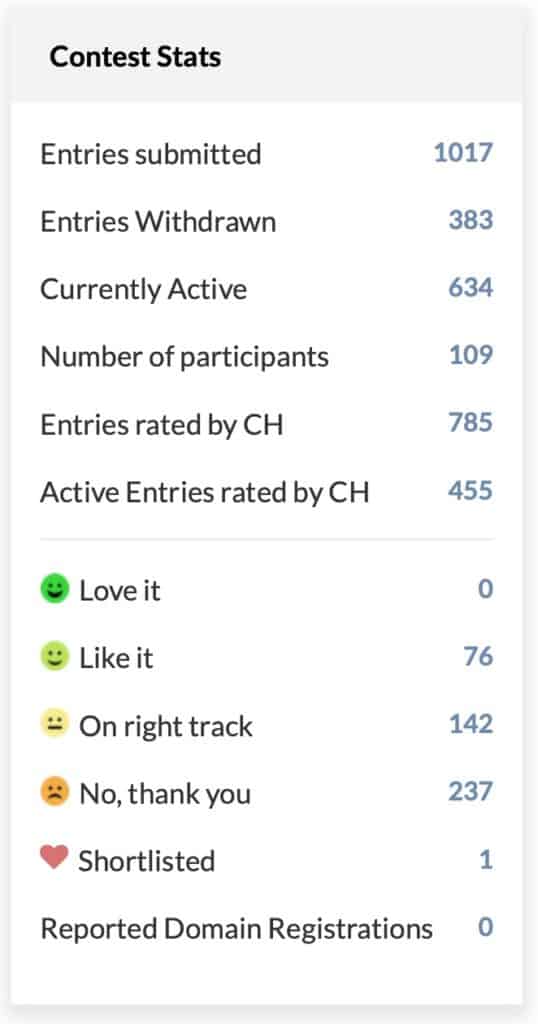 If your names are marked "Love it" or "Shortlisted" then you know you have a chance at winning the contest and that glorious prize money.
2. Sell names, logos, and taglines on the Marketplace
Another great way to use Squadhelp and make money online by typing names, is by selling on the Squadhelp Marketplace. 
Typically, you won't just put names up for sale though. You'll create a "brand package" of sorts that includes:
Company name
Corresponding domain/URL
Logo
A brief "About" description
Possible uses (what industries and types of companies the name matches well with)
Root words used
Key emotions and feelings (the name triggers in consumers)
The better each of these sections is, the more likely you'll be able to make money creating and selling names. 
And there are tons of business categories you can start creating names for. The top categories on Squadhelp are:
Beauty
Agency & Consulting
E-Commerce
Fashion & Clothing
Finance
Real Estate
Tech
You can create and sell names in whichever categories peak your interest or you feel you've got good ideas for. 
So how much can you make selling on the Squadhelp marketplace?
Well, if your names, logos, and descriptions entice businesses, then you can sell branding packages for thousands of dollars. 
Yes, that's not a typo: THOUSANDS of dollars. 
Most sell for $2,000-$5000 each!
And if your names don't sell quickly, then after a while you can change your price and put them up for bidding. Business can then make offers, which you can compare before choosing the highest one. 
So if you have great company name ideas, start typing away and sell them on the Marketplace. This is an excellent way to make more money on the Squadhelp platform, especially if you can create attractive logos to match. 
Related Read: 29 Sites to Make Money Online for Artists
3. Be an Affiliate
Lastly, you can also make money by becoming a Squadhelp affiliate. 
Once you've signed up, you'll have access to an affiliate dashboard immediately. 
Your dashboard will tell you 3 more ways to make money:
$30 for every customer who launches a Squadhelp contest
$35 for every customer who buys a domain on the Squadhelp Marketplace.

 

Earn points when friends/family create a Squadhelp account.

 
So if you get friends and family to use the platform, either as a Buyer or Creative, you can get paid even more!
Related Read: How to Make Money Advertising for Companies Online
How do I get paid to type names on Squadhelp?
In order to get paid for any contests you win or names you sell, you'll need to setup your Paypal or Payoneer account on Squadhelp. 
You'll also be asked to submit a W9 form and tax identification information in order to receive any money. 
Squadhelp relies solely on Paypal and Payoneer, meaning you cannot receive earnings via direct bank transfer or any other means. 
What are other ways to make money online typing names?
If you're not sold on Squadhelp and looking for other ways to make money online by typing names, then there are still some other great options for you. 
However, most of these will require typing other things as well as names in order to make money. 
But the important thing is that they are entirely typing-based jobs that you can do from home and online. 
So let's take a look at some of the most common typing jobs where you can make money. 
1. Data entry
Data entry sounds about as vague as the job actually is. 
What data you're asked to enter, and what software or document you're asked to enter it into, really differs depending on the business that hires you and what they need. 
In general, most data entry work involves typing information into Excel spreadsheets or online databases. 
And a lot of this data will be names, addresses, urls, phone numbers, etc. 
There are 4 great places to find data entry work online, such as:
Fiverr — One of the leading freelance job sites for a range of skills, including data entry.
Upwork — Another freelance site where you can find data entry work.

 

Task Rabbit — A site that links you to people in your area looking for others to do a range of tasks, including data entry.

 

Fancy Hands — A site for businesses and entrepreneurs looking for virtual assistants to help them complete things like data entry, amongst others.

 
Related Read: 17 Smart Ways to Make Money Online From Home (No Phone Calls!)
2. Transcription
For transcription work, you are sent short audio and/or video files that you need to type and transcribe.
The great thing about transcription work is that you don't have to have any experience in transcription beforehand. 
You can sign up with major companies like TranscribeMe and Rev right away. They'll ask you to study a transcription formatting guide and take a test before accepting you, so you should definitely have fast and accurate typing skills. 
The faster typer you are, the more work and money you can make with transcription!
Check out TranscribeMe and Rev today to see how you can get started making money online typing. 
3. MicroTask Websites
MicroTask sites offer some typing work, often in the form of transcription and data entry. 
One of the most well-known micro-tasking platforms is Amazon Mechanical Turk (mTurk), because it's, well, Amazon. 
The way it works is this:
Businesses and corporations outsource work to mTurk employees. Instead of one employee doing an entire data entry job, it'll instead be shared amongst many mTurk workers. This way, the job gets done faster and more accurately. 
You can signup for work on mTurk relatively quickly and start completing typing work for businesses today!
Related Read: 23 Ways to Make Money After Work (Even with a Full-Time Job)
Final Thoughts on Making Money Online by Typing Names
With Squadhelp, you can actually make money online by just typing names. 
But like almost all ways to make money online, typing names will require other skills and qualities in order to turn it into a real money-maker. 
I do think Squadhelp is a great platform to help you bring in extra income and get paid online, but it's not perfect. 
Here's a quick recap of some pros and cons to Squadhelp:
Like most online side-hustles and money-making ideas, typing names on Squadhelp, when combined with other online opportunities, is the best way to really earn good money and boost your income. 
For more ways to earn, check out these other make money articles: