How to Make 300 Dollars FAST When You're BROKE (19 Easy Ways!)
This post may contain affiliate links. If you decide to purchase through my links, I may earn a small commission. Read my disclosure page for more info.
If money's tight, then an extra $300 in your wallet can go a long way. 
After all, $300 can help pay for this month's rent, or utilities, or groceries for the next week or two. 
So how do you make $300 fast? 
Well as it turns out, you have many legit ways to earn a couple hundred bucks when you're in need. 
Take a look at these 19 easy ways to make 300 dollars fast, and you're by no means limited to 1! Combine a couple of these suggestions and you can make well beyond your $300 goal!
Related Read: 25 Legit Ways to Make Instant Money Online
How to Make 300 Dollars Fast Online — 19 Legit Ways
1. Resell on eBay
A great way to get $300 dollars fast is reselling brand-new products on eBay. 
How do you profit off brand new products?
The trick is to bargain hunt and scour product sales on Amazon, at Target, Best Buy, Walmart, etc., you name it! Basically, any online or brick and mortar retailer that has daily product deals, temporary discounts, and sales days. 
Make sure to keep an eye on:
Amazon's Deal of the Day, Today's Deals, and Lightning Deals pages
Target's Clearance, Top Deals, and Weekly Ad pages online
Walmart's Clearance and Weekly Ad page

 
Once you've spotted a discounted item online, head over to eBay and see its current selling price. Chances are, it's selling for an amount closer to its regular price. 
If there's an eBay market for it and it's listed for more than the sale price, then buy it and resell it on eBay! 
You can even list items on eBay, sell them, and have it shipped directly to the buyer! Just keep an eye out for when the deal is ending, so you don't lose money or break even. 
2. Hop on TaskRabbit
Making $300 in a day is easy with TaskRabbit. 
TaskRabbit connects you with people online or in your local area who are willing to pay you to complete tasks for them. 
What kind of tasks?
With TaskRabbit, online tasks you get paid for include:
Computer help
Data entry
Graphic design
Research
Selling online
Usability testing
writing/editing
Web design and development
Or, you can make 300 dollars fast helping with in-person tasks, like:
IKEA furniture assembly
Packing
Car washing
Cleaning
Heavy lifting
Home repairs
Painting
Photography
Organization
…and tons more. 
Signing up is fast and easy, and TaskRabbit provides a secure payment system, so you don't have to worry about people skimping out on you. 
And perhaps the biggest benefit is that TaskRabbit doesn't take a cut of your earnings. You set your own rates and keep 100% of what you charge!
Related Read: 23 Ways to Make Money After Work (Even with a Full-Time Job)
3. Name Companies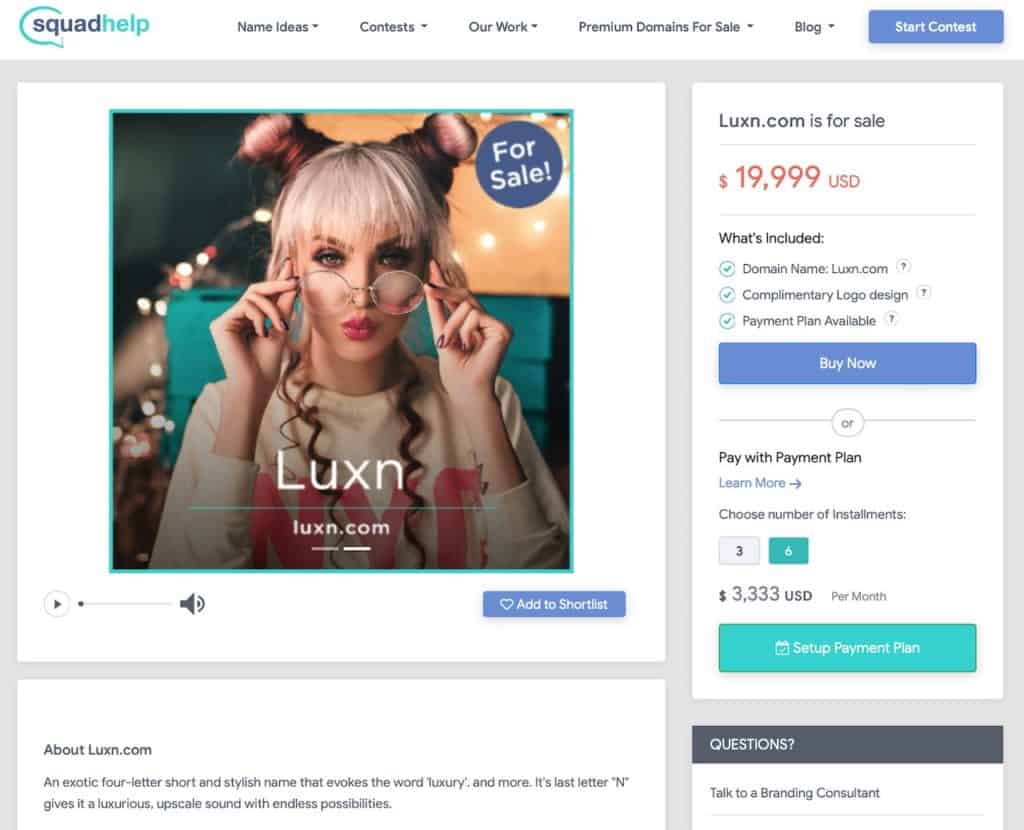 Did you know:
You can get paid to create names for companies? 
It's true. 
Every day, folks are making money online fast by selling business names, domains, logos, and taglines for startups around the world. 
Company names can earn you anywhere from $135-$500. 
And if you sell a name, domain, and logo packaged together, you can make between $1,000 and even up to $5,000!
Squadhelp is one of the most popular sites to make money naming businesses. You can enter naming competitions and win prize money, and/or sell on the Squadhelp marketplace and earn $1000+ per sale.   
Check out my in-depth Squadhelp review to learn more.  
4. Open A New Bank Account
Bank account bonuses is another way to get $300 fast online. 
To attract more customers, banks will often offer anywhere from $50-$500 in free cash just for opening up a checking or savings account with them. 
By opening up just 1 account, you can easily hit your $300 goal. 
Or, open up a few accounts and compile those new account bonuses. Kevin over at Financial Panther earned $7,000 in bank account bonuses in 1 year! 
To find out which banks are offering sign-up bonuses, check out Bankrate's list of best bank account bonuses. This list is updated frequently, so you can make money with bank bonuses throughout the year. 
And to learn more about how these bonuses work, Kevin at Financial Panther created this ultimate guide to bank account bonuses that covers everything you need to know. 
5. Open A New Credit Card
Similar to bank account bonuses, credit card companies will frequently offer cash back or rewards bonuses in the form of points or $100-$300 cash back. 
So you can earn 300 dollars in a day either for just simply opening the account, or spending a certain amount on the card within a given timeframe.
Some of the biggest bonuses are offered by travel rewards credit cards. A lot of times, these cards will give you massive points bonuses that you can then put towards flight tickets, hotel stays, and restaurant deals. 
NerdWallet maintains an updated list of the best credit card bonuses currently available, so you can compare offers and make $300 fast! 
6. Participate in Focus Groups
Focus groups are where a small group of people share their feedback and opinions on products, advertising, apps, and more. 
Conducting focus groups helps businesses test ideas and gage consumer responses before they launch a new product, service, or marketing strategy. Without doing market research with real consumers, companies risk wasting time and money, or weakening their brand image with a poorly designed product.
And the good news for you is:
Businesses pay focus group participants well. 
You can make anywhere from $50-$200 per hour participating in focus groups online, in-person, or in some cases over the phone. 
Check out these trusted focus group companies, and earn 300 dollars fast:
7. Tutor Online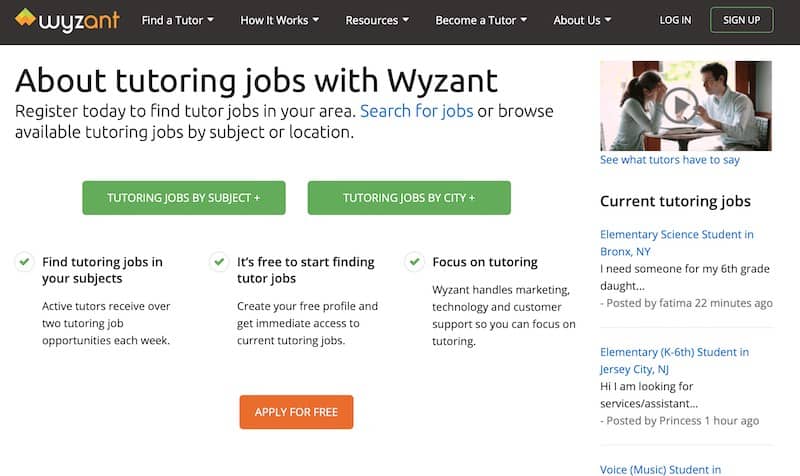 Online tutors help students strengthen skills and knowledge in one subject or a variety of subjects. There's especially high-demand for tutors in subjects like mathematics, English writing/reading, standardized test prep, and ESL (English as a Second Language). 
Tutoring sessions take place over Zoom, Skype, Facetime, or propriety software provided by a tutoring company, which means you can tutor online from anywhere in the world and whenever you want! Your schedule and the number of students you teach is entirely up to you. 
To be a tutor, you don't have to have a teaching certificate. However, most tutoring companies require you to have a Bachelor's degree, but it can be in any subject and doesn't have to be in the subject your tutoring.  As long as you have the knowledge and skills required, you can teach whichever subject(s) or age ranges you prefer. 
So how much money can you make tutoring online?
The answer to this is: it really depends on whether you're self-employed or working for a major company. 
Most big-name tutoring companies will pay anywhere from $10-$20 an hour, depending on your experience and qualifications. 
And if you list your services on tutoring sites, then you set your own rates. You can typically charge anywhere from $20-$50 an hour, with higher-rates for tutoring more advanced subjects and/or having more experience. 
Make 300 dollars within a week by listing your tutoring services or applying to:
Wyzant – Looking for tutors in all subjects areas.

 

VIPKid – Looking for ESL tutors to teach primary students online.

 
8. Sell on Poshmark
If you've got a closet full of clothes, then sell some of them on Poshmark!
Poshmark is an app and website that lets you create a profile, gather followers, and sell items online.  
On Poshmark, there is a huge market for designer brands and vintage clothing items and accessories. So if you've got high-quality clothing gathering dust in your closet, then make some money off of it!
Or, if you don't have an abundance of clothes but you have a killer thrift store in your local area, then go thrifting and resell all the great items you find!
The best part about Poshmark is that you don't have to worry about payments and shipping—they make it easy! Poshmark provides a secure payment system and ready-to-print shipping labels for you. Just print it, stick it to the box, and drop it off at the post office. Done!
Find out more about selling clothes on Poshmark, and earn some fast cash today!
9. Sell on Decluttr

Decluttr is an app and website for selling used electronics, gaming consoles, books, and more. 
Unlike online marketplaces, with Decluttr you don't have to create listings at all!
Instead, Decluttr asks you a few questions about the item, quotes you a price, and gives you a shipping label. Then, you drop it off at your local UPS Store or authorized retail outlet for FREE shipping. 
After Decluttr inspects the item, you'll receive your payment via direct deposit or Paypal the very next day! 
You can make fast money by selling:
Old smartphones
CDs, DVDs, Blu-rays
Kindles
Tablets
Laptops
Gaming consoles
Video games
LEGO sets
Chances are, you probably have some of these items laying around the house and ready to sell on Decluttr, so get to it!
10. Sell on Facebook Marketplace
Facebook Marketplace lets you list items, including bulky items like furniture and appliances, for sale on Facebook. 
What's great about Facebook Marketplace is that you're automatically connected with potential buyers in your area based on their current location or current hometown. This means you don't have to worry about shipping or moving items yourself. In most cases, the buyer comes to you and picks the item(s) up!
So what can you sell on Facebook Marketplace to earn $300 quick?
Well, really anything!
Some of the best items to sell on Marketplace are:
Furniture
Appliances
Electronics
Higher-priced kitchen gadgets, like espresso machines, juicers, pressure cookers, etc.

 

Exercise equipment
Children's clothing, toys, furniture and accessories
Pet supplies
And since you're listing on Facebook, messaging potential buyers is easy through Facebook's own Messenger service. You don't have to give out your phone number to strangers, and you can arrange pickup anywhere you like. 
So find stuff you can sell on Facebook Marketplace, and start making money online!
11. Have a Garage Sale
If listing things on Facebook Marketplace doesn't interest you, then have a garage sale and make 300 dollars (or more) in a day!
Garage sales are an excellent way to make money, especially if you live in a close-knit community and/or a large neighborhood. All those cars that pass by every day are your potential customers!
And some neighborhoods even have community-wide garage sale days, so don't pass these up!
Make sure to pick up some stickers or tape to put prices on all the items. Price things competitively and offer "5 for $5" type deals on things like toys, DVDs, and clothes. 
No one can pass up a good deal, and you'll rake in more cash that way!
12. Clean Houses
Most of us dread the weekend when we realize:
Ugh, gotta clean the house. 
But I bet you we'd change our tune if someone paid us to do it, say $25-$45 an hour?
I don't know about you, but I'd be all over that! 
Cleaning houses in your neighborhood or local area is a great way to get $300 fast, and TaskRabbit makes it easy to list your house-cleaning services and start earning. 
If you charge just $30 an hour, most 4-bedroom homes require at least 2 hours of deep-cleaning. That's $60 for 1 house!
You'd only need to clean 5-6 houses in a week to make $300 easily. So why not?!
Pop in some headphones, listen to a podcast/music, and clean for cash! 
13. Rent Out a Room
Airbnb makes it easy to make money renting our your spare bedrooms. 
If you live close to a major tourist destination, or even if you live in the scenic countryside, Airbnb customers are looking for convenient and comfortable places to stay. 
Renting out just 1 private bedroom, you can earn an average of $67 per night. And if you rent out your entire house, you can charge an average of $200 per night!
So if you got the extra space, make money from it with Airbnb! You could even stay with friends or family while you rent out your house for some fast cash. 
14. Freelance
Another great way to make 300 dollars fast online is by freelancing. 
Every one of us has knowledge and skills that other people are willing to pay money for. So if you've got graphic design skills, English language skills, video editing know-how, or have strong organization and time-management skills, then turn these into income!
Freelancing has never been easier, thanks to freelance job sites like Upwork and Fiverr that let you setup a profile, set your rates, and bid on jobs. 
Businesses and entrepreneurs need in-demand freelancers to help them:
Proofread
write/edit

 

Design logos
Design websites
Take photographs
Edit Youtube videos
Develop apps
Run Facebook ads
Moderate social media forums
Manage email
Moderate blog comments
…and literally thousands more tasks. 
Make sure you have a strong profile on freelance sites and bid on jobs competitively. If you're new to these platforms, you won't be able to charge extremely high rates until you become more established and highly reviewed. 
However, just by the sheer number of jobs posted every day, you can make that $300 online in no time. 
Start making money freelancing with:
15. Do a No-Spend Challenge
While this might not be the fasted option on this list, challenging yourself to not spend money over a certain period of time can benefit you in so many ways. 
Firstly, no-spend challenges help expose your spending habits, good and bad, and afterwards, adjust your financial planning to better reach your money goals. 
So if you do a no-spend challenge over a weekend, then you'll discover how much you'd typically spend on social engagements, for example. Or maybe you dine out every weekend and hadn't realized how much this habit costs over time. 
Identifying those spending habits that negatively impact your ability to save a rainy day or emergency fund or pay off debt is extremely crucial on the road to financial freedom. You have to be in complete control of your spending and have a strong financial plan. 
No-spend challenges sound more difficult than they really are, trust me! 
All you have to do to rock a no-spend challenge is go into it with a clear plan. Check out my guide to doing a no-spend challenge, and find out how you can save $100s of dollars fast!
16. Sit and Walk Pets
Are you a lover of all furry friends?
Then you should make money online by sitting and walking pets!
Two of the biggest sites, Rover and Wag, help connect you to people in your area looking for pet sitters, dog walkers, and doggy daycare providers. 
As a dog walker, you can walk multiple dogs—3-5 at one time—and earn up to $25 per dog! 
And it's not unheard of to charge $40 per day, per dog as a doggy daycare provider. 
So if you're looking to make 300 dollars fast, you can walk 2-3 dogs per day for 5 days and earn $300 by the time the weekend rolls around. 
Or, watch 2 dogs during weekdays and earn MORE than $300 by Friday. 
Check out how to start earning today on Rover and Wag!
17. Test Websites for UI/UX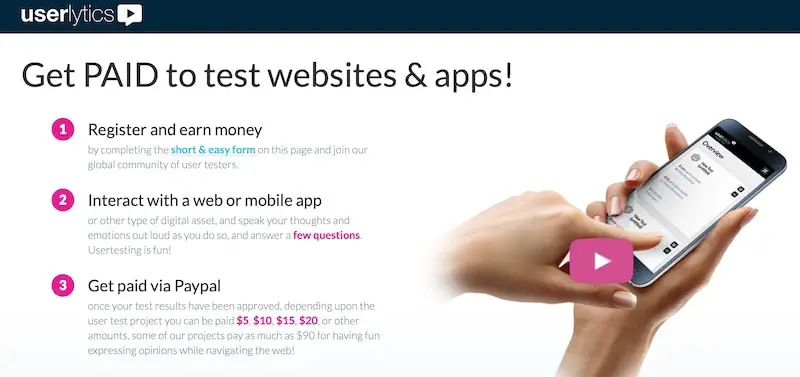 UI is an industry term meaning "user interface," or in other words: what the user interacts with, be it a website, product, or app. 
UX refers to "user experience." A good user experience on a website, for example, is when a user easily understands how to navigate around the site and find the information they're looking for. 
Now, as you can imagine:
Companies don't always build websites and apps with visually engaging user interfaces or create quality experiences. 
And this is where you can help!
Sites like UserTesting and Userlytics pay you to test websites for UI and UX. You click around the site, provide feedback on your experience, and make money!
You can also get paid to review products and marketing materials, such as video ads, as well!
For testing websites and products, you can make up to $90 per review! So in a few days, you could make 300 dollars, no problem. 
Related Read: 13 Sites to Make Money Clicking Links and Ads
18. Mystery Shop
Gigwalk is an app that pays you to shop at stores in your area. 
Why?
Because you're not doing just your normal shopping…you're mystery shopping!
Mystery shopping is where you're hired to essentially "spy" on your local store. You check whether a particular product is well-stocked, if the store's customer service is up to par, or whether a product meets your needs. 
Gigwalk currently employs over 1.7 million Gigwalkers around the country, so without even knowing it, you've probably been in a Gigwalker's vicinity! 
While mystery shopping isn't a get-rich-quick scheme, you can easily combine mystery shopping earnings with other ways to make money online and meet your $300 goal. 
Signing up with Gigwalk is FREE and easy. Just download the app, setup your profile, and you'll see mystery shopping gigs in your area!
19. Get Refunds and Cash Back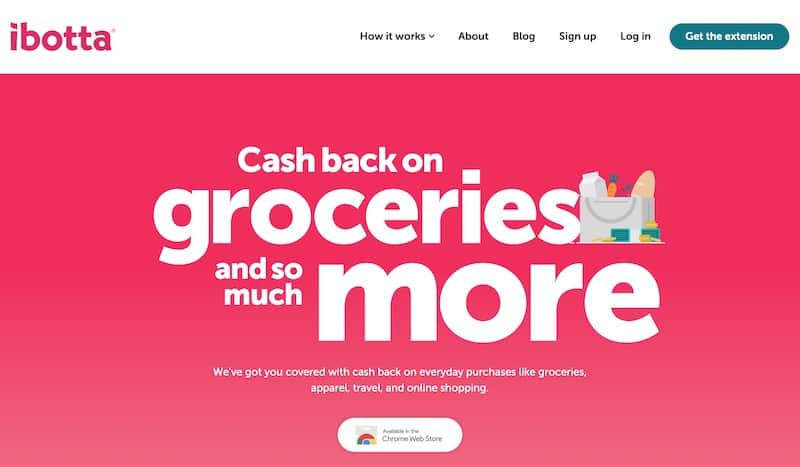 What if I told you:
You can make money without doing anything beyond your normal shopping? 
Paribus is a FREE service that monitors your email inbox for any purchase confirmations you receive. Then, if the price drops on ANY product you've purchased, Paribus will alert you when you can get a refund! 
That's money back in your wallet. 
Paribus works with many major retailers, including Target, Amazon, Home Depot, Gap, Best Buy, and more!
Now, combine Paribus with other cash back programs, and you're on your way to that 300 dollars!
Here are my 3 favorite cash back programs that'll pay you for doing your normal shopping and simple online tasks:
Rakuten (formerly Ebates) lets you shop online or in-store and earn up to 40% cash back at over 2,500 stores. You simply download the app onto your phone or use the browser extension on your computer while you shop. For signing up with Rakuten today, you can get a nice $10 instant bonus!
Ibotta lets you earn cash back on both in-store and online shopping. If you're shopping in-store, you can pay using the Ibotta app to earn instant cash back on your purchase. Or, if you pay using a different method, you can scan your receipt to get cash back too! Sign up today to get a welcome bonus of $20!
How to Make 300 Dollars in a Day
For more ways to make money online FAST, check out: