23 Ways to Make Money After Work Even With a Full-Time Job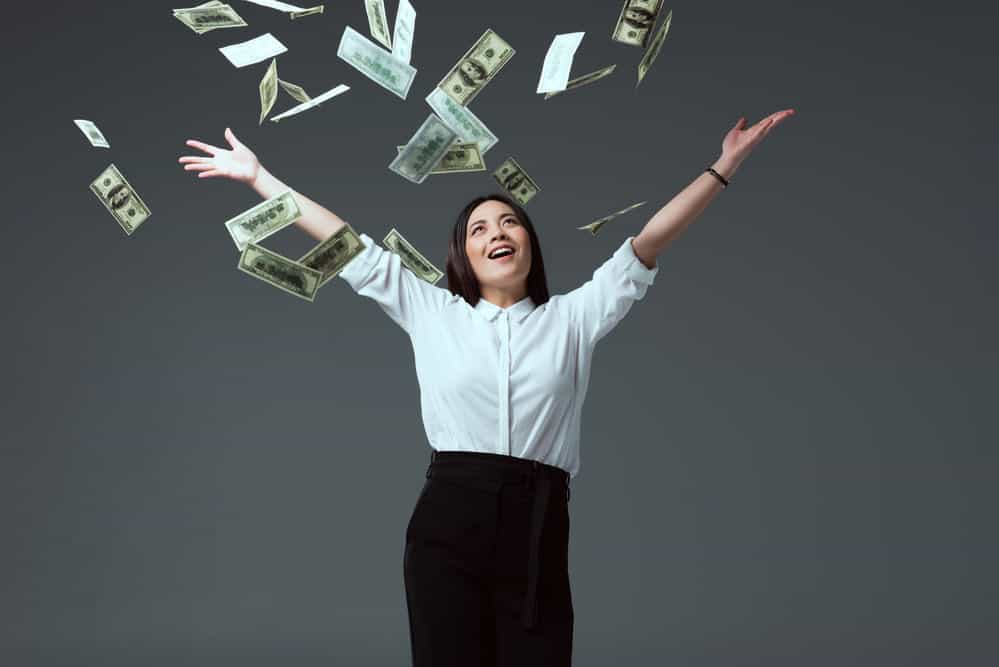 This post may contain affiliate links. If you decide to purchase through my links, I may earn a small commission. Read my disclosure page for more info.
A little extra income in addition to your full-time job can go a long way. 
Even just an extra $200 a month can significantly help pay down debt and offset a chunk of your monthly expenses. 
But I get it:
Starting a side-hustle while working full-time can be really daunting. 
How will you find time? Will it actually increase your income enough? And how the heck are you supposed to get started in the first place? 
Fortunately, with the rising gig economy and explosion of online job opportunities, making extra money after work is easier, more flexible, and more convenient than ever. 
Here are 23 quick and easy side-hustles you can start today to make money after work. 
Related Reads:
23 Ways to Make Money After Work Even With a Full-Time Job
1. Take Surveys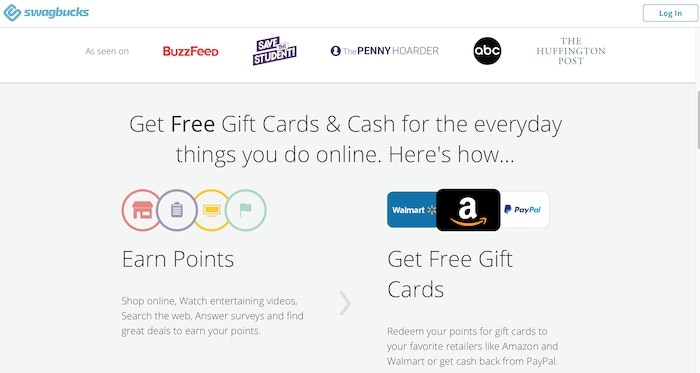 Taking online surveys is one of the easiest ways to make extra money on the side even if you're pressed for time. 
See, even if you only have 10 free minutes during your otherwise busy day, you can take a quick survey and earn some cash. It's that easy. 
No, surveys won't earn you tons of money every month, but any extra money is better than none. And this little side-hustle is extremely flexible, so you can fit it around you other commitments and other side-jobs. 
To make the most money taking surveys, be sure to join higher-paying sites that provide multiple ways to earn online. For example, ones like Swagbucks and MyPoints give you opportunities to make money watching videos, reading emails, searching the web, and even playing games. 
Earn with Swagbucks
Get paid in gift cards or Paypal cash for taking surveys, playing games, or just shopping online! Earning extra money has never been easier.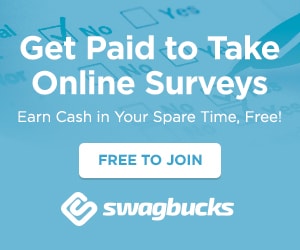 Related Read: 13 Highest Paying Survey Sites to Earn in Your Spare Time
2. Create Niche Websites
Every time you search for answers to questions on Google, you're visiting niche websites. 
Niche websites are sites focused around 1 specific topic and answer common questions, provide tutorials, and promote products/services that benefit readers.
For example, if you're looking for a packing list for your next camping trip, a camping niche website will give you a suggested packing list, recommend products, and guide you through the process of packing. 
And guess what?
These niche websites make money off your visits to the site, through things like display advertising, affiliate marketing of products/services, and their own ebooks, courses, and other products. 
Once you've posted the content and are driving traffic from Google and other sources, niche websites earn largely passive income as well.
Although, it takes a while to build up in the beginning, creating a niche website around your hobbies/interests is a great way to make extra money online. And, you'll be writing about something that already interests you. It's the perfect side-hustle to make money after work from your hobby! 
To learn more and get started, check out my in-depth guide to creating niche websites for beginners. It covers everything you need to know about this money-making venture and passive income stream. 
Related Read: How to Create a Niche Website That Makes Money (Step-By-Step Guide)
3. Sell on Etsy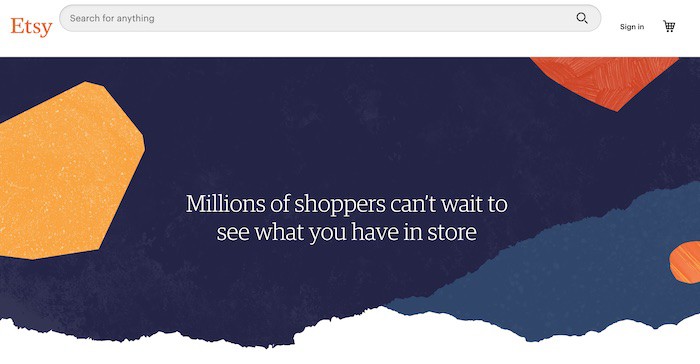 Another great way to make money after work, especially if you're a creative-type, is to start an Etsy shop.
Etsy is the largest online marketplace for handmade, vintage, and custom-made products. To date, over 81 million people have purchased items on Etsy. And with that many buyers, quite a few Etsy sellers are making full-time incomes and even 6 figures a year!   
So what can you sell on Etsy? 
Pretty much anything you make/design yourself or vintage items you resell. 
Some of the most popular things to sell on Etsy are:
Printables
Knitted patterns and goods
Jewelry
Craft supplies
Print-On-Demand items (mugs, t-shirts, accessories)
And these are just a few! Check out more things you can sell on Etsy and start making some money on the side.    
Related Read: 15 Best Things to Sell on Etsy and Earn BIG
4. Flip Furniture
Even if you're working full-time, you can start a profitable furniture flipping side-hustle with ease. 
After work or on weekends, visit local garage sales, browse Facebook Marketplace and Craigslist, or even drive around and check out dumpsters for cheap (or free!) furniture you can flip or refurbish. 
What's great about furniture flipping is that you can dedicate whatever time you have to these projects. If you've had a busy work week, don't worry about it. The furniture isn't going anywhere so just do a bit here and there when you can. 
Flipping furniture is an easy side-hustle that anyone can start. And, you can easily make an extra couple hundred bucks each month by flipping just a few pieces! 
5. Sit Dogs and Cats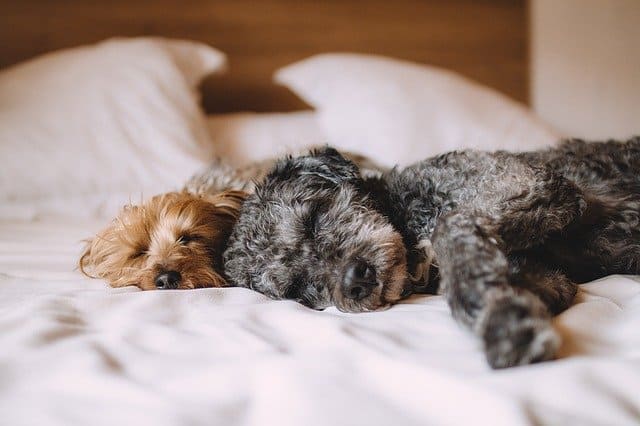 Got a love for furry friends? 
Then why not make extra money after work watching people's pets? 
Sites like Rover and Wag make it easy for anyone to start a dog and cat sitting business run out of their own home. You sign up, create a profile, and set your rates. Pet parents will then visit the site and book your services! 
As a pet sitter, you can earn anywhere from $25-$40 per night per pet! 
Now that's some decent money right there, and for what? Petting and playing with cats and dogs? I'm pretty sure that's called "living the dream", people. 
6. Deliver Food
Delivering food on the weekends or at the end of your work day is a great side-job to earn extra money. 
As a delivery person, you can earn an average of $10-$15 per hour. 
As well, apps like DoorDash and Postmates make it easy to sign up and start making money. There are only a few requirements to get started, namely you must be:
At least 18 years old 
Eligible to work in the United States
Have a car, bicycle, or scooter
Have no recent moving or traffic violations
Pass a background check
If you tick all these boxes, then you should definitely start a food delivery side-hustle! It's yet another flexible money-maker that you can do in your spare time.
Some of the best apps to make money delivering food are:
7. Mystery Shop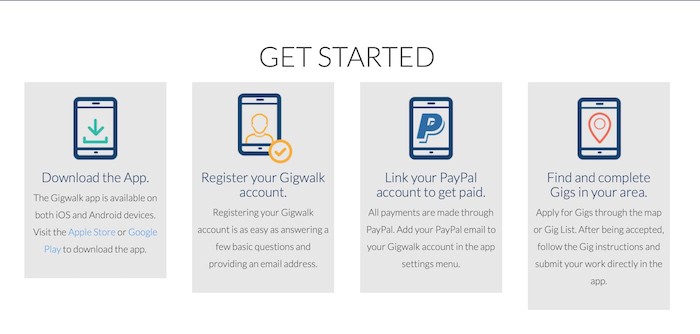 This side-job pretty much sounds as cool as it is. 
Mystery shopping is when business hire you to somewhat "spy" on their stores and employees. And no, not in a creepy way. 
Basically, as a mystery shopper you're paid to visit local stores and review their customer service,verify that products are stocked appropriately, take pictures inside the store, and do other simple tasks. 
And if you're wondering where the heck to find mystery shopping jobs, look no further than Gigwalk. 
Gigwalk is an app that connects you with mystery shopping opportunities in your area. Stores and businesses post a gig, and you browse and accept the ones you want to do. Easy. 
So if you're heading to a store anyway, why not get paid for it too? It's yet another way to offset your expenses and boost your income.
8. Join Get-Paid-To Sites
Get-Paid-To or GPT sites let you earn easy money by doing simple online tasks. 
For example, you can get paid to: 
watch movie trailers
Play online games
Take surveys
Click on links and ads
Search the internet
Watch video ads
Listen to music
Shop online
Some of the most popular sites include Swagbucks, MyPoints, and PrizeRebel, but there are many more beyond just those. 
To really earn on GPT sites, make sure to sign up for multiple sites to really boost your earning potential. When one site doesn't have money-making opportunities, check on the others. That way, you'll always have simple tasks to complete that pay. 
For more GPT sites, check out my post all about getting paid to click ads and links. 
Related Read: 13 Lazy Ways to Make Money by Clicking Links and Ads
MyPoints
Earn gift cards to your favorite retailers or Paypal cash for doing your normal online shopping! Earning is a breeze with MyPoints. Get a $10 Amazon gift card for your first online purchase today!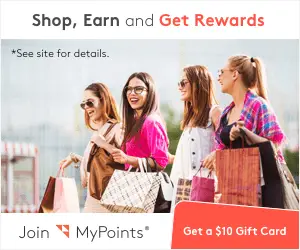 9. Do Affiliate Marketing
Affiliate marketing is where you promote products and services to an audience, either through a niche blog or website and/or your social media accounts. 
So if you're a dog lover, for example, you'd promote dog toys and accessories on your website, YouTube channel, or Instagram posts. 
The amount of money you can make via affiliate marketing is largely determined by the size of your audience or following. The more traffic your website gets, the more money you'll make. And the more followers your social accounts have, the more you'll make. 
To become an affiliate marketer, you'll need to establish an audience and then join some affiliate networks like Amazon Associates, ShareASale, FlexOffers, and more. These will provide you with unique links to promote on your platforms, and when someone clicks and makes a purchase, you'll get a commission. 
Find out more about affiliate marketing and other ways you can get paid to advertise for companies online. 
Related Read: How to Make Money Advertising for Companies Online
10. Chat Online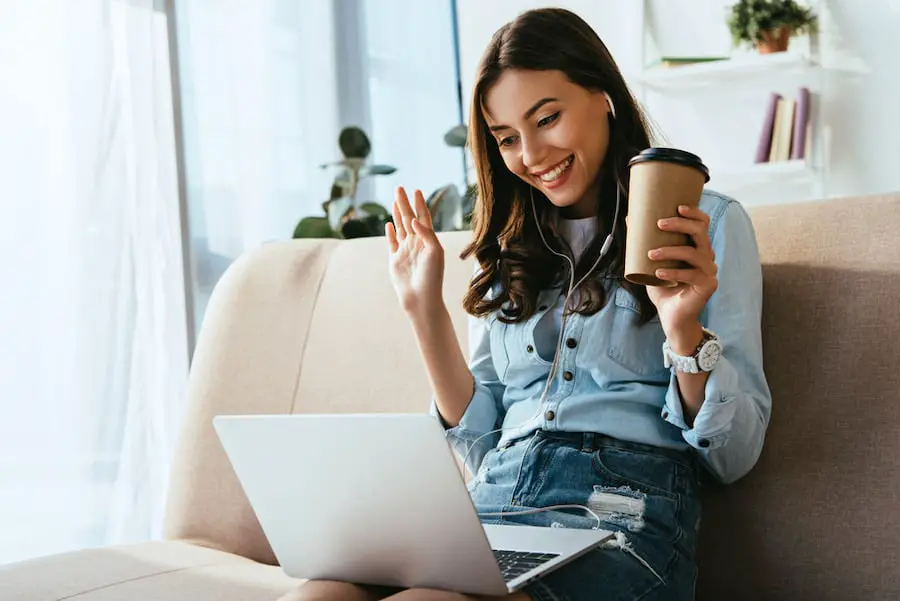 This is a side-hustle that's perhaps lesser-known, but is actually an excellent way to earn more money while working your normal full-time job. 
What is it? 
Being a virtual friend!
You can get paid to chat to people online, play video games with them, share your language or culture with them, and more! An online friend or virtual friend is the same as a regular friend, except you meet exclusively online and get paid for it.  
While it might sound strange at first, it's actually a legitimate side-hustle that more and more people are venturing into. This is mainly because you can make up to $50/hour and the demand for virtual friendships is only growing. People are becoming more isolated, social anxiety is making it difficult to make new friends, and/or we just want to find people online with shared interests. 
There are a couple great sites you can sign up for and become a virtual friend. The most widely-known one is RentAFriend, and you can read more about it and others in this guide to becoming an online friend. 
Related Read: How to Get Paid to Be an Online Friend (Earn $500+ a Month)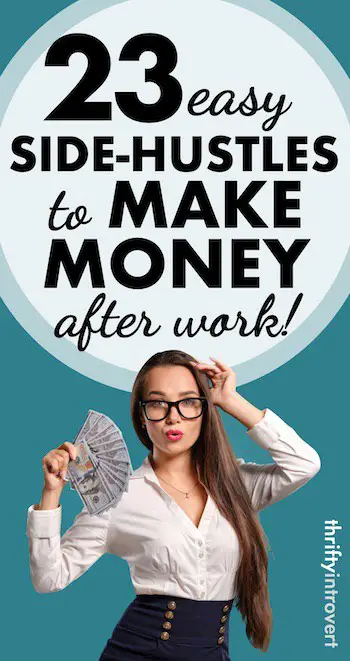 11. Freelance
Perhaps one of the best ways to make money after work is by freelancing on the side, especially if you're skilled in your career and can help others with it. 
I mean, why not make even more money with the knowledge and skills you already have?
For example, if you're a graphic designer you can do freelance graphic design and branding for small businesses and online entrepreneurs. If you're in marketing, make some extra money writing email campaigns 
It's easier than ever before to freelance nowadays, thanks to sites like Upwork and Fiverr. You just join, create a detailed profile, include examples of past work, and start bidding on gigs. 
Other good freelance job sites are:
12. Name Companies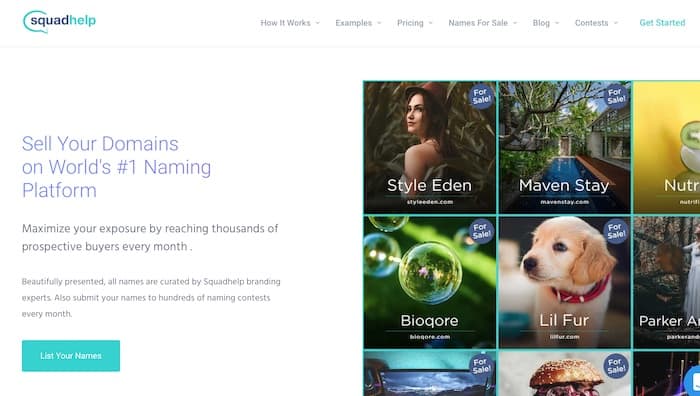 Another clever little side-hustle to make money after work is naming companies. 
With Squadhelp, you can enter naming competitions, sell company names, taglines, and logos, and earn anywhere from $300 and up to $5,000 per sale. No, seriously! 
Squadhelp is basically an online marketplace for aspiring entrepreneurs and startup businesses who need help naming and branding their companies. 
And that's where you come in…
You sign up as a Creative (not a business) on Squadhelp and sell logos, names, domains, and taglines to these businesses. Some Creatives have even earned 5 figures selling on Squadhelp! 
Find out how you can get paid to name companies today. 
Related Read: How to Make Money Online by Typing Names ($300+ a Month!)
13. Tutor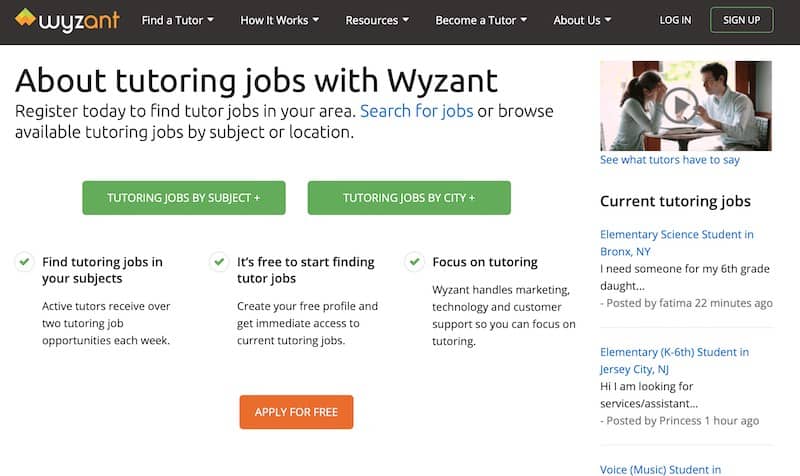 Like with many of the side-jobs on this list, tutoring is one that can easily fit around your work schedule. 
As a tutor, you can teach others English, math, music, history, and more, whenever you're free and either online or in-person. 
To find students, you can sign up with Wyzant and create a profile. Then, you can apply for tutoring gigs, or parents and students will reach out to you based on your profile. 
Tutors typically earn between $15-$40 an hour, depending on their qualifications, experience, and the subject they teach. If you're preparing students for the ACT or SAT, for example, you'll earn more for this specialized knowledge. 
Get your tutoring side-hustle off the ground with Wyzant today.
14. Transcribe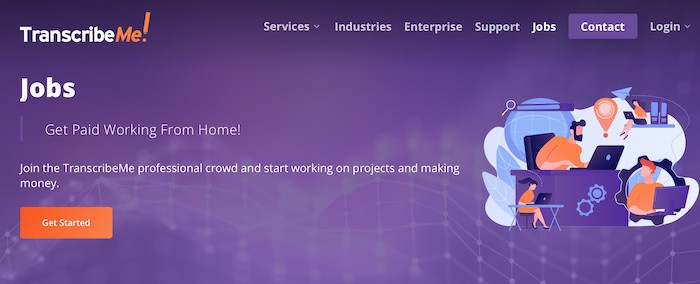 Transcription is where you listen to short audio or video clips and type what you hear. These transcriptions are then used to products transcriptions (duh), closed captioning, subtitles, etc. 
Sites like TranscribeMe and Rev pay you to transcribe short bits of audio. There's a fairly steady stream of work on these sites, but you'll need to type fast and accurately to get more gigs and higher-paying ones at that. 
But the biggest benefit to transcription work isn't really the pay. After all, you'll only earn a couple bucks an hour. But being a transcriptionist is easy work and you can complete jobs wherever and whenever you have time, making it an incredibly flexible way to make extra money. 
Check out both TranscribeMe and Rev to find out how to start making money transcribing.
15. Invest
Make money off money, that's the ultimate goal isn't it? 
Well, by investing your savings and building a well-balanced investment portfolio, that's exactly what happens—money makes money.  
Even with a pretty basic portfolio of stocks, bonds, and index funds, you can expect an annual return of about 6% on your investments. Which means each year your portfolio gains 6%, then earns an additional 6% the next year…and so on and so forth. 
Investing is a must for all of us, no matter what age (well, ideally you're 18+) or income level you're at. It's single-handedly the best way to become financially free and save for retirement. 
So yeah, if you're working full-time and saving money, then you need to invest so that your money can make money for you. No additional work needed. 
16. Consult/Coach Others
If you're an expert in your field, another way to make money after work is by becoming a consultant or coach. 
As a consultant or coach, businesses, entrepreneurs, and clients pay you directly to teach them certain skills or help improve their business or lives in some way. 
So for example, let's say you work in human resources. You could create a website and sell your services as a freelance HR consultant. You can also apply for consulting gigs on freelance jobs sites. 
Upwork and Fiverr are excellent places to launch a consulting or coaching freelance business, but you'll also want to market yourself on LinkedIn and your own website. 
Not only will consulting/coaching help improve your existing skills, you'll also acquire new ones and be on the path towards building your own business. 
17. Do Easy Tasks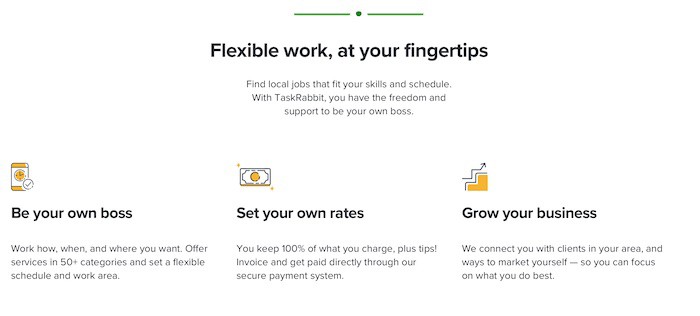 Human beings, we're lazy. 
Sometimes everyday tasks like cleaning the house, running errands, and yard work seem like punishment and we just can't be bothered to do it. 
But luckily in these moments, TaskRabbit is here to save us. 
TaskRabbit is an app and website where people can post everyday tasks that need doing, and "taskers" get paid to do them. And you can make money after work as a tasker!
Here are just some of the rates you'll earn as a TaskRabbit tasker:
Running errands = $18/hour
Cleaning a house = $21/hour
IKEA furniture assembly = $15/hour
Heavy lifting = $34/hour
Minor home repairs = $27/hour
And there are so many more tasks than just those! 
Considering the fact that you can complete a variety of tasks, there will always be little odd jobs here and there for you to make money. So start earning in your neighborhood on TaskRabbit! 
18. Test Products or Websites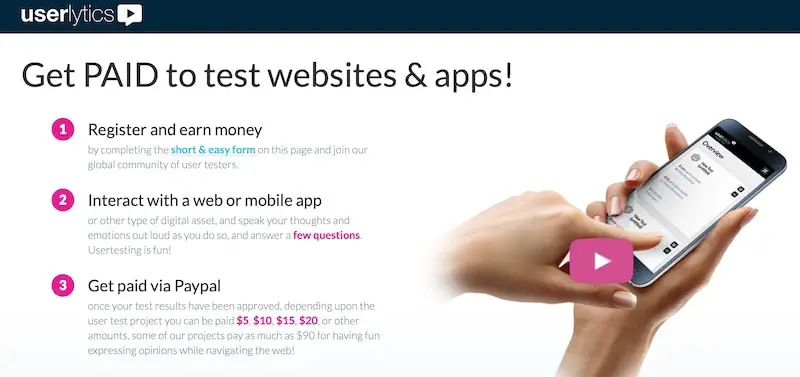 Before companies release new products or re-release products with new features, they need to conduct market research and find consumers to give them feedback. And this is exactly what product testers do—they try out products and share their opinions. 
You can make money on the side as a product tester, even with a full-time job. Product testing can be done in your spare time, and you can take advantage of testing opportunities whenever they arise and are convenient for you.
UserTesting and Userlytics are two of the best sites to make money as a product tester. These sites will also pay you to test websites and give opinions on marketing materials and video ads as well. 
And Gigwalk, which is primarily a mystery shopping gig app, also has website and app testing jobs available. 
As a product and/or website tester, you'll make anywhere from $5-$20 an hour, depending on the gig. So this is a great way to earn extra money!
Related Read: 17 Savvy Ways for Women to Make Money Online
19. Drive People Around
Imagine this:
After work, instead of driving straight home from the office, you drive a few people to different destinations in the area…and get paid. 
Being an Uber or Lyft driver is easy way to earn extra income while working full-time. You just need a car, a good driving record, and pass a background check. Then, you make money driving people around whenever you have time. 
Expect to earn between $13-$18 an hour as a driver, after booking fees are taken out (both Uber and Lyft charge these). 
So rather than letting your car just sit in the garage all evening and on weekends, make extra money in your spare time with Uber and Lyft. Your garage isn't gonna pay you $15/hour, that's for sure! 
20. Rent Out a Room
Spare bedrooms just sit there and gather dust anyway. So how about, you rent them out and make money instead? 
You can list your extra rooms on Airbnb and, depending on where you live, earn a decent income. For homes and apartments in or around major cities, you can make $40-$60 per night off your empty rooms.
And especially when you go on vacation or stay with friends/family elsewhere, renting out your house on Airbnb is a great way to turn that empty house into extra money.
21. Create an Online Course

Creating an online course might take a bit of work upfront. But, once it's online and getting eyeballs, courses are a great way to earn passive income. 
If you weren't aware, online courses are booming these days. Rather than paying ridiculous college class tuition rates, people are learning new skills and knowledge through courses on the web. 
And for course creators, Udemy makes it incredibly easy to upload your course content and sell it to a massive audience. You can create and sell courses that teach a whole range of different things, like software, marketing skills, psychology, online business strategies, literature, and many many more.  
Other great places to promote and sell your course(s) are your own website, social media channels, or YouTube channel. For example, you can start a YouTube channel and provide some of your course content, then sell the full course on Udemy or your website. 
You can seriously create online courses for just about anything these days. So whether it's related to your full-time work or just a hobby, there are people wanting to learn more and willing to pay. 
22. Be a Virtual Assistant
While being a virtual assistant can be a full-time role, it doesn't have to be. You can work as a virtual assistant on the side as well. 
Virtual assistants (VAs) help businesses and online entrepreneurs get administrative tasks done. These include things like:
Managing email
Scheduling
Booking travel arrangements
Website maintenance
Social media marketing
Bookkeeping 
Making phone calls
…and much more. Pretty much any secretarial task that you can do, can be monetized. And if you have specialized knowledge—like in tax preparation or graphic design, for example—even better. 
Landing virtual assistant jobs is relatively easy, because the demand for them is so high. An increasing number of businesses exist solely online, so instead of hiring secretaries and office workers, they hire virtual assistants instead. 
To find work as a virtual assistant, check out:
Facebook Groups — network with bloggers and online business owners in VA groups
23. Start a Print-On-Demand Shop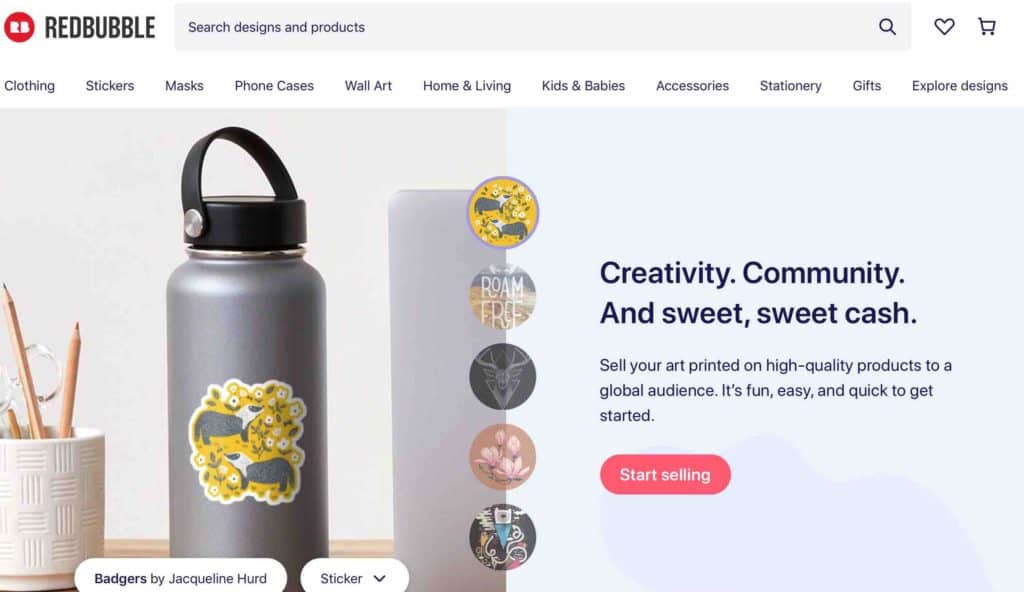 Print-On-Demand or POD services take your custom designs and professionally print them onto clothing, mugs, and other accessories. Not only that, but they also ship items to buyers for you too.
So what do you have to do?
Well, pretty much just the front-end work, like creating a shop page and listing the products on sites like Etsy, Redbubble, or Cafepress. 

For example, let's say you create a cool graphic in Adobe Photoshop. You'd then upload your design to Printful or Printify, two of the most popular POD services. They'll give you image mockups of your design on t-shirts, mugs, and other products. 
Next, on your shop page, you use those mockups to create product listings and sell the items. The POD company ships the product to buyers, and that's it. 
POD shops are a great way to make extra money online and passively too. Once you've made the designs and created the listings, there's very little work left to do beyond promotion.   
So if you're an artist or graphic designer (even if you're just an amateur!), this is a great money-making idea for you. 
Related Read: 29 Sites To Make Money Online With Your Art
Final Thoughts on Making Money After Work
Finding to time to start a side-hustle isn't easy. But thanks to these online opportunities, you can get started with whatever time you do have.
By dedicating just a few hours per week to your side-hustle, you can boost your income enough to cover everyday expenses, no problem. 
But you need to take that first step.
Choose 1-2 of these ways to earn on the side, and get started. Be it signing up for an app or contacting people you already know who might need your services, just get out there and start. 
And who knows…
You might even discover your side-hustle is more enjoyable than your full-time job, and ultimately decide to turn it into a business! Bye, bye 9-5.
For more side-hustle ideas, check out: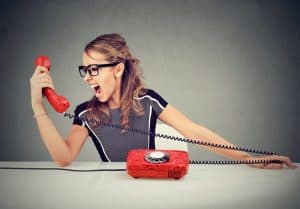 23 Easy Ways to Make Money on the Side While Working Full-Time