55 Clever Products That Will Save You Money In The Long Run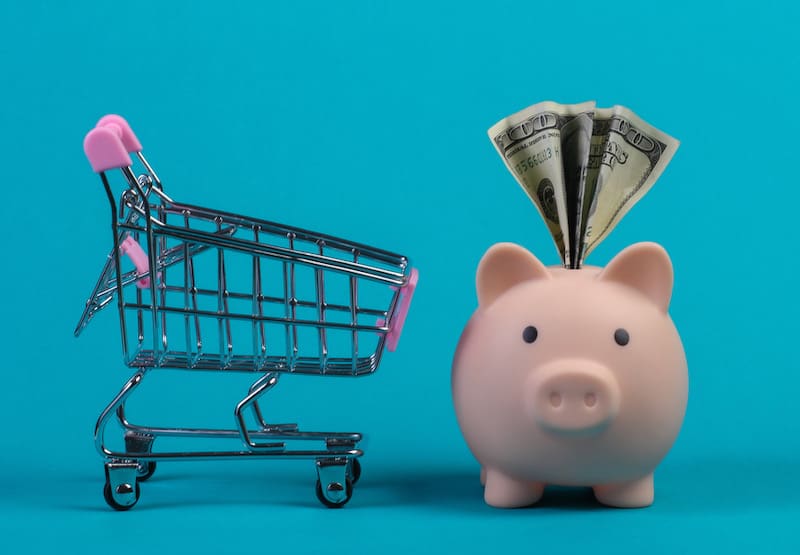 This post may contain affiliate links. If you decide to purchase through my links, I may earn a small commission. Read my disclosure page for more info.
Sometimes, we have to spend a little money to save more money. 
At first it seems counterintuitive. But in reality, it actually makes a whole lot of sense when you start thinking more long-term about your finances.
Because while a few pennies here and a couple dollars there doesn't sound like a lot of savings, over the course of a month, a year, or 10 years, that's money that could pay for your rainy day fund or be invested in the stock market, gaining significant returns over time!
And the best part is that there are money saving products and gadgets that not only save you money but also don't require you to change many (if any) of your everyday habits. 
So, live my current life for cheaper? Okay!
Let's take a look at 55 of the best products that will save you money in the long run, so you can boost your savings rate and stop throwing money down the drain.
55 Things to Buy That Will Save You Money In The Long Run
Products That Save Money on Utilities
Save Money on Water
We use a lot of water—for drinking, showering, flushing, washing…you name it. 
In fact, the average family of four in the US spends $72.93 a month for water. Yikes!
And unfortunately, the cost of water and sewage has consistently outpaced inflation, increasing 31% since 2012. 
So basically, water is gonna dry up your wallet fast if you don't do something about it.  
No, we can't live without water and get all extremely frugal about it. I mean, we could stop showering and become social outcasts because, who wants that stink around them? But yeah, that doesn't sound like the best idea…
Luckily though, we can shower and keep our friends with these clever little money-saving and water-conserving gadgets. They'll help you reduce your monthly water bill without having to change your lifestyle much, if at all!
Keep that strong water pressure you like so much and waste 40% less water with this low-flow shower head. 
Stop singing the entirety of Hamilton in the shower and stop at one (or two!) songs with this nifty shower timer.
Save water (and money!) with each and every flush by installing this water-saving toilet kit. This job might require the assistance of your trusty plumber, unless of course you're handy around the house. I'm sure not!
Save Money on Electricity
Oh, electricity. What would we do without you? 
I mean, candlelight is flattering and all, but a girl needs her Netflix. 
Electricity is just one of those things that we're surrounded by but don't really stop to think about. How many of us could honestly answer this question quickly and easily: how many electronic devices do you own? Geez, it hurts my brain just adding them all up! 
These days, devices and gadgets are getting "smarter"—insert Terminator cut-scene here—and using less and less electricity. And perhaps for some household chores, we can even save money and benefit from going back to basics.
So here are my top items to save money on your electricity bills every month:
Related Read: 75 Easy Frugal Living Tips to Save BIG
Cut that electricity bill with these energy-efficient LED bulbs. They'll last for ages and you can't even tell the difference.
Stop running around the house turning off lights and let this little gadget do it for you. It'll automatically turn the lights off when you leave and on when you enter. Magic.
Add a little eco-friendly ambience to your backyard or front walkway with these torch-inspired and solar-powered outdoor lights.
No more tripping over extension cords with these bad boys. These clever solar Christmas lights will make your Christmas even more green!
No more surprise electric bills! Keep an eye on exactly how much electricity you're using with this easy-to-use electricity monitor.
This ain't just any surge protector and power strip. Link this with Alexa or Google Home and you can turn on/off individual outlets using voice control or the handy app!
Make any device smarter with these Gosund smart plugs. You can turn off electronics and control them using Alexa or Google Home, hands free!
For most parts of the world, drying racks are the only way to dry clothes. And if we're being honest, do we always need to use the dryer? Save a lot of electricity by using a drying rack instead!
Alternatively, use a clothesline in your backyard to dry clothes on warm summer days! Why not let nature do the drying?
Quit buying and throwing away single-use dryer sheets! These wool dyer balls are reusable and will cut down on drying time, to save your energy usage.
Save Money on Heating & Air Conditioning
Yes, heating and cooling are part of your electricity bill. 
BUT:
These two need their own section. They're that expensive. 
Turns out, staying cozy in the wintertime and cool in the summer comes at a not-so-tiny cost. To heat your home and keep the air conditioning on comprises approximately 46% of your electricity usage! 
So without freezing to death or turning your home into a desert, take a look at these products to buy that will save you money on heating/cooling your home year-round.
Monitor your energy usage easily with a smart thermostat in your home! This Nest model works with Google Home and Alexa and will adjust heating/cooling according to your schedule. No more heating and cooling an empty home when you're gone!
There's nothing worse than a freezing cold breeze wafting from underneath doors in the dead of winter. A draft stopper prevents this from happening and air conditioning from getting out in the summertime!
Instead of turning up the heat in the entire house all the time, why not use a heated blanket? It'll keep you cozy without skyrocketing your electric bill.
Products That Save Money on Food & Drink
Look, we all gotta eat. 
But for most of us, our food and grocery expenses are the number one reason why we can't stick to a budget. We're doing good, watching our spending, and then we go grocery shopping and it's like we're on a televised shopping spree. Stuff ends up in our cart that we don't even need, and we tell ourselves it's okay because "it was on sale!"
To avoid this, firstly we should all be meal planning each and every week. This ensures we're only buying food we need and will actually use. 
Did you know:
Americans are the worst offenders in the world when it comes to food waste, totaling over 100 million tons annually. We toss out around $1,500 in wasted food each and every year. And our landfills? 24% of them is food that went into the trash and not our bellies. 
So stop throwing money away, literally! Check out these things to buy that save money on food and reduce the amount of food waste you generate. 
TIP: To really save money on your grocery shopping, make sure you're using Ibotta. It's a free app that gets you cash back at your favorite grocery stores and retailers! Just link your loyalty cards and you'll get money back within 24 hours! Sign up today and receive $20 in WELCOME BONUSES too!
Keep Food Fresh
Stop tossing out produce that's gone bad. Instead, store it in these nifty storage containers with built-in air filters that'll keep your produce perfect.
This refrigerator air filter will keep your fridge smelling fresh and your food tasting it.
Say goodbye to freezer burned food! Vacuum seal and then freeze to keep your food fresh for much longer.
Quit throwing plastic bags (and money) in the trash. These reusable storage bags are easy to clean and ready to use for another day…or year…or lifetime.
If you're a sandwich lover, you gotta get these classy, reusable sandwich wraps. Perfect for taking your lunch on the go!
Save The Last Drop
For your super frugal types, this clever gadget will help you get every last drop out of that bottle, so you can put off buying another for a little while longer.
Is there anything worse than throwing out–what was not even 2 days ago–a perfectly good bottle of wine? It's heartbreaking. Instead, keep your wine fresh for up to 1 week with a wine saver vacuum sealer.
Quit buying bottle water and save money and the planet! Take this cool thermos with you wherever you go, so you can stay hydrated and/or caffeinated all day long.
Make It Homemade
You won't want to eat out with one of these bad boys around. Instant pots are all the rage because they're multipurpose, combining 7 kitchen appliances into one, and make cooking fun and easy.
We buy a lot of bread in a year. So why not start making your own?
Another clever little money-saver, is this home herb garden kit. Place it on your kitchen window and grow the herbs you regularly use instead of buying them at the supermarket!
Not only will these containers help you plan and prep your meals for the week, they'll also save you A TON of money on work lunches! Take leftovers, keep them fresh throughout the day, and wash and reuse for the following week.
After moving a few times and breaking more French presses than I can count, I finally got this heavy-duty, apocalypse-proof French press so I'm never without my brew. Also, because it's insulated your coffee or tea will stay piping hot for ages!
For the Keurig fans out there, these reusable K cups will cut your Keurig costs for sure! Fill it up with your favorite coffee and simply wash and reuse when you're done.
Another great product to save money on coffee is ditching the paper coffee filters for this stainless steel, reusable coffee filter.
Related Read: 11 Hacks to Get FREE Starbucks Drinks
Products That Save Money on Entertainment
When it comes to entertainment, we all have different needs. 
Some of us want juicy dramas, or out-of-this-world sci-fis, or arthouse films, and some are just fine with crazy cat videos on YouTube. To each their own, I say!
But if we're not careful, spending on entertainment can quickly spiral out of control. There are subscriptions for everything these days, and although $9.99 doesn't sound like a lot, add all of those subscriptions up and you'll get a scary big number. 
So while we could just watch our dog chase his tail all day or our cat's latest daily drama, perhaps these items will help us stay entertained and still save money:
Quit paying for cable and still get access to HD channels with this HDTV antenna! You'll get all the major TV networks in up to 1080p quality!
Not only does Amazon Prime save you delivery fees and gives you access to fast shipping, you'll also get Amazon Prime Video, music, and exclusive Prime discount offers. Really, it's the ultimate all-in-one and will save you a TON of money in the long run!
34-36. All the Ways to Cut Cable
I'm combining these because they're all excellent options to help cut the cord and get rid of that ridiculously expensive cable bill!
For Amazon Prime subscribers, you should go with the Amazon Fire Stick which lets you stream Prime Video, Netflix, YouTube, and more on your television.
And for my fellow Apple lovers, get a 4K Apple TV to connect your television to all of your Apple devices with ease and stream all your favorite content.
Lastly, another great option to stream movies, videos, and music from your television is a Roku. It does the same job as the others at an extremely affordable price!
Skip the crazy expensive movie tickets and create your perfect at-home theater experience with a projector. This one comes with a 100" projector screen as well!
Attention all you book nerds: If you're not reading all the FREE Kindle books, you're missing out. With a Kindle, you'll have access to thousands of free classics and affordable books, so you can read to your heart's content.
Products That Save Money Around the House
Keeping your house clean, tidied, and well-stocked doesn't have to cost an arm and a leg. 
Even though we don't buy household items like cleaning products and maintenance/repair tools all the time, when we do they aren't cheap and lead to a surprisingly hefty bill at the store. 
But, there are ways to cut costs on these items too. For the most part, this means buying reusable instead of single-use products and purchasing items that make DIY home repairs a breeze. 
Here's my list of top things to buy to save money on household items:
I literally cannot live without my Swiffer, but I always felt bad about how much waste it produced. Not anymore! These microfiber wet-and-dry mop pads are reusable and fit perfectly on your Swiffer buddy.
Quit buying and throwing away paper towels all the time and opt for these machine washable bamboo towels instead! They'll each last 80-100 washings, and that means BIG savings.
Save yourself money on cleaning products and make your own in these reusable spray bottles.
No more calls to the plumber or purchasing expensive drain cleaners. This Tub Shroom catches hair and other grossness from clogging up your drains!
Start repairing and patching up those nicks and holes in the walls yourself! This 3M kit is good to keep around when your wall takes a beating.
If you're buying the same household items and toiletries every month, why not save up to 15% on them with Amazon's Subscribe & Save program? You'll get save on your favorite products and get scheduled monthly deliveries direct to your door. It's household shopping on autopilot.
Products That Save Money on Health & Beauty
It costs to be beautiful. 
A $30 moisturizer here, a $45 facial there. Add it all up and we're easily spending $100+ a month on health and beauty products and services. 
So if you wanna keep your spa days and professional manicures and still save money, you'll need to buy items that'll help you cut costs at home. For example, opt for reusable products and eco-friendly alternatives to common toiletries, or skip the salon and do things yourself with clever gadgetry. 
Here are some great health and beauty purchases that'll save you money in the long run:
Removing makeup is a pain in the butt. And used to be, the best solution was expensive, single-use makeup wipes that you'd toss out every time. Well, those days are gone. Say hello to reusable makeup remover cloths that you can wash and reuse to infinity.
49. Reusable sanitary pads or menstrual cup
Not only is our period a literal pain, it's expensive over time too. With reusable menstrual products like reusable bamboo cloth pads or a menstrual cup, we can save money and the Earth at the same time.
Save yourself a trip to the dry cleaners and the cost by doing your dry cleaning yourself.
If you think a regular ol' toothbrush is just as good as an electric one, think again. Reduce costly trips to the dentist and surprise procedures with an electric toothbrush.
Products That Save Money on Workouts
The gym. 
Love it or hate it, it keeps us fit and ready for the short shorts summer months. When we can all sport our coolest (in both senses) attire…and pasty-white people like me can blind everyone who dare passes. 
Maybe working out is your hobby or maybe it's your punishment, but either way it ain't cheap. The average cost of a gym membership is $58 a month, and I don't know about you, but I could think of many better uses for that amount of money. Umm, buying stocks for one! 
And what's more, you can still stay fit and exercise without that monthly expense. You just need the right equipment, at home, and you're all set. 
Check out these perfect products to build your simple home gym and save money:
Strength training doesn't require fancy gym equipment (that mildly resembles torture devices). Get yourself a good set of dumbbells and do your lifting in the comfort of your own home.
Get that booty you always dreamed of without paying for pricey gym memberships and classes. Use these resistance bands at home while you watch TV.
Another must for any home gym!
Yoga classes are expensive. Find a great YouTube channel and follow along at home with a yoga mat instead.
55 Money Saving Products You Never Knew You Needed
For more money saving ideas, check out: