55 Cheap Foods to Buy When You're Broke (+ Grocery List!)
This post may contain affiliate links. If you decide to purchase through my links, I may earn a small commission. Read my disclosure page for more info.
We've all been there:
Money is tight, that next paycheck seems far away, and you're looking for cheap foods to buy when you're broke.
Or maybe you're living extremely frugally and wanting to really cut down on your food spending. 
Whatever your reason is, I have good news for you:
Your grocery bill is one of the easiest places to save money and still eat healthily. It's true! 
Just because it's cheap doesn't mean it's bad for you. Buying fresh food at the grocery store and cooking at home saves your health…and on top of that—thousands of dollars per year!  
So I wanted to share my favorite 55 cheap foods you can buy at any grocery store. These will help you eat on a tight budget and boost your savings game. 
Common Questions About Buying Groceries for Cheap
Why should I buy cheap food?
There are enormous financial benefits to buying cheap food items. 
Maybe you need to boost your savings and build a rainy day fund, want to live more frugally, or finally stop living paycheck to paycheck. 
According to the USDA, American households spend an average of 22% of their income on food.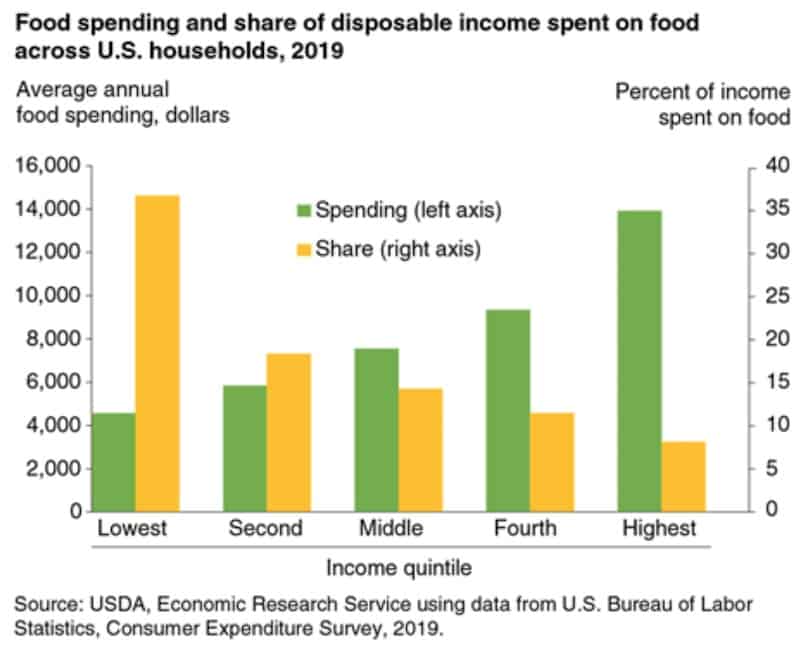 Another reason to buy cheap food is because reducing your grocery expenses helps you stick to your budget and manage your money better. 
Andif you've already created a budget, then you know that the easiest area to cut spending is food. The amount you spend on groceries is entirely within your control, unlike a lot of other monthly expenses like housing, utilities, and insurance. 
Every time you visit the grocery store, you're making choices that directly impact your wallet and determine how much you can put away in savings this month and/or put towards paying off debt. 
So not only will cheap food lower your weekly grocery spend, they'll help you move toward financial freedom. And luckily, we all have access to cheap foods that are both delicious and genuinely healthy! 
What are the cheapest foods I can buy?
In general, the cheapest foods you can buy are pantry items. Items that have a long shelf-life like rice, pasta, and canned goods are some of your cheapest options. 
That being said, it's always a good idea to keep an eye out for any sales or coupons at your local stores. 
As well, fruits and vegetables are actually fairly cheap and healthy to boot. Just make sure that you buy fresh fruits and veggies when they're in season, so you get them at the lowest price. Frozen vegetables, on the other hand, are sold year round and also pretty cheap for the quantity you get. 
Essentially, the cheapest foods you can buy are NOT take-aways, fast food, or frozen meals. 
I know it seems like you're saving a bunch when you shop those dollar-menus, but your money can actually go much further by shopping for cheap groceries and cooking at home!
And frozen dinners? 
Stay away! 
Not only are frozen meals high in salt, they're actually not the cheapest either! While their effortlessness makes them tempting to buy, making that same food from scratch would be cheaper and serve more people. So frozen dinners aren't exactly the best deal!
Related Read: 27 Frugal Hacks to THRIVE on ONE Income
Where can I buy cheap food near me?
If you live in a smaller rural area, then you may not have many options when it comes to grocery stores. If so, then your local Walmart, Kroger, or Dollar Store (yes, some have groceries!) will probably be your cheapest (or only) options. 
For those of you in the suburbs or cities, you'll have more options for cheap foods to buy when you're broke. So you can do a few more price comparisons. Generally, discount grocery stores like Aldi are going to be your cheapest grocery option, as well as sales at your local Target, Walmart, etc.  
And I would argue that Costco or Sam's Club, places where you can buy items in bulk, also help reduce your food spending. At these stores, you can buy dried goods in bulk as well as other household items.
How can I reduce my grocery bill?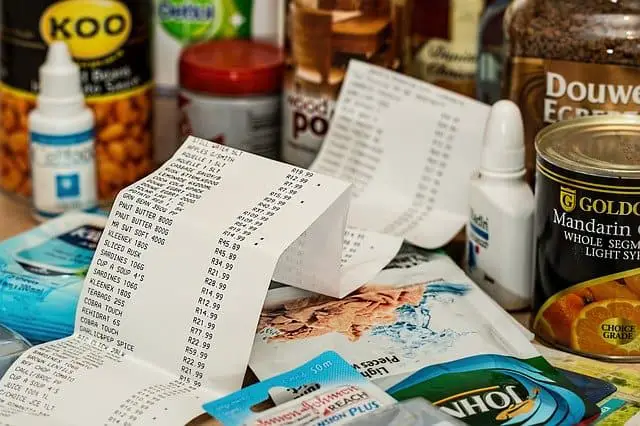 Even though we're in control of our grocery bill, sometimes it doesn't feel like it. 
We easily fall into bad spending habits and believe that we just "can't live without" item X—which is probably pricey and bad for us, like ice cream and huge boxes of Frosted Flakes…just me? Okay…
And because our grocery trips are so routine now, before we know it, we're at the checkout and don't even remember putting some of those things in the cart!
While we should treat ourselves every once in a while, it's important that we're always eyeing our budget, questioning our spending, and finding ways to save money. 
So how do you reduce that darn grocery bill?
Here are 7 easy tips to get groceries for cheap: 
1. Make a meal plan.
You need to go to the grocery store with a plan. 
If you're just wandering the aisles and let the sales signs do the shopping for you, then you're going to spend more money and come home with items you don't need. 
So each week, (ideally) on the same day, you should sit down with your partner or roommate and meal plan. 
It doesn't have to be complicated! Just simply decide what you're going to eat each day for the next 7 days. Then, from that make a grocery list of only items that you need. 
To learn more about saving $200+ a month with meal planning, check out my in-depth guide to making a meal plan for beginners.
2. Buy generic, not name-brands. 
Almost every supermarket nowadays has their own generic, store brand products. 
At Target, it's Good & Gather. Walmart's got Great Value and Sam's Choice. And at Costco, it's Kirkland Signature. 
These generic brands come with some might perks, namely, they're cheaper! In fact, you could save up to $1,040 a year just by switching your dinners to generic branded ingredients. 
And often times, these generic brands are the exact same product just with a different label. 
So if you're not brand loyal when it comes to your food, buy the generic version of the item and save money!
3. Shop at discount grocery stores.  
If it's a choice between Trader Joe's and Aldi, at which place will you leave with a lower grocery bill?
Kind of a no-brainer, right?
If you want to get cheap food when you're broke, then make sure you're buying your food at discount grocery stores. 
Even if it means driving a little bit farther, the savings at your local discount grocery store will pay for that little bit of extra gas.
4. Compare prices at different stores. 
One thing I love doing is buying my normal shopping at 2 or 3 different grocery stores and comparing my receipts. I know, I'm crazy. 
But you'd be amazed at how differently certain items are priced. And that couple cents here or there really adds up!
So if you have multiple grocery store options in your area, then do my little experiment: buy the same items at 2 or 3 of them, and compare prices. 
And yes, prices change when items go on sale, so monitor those weekly ads! They're online now and in our smartphone apps, so no excuses.
5. Buy in bulk. 
I'm the queen of bulk purchasing. I don't know why, but I absolutely despise running out of things to the point where I'm always 2 weeks ahead on supplies of everything, especially dried goods and toiletries. 
But besides avoiding empty cupboards, there's also a frugal advantage to buying certain items in bulk. 
For one, purchasing large quantities of an item (typically one with a long shelf-life) means you spend less per unit of measurement. Instead of spending $0.50/ounce of almonds, you'll spend $0.27/ounce if you buy in bulk. 
Always buy food in bulk when you can, especially pantry items. Eyeing up those unit prices is a great way to save money!
6. Buy foods that are filling. 
When money's tight, you want the food you purchase to fill you up and reduce hunger and that pesky urge to snack. 
So make sure you're not only buying cheap foods, but also ones that fill you up. They should be high in protein and/or high in fiber. 
Some excellent cheap and filling foods are:
Potatoes
Meat / Meat Alternatives
Eggs
Oats
Vegetables
Legumes (beans, lentils)
Nuts
Fruit
Foods that ARE NOT filling and cause more snacking are:
Chips
Cookies
Soft drinks
Candy bars
Bakery items
Overly-processed foods 
When money's tight, you want the food you purchase to fill you up and reduce hunger and that pesky urge to snack. 
So make sure you're not only buying cheap foods, but also ones that fill you up. They should be high in protein and/or high in fiber. 
Some excellent cheap and filling foods are:
Potatoes
Meat / Meat Alternatives
Eggs
Oats
Vegetables
Legumes (beans, lentils)
Nuts
Fruit
Foods that ARE NOT filling and cause more snacking are:
Chips
Cookies
Soft drinks
Candy bars
Bakery items
Overly-processed foods 
Basically, anything that you can buy at a gas station…stay away from! These foods are not only unhealthy, they also don't fill you up and leave you feeling hungry not long after. 
7. Get cash back. 
If you're broke, then you CANNOT leave free money on the table. Yup, there's free money available to you!
And getting that free money is simple:
You just do your normal grocery shopping and earn cash back on your purchases with Ibotta. 
Ibotta is a FREE app that automatically gives you cash back when you shop at your favorite grocery stores. You just download the app, sign up for free, and link your store loyalty cards in the Ibotta app or upload your receipts. 
You'll then get cash back in your wallet within 24 hours!
Stop leaving free money at the grocery store and get started with Ibotta today.
55 Best Cheap Foods to Buy When You're Broke and on a Budget
Cheap Fruits to Buy When You're Broke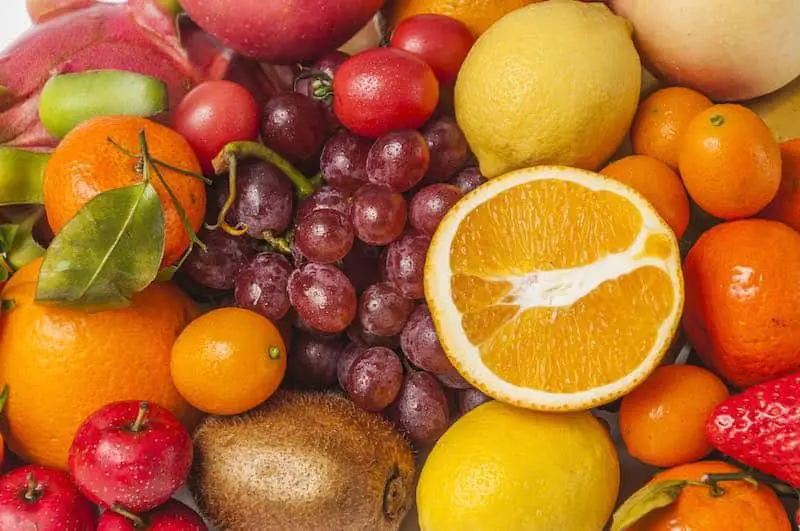 Fruit is one of the healthiest and best snacks for those in-between-meals times. It's also a nice addition to breakfasts as well, like yogurt and homemade pancakes. Banana pancakes anyone?
Luckily, fruits are also pretty cheap too! Just make sure you're buying fruit that's in-season, so you get them at the lowest price. 
Bananas
Canned fruit
Apples
Cantaloupe
Melon
Watermelon
Kiwi
Frozen berries
Oranges
Cheap Vegetables to Buy When You're Broke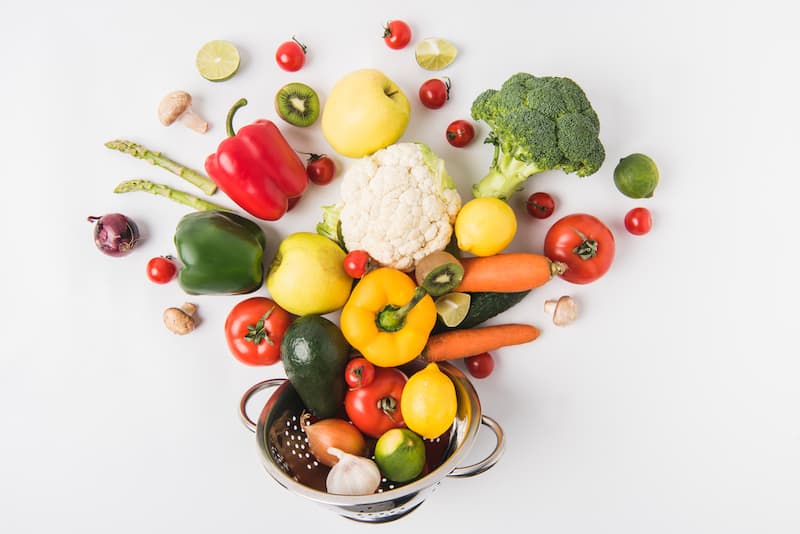 Mmm veggies. You're so versatile and can be cooked in so many different ways, that the meal possibilities are endless!
Like fruits, buy vegetables in-season and don't be afraid to venture out of your comfort zone and try new veggies! You'll find that there are less popular vegetables (read: cheaper!) out there that are just as, if not more, delicious. 
Canned Tomatoes
Carrots
Garlic
Canned Pumpkin
Peppers
Spinach
Potatoes
Sweet Potatoes
Onions
Frozen Veggies
Zucchini
Squash
Celery
Cabbage
Lettuce
Cucumbers
Cheap Dairy to Buy When You're Broke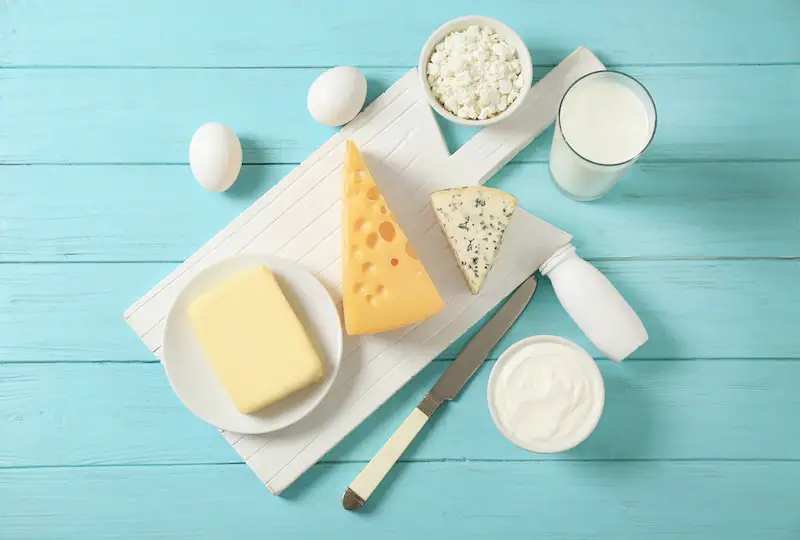 Dairy may not be the cheapest food at the grocery store, but there are ways to save money in this aisle too. Check for sales, buy generic brands, and stick to more common varieties (especially of cheese) to cut your spending.
Milk
Yogurt
Cheese (cheddar, monterey jack, mozzarella)
Butter
Cheap Protein to Buy When You're Broke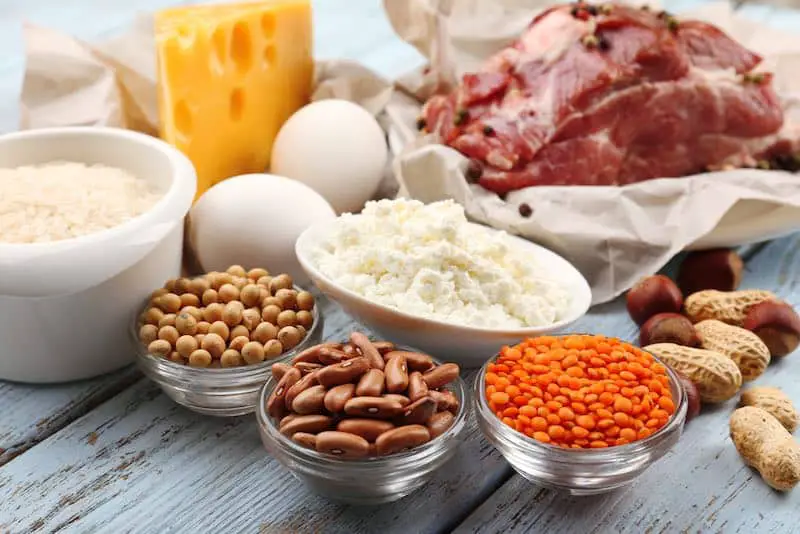 Don't skimp on the protein! Remember: high protein foods are well worth the money because of how filling they are. 
Canned or dried protein, like legumes and quinoa, are also really versatile and can be used as a meat substitute on variety of dishes. Trust me: they'll fill you up just like that steak does!
Lentils
Beans (kidney, red, black, pinto, chickpeas)
Quinoa
Peanuts
Eggs
Tuna
Chicken (especially thighs)
Ground Beef/Pork
Tofu
Sausages
Cheap Pantry Items to Buy When You're Broke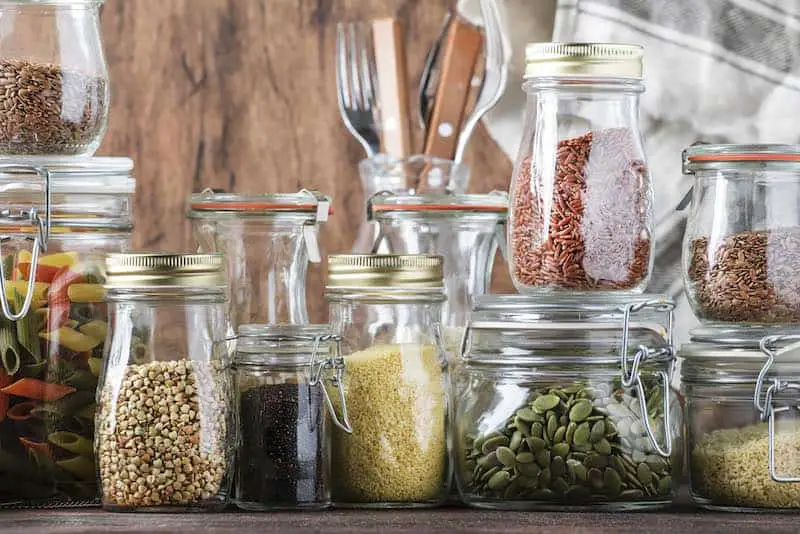 Who doesn't love a well-stocked pantry? So many items, so many meal possibilities! 
And the best thing about pantry food is that it's fast and easy (even I can cook pasta…and that says a lot). So keep your pantry stocked with these cheap foods and you'll never run out of meals.
Rice
Pasta 
Pasta Sauce
Oats
Cream of Wheat 
Bread
Flour
Sugar
Yeast
Baking Powder and Soda
Cooking Oil
Spices (salt, pepper, garlic powder, onion powder, oregano)
Cereal (generic or on sale)
Peanut Butter
Dark Chocolate (generic or on sale)
Saltine Crackers
Easy and Cheap Meal Ideas on a Budget
Okay, so what do you do with these 55 cheap foods? Good question!
You'll need some meal inspiration to take those single ingredients and turn them into something delicious. 
So here are some of my favorite cheap meal ideas for when you're broke. And truthfully, I eat these meals even when I'm not broke. They're healthy and tasty!
Cheap Breakfast Ideas
scrambled eggs
veggie omelet
hardboiled eggs and fruit
oatmeal
breakfast burrito
yogurt, oats, and fruit
yogurt and homemade muesli/granola
toast with peanut butter, jam, or butter
Cream of Wheat
homemade pancakes or waffles
Cheap Lunch Ideas
mac & cheese
homemade veggie soup
sandwiches (pb&j, grilled cheese, tuna, etc.)
frozen pizza
veggie burrito
chicken/beef/pork tacos
homemade quesadillas
green salad
Cheap Dinner Ideas
quinoa and roast veg
pasta
bangers and mash
baked sweet potato and roast veg
homemade chilli
homemade veggie soup
egg fried rice
tacos
meat and veggie stir fry
chicken thighs and roast veggies
Cheap Snack Ideas
peanut butter + everything (veggies, crackers, bread)
popcorn
cheese and crackers
homemade muesli/granola and yogurt
fruit salad
Grocery List of Cheap Groceries to Buy
Now that you've got strategies to buy cheap foods and save on your grocery spending, here's a handy grocery list to take with you! It's got all the frugal foods listed here, so you won't forget.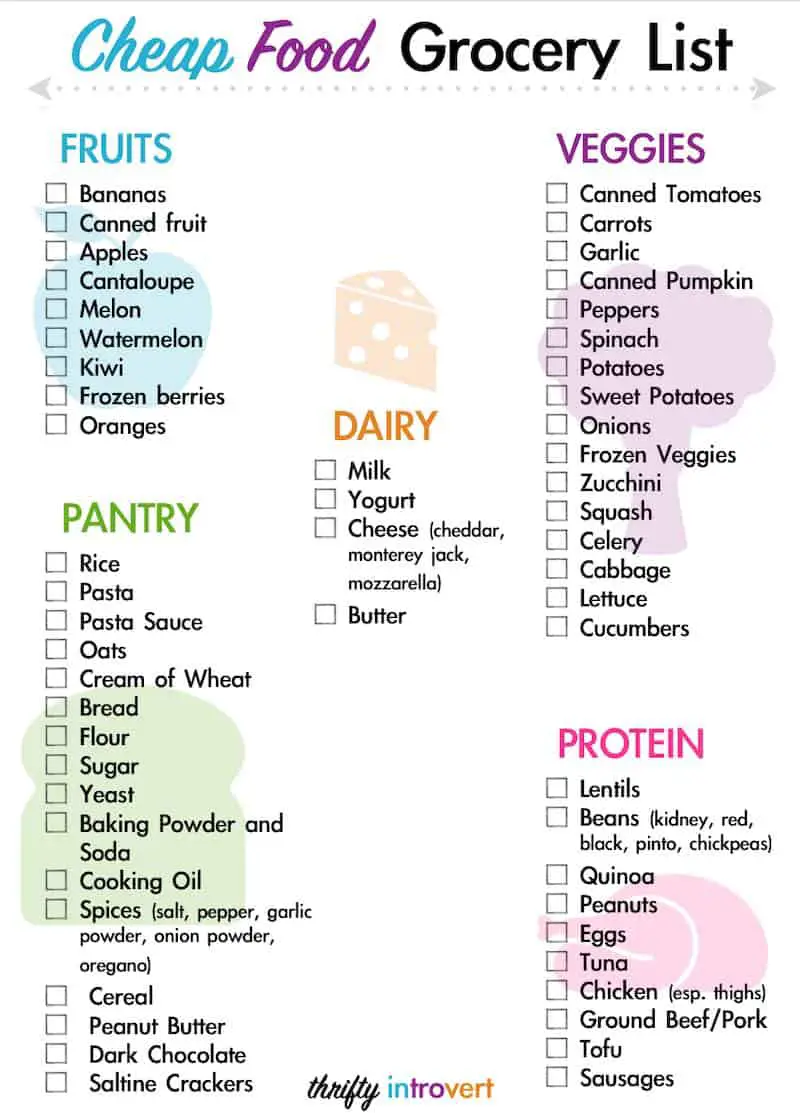 For more ways to save money on food, check out: