How to Get Free Starbucks Drinks: 11 Hacks You NEED to Know!
This post may contain affiliate links. If you decide to purchase through my links, I may earn a small commission. Read my disclosure page for more info.
If you're a Starbucks lover, then you already know:
Walking into a Starbucks, no matter where you are in the world, is like returning home. 
When I was teaching and living abroad to pay off debt, my nearby Starbucks was my sanctuary. If I was having a bad day at work or missing home, a simple soy latté made all the difference. 
But as someone who espouses the virtues of frugal living, Starbucks isn't the cheapest, unfortunately. 
Luckily for us, there are a few different ways to save money, stick to our budgets, and still indulge in those delicious Frappuccinos and Pumpkin Spice Lattés! 
Check out these 11 hacks to save money at Starbucks and get FREE Starbucks drinks!
11 Legit Ways to Get FREE Starbucks Drinks and Save Money
1. Do Simple Online Tasks and Earn FREE Starbucks Drinks!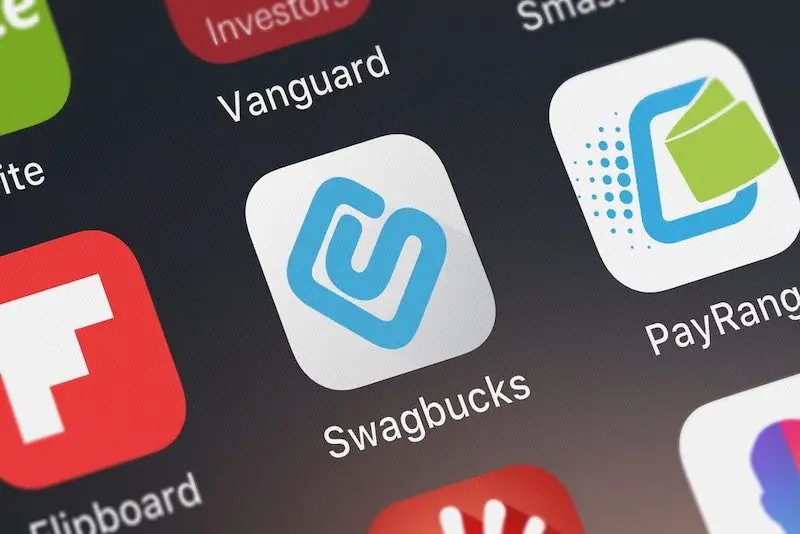 One of my favorite ways to get free Starbucks drinks is with Swagbucks. 
Swagbucks is one of the most popular survey and rewards programs available, and they've already paid out over $750 million in cash and free gift cards to its users!
And the best thing?
It's 100% FREE to sign up! 
With Swagbucks, you just choose from a variety of simple tasks, like:
Taking surveys
Watching videos
Searching the internet using the Swagbucks Search
Play online games
…and earn FREE Starbucks gift cards! 
You can also get Paypal cash and gift cards to your other favorite retailers, such as Amazon, Target, Walmart, and hundreds more!
Sign up for Swagbucks today, and you'll can get a $5 bonus. That's at least 2 handcrafted Starbucks drinks right there!
2. Take Surveys and Get FREE Starbucks Gift Cards
Just so you know:
Swagbucks isn't the only way to get free Starbucks drinks…
Combine Swagbucks with a few other survey sites, and you'll earn more Starbucks gift cards than you can spend! 
Though, you probably won't have trouble spending them during Pumpkin Spice season…
So check out these other popular survey sites to boost your latté potential:
Inbox Dollars
Inbox Dollars is another one of my favorite rewards programs, and they too offer Starbucks gift cards for doing things like taking surveys, watching videos, playing games, and even reading emails!
Get an INSTANT $5 bonus (read: FREE Starbucks drink!) when you sign up for Inbox Dollars today!
Survey Junkie
Another site to take surveys and earn Starbucks drinks is Survey Junkie. 
Survey Junkie links you to thousands of companies, who simply want your honest opinion in exchange for Paypal cash and gift cards to your favorite places, like Starbucks! 
The surveys on Survey Junkie vary in length, from two minutes to twenty minutes or so. You might also be asked to participate in focus groups, where a small group of survey takers share their thoughts together.
Survey Junkie is one of the leading survey rewards sites around, with over 10 million members. Join today and start getting free Starbucks by sharing your opinions!
My Points
Last, but certainly not least, MyPoints is another survey and rewards site offered by the company Prodege, which owns and operates Swagbucks. 
And similar to Swagbucks, MyPoints gives you many ways to earn Paypal cash and free gift cards by:
Taking surveys
Searching the web
Playing games
Reading emails
Watching videos
Referring friends
By signing up for MyPoints today, and you can get a $10 welcome bonus within your first 30 days! 
MyPoints
Get a $10 WELCOME BONUS for spending your first $20 using MyPoints!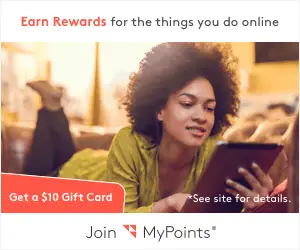 Related Read: 13 Highest Paying Survey Sites to Get FREE Gift Cards
3. Use FREE Cash Back for Starbucks Drinks
Using cash back apps is like making money off spending money. 
Every time you shop at your favorite stores—both in-store and online—cash back programs will notify you of discounts and cash back opportunities. 
You don't have to do anything beside use the app or browser extension when you shop. It's that simple.  
You're purchasing these items anyway, so why not earn money to fund your Starbucks habit? 
Here are 2 of the best (and easiest!) cash back apps you can start using today:
Rakuten
Rakuten (formerly Ebates) lets you shop online or in-store and earn cash back at over 2,500 stores. We're talking up to 40% cash back, in fact. 
In a nutshell, Rakuten gives you cash back via Paypal, check, or in the form of in-store cash back, just for doing your normal shopping.
To get started, you simply download the app onto your phone or use the browser extension on your computer while you shop. You can then shop through the app and earn, or the Rakuten browser extension will alert you to any money saving opportunities on each website! 
For signing up with Rakuten today, you can get a nice $10 instant bonus! 
Ibotta
Ibotta is another one of the most popular cash back apps. 
Just like Rakuten, Ibotta lets your earn cash back while doing both in-store and online shopping. All you need to do is download the Ibotta app or browser extension to get started. 
If you're shopping in-store, you can pay using the Ibotta app to earn instant cash back on your purchase. Or, if you pay using a different method, you can scan your receipt to get cash back too!
To date, Ibotta has paid out over $797 million in cash back. Sign up today to get a welcome bonus of $20! That's at least 5 free Starbucks drinks!
Related Read: 55 Cheap (and Healthy) Foods To Buy on a Budget
4. Join the Starbucks Rewards Program
If you're a regular Starbucks customer and aren't a Rewards member, then you're missing out on some excellent perks!
Joining the Starbucks Rewards program is easy. All you have to do is download the Starbucks app to your phone, create an account, and have your barista scan your Rewards barcode the next time you order. It's really that simple!
The Starbucks app will also keep you informed of any special offers, Double Star Days, and Bonus Stars challenges. 
How does the Starbucks Rewards Program work?
The Starbucks Rewards program gives you stars for every purchase you make at a Starbucks location. These stars can then be redeemed for free Starbucks drinks, bakery items, sandwiches, and more. 
How do you earn Starbucks stars?
You earn Starbucks stars for every dollar you spend at Starbucks locations around the United States. 
It's important to know that the number of stars you earn depends on the payment method you use. 
If you use a regular debit/credit card or cash, you'll earn 1 star for every $1 spent. Or, with the Starbucks app, using your Starbucks Card or gift card will earn you 2 stars for every $1 you spend. 
And lastly, you'll earn 3 stars to every $1 spent with the Starbucks Rewards Visa Card. More on that later…
How do you redeem Starbucks stars?
Once you've earned enough Starbucks stars, you can redeem them for free Starbucks drinks, add-ons, bakery items, and more. 
All you have to do is show the barista your Starbucks Rewards barcode at checkout. Then, tell them that you'd like to use your stars towards your purchase. 
How many Starbucks stars do you need for a free drink?
25 Stars — Free drink customization (extra espresso shot, dairy substitute, syrup and more)
50 Stars — Free brewed hot coffee, bakery item or hot tea
150 Stars — Free handcrafted drink, hot breakfast item or parfait
200 Stars — Free sandwich, protein box or salad
400 Stars — Use your stars for 8 FREE Starbucks coffees, a free select merchandise item (e.g. Starbucks signature travel mug, and other accessories) or a free bag of Starbucks coffee to make at home!
5. Get FREE Refills at Starbucks
Did you know that you can request FREE refills at Starbucks? 
It's true!
And who wouldn't want MORE Starbucks coffee for free? 
So another great way to get free Starbucks drinks is by utilizing this free refills offer!
But before you try and get your mocha Frappuccino refilled, there are a few things you should know:
You must be a Starbucks Rewards member in order to receive free refills.

 

Only certain drinks are eligible for free refills. No Frappuccinos, sorry!
So you're probably wondering…
What drinks does Starbucks refill for free?
All Starbucks Rewards members are entitled to free refills on brewed coffee or tea. As long as you've purchased a hot or iced brewed tea or coffee using your Starbucks app or Starbucks Card, you can request a free refill from your barista! 
Related Read: 21 Extreme Frugality Tips That'll Save You THOUSANDS
6. Claim Your Starbucks FREE Birthday Drink
Another benefit to being a Starbucks Rewards member is that every year, you'll receive a FREE Starbucks birthday drink on the house! Just make sure to fill out your birthday in the Starbucks app, so that you can receive this offer. 
Your free Starbucks birthday drink can be used to purchase one handcrafted beverage or food item. This offer can only be redeemed on the actual date of your birthday, so make sure you pick up your morning brew to kick off your celebrations!
7. Get BOGO Starbucks Drinks (Buy One Get One Free)
On the Starbucks app, you'll receive alerts when the next Starbucks Happy Hour is happening, so keep an eye out!
Happy Hour happens every couple weeks on a Thursday from 2pm to 7pm. During this time, you can get BOGO Starbucks drinks! 
Just buy a grande or larger handcrafted beverage, and you can get one of equal or lesser value free.  
Also, keep a lookout for other special promotions in your inbox or Starbucks app. Starbucks will periodically offer deals, such as buy 1 get 1 50% off on certain drinks, especially around the holidays! 
8. Use Starbucks Gift Cards to Pay
If you're using your regular old debit or credit card to pay for your Starbucks (or even worse: cash!), then you're missing out on free Starbucks drinks. 
See, if you use a Starbucks gift card to pay, instead of earning just 1 star for every $1 you spend, you'll earn 2 stars! That's double the rewards!
This is a really simple hack that everyone should be using. All you have to do is use a debit card and preload a gift card in the Starbucks app. Then, make sure you scan and pay using your Starbucks gift card to earn 2 stars for every $1 spent!
So instead of that free Starbucks drink costing you 50 stars (or $50 spent), you'll only need to spend $25 in order to get your free coffee!
9. Get a Starbucks Rewards Visa
Okay, so you're a Starbucks regular and have already been taking advantage of Starbucks gift cards to earn double the stars. 
But guess what:
You can still earn more stars for every dollar you spend!
With the Starbucks Rewards Visa Credit Card, you can earn 3 stars for every $1 you spend at Starbucks! That means MORE free drinks coming your way. 
All you have to do is preload your Starbucks Card (in the app) with your Starbucks Rewards Visa card to earn 1 star per $1. Then, pay using your Starbucks Card and get 2 stars for every $1! 
If you sign up for the Starbucks Rewards Visa Card, you'll also receive 4,500 bonus stars after spending $500 in the first 3 months. 
And any groceries, utilities, or transportation you pay for with this Starbucks Visa, you'll earn 1 star for every $2!
So if you're a Starbucks addict like me, the Rewards Visa is something you should seriously consider. You'll save money and still be able to keep your Starbucks habit. Win!
Or, if you don't need another credit card, Starbucks also has a Starbucks Rewards Prepaid Visa Card. This one has no annual fee and still lets you earn stars for every $10 spent on everyday purchases. 
10. Be Eco-Friendly and Earn FREE Starbucks Drinks
Instead of throwing away all those Starbucks cups, use your own coffee mug, be it a Starbucks signature one or a different brand from Amazon. No matter the size, you'll get a $0.10 discount on your coffee!
Now, this might not be a free drink, but that money you save is going towards future Starbucks drinks. 
So really: 
Money saved is money earned…Or in this case, coffee earned!
This is yet another Starbucks hack that everyone should take advantage of, not only because it saves you money, but it also benefits the environment!
11. Order Off the Starbucks SECRET Menu
Just like In-N-Out and Chipotle, did you know that Starbucks has its own elusive, secret menu?
Well now you do!
And a few items on the Starbucks secret menu will save you money, or be entirely free! 
For example, whilst it may not benefit you, your pooch can get a free "Pup-puccino" when he/she visits your local Starbucks. A Puppuccino is a small cup of whipped cream for your dog to devour and enjoy. 
And trust me, your furry friend will indeed devour this. My dog Winston practically inhales it! So make sure you request a free Puppuccino next time your furry friend accompanies you to Starbucks. 
Another item on the Starbucks secret menu is what Starbucks calls a "short", or 8 oz. cup size. The Short is cheaper than the next smallest size (the Tall), so you'll save money and still enjoy your Starbucks brew! 
And by the way:
Every barista knows about the Short, so don't worry about getting strange looks when you request it! 
In fact, the Short used to be a standard Starbucks option until they realized people preferred bigger cups of coffee. 
Guess we're all a bunch of caffeine addicts, huh? 🙂
How to Get FREE Starbucks Drinks and FREE Refills
Check out these other ways to save money every day: