13 Highest Paying Sites to Make Money Online From Surveys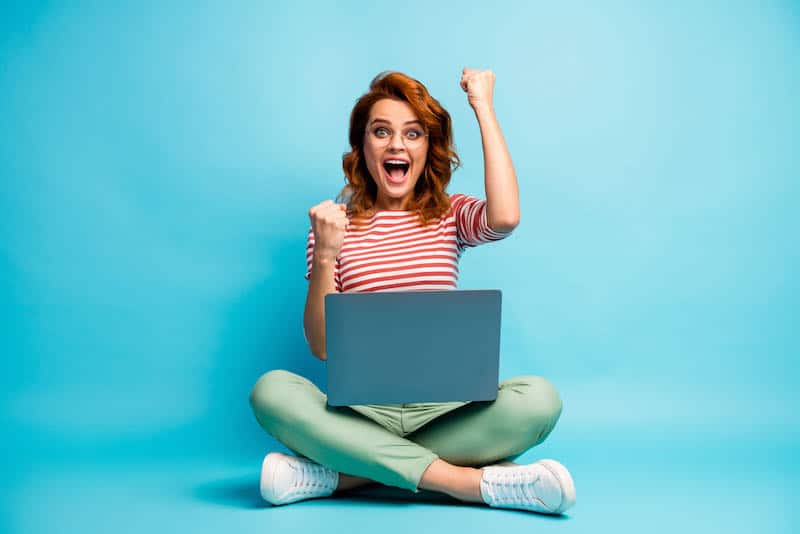 This post may contain affiliate links. If you decide to purchase through my links, I may earn a small commission. Read my disclosure page for more info.
Okay, so you've tried a couple survey sites and didn't earn much. 
Or, maybe you've been eyeing online surveys as a way to earn extra money, but are still shopping around for the best sites to join. 
Either way, you should know that:
Paid surveys are one of the easiest ways to earn cash online…but they're not all equal.
Some companies give you more ways to earn than others, some have more surveys than others, and some just straight up pay more money.  
So to save you endless hours of research and survey testing, I've put together my top 13 highest paying survey sites online. I've compiled all the important information you need to know about each survey company, so you can find your perfect survey site match.
Related Reads:
How do online survey sites work?
Online survey sites are more commonly referred to as GPT or Get-Paid-To sites these days, because many of them give you multiple ways to earn besides just surveys. For example, you can watch video ads, play online games, and participate in competitions to make money. 
For every online survey site, it's free to sign up and some even offer cash bonuses for doing so. The email address you use to sign up will be where you're sent survey offers and any other announcements, and this is what you need to look out for. 
The surveys sent to you greatly depend on the information you provide in your account profile. This is where you'll state your gender, race, religion, income, and more. At first, this might seem a bit invasive but you must share this information so that companies know whether to include you in a survey or not. Remember, their goal is to conduct market research, which involves targeting specific demographics and finding out their opinions. 
When you're sent a survey offer, you'll follow the link and answer a few questions about your preferences, opinions, and experiences. Each survey typically takes only about 10-15 minutes, and some are even shorter.  
And be aware that sometimes you might get booted out of a survey after you've already started. This can be frustrating, but really it's just the name of the game. Your responses to the first few questions sometimes impact whether or not they want more information from you. 
If you're booted out of a survey, don't fret. There will be more survey offers on the way and in the meantime, you can earn in other ways like watching videos, playing games, searching the internet using a browser extension, etc. 
How much money can you make taking surveys online?
While some sites pay pretty well for surveys, focus groups, and referrals, it's important to have realistic expectations about how much you can earn. 
Making money online from survey and GPT sites is NOT a fast way to get rich. 
As someone who's used quite a few survey sites before, take it from me:
They don't pay enough points or dollars to make a ton of money each month. 
But remember:
The idea behind taking surveys for money is to make money in your spare time, not to replace your full-time job. So take surveys when you're on the subway to work in the morning, at home on the weekends, or at a restaurant waiting for your food to arrive. 
Essentially,taking surveys online lets you monetize your downtime. 
Also, to make the most money you can, take advantage of all of the different ways to earn on these sites. Doing so will increase your earnings significantly than just waiting around for surveys.
How do I get paid for online surveys?
Almost all online survey companies pay users through Paypal, gift cards (e-gift cards, to be specific), and some also offer direct bank transfers. 
So for most, you'll need to have a verified Paypal account in order to receive cash payments. 
And for gift cards, almost all survey sites offer ones to major online and in-store retailers, such as Amazon, Target, Walmart, and many more. 
However, before you can get paid for online surveys, you'll need to reach a minimum account balance which varies by company. This means you must complete a certain number of surveys and/or tasks online to get paid. 
Normally, minimum payouts are around $3-$5, which might take you a few days to earn depending on how many surveys you're offered and how much time you spend on the platform.
Why should I make money online from surveys?
Okay, so if it's not going to make you rich, you're probably wondering whether taking surveys is even worth doing. 
To that I say:
Yes, making money with surveys is absolutely worth doing for a number of reasons. 
Some benefits to these GPT Sites are:
This is easy money. You can respond to survey questions in your sleep, pretty much.
There are many ways to earn. You can get paid for doing other simple online tasks, like reading emails and watching videos. Pretty darn easy!
This is money you wouldn't have otherwise. Hey, money is money. Even if you only earn $20 in a month, that's still $20 you didn't have before. And in the long term, it adds up! 
Ultimately, getting paid for online surveys and GPT tasks is a great way to earn a little extra on the side. You can put this money towards groceries, your hobby, gifts, or even your rainy day fund.
Related Read: 25 Easy Ways to Make Instant Money Online
13 Highest Paying Survey Sites That Pay Cash
1. Prolific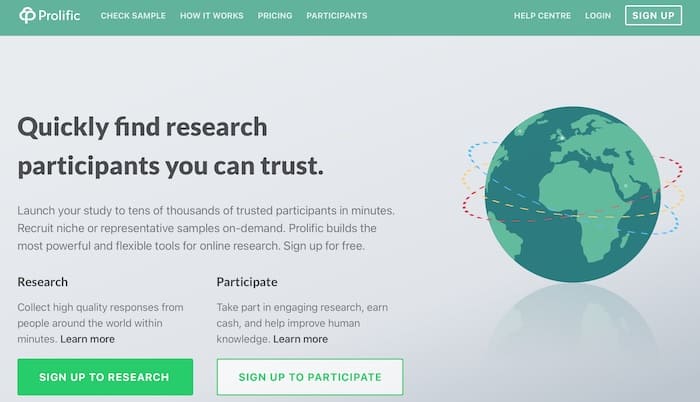 Eligibility: 18 or older in AT, AU, BE, CA, CH, CL, CZ, DE, DK, EE, ES, FI, FR, GB, GR, HU, IE, IL, IS, IT, JP, KR, LU, LV, MX, NL, NO, NZ, PL, PT, SE, SI, US and ZA.
Ways to Earn: surveys, research studies 
Earnings System: $6.50 minimum/hour
Minimum Payout: over £5 or roughly $6.50
Pays Via: Paypal
Prolific works with 3,000+ researchers and over 500 academic and research institutions and companies to conduct market research, behavior research, and opinion polls. 
Based in the UK, Prolific is not as widely known as other survey sites, but offers some of the highest paying online surveys with the lowest cash out amount. They also pay in real currency, so no points system is involved. 
An important thing to note is that Prolific pays in GBP (£), so you'll need to convert your earnings into USD within your PayPal account. PayPal charges a small currency exchange fee, but it's very easy and convenient using the PayPal app. 
So if you want to take part in the next Oxford University, Stanford, or Yale research study, Prolific is a legit survey company that'll connect you to interesting studies happening each and every day.
2. Survey Junkie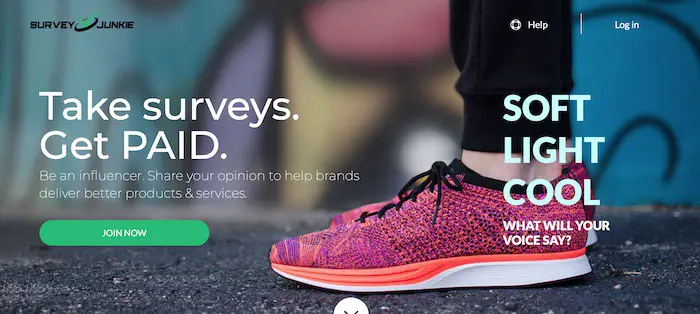 Eligibility: 13 or older in USA (except California, 16+), Canada, Australia
Ways to Earn: surveys, focus groups, product testing, browser extension, referral bonuses
Earnings System: 100 points = $1
Minimum Payout: $5
Pays Via: Paypal, gift cards, direct bank transfer
Survey Junkie has over 10 million members, making it one of the largest and most trusted online survey sites around. 
You also have quite a few ways to earn on Survey Junkie, and some of these pay pretty well! 
Besides surveys, you can also participate in:
Product testing — earn up to $50 per review
Focus groups — earn up to $150
Phone surveys — earn up to $100 
As with most high paying survey sites, you'll want fill out your profile completely and accurately in order to get more survey offers. Survey Junkie even incentivizes this process, giving you points for answering more questions about yourself. 
Overall, signing up for Survey Junkie is like a rite of passage for people looking to make money online from surveys. They're legit, well-established, and because of this have an incredibly user friendly platform that makes taking surveys and tracking earnings easy.
3. Swagbucks ($5 Sign Up Bonus)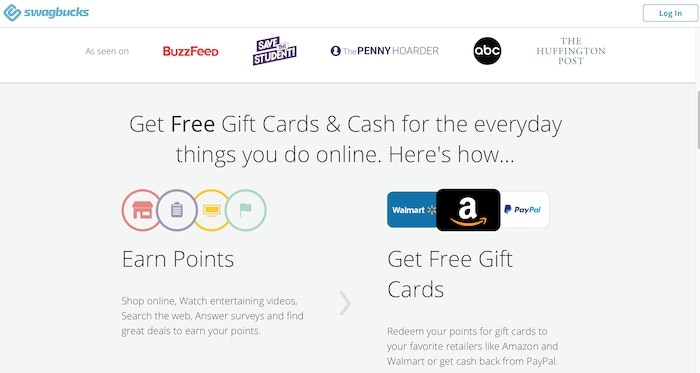 Eligibility: 13 or older, international
Ways to Earn: surveys, searching the internet, playing games, watching videos, coupons, referral bonuses, and more. 
Earnings System: earnSB Points which can be converted to PayPal money and gift cards, 1 SB Point = $0.01
Minimum Payout: $3
Pays Via: Paypal, gift cards
Swagbucks is one of the most popular survey and rewards programs out there, and its no surprise why. With Swagbucks, you can earn PayPal money and free gift cards in so many different ways—it's impossible to list them all! 
Not only do you have the ways to earn listed above, but Swagbucks also has sweepstakes you can enter, a SwagButton which alerts you to cash back offers (similar to Rakuten), and even live trivia rounds. 
In short, you won't run out of ways to make money online with Swagbucks. 
Oh, and it's one of the ways I get free Starbucks drinks. Mmm, free mochas.
Swagbucks also has a generous referral program, where you can earn 500 SB ($5) for each friend/family you refer. AND you'll earn 10% of their Swagbucks earnings for life. Yes, for life. 
Earn with Swagbucks
Get paid in gift cards or Paypal cash for taking surveys, playing games, or just shopping online! Earning extra money has never been easier.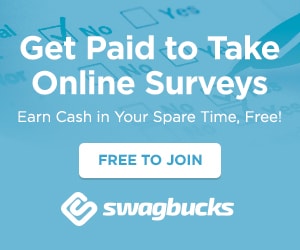 Related Read: 13 Lazy Ways to Make Money Clicking Links and Ads
4. Inbox Dollars ($5 Sign Up Bonus)
Eligibility: 18 or older in US, UK (InboxPounds)
Ways to Earn: surveys, videos, games, online shopping, read emails, coupons, focus groups, referral bonuses
Earnings System: roughly$0.25-$5.00 per survey
Minimum Payout: $30 for first payout, $10 after
Pays Via: Paypal, gift cards, check
Inbox Dollars has been around since 2000 and to date has paid out over $59 million to users. They work with big-name brands, like Target, Netflix, and Walmart to administer surveys and conduct market research on consumers like you. 
Not only do you have a variety of simple tasks you can get paid for, but Inbox Dollars also has a refer a friend program that lets you earn $1 for each referral and 30% of their lifetime earnings. Not bad!
Another perk to Inbox Dollars is they offer a $5 instant sign up bonus, and no strings attached.
5. Opinion Outpost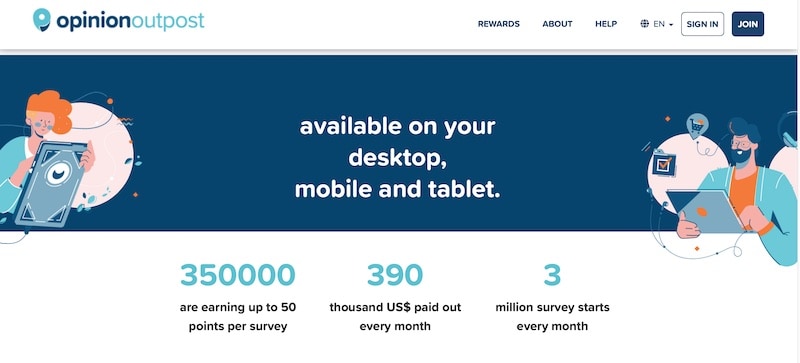 Eligibility: 17 or older in US, Canada, UK
Ways to Earn: surveys, product testing, referral bonuses
Earnings System: 10 points = $1
Minimum Payout: $5
Pays Via: Paypal, gift cards
Opinion Outpost has an impressive 2 million users and is a trusted, high paying survey site that's owned by the company Dynata. Dynata is an international survey provider that also owns QuickThoughts and OneOpinion—2 other quality survey sites! 
Benefits of Opinion Outpost include their low payout amount of only $5 or 50 points and the fact that each survey earns you between 10-30 points. Some surveys even pay up to 50 points, so you'll need to hop on those offers fast! 
You can also get a referral bonus of $1 per friend or family member, up to $5 total. 
6. MyPoints ($10 Sign Up Bonus)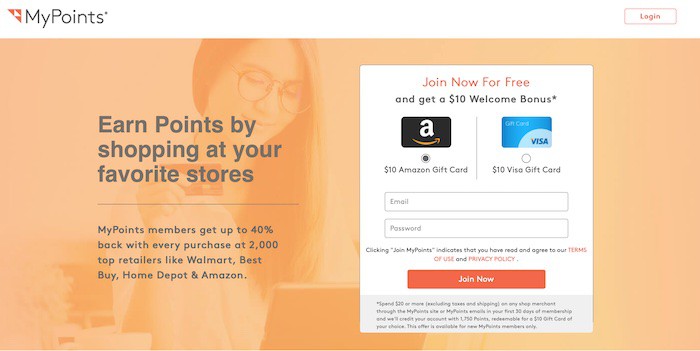 Eligibility: 16 or older in US, Canada
Ways to Earn: surveys, clicking on emails, online shopping,coupon codes, playing games, referral bonus
Earnings System: number of points to $ varies
Minimum Payout: $5 (gift card), $25 (PayPal)
Pays Via: Paypal, gift cards
MyPoints is a rewards site that's part of Prodege, the company behind Swagbucks and Inbox Dollars. It offers similar ways to earn and has a 4.4/5 Excellent rating on Trustpilot.   
MyPoints also has a referral bonus of 750 points for referring a friend who spends at least $20 within 30 days on MyPoints.com. You can only refer 1 friend and get the bonus opportunity though. But still, free points is free money!
You can sign up today and get a $10 bonus for spending your first $20 on MyPoints in 30 days.
MyPoints
Get a $10 WELCOME BONUS for spending your first $20 using MyPoints!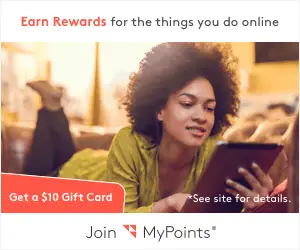 7. KashKick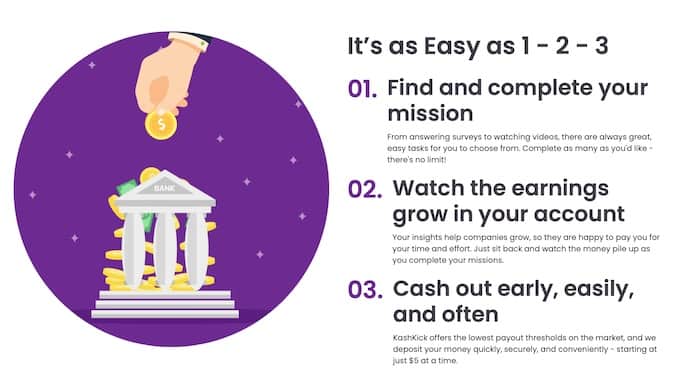 Eligibility: 18 or older in US
Ways to Earn: surveys, videos, searching the internet 
Earnings System: KashKick "Cash" $1=$1
Minimum Payout: $5
Pays Via: Paypal 
KashKick is perhaps lesser known, but a rising star amongst other online surveys and GPT (Get Paid To) sites. It's a legit survey site, registered in the US, and pays users through PayPal. 
KashKick's biggest draw has gotta be its easy to understand earnings scheme and low payout requirement of just $5, making it one of the lowest minimums available.
Because it's a new kid on the block, you won't find as many reviews or information about KashKick out there as say, Survey Junkie and Swagbucks. However, it's well worth signing up for in addition to other sites. And ultimately, you should test drive a few of these to see which you prefer.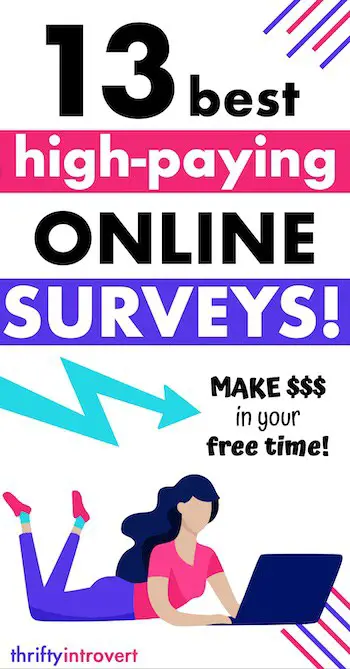 8. Vindale Research ($1 Sign Up Bonus)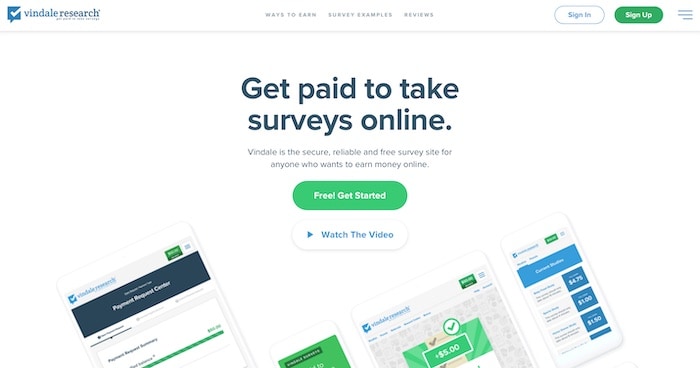 Eligibility: 18 or older in US, UK, Canada, Australia
Ways to Earn: surveys, reading emails, watching videos, product testing, referral bonuses
Earnings System: no points, $0.25-$50 per survey
Minimum Payout: $50
Pays Via: Paypal
Vindale Research is another trusted online survey company that's paid nearly $8 million in cash to users since 2005. 
There's no points system here, so any surveys you take earn you cash straight away which is appealing. Some surveys even pay up to $50, although these are rare. Most will you earn you $0.25-$1, which is still decent. 
One downside to Vindale Research is their high payout amount of $50. So while they do have hundreds of paid surveys daily, it will still take you a while to reach that minimum. 
However, Vindale Research does have a high-paying referral program, which gives you $5 for every friend or family member you recruit to join.
9. Pinecone Research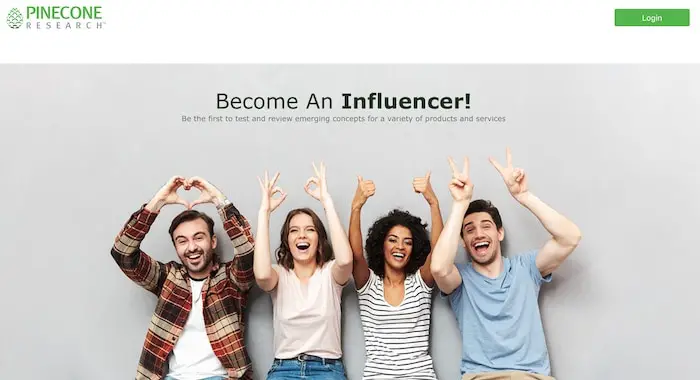 Eligibility: invite only, 18 or older in US
Ways to Earn: surveys, product testing
Earnings System: $3 per survey
Minimum Payout: $3
Pays Via: direct bank transfer, gift cards
Pinecone Research is an invitation-only site where you can make money online from surveys. It has been around for over 20 years, so it's a trusted name in the Get-Paid-To world. 
One advantage to Pinecone Research is that they're invitation only, which means you'll have less competition for surveys. 
Also, they pay $3+ per survey, which is much higher than most other sites. Although, some users have reported a low number of surveys available, but this again depends on your demographics and what they're looking for. 
Once you're in, unfortunately Pinecone Research doesn't offer a bonus for referring people. However, it's still worth signing up for the high payment amount.
10. Surveytime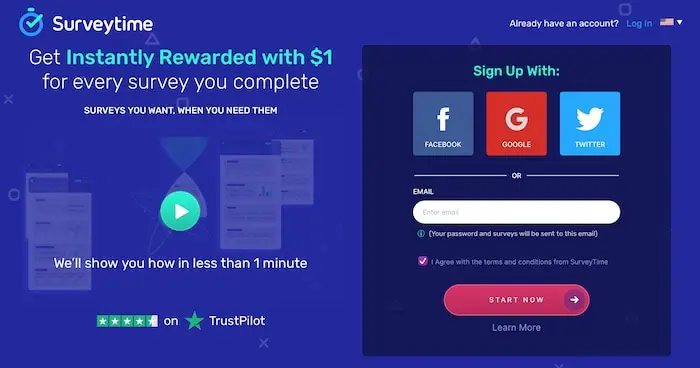 Eligibility: worldwide, no age requirement (under 13 must have guardian supervision)
Ways to Earn: surveys
Earnings System: $1 per survey
Minimum Payout: None
Pays Via: Paypal, gift cards
Surveytime is one of my favorite high paying survey sites, because they don't have a minimum payout amount and you can cash out instantly. A pretty big perk! And also, extremely rare.
Another aspect I like about Surveytime is that they don't have a points system. Everything you earn, you earn in dollars. As well, each survey pays a flat rate of $1, so there's absolutely no confusion as to what you'll be paid and how to cash out. 
All in all, Surveytime is a must in my book because of how easy and straightforward the payment system is.
11. PrizeRebel (Top Pick!)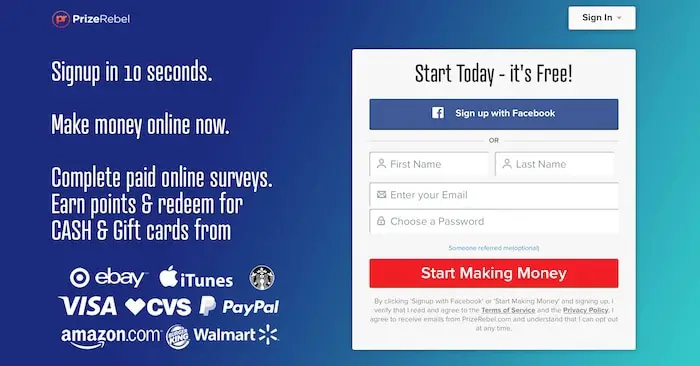 Eligibility: 18 or older, worldwide
Ways to Earn: surveys, contests, promo codes, watching videos, referral bonuses
Earnings System: points system, earnings vary
Minimum Payout: $5
Pays Via: Paypal, gift cards
PrizeRebel is another site that I truly recommend. What I love about PrizeRebel is their low minimum payout of only $5 and the fact that you can get paid in Steam Wallet codes and gift cards. A win for all you gamers!  
Basically, PrizeRebel has an ENORMOUS selection of gift cards to choose from. 
Another benefit is their high paying referral program that gives you 30% of your friends/family's lifetime earnings. 
In my opinion, if you're looking to make money online from surveys, then PrizeRebel is a no-brainer—sign up! 
Related Read: 13 Stupid-Easy Ways to Get FREE Steam Codes
12. Qmee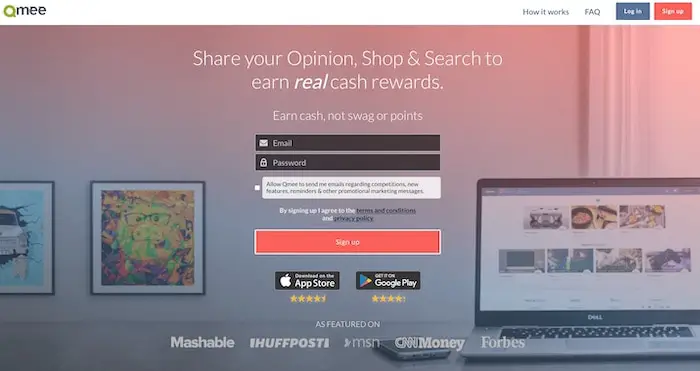 Eligibility: 16 or older in US, Canada, UK, Australia
Ways to Earn: surveys, searching the web, pop quizzes, coupons, discount offers, referral bonuses
Earnings System: varies, pays cash not points
Minimum Payout: None
Pays Via: Paypal, gift cards
Qmee is a trusted, legit survey company that gives you multiple ways to earn cash right away. There's no points system involved, so what you earn is what you get. 
As well, you can cash out at $0.01, which makes Qmee really appealing. 
Also, many users report having more surveys come up on Qmee than most other survey sites. And with their handy app, you can respond to survey offers and take them on the go! 
Another cool thing about Qmee is their referral program which is pretty unique. Instead of getting one flat rate per referral, you get 3 choices as to the bonus you'd like. You can choose from:
$1 per referral, and you keep 100% of it. 
Share the $1 bonus with your friend (50/50).
Give the $1 to your friend.
I think this is a pretty clever way of doing it. Just don't tell your friend if you choose option A! Of course…they'll find out eventually.
13. Earnably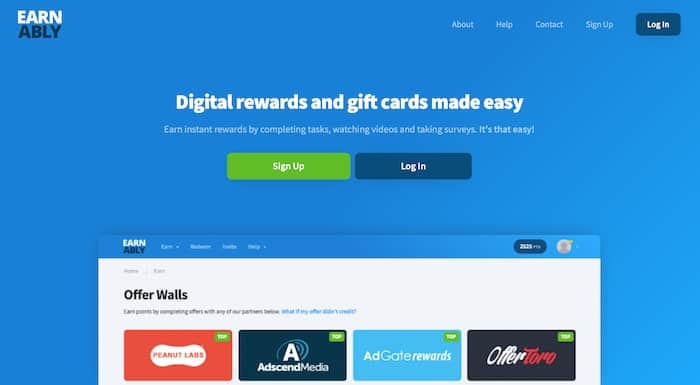 Eligibility: 18 or older in US, Canada, UK, EU, Australia
Ways to Earn: surveys, watching videos, listening to music, referral bonuses
Earnings System: 100 points = $1
Minimum Payout: $1
Pays Via: bitcoin, Paypal, gift cards
Earnably is probably the youngest survey site, having just been established in 2015. However, it is growing fast and has already paid out over $1.5 million to members. 
One thing that makes Earnably unique is that they also offer bitcoin as a payment method, something I haven't seen with any other survey company. 
Earnably does operate on a points system. You can expect to earn roughly 50-100 points per survey, which is about $0.50-$1. 
And as for referrals, Earnably will give you 10% of your friends' lifetime earnings. Not the best referral bonuses out there (see Swagbucks) but still pretty decent. 
Tips to Earn More Money with Online Surveys
Like I said before, making money with online surveys takes time and consistency. Yes, some sites have super low payout amounts and instant payments, but you'll still need to spend quite a lot of time on the platform to really earn. 
However, there are ways to boost your earning potential on almost every GPT site. Take a look at my top 5 tips to make more money with online surveys:
1. Sign up for multiple survey companies.
Signing up for one survey site and expecting to make a lot of money is just plain silly. 
Instead, throw more hats into the ring (so to speak) and increase your survey chances by signing up for a few sites. 
Yes, you'll get A LOT of survey emails and promotional emails and emails about things you don't care about. BUT, you'll also get more survey opportunities which means more money! 
2. Complete your profile

thoroughly

. 
Every single survey company you sign up with will have you complete your profile first, and some even pay you for doing it!
But, why is your profile so important that it's worth paying for?
Well, it's because your profile and the detailed information provided is what determines your eligibility for any and all surveys. 
Remember, the purpose of these surveys is for companies to collect market research on consumers. They're often creating surveys that target specific genders, ages, and other demographics. 
So if you don't tell them your gender, age, race, income, etc., then you won't be selected for any surveys. They literally won't know who you are and whether they need your opinion. 
Therefore, pay attention to any "profile strength" scores you're given, and try to max out your profile and fill in the information completely and accurately. This will boost your chances of getting selected for more surveys!
3. Refer as many friends/family as possible. 
Referral bonuses are the BEST way to make money on these sites. Just take a look at some of the rewards these sites offer for getting friends and family to sign up…Yeah, it often pays better than taking surveys! 
So once you find a survey site you really like, get your friends and as many people as you know signed up! This will earn you the most cash. 
4. Be organized.
You're gonna get a lot of emails. 
You're gonna get a lot of notifications. 
And you're also gonna forget to go on these sites a little bit each day. 
So how do you keep up with it all?
Be organized! 
Set a reminder to logon and look at daily offers. Check your email at the same time every day to see if you've been selected for surveys. 
Essentially, the time you put into online survey sites is what really impacts your earnings. 
And another thing I'd recommend to help you stay organized is to create a separate, free Gmail email address to use when signing up. 
Because of the sheer number of emails you receive from these companies, you'll want your private email inbox separate from your survey emails. This will also make it easier to scan daily offers because they'll all be in one place.
5. Join survey offers A.S.A.P.
Many online survey sites will alert you via email or text that there are surveys ready for you. 
Don't hesitate. Join these surveys right away! 
The reason being that by taking your sweet time, you'll miss out on survey opportunities and not get paid. There are thousands, if not millions, of other people on these sites, and they'll snag the surveys if you don't!
Final Thoughts 
Overall, even the best paid online survey companies won't make you rich. Because surveys are so easy, the pay is low. 
Think about it:
If surveys paid hundreds of dollars a month, then everyone would quit their jobs and do it full time. I mean, easy work for high pay—it's the dream! 
However, joining a couple survey sites and making a little bit of extra money with your downtime is a great way to boost your income and meet your financial goals. Whether it pays for your morning coffee, or your Netflix subscription every month, survey earnings cover costs. 
And as we all know, every little bit counts!
Want more ways to make money online? Check out: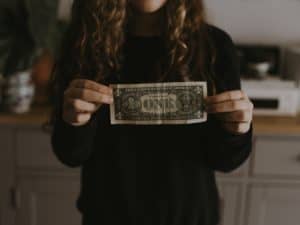 13 Best Sites to Make Money Online From Surveys