5 Easy Ways To Make Money Online Drawing (29 Sites That Pay!)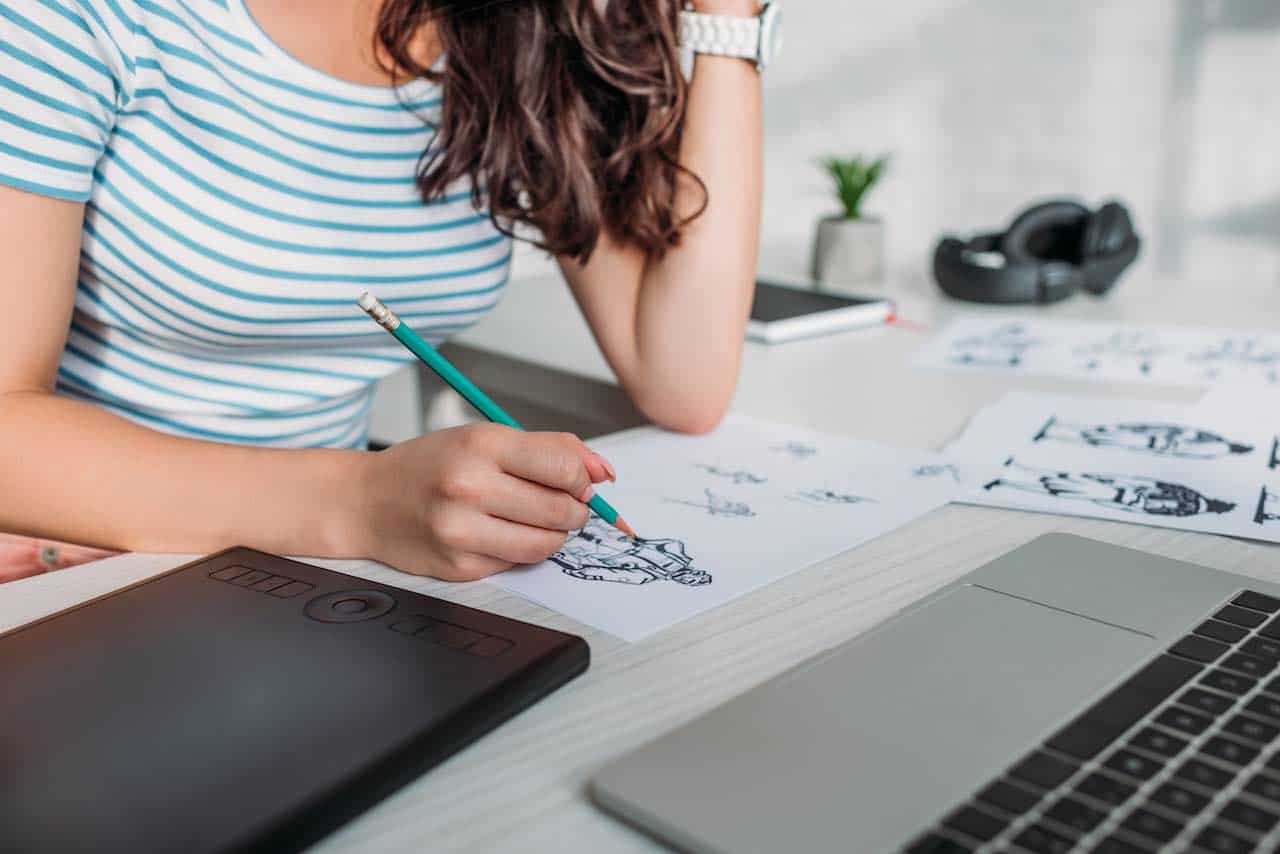 This post may contain affiliate links. If you decide to purchase through my links, I may earn a small commission. Read my disclosure page for more info.
Remember all that doodling you did during classes?
While you probably should've been paying attention to the teacher, little did you know: 
You were just honing your drawings skills, so that future you could launch a money-making art side-hustle. 
See, your clever drawings can actually make money these days, thanks to burgeoning online opportunities. Each and every day, more and more artists are turning their hobby into income, so why not you too?
So today, let's check out 5 stupid-simple ways you can make money online drawing. We'll also take a look at a whopping 29 legit sites that'll help get your drawing side-hustle off the ground!
5 Simple Ways to Get Paid to Draw Online
1. Make Money Online Drawing with Print on Demand
One of the easiest ways you can start making money with your drawing skills, is by printing your art onto t-shirts and accessories and selling them. 
Today, there are tons of print-on-demand (POD) services that make it incredibly easy to get started. With most of these sites, all you need to do is sign up, create an online store, upload your designs, and start selling!
Here are 5 great print-on-demand sites that'll help turn your drawings into money-makers: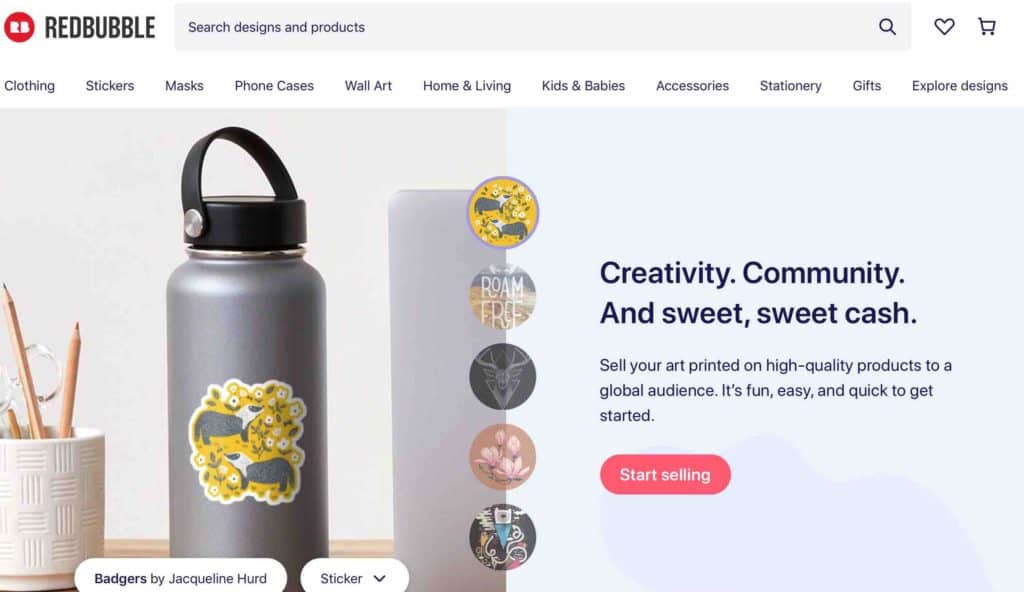 Redbubble
Redbubble is an all-in-one print-on-demand solution that does all the product manufacturing and shipping for you. That way, you can focus on creating killer drawings that people want to buy. 
Redbubble can print your drawings on over 70 different items, including mugs, t-shirts, phone cases, totes, and more. 
Society6
Society6 is another great print-on-demand website that allows artists to make money online with their drawings. 
Like Redbubble, Society6 will print your drawings on a variety of products and accessories, as well as handle shipping for you. 
Zazzle
Zazzle's print-on-demand offerings are impressive, to say the least. With Zazzle, you can submit your drawings and sell them on everything from cards/invitations, wrapping paper, office supplies, yoga mats, t-shirts…and tons more. 
And with the nifty Adobe Photoshop plugin they offer, you can streamline your designing and uploading process on Zazzle, making selling your drawings even easier. 
Cafepress
Cafepress also makes it easy to print and sell your drawings on clothing and accessories. You just upload images of your drawings, and they'll do all the rest. 
Another great thing about Cafepress is that you only have to be 13 to open up your own shop! So if you're a teen wanting to make money online, look no further than Cafepress. 
Teespring
Teespring is one of the longest-running print-on-demand websites around. And although they may have started with just t-shirts, Teespring now gives you the ability to print and sell your drawings on over 50 different products!
2. Sell Your Drawings Online for Money
Most print-on-demand sites that I've mentioned before will also print your drawings onto wall art. However, consumers may not necessarily visit those sites when looking for things like framed, canvas, and art prints. 
So another easy way you can make money drawing, is by selling your drawings on online art marketplaces or your own website. These sites allow you to sell original paintings, drawings, as well as prints. 
Please Note: For most of these, you will be asked to take care of product listings, packaging, and shipping. Some do offer print-on-demand services, and if so, I've included it in the description. 
12 Best Places to Sell Drawings Online: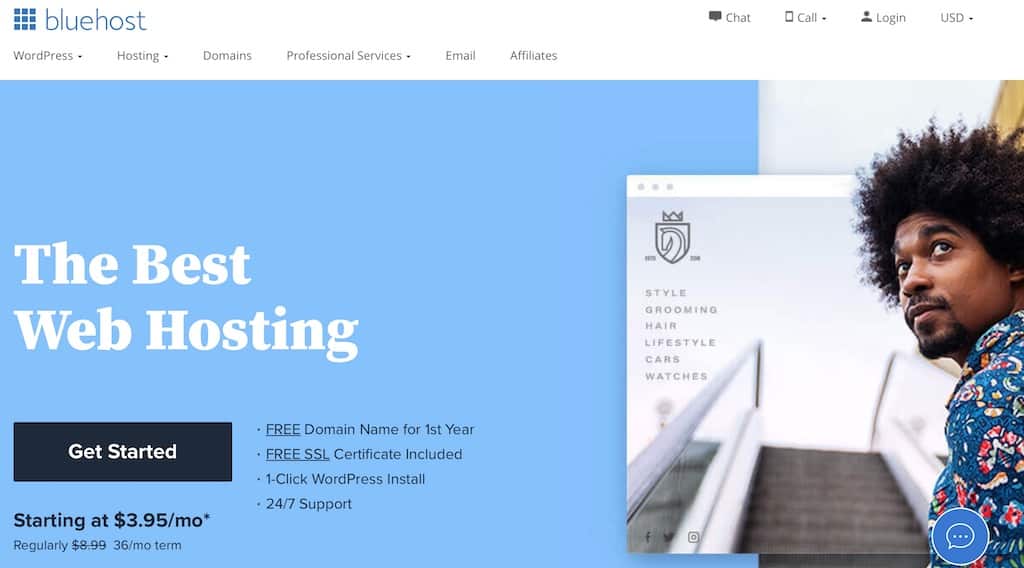 Your Own Website
Your own website is the BEST site to sell your drawings and make money. 
Because chances are, if you're an artist, then you already have an online portfolio up for potential clients and employers. 
So why not turn your portfolio into an eCommerce site where people can purchase your drawings? 
On your own website, you can still utilize print-on-demand services to help you print onto art prints and posters, as well as have a company handle all of the packaging/shipping for you. 
POD services like Printful and Printify are just some of the options that are easy to link to an eCommerce page on your website. 
Another great thing about hosting your artwork on your own site, is that it also makes it easier to get requests from customers for commissioned artwork. By setting up even a basic contact page, clients can reach out to you and pay for bespoke drawings and illustrations. 
And lastly, if you can handle the manufacturing, packaging, and shipping on your own, you can create a shop section on your site, where clients can purchase drawings straight from you! 
As you can see, if you don't have your own site yet, then you're really limiting your money-making options quite a bit! Luckily though, Bluehost offers a free domain name for one year and hosting for as little as $3.95 per month, so getting started today has never been easier!
Related Read: How to Create a Niche Website That Makes $1000+ a Month
ArtPal
ArtPal gives over 175,000 artists a platform to sell their art online and make money. 
Why do so many artists choose ArtPal for their drawings, paintings, and other artwork?
Because everything about ArtPal is 100% free:
No membership fees
No commission fees
Unlimited online space
Free print-on-demand services
Creating an account on ArtPal is easy, and within minutes you'll be setup to start making money off your drawings and sketches. Win!
Artplode
Artplode is another commission-free website that allows you to sell your art online. You pay a $60 flat fee for each listing, but after that, you keep all of the profits. 
It's important to note that Artplode is a space for selling original drawings and paintings, so no prints. That's why, even though the listing fee seems high at first, you'd use Artplode to sell originals for anywhere from $1,000 to up to $20,000+!  
Artplode even offers an assistant (for a small fee) that'll help you price your drawings well, so that you have the best chance of selling. 
Minted
Minted has been helping artists get their artwork out into the world since 2008. 
As an early embracer of online crowdfunding, Minted brings this concept to the art/design world, by hosting monthly challenges and competitions. Minted members vote on their favorites, and the winners get cash prizes and a Minted online storefront. 
Check out the current Minted design challenges and enter your drawings today!  
Saatchi Art
Saatchi Art is the world's leading online art gallery, with artists from over 100 countries and over 1.6 million visits to their online gallery. 
Creating a profile on Saatchi Art is free and is the first step to connecting you to art curators and buyers from around the world. As you can imagine, Saatchi Art is focused on original drawings, not prints, as these buyers are looking for pieces for museums, exhibits, and original art for their home. 
Saatchi Art also offers a relatively low commission, compared to other online galleries, at 35% of the final sale price. 
See how you can start making money on Saatchi Art with their detailed sellers guide. 
Fine Art America
Fine Art America is one of the largest online art marketplaces in the world. They'll help you sell and ship your drawings to any destination in the world!
Perhaps the greatest benefit to Fine Art America is the versatility of the platform. You can not only sell on their website, but also link to your own Shopify page of your website, sell on Facebook Pages, and even license your artwork to major television networks like ABC. 
Oh, and they also offer print-on-demand services, so you can put your drawings on a whole range of clothing and accessories. 
Learn more over at Fine Art America's seller page. 
Etsy
Oh, Etsy. Who doesn't love thee?
Etsy has grown to become one of the biggest online marketplaces for creatives today. Thousands of artists use Etsy to sell custom jewelry, crafts, paintings, photographs, and drawings every single day. 
So if you're wanting to make money from your drawings, establishing an Etsy shop is a must!
Etsy also easily integrates with print-on-demand services, such as Printify and Printful, so you can sell t-shirts and accessories featuring your drawings alongside art prints and originals. 
Find out more about becoming an Etsy seller on their seller page. 
Related Read: 15 Best Things to Sell on Etsy and EARN BIG
Creative Market
Creative Market is an online marketplace for graphic designers, web designers, photographers, and artists. Sellers on Creative Market primarily focus on selling digital artwork and design products, such as vector art, digital illustrations, fonts, social media branding templates, and more. 
So by turning your drawings into vector art and/or digital artwork, you can make even more money with Creative Market!
See how you can start selling your drawings on Creative Market today. 
Stock Vector Art Sites
Vector art is booming these days, with businesses and entrepreneurs wanting unique illustrations and designs for their social media marketing, digital products, and website design. 
And Creative Market isn't the only site where you can turn your drawings into vector art and make money. 
Here are some other great stock vector art sites where you can sell your vector drawings:
Instagram
Although it may not be the first place that comes to mind, Instagram can actually be an excellent place to sell your drawings and make money. 
Because Instagram is a photographic/visual-based social media network, posting your drawings on Instagram can gain you a large audience. 
The key to success on Instagram is utilizing popular hashtags, following other artists in your niche, and engaging with the community through likes, comments, and especially Instagram Stories. 
Once you gain Instagram followers, you can start advertising drawings up for sale on your Etsy seller page, eCommerce section of your website, or product listings on online art galleries. 
Amazon
Amazon is the largest online retailer in the world, and the great news for you is:
You can sell original and/or printed drawings and artwork in the Amazon Handmade section!
Think of it like Amazon's own little "Etsy" section. 
To sell on Amazon Handmade, you'll first need to create an Amazon Seller account. For this, you can sign up for their Individual Plan, which just costs $0.99 per product sold. Then, joining the Handmade program and creating your shop is free.
For more information about Amazon Handmade, check out the official website.  
Related Read: 45 Most Profitable Crafts to Sell Online
eBay
I'm fairly certain that at this point, everyone has sold something on eBay before. 
But did you know that eBay has its own art section? I didn't!
As one of the most well-trusted and widely-used online marketplaces, eBay will give your drawings an enormous audience, therefore increasing your potential to make money. 
See how you can get started selling your drawings on eBay. 
3. Make Money Teaching Drawing Online
You know that old saying: "those that can't do, teach"?
Well, as a former teacher, I think it's a load of cr*p. 
See, teaching demands that you know the ins and outs of a particular skill, including each and every step involved in mastering it. 
So if you're an avid drawer whose doodling has reached a professional level, then why not make money online by teaching others how to draw?  
And in case you weren't already aware, online courses are the future of education. In fact, Research and Markets estimates that the online education market will reach $350 billion by 2025. 
So take your drawing skills and get in on this booming market for online courses. 
Here are 4 ways you can make money online teaching drawing: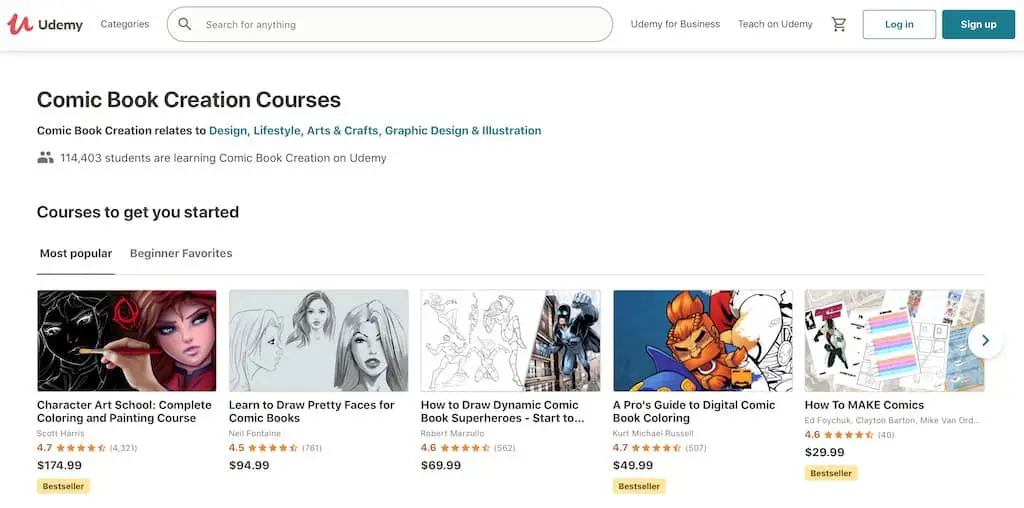 Udemy Courses
Udemy is one of the leading online course platforms, with over 35 million students worldwide and over 400 million course enrollments.
Udemy is a great choice for your online drawing courses because visitors to Udemy are there for one reason only:
To find and purchase courses!
So unlike Youtube, on Udemy you aren't competing with entertainment videos, and even better still:
You don't have to post a ton of videos over a long period of time or chase subscribers.
Instead, in order to make a successful Udemy course and sell it, you create a standalone package of course contents. This can include presentation slides, videos, and downloadable files.
After you create the course contents, you then upload it to Udemy, write a compelling description that attracts students, and that's it!
Find out more about teaching on Udemy today.
Youtube Channel
Everyone uses Youtube these days, and not just for entertainment. 
How-to videos are one of the most popular ways to learn everything from car repair, to makeup tips, to software, and even art!
And because Youtube boasts an impressive 2 billion monthly users, you won't have trouble finding an audience for your informative drawing videos. 
So how do you make money with a Youtube channel?
There are actually a number of different ways you can monetize your Youtube drawing videos. For instance, you can make money through ads, donations from subscribers via sites like Patreon, and by marketing art supplies, products, and software that viewers might want (i.e. affiliate marketing). 
If you're still not convinced of your earning potential on Youtube, just take a look at how much these Youtubers make.  
Tutoring
Another great way to make money online with your drawing skills is tutoring privately or in small groups. 
You can sign up on tutoring sites like Wyzant and start tutoring students in art, graphic design, cartoon drawing, portraiture, etc. Wyzant helps link you to students around the country and gives you the flexibility to tutor online or in-person, whichever you prefer. 
Another way you can find students looking for a drawing tutor is by networking with people in your community or on social media. Let them know that you're offering tutoring services, so that you can acquire students through word of mouth. 
eBooks
eBooks are another popular medium for online education. And with your drawing know-how, you can write and sell eBooks that teach others how to draw!
Now, writing an eBook may take a lot of time up-front, but once you've published it online, any money you make from it is almost entirely passive. 
Some great places to sell your drawing eBooks are:
4. Make Money Online Drawing Greeting Cards
Have you ever wandered through the greeting card aisle, only to see artwork that you could make yourself?
Well then, my artistic friend, you should start making money by putting your drawings on those cards! 
Here are 5 greeting card companies that allow you to submit drawings for money: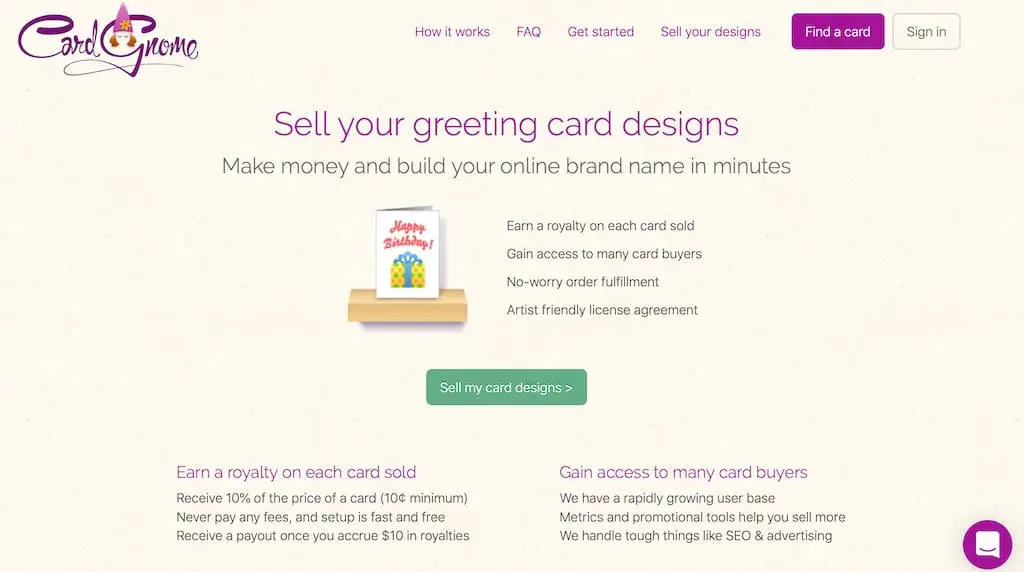 Card Gnome
Card Gnome is one of the easiest ways you can make money online with your artwork. On Card Gnome, you'll receive 10% of each card sold, keep the copyright to your drawings (so you can sell them on other sites too), and not have to worry about printing and shipping—Card Gnome does that for you!
Amber Lotus Publishing
Amber Lotus Publishing primarily accepts drawing submissions from April through July. Your drawings should be thematically connected and form a series. You'll be paid after your drawings have been approved and accepted.
Read more about artist submissions to Amber Lotus Publishing.
Oatmeal Studios
If your specialty is humorous cartoon drawings, then Oatmeal Studios might just be the right fit for you. They sell a wide range of funky, humorous, clever, and innovative greeting card designs, and your drawings could be on there too!
Find out how you can submit your drawings for money over at Oatmeal Studios. 
Crown Point Graphics
Crown Point Graphics is another greeting card company that'll pay you for drawings and artwork. You can head over to their contact page and submit a link to your online portfolio for consideration or email them. 
NobleWorks Cards
NobleWorks Cards specializes in humorous cards, so make sure your drawing submissions match their current product line. Start by using their contact page and requesting their artist guidelines. Then, you'll receive everything you need to know to start making money with your art!
5. Get Paid to Draw Online with Freelance Sites
Drawing skills, especially when it comes to graphic design, digital illustration, and vector artwork are in high demand. 
And thanks to some leading freelance job sites, you now have a way of finding clients who'll pay you for your drawings. 
Let's take a look at 3 of the best freelance and remote job sites available today: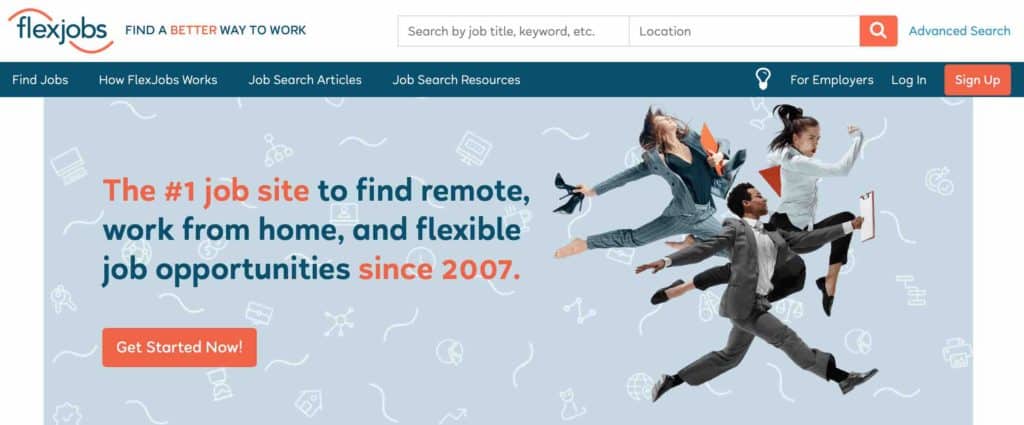 FlexJobs
Have you ever searched for work from home opportunities on Indeed or LinkedIn, only to realize that more than half of the search results aren't actually remote opportunities?
A lot of job search sites will throw in partially remote jobs, or ones that require on-site training, or jobs that require you to be based near a particular location so you can pop into the office periodically.
And worse yet, some job hunt sites will return online scams and somewhat sketchy employers.
With FlexJobs, all of those worries and that search-result frustration goes out the window.
FlexJobs is the leading remote and work from home job site. When you search for remote jobs, you can filter by:
100% remote work
Partial remote work
Option for remote work
Work that can be done from anywhere in the world
And the great news for your artists out there, is that FlexJobs also has a ton of jobs in the art and creative fields.
So check out FlexJobs today, and start making money with your drawings!
Related Read: 17 Best Non Phone Work From Home Jobs
Fiverr
Fiverr is one of the largest freelance sites around, with over 2.4 million "buyers" (small to large businesses) who're looking to hire freelancers to work for them. 
For artists, there are over 40 different skills you can get paid for, including:
Logo design
Game art and graphics for streamers
Art and illustration
Infographic design
Packaging and label design
Fashion design
Architecture and landscaping design
Character modeling
To really be successful on Fiverr and make good money by drawing, you should apply for a bunch of different drawing jobs initially, even if they don't pay particularly. 
Why?
Because, the more jobs you get from Fiverr, the more ratings you'll receive from buyers. And high-ratings will build your reputation on the platform. Then, you'll be able to get more drawing jobs and raise your rates. 
Upwork
More than 60,000 jobs are posted on Upwork every week, so you can rest assured that this freelance site has some drawing gigs for you. 
Upwork has been a leading freelance job site for over 20 years and is a platform trusted by thousands of businesses looking to hire freelancers. 
Like Fiverr, the range of job types and categories is staggering. So even if your artistic skills ventures into fields like animation, 3D modeling, furniture design, and typography, then Upwork has you covered. 
To get started on Upwork, you'll need to apply and set up a profile. Your profile should be professional, demonstrate your skills and experience, and include a portfolio of your work. 
Once you've set up your Upwork profile, then you're ready to start bidding on projects and submitting proposals to clients! 
Final Thoughts on Making Money Online Drawing
Like most online side-hustles, getting paid for your drawings isn't going to happen overnight. 
But if you never even try, then you won't ever have the opportunity to succeed.
Building an online business and making money from your hobbies and interests requires a clear strategy, consistency, and most importantly: a strong belief in yourself and your skills. 
Start by choosing just 1 of these 5 ways to sell your drawings, and stick with it. Don't just let your artistic talents hang on your own walls. Get out there and show people what you can do.
29 Best Sites to Make Money Online Selling Drawings
For more money-making ideas, take a look at these other articles: