19 Easy Ways to Make Money Online as a Teen (That Pay Well!)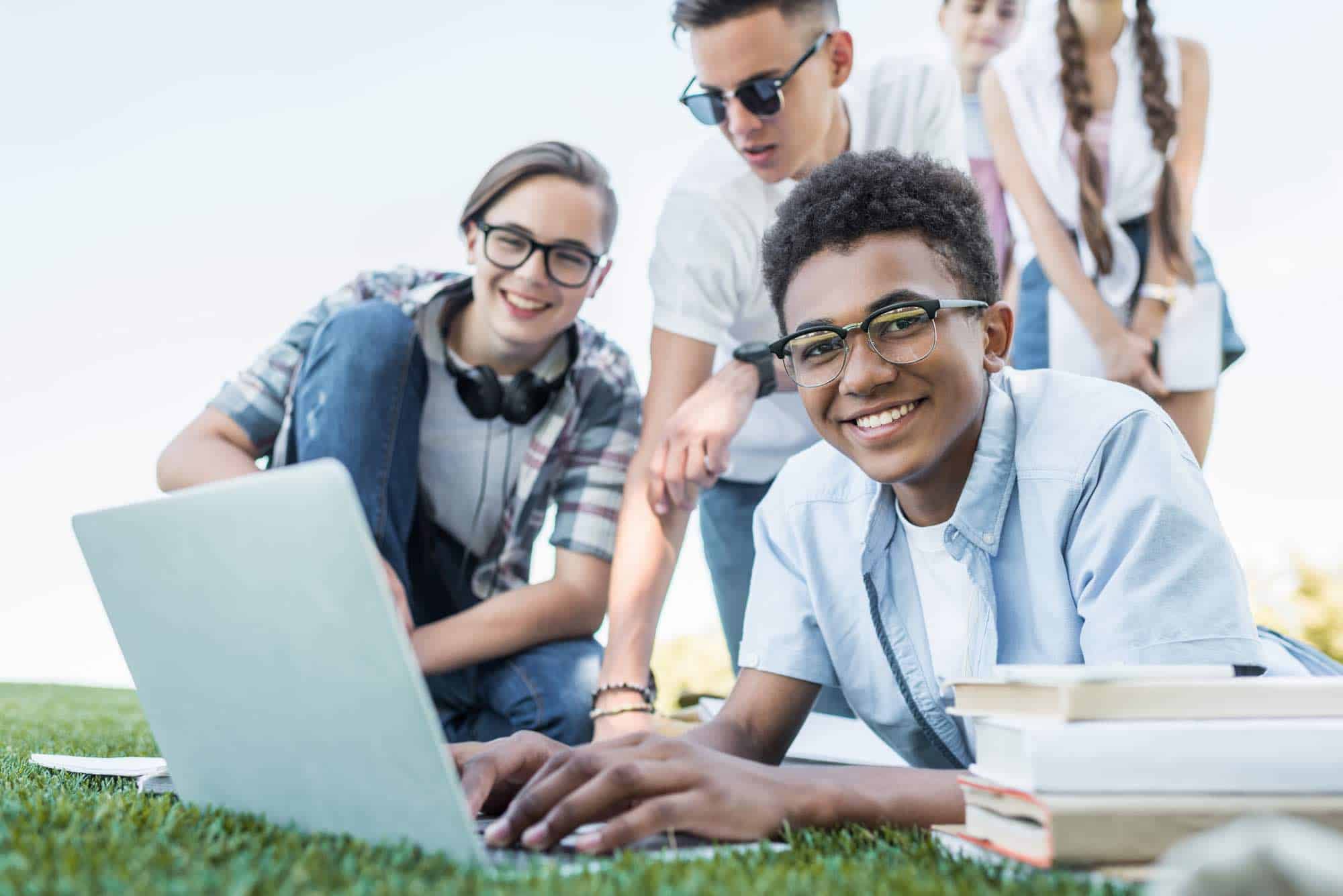 This post may contain affiliate links. If you decide to purchase through my links, I may earn a small commission. Read my disclosure page for more info.
Thanks to the sprawling world wide web, teenagers are no longer restricted to just fast food jobs, busing tables, and babysitting. 
Woohoo!
Nowadays, there are more ways than ever before to make money online as a teen. You can start an online business, freelance on top freelance job sites, and start gaining experience in fields you might want to study in college. 
So let's take a look at some of the best and easiest ways to make money online as a teen. I've researched a compiled 19 different money-making ideas just for you! 
But before we dive in, I want to first address some of the most common questions you might have about online job opportunities for teenagers. So take a look. 
Related Read: 29 Simple Ways to Make Money Online as a College Student with NO Experience!
Frequently Asked Questions About Making Money Online as a Teen
How much money can I make online as a teen?
For teenagers, most of the online jobs you're eligible for will not pay very much. So in order for them to be profitable, they'll likely require more of your time. 
But the trick to earning more as a teen is utilizing more than one way to make money online. 
So although each of these opportunities won't pay much individually, when combined with 2 or 3 others, teenagers can actually make decent money online!
Just keep in mind that any money made is money you didn't have before. So every penny earned means more in your pocket!
How old do I need to be to start making money online?
Most online job opportunities are for people 18 and older who are looking for part-time or full-time work. 
However, that being said, there are still many ways that teenagers under 18 can start earning money online. The majority of these opportunities will be through survey or rewards sites and freelance task sites. 
It's always important to check the Terms and Conditions and Privacy Policy of every website you're looking to make money with as a teenager. In those documents, they will state the minimum age you must be in order to work with them. 
I've sifted through all the fine print to create this list of money making ideas for teens, but you should always double-check. 
And ALWAYS remember:
Don't ever lie about your age when trying to make money online as a teen.
Age requirements are there for legal reasons, for your privacy and protection, and they should never be circumvented! 
How do teenagers get paid online?
As a teen, you'll most likely be paid through gift cards or via direct bank transfer. 
Please note that a lot of ways to make money online require a Paypal account in order to receive payment. And according to the Paypal User Agreement, you must be "a resident of the United States or one of its territories and at least 18 years old" in order to open a Paypal account. 
So for those of you under 18, you'll either need to use a parent/guardian's Paypal account, or get paid via gift card, or in some cases bank transfer.
If you want to use a parent's Paypal account (with their permission!) you must first check the Terms and Conditions of the site or contact them to make sure this is okay. 
For survey sites, almost all of them will require the name on the account to match the name on the Paypal account exactly. Therefore, I recommend sticking to gift cards on any and all survey and rewards programs. 
Do I need to tell my parents that I'm making money online?
In short, yes! 
You should always get permission from your parents before applying for or starting any online money making opportunities. 
Some of these will require your parent/guardian's permission if you're under the age of 18. 
As well, there are a lot of online scams and sketchy individuals online, so don't accept jobs or payments without your parents first verifying that what you're doing is safe. 
What should I do with the money I make as a teenager?
If you're asking this question, then you're already lightyears ahead of many other people. It means you understand the importance of making wise financial decisions and working towards financial goals. 
As a teenager, you may not have very many monthly expenses, or any for that matter. But if you do, then you'll first need to calculate how much those are. 
Then, the money you make online should be put towards these things and in this order:
Rainy day fund — save 1 month's worth of expenses or a couple hundred dollars, whichever is more.

 

Long-term savings account — save 3-6 month's worth of expenses or $1000+, whichever is more.
Investments — You must be 18 and older to open a brokerage account. However, if you're under 18 you can open a custodial account with the help of a parent/guardian. They will have to invest and trade for you, but this is the best way to start investing early.

 
When you start making money as a teenager, every penny counts. If you start saving and investing it this early in life, then this money can make an enormous impact later on down the road. You'll be able to start high-school, college, and beyond off on the right financial foot, so to speak.
So start saving and investing now! Time is on your side, teens. 
Related Read: How to Make $300 FAST When You're Broke
19 Legit Online Jobs for Teens
1. Take Surveys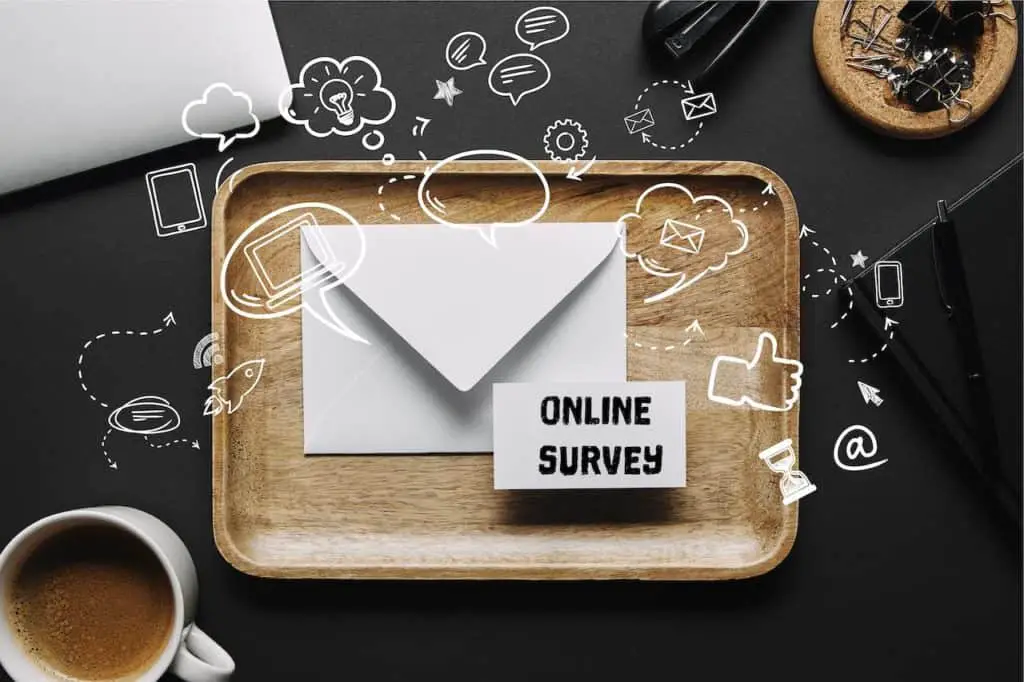 Taking surveys might not make you the richest teen on the block, but there's a reason why online surveys are so popular:
It's easy money!
And a lot of survey companies give you more than just one way to earn, including watching videos, playing games, and surfing the web. 
So why not both have fun AND make some money in your spare time?
There are so many sites that'll pay you to take surveys, but it's important to stick to the reputable, tried-and-trusted companies in order to avoid any online scams. 
And to save you the hassle, I've thoroughly researched and chosen the best 3 survey companies for teenagers looking to make money online. 
Related Read: 13 Highest Paying Survey Sites to Make EASY Cash
Swagbucks
Age Requirement: 13 years of age or older
Payment Method: e-Giftcards, Paypal account (must be 18)
Swagbucks is one of the most popular (if not THE most popular) survey and rewards programs and has already paid out over $750 million to date in cash and free gift cards to its users. 
Swagbucks makes it incredibly easy for teenagers to start earning rewards through many different ways, including:
Taking surveys
Watching videos
Searching the internet using the Swagbucks Search
Playing IGN online games
Playing Swagbucks free games
Using the Swagbucks mobile app
By doing this simple (and fun!) tasks, you'll earn Swagbucks which can then be redeemed for gift cards to some of your favorite online and in-store retailers.
The list of gift card possibilities are endless on Swagbucks, so your easy…err, "hard"-earned bucks won't every be wasted. Some of the most popular gift card options are for:
Amazon
Walmart
Target
Gambit
Apple
Google Play
Starbucks
Playstation
Xbox
GameStop
Blizzard (Yes, my World of Warcraft lovers!)
League of Legends (more Riot Points? Yes please!)
AMC Theaters
…and almost every brick and mortar store you can think of!
Swagbucks is free to join, and you'll even receive a $5 bonus when you start using Swagbucks!
Earn with Swagbucks
Get paid in gift cards or Paypal cash for taking surveys, playing games, or just shopping online! Earning extra money has never been easier.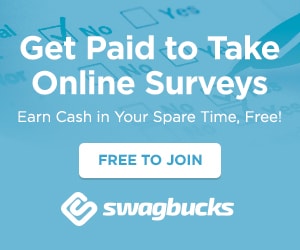 Survey Junkie
Age Requirement: 13 years of age or older (except California), at least 16 years old (California residents)
Payment Method: e-Giftcards, Paypal account (must be 18), direct bank transfers
Companies and businesses of all sizes need consumer feedback on ideas, products, and services so that they can make more consumer-friendly choices and advertise effectively. 
Survey Junkie links you to thousands of these companies, who simply want your honest opinion in exchange for cash and gift cards. 
The surveys on Survey Junkie vary in length, from two minutes to twenty minutes or so. You may also be asked to participate in focus groups, where a small group of survey takers share their thoughts together.
To really be successful and gain access to lots of surveys, you'll need to take time to setup your profile and fully answer the profile questionnaires. The information you provide will be used to determine whether or not you're suitable for each survey. 
But let's skip to the exciting bit, which is:
How do you make money online with Survey Junkie?
Well, for completing surveys you'll earn points. Once you reach 500 points, you can redeem them for e-Giftcards or cash (payable via Paypal or direct transfer).
For teens making money online with Survey Junkie, you'll only be able to redeem your points for gift cards. The gift cards you can choose from are:
Amazon
Groupon
iTunes
Sephora
Walmart
Target
Starbucks
Because Survey Junkie is exclusively surveys and focus groups, you should sign up for Survey Junkie along with other online survey sites as well. That way, if you're not offered a bunch of surveys all the time, you're still earning on other sites as well. 
Survey Junkie is one of the leading survey rewards sites around, with over 10 million members.  Join today and start making money online sharing your opinions!
MyPoints
Age Requirement: 13 years of age or older (from MyPoints Privacy Notice: "If you are under 18, you should use the Prodege Sites and Features and our Services only with involvement of a parent or guardian.")
Payment Method: e-Giftcards, Paypal account (must be 18)
MyPoints is another survey and rewards site offered by the company Prodege, which owns and operates Swagbucks. 
And similar to Swagbucks, MyPoints gives you many ways to earn points and make money online. You can earn points by:
Reading emails
Watching videos
Taking surveys
Searching the web
Playing games
Referring friends
Doing all of these activities accrues points, which can then be redeemed for gift cards to over 70 top retail and restaurant chains, such as:
Amazon
Best Buy
Target
Kohl's
Old Navy
Macy's
…and more!
Sign up for MyPoints today and get a $5 for your first 5 surveys! 
MyPoints
Earn gift cards to your favorite retailers or Paypal cash for doing easy online tasks! Take surveys, read emails, play games, and shop online. Get a $10 BONUS when you start using MyPoints!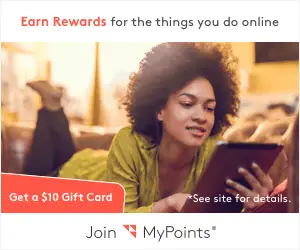 2. Listen to Music
Slice The Pie
Age Requirement: 13 years of age or older
Payment Method: Paypal account (must be 18)
If you're a teenage musician or just a huge music lover, who always has his/her earbuds in, then you should make money online doing it!
Slice The Pie is a website where you rate and review music and make money for it. You can also review fashion items, accessories, and commercials as well. Your reviews are then sent to those content/product creators, so they can get feedback from consumers. 
Essentially, how it works is you are sent pieces of music and Slice The Pie asks that you listen to at least 90 seconds of it. Then, you give the track a rating out of 10 and write a review about what you liked or disliked about the song. 
For each review you submit, you'll earn anywhere from 5 cents to 15 cents. 
Now, this may not sound like a lot of money, but remember you only have to listen to 90 seconds of the track before you can start rating the song and writing your review. 
You can easily listen and review A LOT of tracks within an hour.
And the best part about Slice The Pie is that its format is different from most survey sites. Instead of answering simple questions about yourself and choosing a multiple-choice answer from a survey, you're expressing your opinion about a piece of fine art. 
When it comes to online money making opportunities for teens, getting paid to listen to music is a breath of fresh air and something fun and different for you to do!
Check out Slice The Pie and start sharing your ideas and opinions with musicians and songwriters today.  
3. Playing Games
STEAM
Age Requirement: 13 years of age or older
Payment Method: Steam Wallet, direct bank transfers
Steam is a digital game distribution platform that has over 150 million users worldwide. Steam users have access to nearly 30,000 games, right from their Mac or PC computer. Some of the biggest names in the gaming industry distribute games on Steam, including:
Valve (creators of Steam)
EA
Xbox Game Studios
Sega
Ubisoft
The most popular titles on Steam are Counter Strike: Global Offensive, Dota 2, and Playerunknown's Battlegrounds, amongst many others. 
And on Steam, you can earn Steam Wallet money for use in the Steam Market, or by developing and distributing your own game!
So how can teens start making money on Steam?
Luckily for you, I've written an in-depth post all about ways to make money on Steam. There are people making good money on the platform, so find out how you can get started! 
Related Read: 13 Stupid-Easy Ways to Get FREE Steam Codes for Games
Other great ways to get paid to play games:
Swagbucks — Read emails, shop online, take surveys, play games, and watch videos to earn money via Paypal or gift cards to some of your favorites online retailers, including Amazon. Sign up for a $5 bonus!
MyPoints — Get paid in e-Giftcards to some of your favorite stores by just playing games, referring friends, surfing the web, watching videos, and more. Sign up today and you $5 for your first 5 surveys!
4. Live Streaming Games
Teens, I'm not sure I need to explain to you what video game live streaming is. 
According to Statista, 944 million people tuned in to gaming video content, and I'll bet there were a lot of teenagers in that tally. 
Just take a second and think about that number though: 
944 million…It is unfathomable! 
And what games are they watching people play? 
Well, Business Insider compiled a list of the top 10 games viewers watched, based on hours viewed. They are:
Call of Duty: Modern Warfare — 2.69 million hours
FIFA 20 — 26.6 million hours
Apex Legends — 26.68 million hours
Dota 2 — 30 million hours
World of Warcraft — 36 million hours
Grand Theft Auto V — 36.89 million hours
Counter Strike: Global Offensive — 44.77 million hours
"Just Chatting" (streamers chatting to fans) — 68.4 million hours
Fortnite — 79.1 million hours
League of Legends — 125.65 million hours!!!
Although you don't necessarily have to live stream these particular games, if you really want to build a following on any live stream platform then these games clearly have the most fans. 
Video game live streaming takes time to get off the ground, but it can be an incredibly fun and profitable way to make money online as teen. 
But before you get started, you'll need to decide which platform you'll use for streaming. 
Here are the 3 biggest platforms for teens wanting to make money online game streaming:
Twitch
Age Requirement: 13 years of age or older (13 to 18 year olds require a parent/guardian to agree to Twitch's terms of service)
How You Make Money: donations, brand partnerships, subscriptions, merchandising, "bit" donations
Twitch is the leader in video game live streaming. It makes up 76% of the video game streaming market, according to The New York Times, and has over 143 million viewers. 
So if you're looking to make money online streaming, I'm not sure you have to look any further really. 
As you can imagine, in order to really be successful on Twitch you'll need to find a way to stand out from the crowd. 
For example, you'll need to either be excellent at the game you choose, or very entertaining, or build strong relationships with your audience, or teach your viewers how to be better players. Essentially, you'll need to decide on your "brand" because brands are what make you recognizable on the (extremely) crowded internet. 
Youtube Gaming
Age Requirement: 13 years of age or older
Payment Method: ads, affiliate marketing, channel memberships, donations, brand sponsorships
Youtube Gaming is so big…it has its own section on Youtube. 
And in fact, 2 of the top 5 Youtube channels with the most subscribers are video game related content. 
I think we all know PewDiePie by now…
What's great about choosing Youtube as your streaming platform is that millions of people visit Youtube everyday for any and all video content. 
That means, with Youtube Gaming there's a good chance that you can catch some of these viewers on your channel. 
Mixer (now Facebook Gaming)
Age Requirement: 13 years of age or older
Payment Method: Steam Wallet, direct bank transfers
Mixer quickly rose through the ranks and become second only to Twitch in the game streaming world. It has since been acquired by Facebook and rebranded into Facebook Gaming. 
Although it's still ironing out some kinks after switching names, Facebook Gaming is still a good choice to make money online streaming. 
Just like with Youtube, your potential stream viewers are (most likely) already using Facebook regularly, giving your channel potentially good exposure.
5. Tutoring
Age Requirement: 13 years and up (arranging online tutoring independently), 18 years or old (for online companies)
Payment Method: Paypal account (must be 18), bank transfer
Tutoring is an extremely rewarding job for anyone and especially rewarding for teenagers. It's a great way to not only share what you know with others, but also bolster your own subject knowledge and interpersonal skills. 
As well, you'll learn a bit about entrepreneurship and marketing yourself and your skills to others. This will definitely come in handy later on when you're applying for jobs and attending interviews!
For teens to make money online tutoring, though, there are a few hurdles in your way. 
Firstly, most (if not all) good online tutoring companies require tutors to be 18 or older. 
If you are 18, I'd strongly recommend on-boarding with a reputable company because you'll have access to more students and therefore a higher chance of making good money. Check out my top 2 recommendations below. 
But if you're under 18, not to fear! You can tutor online, however, you'll need to hustle a bit more to find students on your own. 
Under 18-ers, you can find students:
In your neighborhood
By word of mouth (from parents, teachers, friends, etc.)
At school
By networking with potential students online
By contacting tutors you know and seeing if you can take on some of their students
Then, once you've found some students, you can conduct your online tutoring sessions via Skype, Facetime, or Zoom. As well, how you'll receive payments is up to you!
Best online tutoring jobs for teens 18 and older:
6. Writing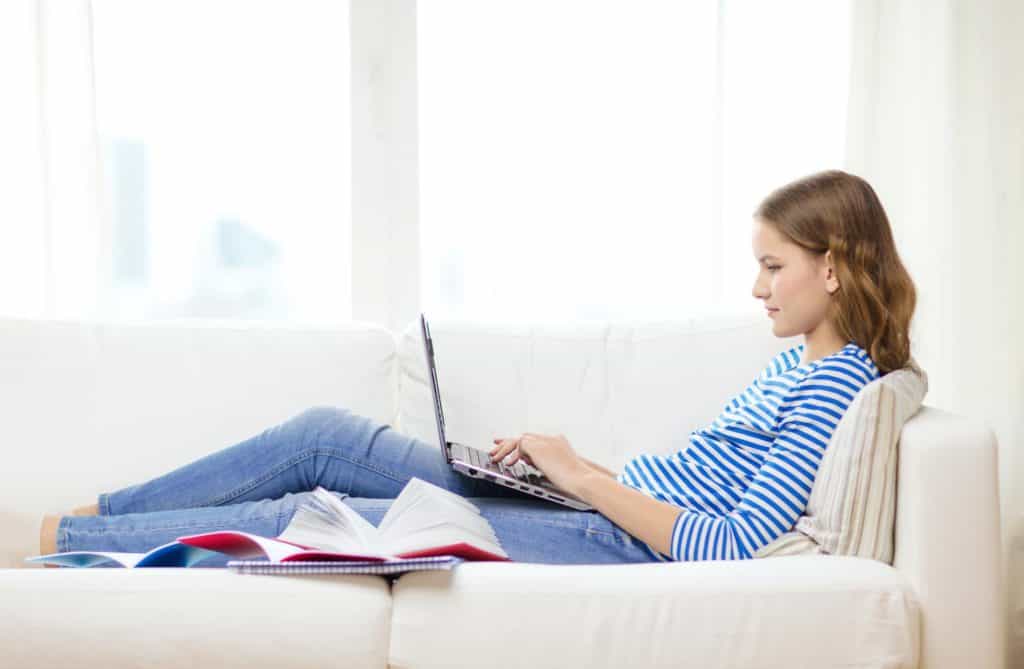 Medium
Age Requirement: 13 years of age or older
Payment Method: direct bank transfer
Another great way to make money online as a teen is by freelance writing. 
So if you've got a love for the written word, then you should definitely start publishing your writing on sites like Medium. 
Medium is an online blogging platform that allows you to set up a profile, submit articles, and gather followers. Medium gives your writing an audience and the backings of a highly-respected website, so you may even see your articles pop up on page 1 of Google!
Once you are more established as a Medium writer and are getting engagement with your posts, you can join the Medium Partner Program. This is when you can start to earn money by gathering subscribers to your Medium content!
Hubpages
Age Requirement: 13-17 years of age (requires parent/guardian permission), 18 and older 
Payment Method: Paypal (must be 18)
Hubpages is another great option if you're wanting to make money writing online. Like Medium, Hubpages is an online community of writers who publish articles on a whole range of topics, like politics, art, science, fashion, sports, entertainment, and more. 
With Hubpages, you have the freedom to write about pretty much everything, giving you creative freedom and the ability to stretch your writing muscles. 
The way you can make money on Hubpages is through display ads on your posts. If your posts  get a lot of eyeballs, then so are the display ads…and that's where the money comes in. 
Find out more about monetizing your Hubpages articles and see how you can get started writing and making money online!
7. Blogging
Blogging is one of the best ways for anyone to make money online, including teenagers!
The greatest thing about blogging is that you can write about whatever topic(s) interest you. And, you also have the freedom to make money blogging in a variety of ways, such as:
Affiliate marketing (recommending products/services and receiving a commission)
Digital products (printables, ebooks, etc.)
Offering services (coaching, tutoring, etc.)
Display advertisements
Subscriptions
Donations
Brand sponsorships
and more!
Your blog can truly be whatever you want it to be. It's yours to create and make money how you see fit. 
To get started blogging and making money as a teenager, you will need the help of your parents and/or guardians if you're under 18. This is because you'll need to purchase a domain name and hosting for your site, which will require a credit card or Paypal account. 
The best place to buy your domain name and hosting is over at Bluehost, where you'll get a free domain and hosting for as little as $2.95 per month. Trust me, this is a great deal. 
Although blogging, like almost all online money making ideas, isn't a get-rich-quick scheme, the hard work you put into it will payoff in the near future. You just have to speak to your target audience, provide them with informative articles, and keep at it!
Related Read: How to Create a Niche Blog That Makes $1000+ a Month
8. Doing Random Tasks
MTurk and Task Rabbit
Age Requirement: 18 years of age or older
Payment Method: Paypal (must be 18), direct bank transfers
Sure your neighbor might pay you to clean their house or mow their lawn every once in a while, but this probably isn't frequent enough to really make much money. 
But what if your entire neighborhood, or even your whole town paid you to do these things? You'd be a heck of a lot busier!
With Task Rabbit, you are connected with people in your local area who are looking for someone to do random tasks for them. 
You can make money doing anything from:
Car washing
Cleaning
Delivery
Errands
Pet sitting
Small home repairs
Date entry
cooking/baking
IKEA assembly (yup!)
Sewing
…and MUCH more!
And what makes Task Rabbit so great, is that you can set your own schedule, choose the types of tasks you'd like to do, and receive 100% of what you charge.
Find out more about becoming a Task Rabbit!
And MTurk, or Amazon Mechanical Turk, is another option for teens 18 and older looking to make money online. 
MTurk is a service Amazon provides to businesses who're looking to outsource small tasks/jobs to online workers. 
Essentially, Amazon Mechanical Turk gives companies access to a global workforce, so they can get tasks done quicker and more efficiently. 
You can start making money doing MTurk tasks, like:
taking surveys
data entry
identifying photographs
audio/video transcribing
completing Excel spreadsheets
and more!
Read more about this way to make money online as a teen over at MTurk.
Related Read: How to Make Money Online Naming Companies ($300+ a Month)
9. Sell Used Books
Bookscouter
Age Requirement: Depends on which vendor you use (Bookscout just finds them for you)
Payment Method: Paypal (must be 18), mailed check
Teens, more than likely you have a bunch of novels and textbooks laying around that you don't need anymore.  
Why not make money off these? 
With Bookscouter, you can make some extra money online by selling your used books and textbooks. Bookscouter searches over 30 vendors, so you can compare which buyback vendor will give you the best price. 
And to get the most money, your books will need to be in new or like-new condition, meaning no torn out pages or scribbles all over them. No one wants your I-was-bored-in-class doodles, sorry. 
So in summary, at the end of each semester or school year, don't leave those old books just laying around. Use them to make some money online!
10. Sell Custom Designed T-Shirts
Redbubble and Cafepress
Age Requirement: 13 or older (Cafepress), 16 or older (Redbubble)
Payment Method: Paypal (must be 18), check, direct bank transfers
This is probably one of my favorite ways for teens to make money online. 
Why?
Because custom-designed t-shirts with clever sayings, cool graphics, and nerdy references are, in a word, awesome. 
And teens, you can design and sell your own t-shirts without having to keep inventory or ship packages. 
With either Redbubble or Cafepress, you can upload your designs and images and they'll print it on a whole range of products, including:
T-shirts
Mugs
Accessories
Pillows
Phone and laptop cases
Stationery
The better your designs, the more money you'll be able to make. It's not unheard of for people to be making $500-$1000 a month selling on these sites!
So tap into that entrepreneurial spirit, design your own t-shirt and accessories, and make some money online. 
Related Read: 29 Sites to Make Money With Your Art
11-14. Freelance on Fiverr to Make Money Online as a Teen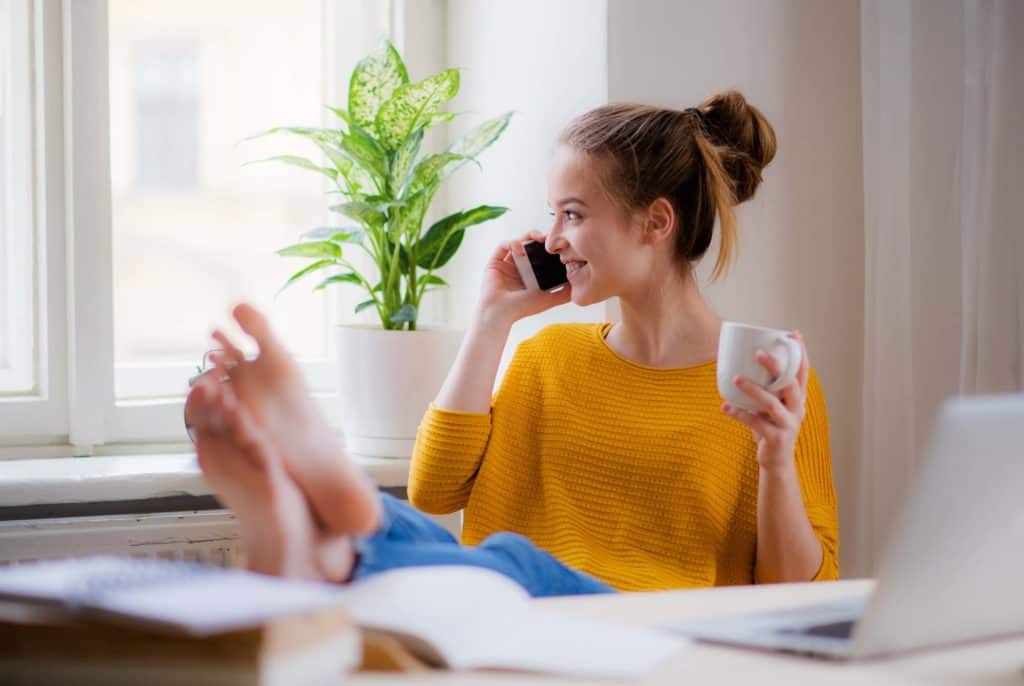 Age Requirement: 13 years of age or older
Payment Method: check, direct bank transfers
Fiverr is one of the leading freelance job sites with over 2.4 million "buyers", meaning small to large businesses, using the platform to hire out work. 
When it comes to teens making money online, you really can't beat Fiverr. The platform gives you the ability to offer your services for over 200 different tasks and job types. All you have to do, is setup a killer profile and start picking up odd jobs. 
To really be successful on Fiverr, apply for a bunch of tasks that you're qualified for, even if they don't pay particularly well. 
Why?
Because, the more jobs you get from Fiverr, the more ratings you'll receive from buyers. And high-ratings will build your reputation on the platform. Then, you can land a ton of more gigs and receive higher pay. 
Also, make sure that you price your services competitively. Especially when you're just starting out, you should price tasks lower than what you'd like. This is so you can draw in more buyers and ultimately strengthen your profile. 
Now, I didn't want to list all 200+ services you can offer on Fiverr, but here are my top picks for teens wanting to make money on Fiverr.  
11. Proofreading
If you ace your English essays, love reading, and just love the English language in general, then offer your proofreading services on Fiverr. 
People are looking for freelances who can proofread ebooks, articles, transcriptions, academic publications, and more. 
You should set your prices per 250 or 500 words, as well as stipulate what you're proofreading for. For example, are you offering to proofread just grammar/spelling (easier), or looking closely at voice and clarity of ideas (more time-consuming). 
12. Virtual Assistant
As a virtual assistant, you can do a whole range of tasks for clients, such as:
Data entry
Email handling
Website management
Social media management
Phone calls
Research
Travel arrangements
Photo editing
scheduling
…and more!
To be a successful virtual assistant on Fiverr, offer a long list of potential services to entice clients. Also, you should make a visually-appealing graphic with a photo of you and what tasks you can do. 
13. Graphic Design
Entrepreneurs and businesses need graphic designers to help them create logos, branding kits, social media posts, flyers, illustrations, business cards, and more. 
So if you're eyeing a future career as a graphic designer, offering your freelance designs on Fiverr is a great way to gain experience, build a portfolio, and start networking. 
14. Coding and Web/App Development
Businesses and corporations are always going to need coders for web development or app creation moving forward. After all, the internet and iPhone aren't going anywhere anytime soon.
And on Fiverr, you can charge a lot more for coding and web development because it's such a specialized skill. 
Hopefully, your school has taught you a little bit about coding. But if not, there are 2 great sites where you can learn everything you need to know about this in-demand skill. 
Check out Codecademy and Udemy. They both offer courses that'll help you boost your coding skills and turn your code into a money maker. 
Codecademy is the biggest name when it comes to learning how to code. They'll show you everything from the basics, all the way to the advanced stuff. 
And I can personally vouch for Udemy courses, having taken nearly 20 of them myself! Pay attention to course ratings/reviews and make sure to look at the course preview videos to help you find the best ones. 
15. Flip Items
Age Requirement: 18 and older
Payment Method: Paypal, direct bank transfer
If you love those before and after HGTV shows, then you should seriously consider making money flipping furniture and other home decor. 
Rob and Melissa over at Flea Market Flipper have made over $133k in a year, flipping furniture and other home decor finds they sourced from flea markets. 
What's great about flipping items, is that even teens can start this lucrative side-hustle. 
To get started, you simply need to scour Facebook Marketplace, eBay, or Craigslist for any used, genuine wooden furniture (not IKEA stuff) or unique household items. Then, you can freshen these up with your handy DIY skills and make money!  
Now, in order to sell your re-stained, re-purposed, and re-painted goods online, you'll need be 18 or older to sell on all of these online marketplaces. 
But for those of you under 18, you can simply get the help of a parent or guardian who is willing to create and manage the account for you. I'm sure they'd love to help you get an online side-hustle off the ground!
16. Sell Items on Etsy
Age Requirement: 13 years of age or older (You'll need a parent/guardian to manage the account. See Etsy's policy on minors.)
Payment Method: "Etsy Payments" (integrated with Paypal) 
Etsy is one of the most popular online marketplaces for all things DIY, arts and crafts, digital products, and more.
And the great news for you:
You can become an Etsy seller and make money online as a teen, even if you're only 13!
With Etsy, you can either:
make, sell, and ship products yourself
design, upload, and allow users to download your products (for selling printables, digital illustrations, vectors, etc.)
Use print on demand (POD) services like Printful which integrate seamlessly (for selling clothing, mugs, phone cases, etc.)
Find out more about becoming an Etsy seller on Etsy's seller page. 
Related Read: 15 Best Things to Sell on Etsy and Make Money
17. Get Paid to Exercise
Age Requirement: 13 years of age or older
Payment Method: sweatcoins (can be used to get Amazon gift cards, various daily product offers, Paypal cash, and more)
I get it. It's hard to get up off the couch when there's so much Netflix to watch. I struggle too. 
But, teens:
You can make money online by exercising!
All you need to do is download the app Sweatcoin to your phone. It won't be hard to find, as Sweatcoin is almost always in the Top 10 downloaded apps!
The way it works is this:
Sweatcoin tracks your steps and converts them into sweatcoins. Although it somewhat differs based on the individual, for every 1000 steps roughly, you'll receive 1 sweatcoin. 
After you earn enough sweatcoins, you can cash them in for daily product offers, discounts to restaurants, holiday vouchers, and more.
Check out how you can get started over at Sweatcoin. 
18. Review Calls
Humanatic
Age Requirement: 17 years of age or older
Payment Method: Paypal (must be 18)
You've called a company's customer support line and have been on hold for a while. 
Then, a familiar message sounds, letting you know you're about to get ahold of someone…
"Thank you for waiting. This call may be recorded for quality purposes."
Have you ever wondered if those calls are actually reviewed?
Welp, I'm here to tell you that they are, and that YOU can review calls for cash.  And yes, this is another great way teens can make money online. 
Humanatic is a company that will hire you to listen to recorded phone calls and give feedback. You'll be asked to comment on things like how friendly the service was, whether or not the customer's issue was sold, and if you thought the agent was helpful or not. Your feedback is then sent to those companies and used to improve their customer service. 
A great reason to review calls for money is that it's yet another online job where you can set your own schedule. So just work as little or as often as you want!
19. Sell Stock Photos
Age Requirement: 18 years of age or older
Payment Method: Paypal (must be 18), direct bank transfer
If you're a budding photographer or videographer, then start giving your content some exposure. Selling your photos or videos to stock photography websites is another great way you can make money online as a teen.
Not to mention, stock photos/videos are also a great passive income idea. Once you've taken the images or videos and uploaded them to a site, then you get paid every time people download them. So it's kind of a set it and forget it scenario. 
Now, you should note that you can't just upload any old picture or video. You'll need to have good equipment and take high-quality images and video in order for people to want to download from you. 
But if you're already a photography/video nerd and have a trusty DSLR, then get going! You have nothing to lose. 
Some stock photo and video sites where you can sell your images and videos are:
19 Best Ways to Make Money Online as a Teen
Want more ways to make money online? Check out these other ways to earn: