29 Simple Ways to Make Money Online as a College Student with NO Experience!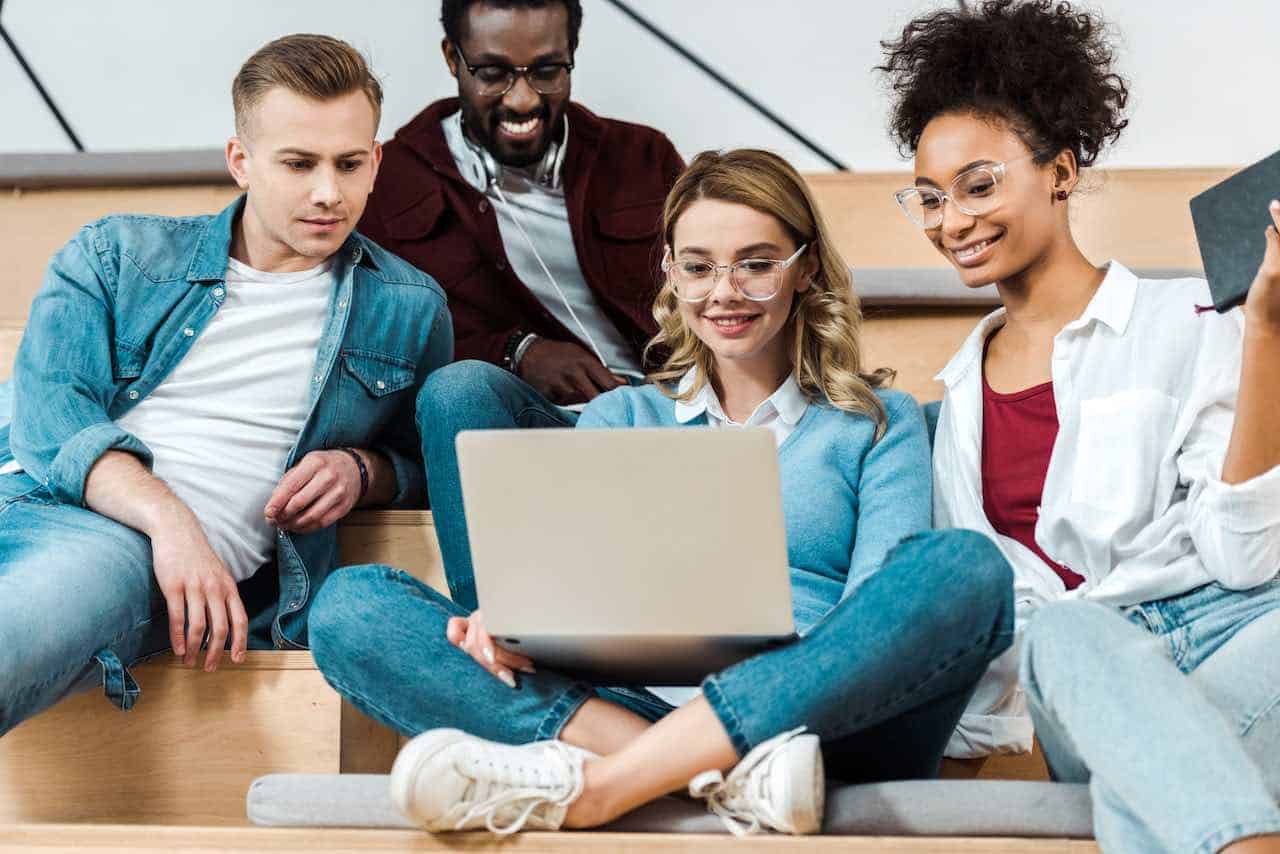 This post may contain affiliate links. If you decide to purchase through my links, I may earn a small commission. Read my disclosure page for more info.
Worried about college debt after graduation?
Well, one of the best ways to offset the costs of college is to make money while you study. 
And luckily, there are tons of online job opportunities for college students that don't require experience, a set number of hours, or any kind of financial investment upfront. 
Instead, you can work when you want and however many hours you're able to, while still maintaining good grades and enjoying that once-in-a-lifetime college experience. 
So today, I want to share with you 29 simple ways to make money online as a college student, so you can reduce that debt and put yourself on a path towards financial stability. 
Related Read: 19 Easy Ways for Teenagers to Make Money Online
Common Questions About Making Money Online as a College Student
Why should students get jobs during college?
While it's important to enjoy your college years and focus on your classwork, working during college also has many benefits. 
Some benefits to working during college include:
Gaining work experience. Landing an internship, part-time job, or freelancing opportunities will give you valuable work experience in your desired field or a closely related field. As a result, your resumé will stand out from other college graduates and help you land jobs after graduation.

 

Improving your time management. Keeping up with your class schedule and course work is an exercise in time management. And if you add into the mix a few freelance jobs or part-time work, this will require even stronger time management skills, which are desired by employers and important in any field you enter.

 

Earning spending money. Beyond tuition and books, college comes with other living expenses that you'll need covered. Working during college provides you with extra income to cover food, gas, and entertainment expenses.

 

Reducing your college debt. The income you earn from working can not only offset living expenses, so that you don't have to use loan money, but it can also help you pay for courses, textbooks, and other costs. This way, you can take out smaller loans and leave college with less debt.

 

Saving a rainy day or emergency fund. Another benefit to working during college is that it can help you save up a rainy day and/or emergency fund. These are vital to being financially stable.

 
Can I work from home as a college student?
Yes, there are many different ways to make money online and online jobs (both part-time and full-time) that will allow you to work from home or your dormitory. 
So if you're not interested in working at your college café or library, you don't have to! You can work from the comfort of your own home or dorm room and still make decent money. 
Whether you're an introverted college student, someone who doesn't like people, or a student wanting the convenience of a work from home life—these jobs are for you!
How much time do online jobs require?
Most of the online jobs for college students will be part-time or freelance opportunities. Since your coursework is your full-time job at the moment, I wouldn't recommend taking on too much work (i.e. a full-time position) outside of school. 
Doing part-time work and freelancing will allow you to keep your schedule flexible, so you can make money, study, and still enjoy the social aspects of college. 
Do these online jobs require any sort of investment?
No, most online jobs for college students will not require any kind of monetary investment. 
However, most ways to make money online will require you to invest some of your time. And conveniently, the amount of time you give is entirely up to you. 
Do these ways to make money online for college students require experience?
No, all of the jobs listed here do not require any prior experience in an industry or field. 
That being said, for some of these job opportunities, you will need certain skillsets. Therefore, choose ways to make money online that utilize skills you already have. 
If you're really good at spelling and grammar, find proofreading work. If you've got an eye for design, look into graphic and web design opportunities. 
Like any job hunt, now and forever, you should first determine what strengths you have, and then go after opportunities that align with them. 
How do college students get paid for online work?
The majority of online jobs and ways to make money online will pay via Paypal or direct deposit to your bank account. So before you get started, make sure you've set up a Paypal account or have a checking account ready to go. 
29 Online Jobs for College Students With No Experience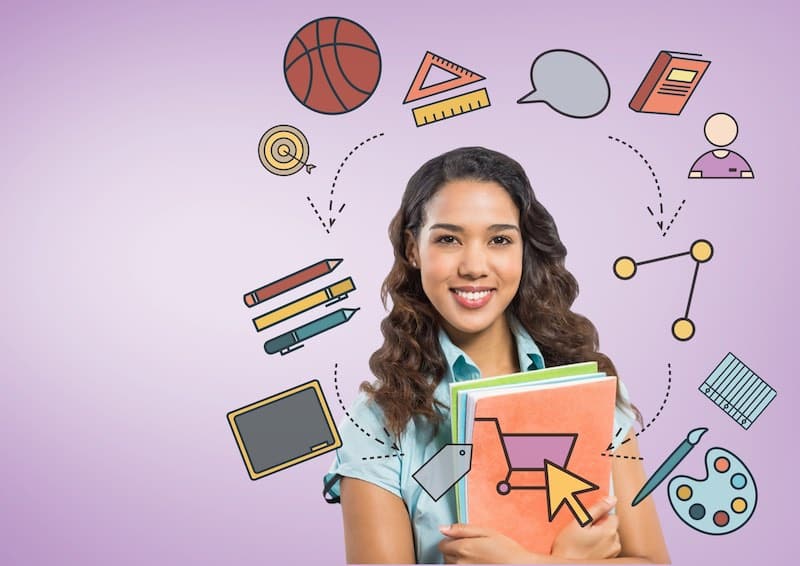 1. Search the Web with Swagbucks
Every time you search the internet for anything, you can earn with Swagbucks. 
Swagbucks is a rewards program that gives you Swagbucks points for searching the internet and doing other simple tasks online, like shopping, watching videos, taking surveys and more. These points can then be redeemed for online gift cards or Paypal cash!
Swagbucks is the perfect solution for college students looking to make easy money online. For signing up today, you'll even receive a $5 bonus!
Earn with Swagbucks
Making extra money has never been easier.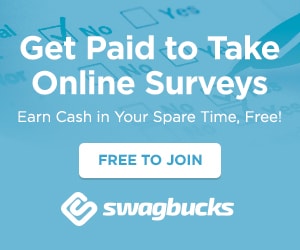 2. Start a Blog
Blogging is an excellent way to make money online as a college student because your blog can be about anything that interests you. 
Maybe you love all things DIY/crafts, or are your college campus' resident fashionista.
Whatever hobbies or interests you have, you can start a blog and learn how to make money from it with killer courses like Create & Go's ProBlogger Bundle and Michelle Schroeder-Gardner's Making Sense of Affiliate Marketing course. 
Michelle makes over $50,000/month through affiliate marketing on her blog alone!
And getting started is pretty cheap, thanks to Bluehost. You'll get a free domain name for a year and website hosting for as little as $2.95/month! 
Check out Bluehost today and start turning your blog into a money-maker! 
Related Read: How to Start a Niche Blog From Scratch [in-depth guide]
3. Start a Youtube Channel
Youtubers are making a killing, y'all. 
And although creating a Youtube channel isn't the fastest way to make money online as a college student, the potential profits make it well worth the effort! 
There are numerous ways to make money off Youtube videos, such as:
Ads
Affiliate marketing (promoting products and receiving commissions)
Brand sponsorships
Selling your own products
Patreon donations
And with over 2 billions Youtube users, your videos can be about whatever interests you, and chances are, you'll find an audience for it. 
4. Play Video Games
I know it sounds crazy, but you CAN make money online playing games. 
There are a few ways for college students to turn their gaming hobby into income, such as:
Playing games for Paypal cash and gift cards through rewards programs like Swagbucks and Inbox Dollars. These are very easy to get started and the games are quite fun!
Making money on Steam through selling in-game items, trading cards, and mods.
Live streaming gameplay on Twitch, Youtube Gaming, or Facebook Gaming.

 
Swagbucks and Inbox Dollars will earn you fast cash for playing games, whereas the other two require some hard work upfront—but the payoff in the end is huge! Plenty of people make good money on platforms like Steam and Twitch from their gaming habit, so why not give it a try?
5. Code Games and Apps
Coding is THE in-demand skill for this century. 
So if you're a college student who's learning how to code, or maybe you're already a coding pro, then you should should seriously start monetizing this sought-after skill!
College students can make money coding in various ways, such as:
And if you're interested in further developing your coding skills or are just getting started, check out the coding courses available on Udemy and Codecademy. Both of these platforms will give you the knowledge you need to start profitable online jobs in coding before you even leave college! 
6. Create Online Courses
Even though you're taking college courses, there's no reason why you can't create and sell your own online courses!
Your online courses can be about anything that others want to learn, like:
Software skills
Marketing skills
meditation/mindfulness
crafts/DIY
Finance & accounting
design
Photography
Health & fitness
And more!
Udemy makes it easy for college students like you to make money online by creating and selling your own courses. 
And with over 35 million students worldwide, your online course will definitely find an audience!
Find out more about teaching on Udemy.
7. Take Surveys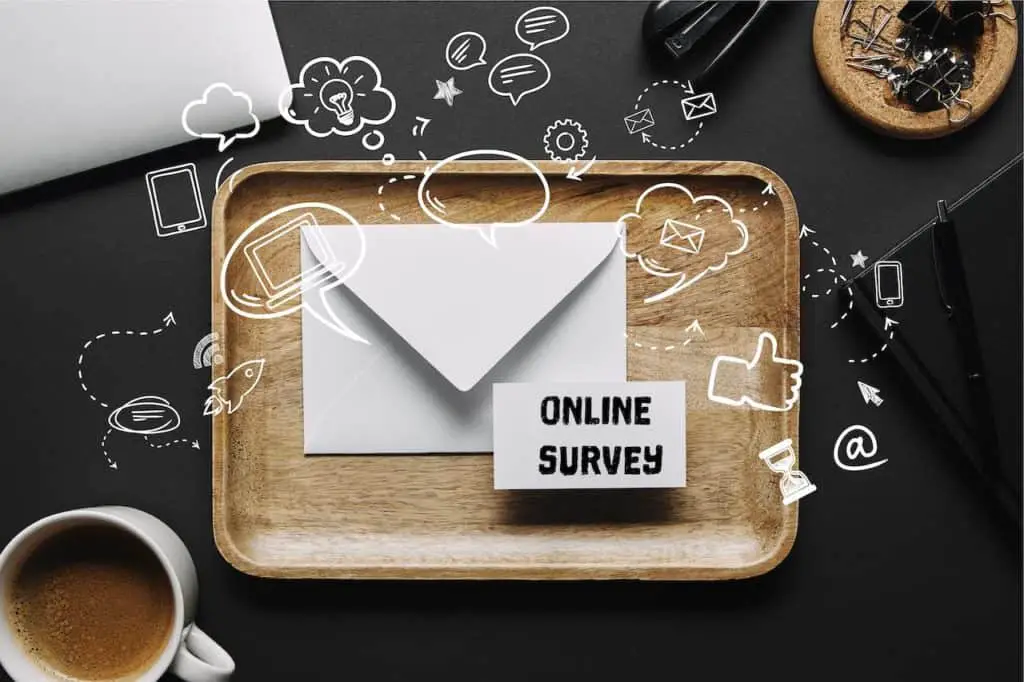 So you probably aren't going to make survey taking a full-time job, or even part-time job. 
BUT:
Taking surveys is one of the easiest ways to make money online for college students. There's no experience required and no investment needed beyond your free time!
Think about it:
Every time you're waiting for class to start, or taking a break from coursework, you can hop on a survey site and turn that downtime into money. 
And if you add up all that downtime, you'd be surprised how much money you can make taking surveys!
Some of the best survey sites for college students are:
Survey Junkie — Survey Junkie works with a few different survey websites and market research companies. It's simple: you take surveys, and get cash or gift cards to your favorite places like Amazon, Walmart, iTunes, and more. So while you're sitting on the subway or pausing between episodes of a TV show, you can start getting paid.
Swagbucks — Read emails, shop online, take surveys, play games, and watch videos to earn money via Paypal or gift cards to some of your favorites online retailers, including Amazon. Sign up for a $5 bonus!
Inbox Dollars — You can make money online in a variety of ways, like reading emails, watching videos, shopping online, and taking surveys. Get an INSTANT $5 bonus when you sign up for Inbox Dollars today!
Related Read: 13 Highest Paying Survey Sites to Make EASY Cash
8. Name Companies
It's not always easy for startup businesses to come up with a brand name that's unique, appealing, and memorable. 
So what do they do?
They crowdsource name ideas!
Businesses are looking for people to help them come up with:
Company names
Website domain names
Logo designs
Taglines
And you can make good money selling company names and domain names online with sites like Squadhelp. 
Read my review of Squadhelp to find out how you can make anywhere from $300 up to $10,000+ naming companies! 
Related Read: How to Make $300+ a Month Naming Companies
9. Sell Your Drawings and Artwork
Do you have artistic skills? 
Whether you're an art major or just someone who draws as a hobby, there are so many ways to make money online with your drawings and artwork. 
To get started, read my post 5 stupid-easy ways to get paid to draw online. There are actually 29 websites that'll help you turn your art into a money-maker, so check it out!
10. Sell Printables Online
Printables are digital, downloadable products, ranging from workbooks, planners, cards/invitations, stationery, envelope templates, and more. 
Perhaps the best reasons to sell printables online is that they're relatively easy to make, and can provide you passive income while you're in college. 
And don't worry:
Printables, especially those for wedding invitations and planners, are in hot demand these days!
You can make money online with printables by utlitizing sites like Etsy, one of the largest online marketplaces for all things arts, crafts, DIY, and printables!
11. Design T-shirts Online
Another great way for college students to make money online is by designing and selling t-shirts (and accessories) online. 
This online job can be whatever you want it to be: a side-hustle, passive income, or part-time work. Really, the amount of effort you put into it, and the quality of your designs determine how much money you can make. The sky is the limit!
Some great sites to design and sell t-shirts and accessories are:
Related Read: 45 Most Profitable Crafts to Make and Sell Online
12. Freelance Writing
If you're drowning in college essays, then I get it:
You probably don't want to write any more than you have to. 
But for students whose majors don't require many essays, you can get paid to write for online publications, ghost write, and edit. 
And despite what you might think:
Freelance writing is an online job that doesn't necessarily require previous experience. 
Most entrepreneurs and companies looking to hire writers are most interested in seeing examples of your work. So to kickstart a writing side-hustles, make sure to setup an online portfolio or start a blog to demonstrate your writing abilities. 
And then, sign up for sites like Fiverr, Upwork, and FlexJobs so you can start getting paid to write!
13. Proofreading
If you're an English major or just a spelling and grammar nerd, then proofreading is a great way for you to make money online during college. 
On sites like Fiverr and Upwork, you can offer your freelance proofreading services and bid on proofreading gigs. You can make money proofreading ebooks, online articles, transcriptions, academic papers, and more. 
And if you're not sure that you have what it takes to proofread part-time during college, then check out Caitlin Pile's course ProofreadAnywhere. 
Caitlin is an expert in general and transcript proofreading and offers an incredibly comprehensive course that'll teach you everything you need to know to make money online proofreading. Check out her FREE webinar to learn more!  
14. Mystery Shop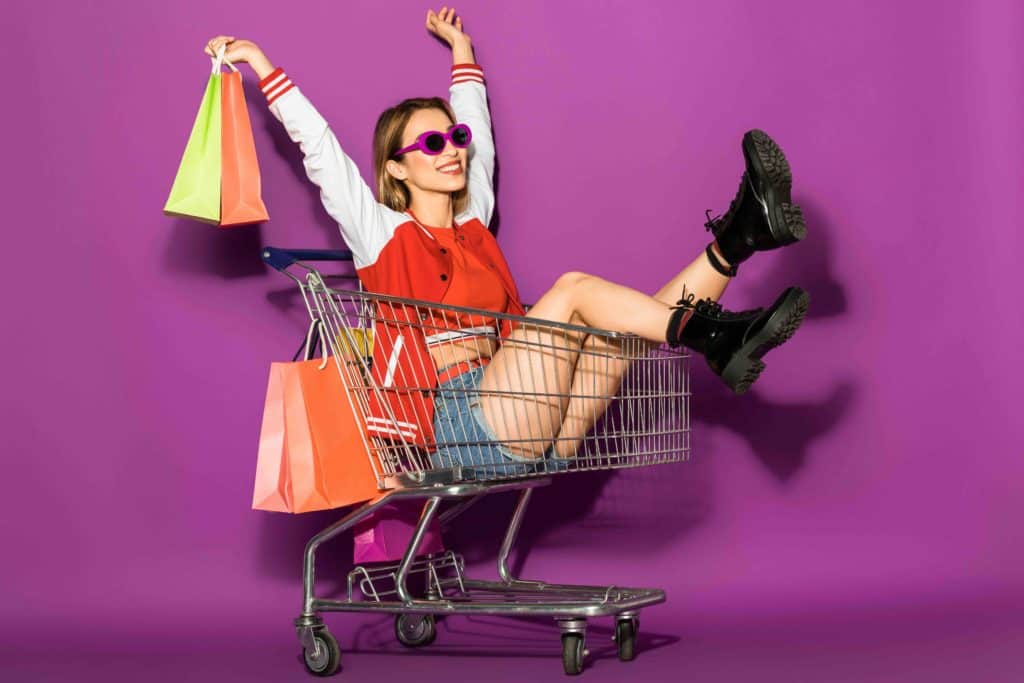 Mystery shopping is another great online job for college students that requires no experience. 
See, popular brands hire mystery shoppers for a few different reasons: to simply check that their products are displayed correctly, inventory is maintained, and to gage the quality of customer service at local retailers.
So really the only thing you need is knowledge of how to shop and basic observational skills. Piece of cake!
You can start mystery shopping in your free time with the app Gigwalk, which currently employs over 1.7 million Gigwalkers!
And chances are, a lot of your mystery shopping gigs will be in your local college-town area, so this is a perfect way to make money online as a college student!
15. Sell on Creative Market
Creative Market is an online marketplace for where designers sell everything from WordPress themes, font styles, illustrations, photography, social media templates, and more. 
So if you're a college student majoring in graphic design, web design, art/illustration, for examples, then Creative Market is the place to make money online using your skills! 
And selling your designs on Creative Market is a great way to earn passive income online while you finish school. 
Find out more about opening up a Creative Market shop. 
16. Transcribe
Transcription work is an excellent money-making opportunity for college students because you can get paid to transcribe short audio clips or videos whenever you have breaks between classes or downtime in your dorm. 
The two best transcription companies are TranscribeMe and Rev. Both of these companies allow you to easily start making money online with transcription work, and they don't require any previous experience! 
However, this online job is best for college students who are fast and accurate typers. The quicker and more accurately you type, the more transcription work you'll get and the faster you can move up the pay-scale.  
Find out more over at TranscribeMe and Rev today!
17. Translate
TranscribeMe and Rev also give you the option to make money online translating. You'll be asked to translate English audio and/or video content into your first or second language. 
So if you're bilingual, or a college student majoring in a foreign language, it's time to put those bilingual skills to use!
Another way for college students to make money online translating, is by offering your services on freelance sites like Fiverr and Upwork. You can post a profile outlining your translation skills and bid for jobs whenever you want to earn some extra cash. 
18. Get Refunds with Paribus
While getting online refunds isn't a job or freelance work, automatic refunds on purchases you've already made is a great way for students (and anyone, really) to put money back in their wallet.
Paribus is an easy-to-use service that checks your email purchase confirmations and receipts for any and all refund opportunities. Paribus will then alert you when a price drop occurs, so you can get that money back!
Paribus works with many major retailers, such as Target, Amazon, Gap, Best Buy, and more!
Sign up over at Paribus, so you can start making money on those price drops!
19. Deliver Food
If you've got your car on campus, make money online by delivering food to people's doors.  
You can sign up with Instacart and get paid to deliver groceries to people in your college-town. 
Or, you can deliver food from local restaurants with Door Dash. 
Both of these apps and services let you set your own schedule, making it a perfect fit for college students. You choose when you want to work and for how long. 
In just one hour, you can make between $15-$25 delivering food for Door Dash or Instacart. Not bad for some extra cash!
20. Sell Your Textbooks
According to the College Board, undergraduate students spent an average of $1,240 on textbooks and supplies during the 2019-2020 academic year. 
…But I'm pretty sure I don't need to tell you about how expensive textbooks are. 
The good news is though, you can offset some of these costs by selling your textbooks at the end of each semester or academic year. 
With Bookscouter, you can make money online by selling your used novels and textbooks. Bookscouter searches over 30 vendors, so you can find a buyback vendor that'll give you the best price. 
And to make the most money on Bookscouter, your books should be in new or like-new condition, meaning no torn out pages, highlighting, or doodles all over them.
So although selling textbooks won't make you rich, it's a clever way to make money online and help cover some college expenses.  
21. Tutor
As college students, you've already mastered the ACT or SAT, advanced Algebraic formulas, the art of the English essay, as well as other core subject skills/knowledge.
Therefore, a great way to make money online as a college student is tutoring elementary through high school students!
On Wyzant, you can teach younger students anything from:
Math subjects (basic computation, geometry, algebra, etc.)
English language/literature skills
History
Music (how to play an instrument, music theory, music history, etc.)
Art

 

Graphic Design
ACT/SAT prep
…and much more!
Basically, whichever classes you aced in elementary, middle, or high school, you can start tutoring for cash. 
Find out how you can start making money online tutoring over at Wyzant. 
22. Be a Virtual Assistant
There are thousands, if not millions, of online businesses and entrepreneurs looking for virtual assistants to manage email, phone calls, scheduling, travel arrangements, and more. 
And some advantages to virtual assistant jobs are:
It's relatively easy online work.
You can work from home or your college dormitory.
It's flexible enough to fit a college schedule.
You can work part-time.

 

Many virtual assistant tasks prepare you for future roles.

 

You can assist someone who works in your desired field.

 
In order to find part-time virtual assistant jobs, list your services on Fiverr and Upwork. You can also network online in Facebook Groups and find entrepreneurs looking to hire. 
23. Freelance on Fiverr and Upwork
Fiverr and Upwork are two of the leading freelance jobs sites, with over 2.5 million businesses using Fiverr to find freelancers, and over 5 million using Upwork. 
And even though you haven't graduated yet, you can setup a profile and offer services on both of these platforms. 
You can use Fiverr and Upwork to do freelance:
coding/development
Graphic design
Virtual assistant work
writing/proofreading
Social media management
UX/UI design
…and thousands more. 
Doing freelance work on Fiverr and Upwork is an excellent way to find online jobs for college students that'll help you gain valuable work experience and hone skills in your field/industry. 
Sign up today over at Fiverr and Upwork. 
24. Become a Task Rabbit
Task Rabbit connects you with people and businesses in your area who are looking for someone to do random tasks. 
And becoming a Task Rabbit is a great way to make money online as a college student because you choose when you want to work, select the kinds of tasks you'd like to do, and receive 100% of what you charge! 
You can make money on Task Rabbit by doing tons of different tasks, including:
Running errands
Delivery
Packing & unpacking
Data entry
Graphic design
Photography
Research
Personal assistant work
cooking/baking
cleaning
IKEA assembly (yup!)
Sewing
…and MUCH more!
So whichever skills you have, Task Rabbit connects you with paying clients in your area who need your expertise!
Find out more about getting paid to do tasks at Task Rabbit. 
25. Sell Clothes on Poshmark
Poshmark is an Instagram-meets-eBay platform for selling name-brand clothing and accessories. You simply download an app, take stylish pictures of your items, and then list them for sale. 
So if your designer items are just gathering dust at your parents' house, why not make money online from them on Poshmark? 
Or, if you're into thrifting, then visit thrift stores in your college area and resell whatever great finds you come across! 
And shipping clothing to buyers? 
No problem. Poshmark has you covered. They provide you with a shipping label, and all you have to do is just drop it off at the post office. 
Check out Poshmark today. 
26. Test Websites and Products
With Userlytics and UserTesting, college students can make money by testing out company websites, and giving feedback on products, commercials, and mobile apps. 
Both Userlytics and UserTesting work with big names like Facebook, Microsoft, Google, Walmart, L'Oreal, Canon, The Washington Post, and thousands more. 
As a website and product tester, your job is to complete tasks while speaking your thoughts, emotions, and answering questions. Your reviews are then sent to those brands, and you get paid for it!
College students earn anywhere from $5-$90 for testing each website, product, or marketing material. 
27. Do Micro Tasks on MTurk
MTurk, or Amazon Mechanical Turk, is a service that Amazon provides to businesses looking to outsource small tasks/jobs to people who can complete these online from home. 
Essentially, Amazon Mechanical Turk gives companies access to a global workforce, so tasks get finished more quickly and efficiently. 
College students can work online part-time for MTurk doing tasks, such as:
taking surveys
data entry
identifying photographs
audio/video transcribing
completing Excel spreadsheets
and more!
Read more about this money-making opportunity over at MTurk. 
28. Dog Walk and Pet Sit
If you're stranded at college and missing your family pets, then share that love of animals with others by walking dogs or pet sitting!
Rover and Wag make it easy to sign up and offer your services to pet owners in your local area. 
For walking dogs, you can earn anywhere from $20-$30 per dog, and sitting cats, dogs, and other pets will earn you $40+ per night!
And you don't just have to choose one of these sites. Offer your walking and sitting services on both Rover and Wag, so you can double your access to clients and make even more money.
29. Exercise and Lose Weight
Worried about that "freshman fifteen"? 
I hear ya. Mine was more like the "freshman twenty"!
Luckily for you though, you can get paid up to $10,000 for losing weight with HealthyWage. You simply set your weight loss goals, and HealthyWage will give you cash prizes of up to $10,000 for reaching those goals! 
With HealthyWage you can create challenges for just you, join team challenges, and/or compete for the jackpot prize of $10,000! 
Another great way to get paid to exercise is with Sweatcoin. Sweatcoin is an app that tracks your steps and rewards you with something called "sweatcoins". Then, once you earn enough sweatcoins, you can cash them in for daily product offers, discounts to restaurants, holiday vouchers, and more!
Check out how you can get started over at Sweatcoin. 
29 Part-Time Online Jobs for College Students Without Investment
Still need money ideas? Here are more ways to make money online: