Ultimate Guide: Get Paid to Be a Virtual Friend Online ($500+ a Month)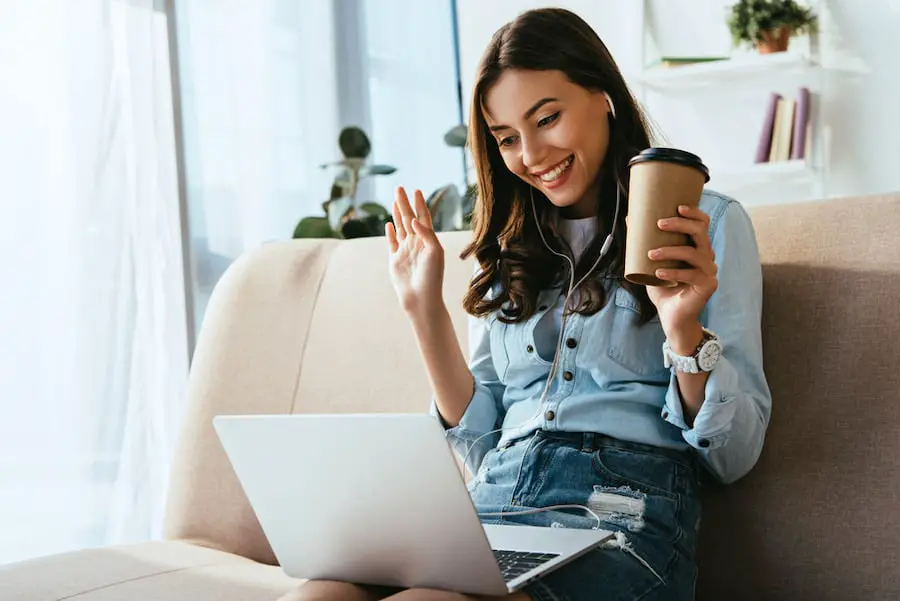 This post may contain affiliate links. If you decide to purchase through my links, I may earn a small commission. Read my disclosure page for more info.
Everything is moving online these days, including friendships. 
Think about it:
How many of your Facebook friends do you actually meet with in person? 
Now, compare that to how many of them you chat with on Facebook Messenger or via text message…I bet that last number is much bigger than the first. 
There are so many ways to connect with people online that entire friendships are being formed, not in the local community, but the online community. 
Get this:
A Pew Research study found that 57% of teens have made a friend online without ever having met them in person. So even if this idea seems strange to us adults, teens sure are spearheading this virtual friend movement. 
And in fact, I'm going to show you 18+ adults out there, that you can actually get paid to be a virtual friend online. It's true. 
In this guide, I'll cover everything you need to know to start making money online as a virtual friend. Let's get started…
How to Get Paid to be a Online Friend
What is a virtual friend?
A virtual friend or online friend is someone who chats with you, teaches you something new, or gives you advice 100% online. 
Virtual friends connect with others through online messaging, phone calls, video chats, email, etc. There are no in-person meetings or hangouts required unless both parties choose to do so.
How much money can you make as a virtual friend?
Most virtual friends charge an hourly rate of about $20 per hour, so depending on how many hours your work, you can earn anywhere from $100-$1000+ per month as a virtual friend. 
At this rate, if you were to work just 5 hours per week as an online friend, you can expect to earn $400 a month. 
Here are some other quick calculations for how much money you can make as a virtual friend with a rate of $20/hour:
Why do people pay for online friends?
People pay for online friends for a variety of reasons. Perhaps they're lonely, introverted, new to an area, going through a difficult time, or just want to chat to someone with similar hobbies.
There are also enormous benefits to online friendships vs face-to-face friendships. 
Suzanne Degges-White Ph.D. writing for Psychology Today notes how:
"Research shows that it is "safer" to be open and honest about our struggles, deficits, and anxieties with "online buddies" than with people we see on a regular basis. When we share intimate information and reveal information that is less than flattering or even personally damaging to individuals we know only through virtual connections, we don't have as much shame as we might if we opened up with friends face-to-face. We feel less exposed when we hide behind the keyboard."

Suzanne Degges-White Ph.D., Psychology Today
So not only do virtual friendships help alleviate loneliness, they're also a good way to truly open up to others and perhaps even discover more about ourselves. 
Are online friends the same as real friends?
Yes, online friends are the same as so-called "real" friends or face-to-face friendships. 
Ultimately, humans crave interaction and connection, whether that's in-person or online. And with our ever-changing world, there's less and less social stigma around online friendships. 
As Kira Bailey, an Assistant Professor of Neuroscience and Psychology, states:
"if we approach our online interactions the same way we have always approached in-person communication, then it will be "authentic" because what makes a relationship work is the people, not the format."

Kira Bailey, Assistant Professor of Neuroscience and Psychology at Ohio Wesleyan University
Ultimately, online friends have the potential to form genuine friendships. Similar to how our face-to-face friends typically become just virtual friends on social media. The online world is blurring this distinction to the point where both are increasingly equal to one another. 
What does an online friend do?
An online friends can do a few different things, like:
Just chat to someone via phone, messenger, or video. 
Give personal or relationship advice to help a person through a difficult time. 
Provide life coaching services.
Play games with a person. 
Teach someone a new skill. 
Do a hobby together. 
Attend an event with someone (if they choose to). 
As you'll see, there are many different virtual friend platforms to choose from. Some are exclusively online, others are not. 
Ultimately though, an online friend is just that: a friend. So mostly you'll be "hanging out" with people and getting paid to do it.
Is it safe to be a virtual friend?
Being a virtual friend is safe, as long as you only list your services on reputable websites and protect yourself and your privacy. 
The terms of your online friendships with people are entirely up to you, so be clear and upfront about what you're there for, how you are to be contacted, and what are appropriate ways of interacting. 
Almost all of these platforms make it very clear that they aren't to be used as dating websites and have systems in place to protect online friends from inappropriate situations. 
A virtual friend is just like any other friend. You're there to hangout online and chat, nothing more. As long as you set boundaries, this is a safe way of making money online.
Where to Find Online Friend Jobs
1. Rent A Friend
Pay: $10-$50 per hour
Rent A Friend is a highly-trusted site within the online companionship space. It was established back in 2009 and to-date has over 620,000 friends available online. 
The way RentAFriend works is that people pay a small membership fee to hire online friends using the platform. They'll hire virtual friends to attend events with them, just chat online, give them a tour of the local area, or see movies with them. 
RentAFriend makes it very clear that this is not a platform for dating, so these boundaries and expectations are set from the start, protecting you as an online friend. 
That being said, a lot of people use this site to find people to hang out with, so if you're only interested in virtual friendships, then you'll need to make that clear in your profile. 
The good news is that as a virtual friend you don't pay any fee to use the platform. In fact, because RentAFriend earns from clients' subscriptions, you keep 100% of what you charge. 
Overall, RentAFriend is a trusted website to get paid to be a virtual friend, so it's a great website to list your services on initially.
Listen to actual RentAFriend testimonials in this ABC News feature:
2. Rent a Local Friend
Pay: $15-$30 an hour
Rent a Local Friend is a global platform that connects travelers or newcomers to an area with a local expert. This "local friend" can show them their favorite spots around town, take them to exciting cultural events, and provide a travel itinerary. 
There are 3 different local friend services you can offer, including:
Remote Concierge (Tips & Traps) — You provide exclusive local tips and inform people of traps to avoid in the area. This happens over an online chat or video call. 
Local Friend — You take visitors or newcomers on a personalized tour of the area and help them get to know the place. 
Virtual Friend — You give online classes, chats, and share firsthand experiences of the local area and culture. 
As you can see, Rent a Local Friend is much more geared towards sharing your area with people who've never been there before. This is very different to RentAFriend's concept. 
So if you live in a frequent tourist city or destination, Rent a Local Friend is a great way to make extra money as a local tour guide of sorts. 
However, for those of you that don't live in a place with many newcomers, you probably won't earn very much on the website and should try others. 
It's also important to know that you do have to pay a "contribution fee" in order to become a "verified" virtual friend. But as long as you can find enough work on Rent a Local Friend, this shouldn't be problem and you can easily cover this cost with earnings.
To get an idea what the virtual friend service is like, here's a Rent a Local Friend promotional video about it:
3. Rent a Cyber Friend
Pay: $10-$30 per hour is a reasonable expectation. 
RentaCyberFriend offers yet another take on the virtual friend experience, entirely different to the other two we've looked at.
With RentaCyberFriend, people searching for online friends prioritize shared interests and hobbies. So you're not only getting paid to be a virtual friend and chat online, but also teaching someone a skill or helping them solve a problem. 
Here's an example of 2 women using RentaCyberFriend to help others get fit and lose weight:
The website lists the activities categories that you can choose from for you services, such as:
Arts and crafts
Books and literature
Cooking and baking
Etiquette and social interaction
Mentorship
Friendship
Fitness buddy
Gaming buddy
Language instruction
Movies and television
Music
Penpal
Photography
Philosophy and religion
Physics and astrology
Shopping
Sports
Tourism and travel
Writing workshops
As you can see, all of these are centered around sharing common interests with the people who hire you for online companionship. 
On your RentaCyberFriend profile, you specify which of these activities interest you, what languages you speak, and how you'd like to be contacted—Skype, Zoom, FaceTime, etc.
What's great about RentaCyberFriend is that it's exclusively for online friendships, as the name suggests. Therefore, you'll never be expected to meet in-person unless you choose to do so. 
As well, because its all about sharing knowledge and interests, your profile should include what you'd like to help people with. Maybe you can teach them another language, give them personal advice, chat about books, teach them how to cook, etc. 
To get started on RentaCyberFriend, you'll be asked to pay for a membership plan starting at $29.99 a month. If you have sought-after knowledge, skills, or hobbies, then you can easily cover the cost. However, you won't know this until you try out the site.
4. FriendPC
Pay: $5-$30+ an hour
FriendPC is another website that lets you get paid to be an online friend. Their primary types of services you can offer are: life coach, virtual friend, virtual gamer, companion, and virtual girlfriend. 
While that last one can be a bit misleading, FriendPC is clear that their platform is not for dating or finding non-platonic relationships. If anyone you come across uses FriendPC inappropriately or makes you uncomfortable, you can block them and report them. 
Read FriendPC's response here: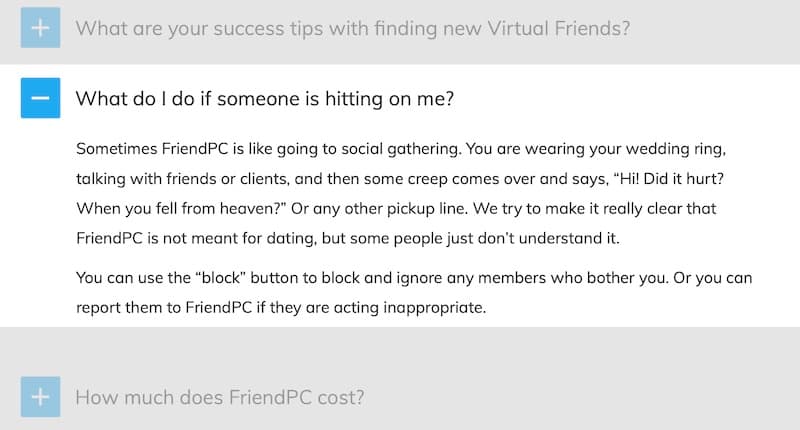 To become a virtual friend on FriendPC, you can sign up for free with their Starter package and make 1 listing. On your listing, you'll specify:
Your preferred method of communication (texting, phone call, video chat, etc.)
Your hobbies/interests. 
Your calendar of availability. 
Your chosen rates
You can also offer in-person services, like attending events with people, seeing movies, etc., but this is entirely up to you. 
Another perk to FriendPC is that members will only be able to message you using the FriendPC system messenger until they pay for your virtual friend services. So your contact information is kept safe until you're paid, and you won't be contacted by spammy individuals. 
Like I said, you can get started for free on FriendPC with their Starter plan. This will give you a good opportunity to get to know the platform and suss out whether you can find money making opportunities as a virtual friend. 
After that, you'll most likely want to upgrade to their Professional Friend or Best Friend package. These give you more listings you can create and lower commission fees. Check out the FriendPC pricing and package options. 
5. Your Own Website
If you're really interested in turning virtual friendship and/or online coaching into a profitable side-hustle or full-time job, then you should explore creating your own website. 
Your own website will give potential buyers a one-stop-shop to get to know you, contact you, and pay you for being a virtual friend. 
And by having your own website, you aren't beholden to algorithms on other sites that put you on page 10 of search results, for example. Your face, your services are upfront and center, giving you potentially greater access to buyers. 
Buying a domain and creating a website are also easier than ever these days. Trust me, I'm not design expert either! But somehow I've managed to build 2 websites completely on my own without the help of a web designer. 
To find out how easy it is to start your own website, check out my guide to starting a website. In there, I give you detailed steps on how to setup your website using Bluehost for as little as $2.95/month. Just skip to section 3!
6. Fiverr Friendship
Pay: $5-$25 an hour
While most of us are already familiar with the freelance site Fiverr, there's also a section on the site called Fiverr Friendship. On Fiverr Friendship, you can list your services as a virtual friend and set your own rates, just like you would as a regular Fiverr freelancer. 
To make money as an online friend using Fiverr Friendship, you'll need to create a strong profile with an appealing about section that lets your personality shine through. Share a bit about yourself, what interests you, and things you could potentially do with a buyer. 
Some of the more successful virtual friends on Fiverr Friendship offer things like:
Life coaching
Playing video games with buyers
Relationship advice
Career coaching
So you might want to offer a similar benefit to your online friendship services. 
What's unique to Fiverr Friendship is that you can create different packages for buyers. For example, you can offer a 30 min text chat for $5, an 1 hour video chat for $25, and a whole day for $150. You determine your services, rates, and packages yourself, which gives buyers more options. 
Here's an example of an online friends' packages on Fiverr Friendship:
When a buyer purchases one of your packages, Fiverr will take a 20% commission fee on your earnings. This is one way that Fiverr makes its money, so keep that in mind when you're setting your rates. 
That being said, you'll need to do a bit of a balancing act between setting your rates so that you make up for the 20% fee, and pricing yourself competitively.
7. Freelancer
Pay: $10-$25 an hour 
Freelancer probably isn't best way to find virtual friend jobs, but it's still worth including because opportunities to get paid as an online friend do arise occasionally. 
Freelancer is similar to Fiverr and primarily built to be a (you guessed it) freelancing platform for things like graphic design, marketing, virtual assistant gigs, etc. 
However, if you search for terms like "online friend, "chat," "online chat," etc., you'll find some gigs that you can bid on. 
The bidding process on Freelancer works like this:
Create your Freelancer profile. You should include a photo, as well as your skills, services, and experience on here. 
Browse and find jobs. 
Bid on a "project." This is where you pitch yourself and really demonstrate how you can help them. You also say how much you'll charge. 
The person will review bids and ask additional questions. There is an online chat feature by Freelancer for this purpose. 
You finish the "project."
You get paid.
As you can see, you'll need to bid competitively on Freelancer in order to beat out the competition. This most likely means you'll need to lower your rates. 
Overall, it's worth bidding on any virtual friend jobs that come up on Freelancer, but don't use this site as your only method of getting paying clients. Combine this with other sites for more earning potential. 
5 Tips to Stay Safe as an Online Friend
Being a virtual friend online is completely safe as long as you follow some basic tips to protect yourself and your privacy. 
1. Stick to reputable websites.
Before you create a profile on a website, make sure it's legit and pays through a secure payment method such as Paypal. Use your best judgement here and try to stick to only the ones on this list, as they've been vetted and well-established. 
2. Protect your privacy.
Be careful about what information you give to your new online friends, this includes both personal information and contact information. Only share things about your life and your location that you're comfortable sharing. Never give out bank details, credit card information, your social security number, etc. 
3. Set boundaries.
You should only talk about subjects and share things you're comfortable with. If at any point you become uncomfortable in the online friendship, end it. Many of these platforms have a way of reporting users for violating the terms of service. Use this when necessary. 
4. Keep it online.
Don't meet someone in-person if you don't want to. Be clear and upfront about your policy surrounding this and ditch anyone who doesn't respect it. 
5. Receive secure payments only.
If someone is requesting your bank details in order to pay you, don't fall for it. Only use services such as Paypal that offer verified and secure transactions. These protect your sensitive information. 
5 Tips for Making More Money as a Virtual Friend
Although some people charge as little as $5/hour for online companionship, that's not enough to turn this into a profitable side-hustle. You'll need to adopt some strategies to make more money as a virtual friend, beat out the competition, and turn this into a money-maker. 
1. Sign up for more than one website.
You should really be taking advantage of multiple platforms to really make money as a virtual friend. There's no exclusivity deal here; you are a free agent!
2. Create strong profiles.
Make sure your profiles are personal and inviting. Tell people exactly what you can help them with and the benefits of your online friend services. Oh, and take warm, friendly photos! 
3. Make time.
People are paying you to be their friend, so act like a real friend and make time for them. The more time you have to offer, the more money you'll make. 
4. Be an exceptional online friend.
Don't just talk about the weather. Really try to get to know the people who hire you and build good connections with them. These are paying clients, and you'll want them to continue using your service. Be genuine. Be helpful. Be friendly. Oh, and be fun! 
5. Stay in touch.
Reach out to people who've purchased your online companionship before. See if they need you again and want to chat. This way, you'll have recurring online friends that'll help stabilize your income.
Should I become a virtual friend? Things to think about:
We've gone over a ton of information about making money as an online friend, but the question now is:
Should you be a virtual friend? 
If you're still up-in-the-air about this money making idea, perhaps this little checklist will help. See if you tick the boxes:
If you ticked most or all of these boxes, then you should seriously consider making money online as a virtual friend. You can set your own schedule, meet new and interesting people, and earn as much as you're willing to hustle for. 
So what do ya think, is getting paid to be a virtual friend online right for you?
How to Get Paid to be a Virtual Friend Online
For more ways to make money online, check out: