50+ Cheap Stocking Stuffers for Women (Christmas 2022)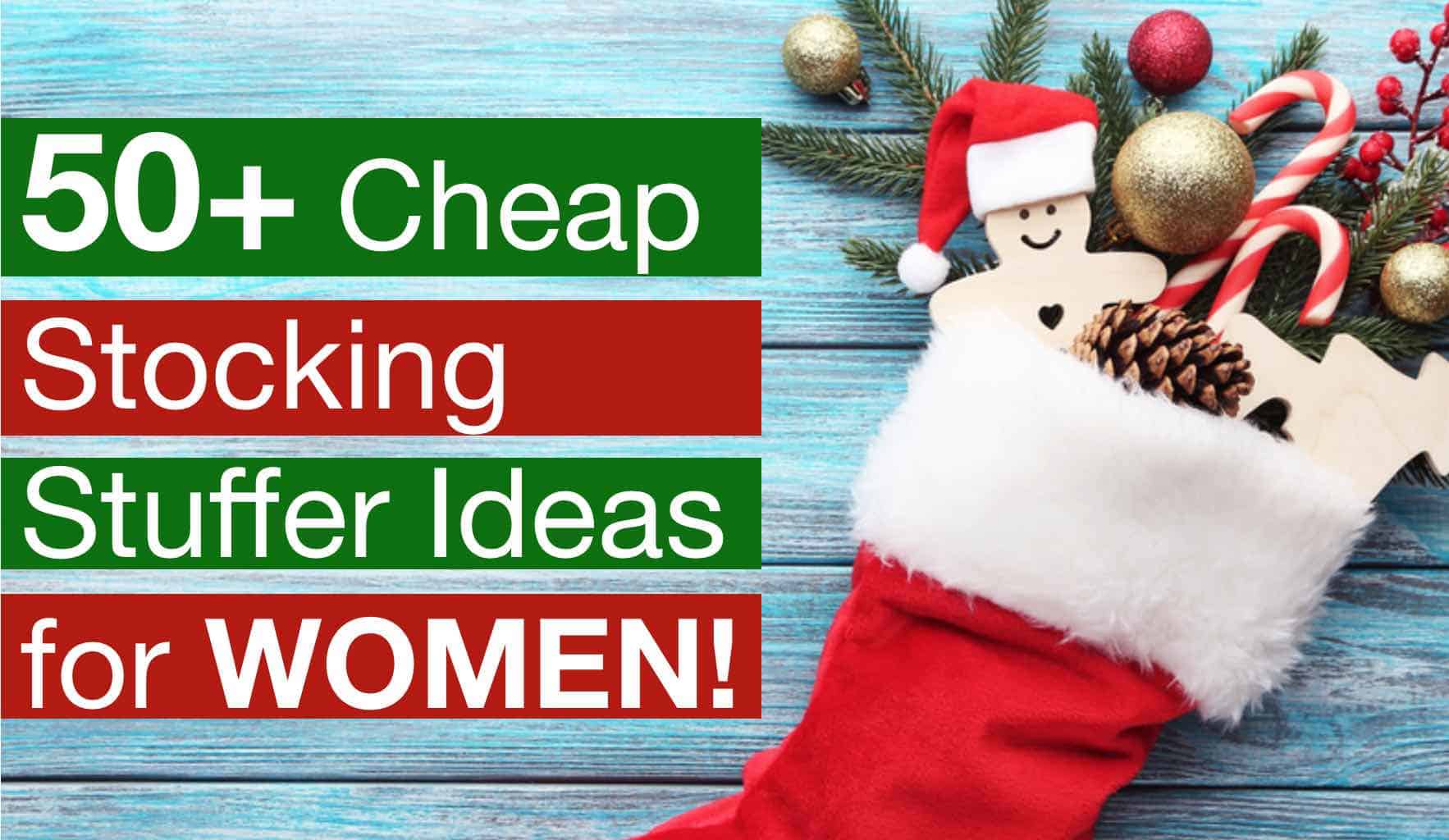 This post may contain affiliate links. If you decide to purchase through my links, I may earn a small commission. Read my disclosure page for more info.
You've bought her Christmas gift already, but now you're stuck:
What should you put in her Christmas stocking?
There are a ton of inexpensive stocking stuffer ideas to choose from this (and every) holiday season, so I've done all the research and and narrowed it down to over 50 perfect stocking stuffers for her–whether it's for your girlfriend, wife, or mom.
So take a look at my 50+ cheap stocking stuffers for women that they'll actually want and use.
I've done my best to group these into categories to make browsing easier. I'd recommend choosing a few items from a couple different categories to really add variety to your lady's Christmas stocking!
This is part of a series of gift ideas articles, including:
Cheap Wine and Drink Stocking Stuffer Ideas for Her
1. Bring me wine socks
These "bring me wine" socks come with that extra bit of attitude, perfect for your wine lover.
And BONUS: they're extra warm and fuzzy for wintertime!
2. Wine bottle stoppers
Nothing's worse than a bottle of wine wasted.
Okay, so a bit of hyperbole there…but probably not to your wine drinker.
These cheap wine bottle stoppers will keep that vinegar taste at bay, and her happily pouring. 
3. Clever coffee mug
 Who doesn't love a good coffee or tea mug?
Get her one she'll enjoy and that has a clever saying like this fox coffee mug. Or, choose one that references her favorite television show, movie, or book!
4. Funny coasters set
These funny diva coasters from Zumatico will have both of you laughing at how on-point they are.
They come in packs of 4, and there are 8 different divas to choose from!
5. Wine chiller
Don't ever let her experience room-temperature white wine AGAIN.
Put this wine chiller stick in her Christmas stocking, and she'll love you forever.
6. Harry Potter coaster set
If she's a Harry Potter fan, then you have to fill her Christmas stocking with some Harry Potter swag.
This coaster set includes all 4 houses of Hogwarts and looks classy to boot!
7. Collapsible coffee cup
She can help save the earth AND take her coffee to go with this silicone collapsible 
coffee cup. She can enjoy her tea or coffee, and then just collapse it, put it in her purse, or clip it onto her backpack. Win!
It's 12 ounces and comes in a variety of colors to choose from, so you can pick the one just right for her.
Cheap Electronics Stocking Stuffers for Women
8. Cord organizer
I don't know about you, but I've untangled my earbud headphones more times than I can count!
That's where these colorful cord clips come in. All you have to do is loop your earbuds cord and then clip the organizer around them. Done.
This earbuds cord organizer is a great stocking stuffer for women who're on-the-go and tired of pesky tangles in their headphone cords.
9. Charging stand dock station
No one likes an untidy nightstand covered in wires and devices.
This 3-in-1 charging dock station will keep her nightstand organized and stylish. It'll charge her AirPods, iPhone, and Apple Watch all in one place!
10. Small bluetooth speaker
This portable bluetooth speaker is waterproof, ready for the outdoors, and makes a mighty sound! She can fit it easily in her purse or clip it to her backpack, so that it's ready to go whenever she wants to jam.
It also comes in fun colors, so you can pick one that suits her.
11. Tile Mate
You won't ever have to watch her running around mad trying to find her keys again.
Here's Tile Mate to the rescue!
With Tile Mate, you attach it to your key ring and it can locate your keys via bluetooth! You just open the Tile app on your phone and press and button to locate your items.
12. USB flash drive
Nowadays, we all need a USB flash drive…or three.
Give her an extra one with this affordable San Disk 128GB USB thumb drive. It's the perfect stocking stuffer, because who doesn't need a backup USB?
13. Ear warmers with headphones
I honestly had no idea these even existed until I started doing some research for this post.
But OMG. This will forever solve those frozen ears while podcasting or listening to music in the wintertime.
These EverPlus ear warmers also feature bluetooth headphones inside! She can jam to music while staying all warm and cozy.
14. Amazon Echo Auto
Connect Alexa to your car with Amazon's Echo Auto. There are great deals on these during Christmas, making it an excellent cheap stocking stuffer for women!
Echo Auto works via bluetooth or an auxiliary cable to your car stereo. Then, she can make phone calls, listen to Amazon Music, Apple Music, or Spotify hands-free!
15. ProCase screen cleaning pads
Her touch screen devices will never have fingerprints and smudges again.
ProCase's screen cleaning pads have a faux suede pad that is safe to use on all touch screen devices. It's the perfect little stocking stuffer idea for her that she didn't know she needed.
16. Amazon Fire TV Stick
Not sure you need much convincing when it comes to Amazon devices. They're reliable, feature Alexa, and turn your home into a smart home seamlessly.
Especially around Christmas time, Amazon offers some great deals on all of their devices including the Amazon Fire TV Stick. This little guy will turn any TV into a Smart TV with Netflix. You can also stream live TV channels with a YouTube TV or Sling TV subscription.
Cheap Accessories Stocking Stuffers for Women
17. Scented candle
Never underestimate the importance of a good, scented candle. It's the difference between a house and a home, or a quick shower and a soothing bath.
Lulu Candles have a variety of scents to choose from, are all natural eco-friendly soy wax, and made in the USA.
18. Journal
Bullet journal anyone?
Umm, yes please!
Chances are, she's hopped on the bullet (journal) train and would love a nice, new bullet journal to start the new year. This dotted grid journal by Paperage is a cute and affordable choice for her stocking stuffer.
19. Reusable shopping bags
Help her cut down on plastic waste with these cute patterned reusable shopping bags. Her trips to the mall might not go away, but that plastic bag pile-up will!
20. Slipper socks
Alas, it's true:
Women have poor circulation compared to men.
So help her keep those icy toes warm and cozy in the wintertime with these slipper socks
. They're a must-have Christmas stocking stuffer!
21. Gloves or mittens
These thermal winter knit gloves are a great stocking stuffer for women, and also feature a touch-screen thumb! 
So she can stay warm AND still use her touch-screen devices.
22. Ring and jewelry holder
At the end of a long day, she needs somewhere to put her jewelry for the night. In most cases, it's just on the nightstand, causing it to roll around or fall onto the floor.
This cute elephant jewelry holder will keep rings, earrings, and necklaces safely in one place until morning. It also comes in a unicorn, cactus, aloe, and flamingo shape!
23. Drawer organizers
Whether it's toiletries in the bathroom, or underwear and socks, women have a lot of little things that need tidying.
Drawer organizers make an excellent stocking stuffer for women because they're versatile and can be used to tidy a variety of drawers and/or shelves around the house!
24. Mean Girls magnets
It's official:
The movie Mean Girls is a classic.
And these Mean Girls magnets feature some of the funniest quotes from the film that'll never get old. 
They'll give her a nice laugh and trust me: her girlfriends will complement her on them all. the. time.
25. Mean Girls Burn Book journal
Give her her very own Burn Book from the film Mean Girls!
Inside, it has journal paper so that she can burn some of her enemies with her cruel words.
Okay, just kidding, but it's still a journal she'll love. 
26. Knit beanie
Beanies are the BEST.
Make sure she gets a brand new one in her Christmas stocking, like this chunky knit beanie!
27. Cute desk calendar
It's almost 2021…THANK GOD.
2020 has been rough (to say the least), but
 a new and hopefully better year is upon us. Get her ready for the year ahead with a cute mini desk calendar!
28. Necklace and earrings set
Buying her jewelry doesn't have to break the bank.
There are tons of inexpensive but cute jewelry pieces on Amazon, like this leaf necklaces and earring set! It'll be a cute addition to her stocking stuffers this Christmas.
29. Book lover socks
If she's an avid reader and always has a shelf-full of books to read, then these adorable book lover socks are a perfect fit for her! They're colorful, cute, and clever.
30. Bookmarks
Another stocking stuffer idea for a book lover…bookmarks!
But not flimsy paper bookmarks, oh no. These metal feather bookmarks are classy, durable, and practical for her avid reading. 
31. Harry Potter wizard wand cosmetic brushes
No products found.
For your Harry Potter fan, these wand cosmetic brushes are a MUST. They're modeled off of some of the most famous (and infamous!) wands from the Harry Potter films.
And not to mention, they're functional as well!
32. Elephant desk organizer
We are all spending more time at our home office these days.
So help her keep that desk tidy with this cute elephant desk organizer!
33. Friends TV show keychain
If she's a fan of the Friends 
television show, then this keychain will look very familiar.
It's modeled after the picture frame on Monica's apartment door. She can take a picture of her favorite person or pet everywhere with her, and enjoy a little Friends reference all day.
34. Funny tote bag
One can never have too many tote bags, it's true. There's always a need for them…and more spares!
Amazon has tons of funny tote bags that would make a great stocking stuffer for women. As a dog mom, this funny tote bag hits close to home for me. But you can choose from a variety of others and find that perfect one for her.
35. Reed diffuser
This reed diffuser set is a nice extra gift to chuck in her Christmas stocking. It features a soothing lavender scent and is long-lasting.
Cheap Health and Beauty Stocking Stuffer Ideas for Women
36. Soap Bar

These Pré de Provence soap bars are some of the highest rated on Amazon, and they make great stocking stuffers for women. They won't dry out her skin and also come in a wide variety of fragrances to choose from.
37. Face masks
All women need to pamper ourselves every now and again.
This 12 pack of moisturizing facial face masks will last her more than a few pampering sessions. They're easy to use and will keep her skin hydrated this winter.    
38. Eye masks
Eye masks are another must, especially for us ladies!
No one likes those pesky bags under their eyes, and these under eye collagen masks are sure to do the trick. They'll have her looking and feeling young again.
39. Body spray
When in doubt, buy body spray.
It's the perfect stocking stuffer for women because we sure do get use out of it!
Body Fantasies has long-lasting, fragrant, and affordable choices, and also come highly recommended on Amazon.
40. Lip gloss
Lip gloss is another product women are sure to use, and you can find inexpensive lip gloss like this one from NYX Professional Makeup. 
41. Scented body lotion
With winter comes itchy, dry skin.
Save her skin with Love Beauty and Planet's scented body lotion. 
It's ethically sourced, vegan, and cruelty free!
42. Hair towel
Another great, cheap stocking stuffer for women is a quick-dry hair towel. It'll help her hair dry naturally and, unlike a regular bath towel, won't fall off of her head all the time. 
43. Bath bomb
Baths are important to women. And a good bath bomb makes an enormous difference!
Da Bomb is based in the USA and offers a few different scents, including my favorite: the "F" Bomb lavender bath fizzer.  
44. Makeup wipes
We will always need more makeup wipes. Save her the cost by putting these Neutrogena makeup wipes in her Christmas stocking. 
45. Loofahs
You'd think a loofah would last forever, but alas they don't.
Get her a brand-new fluffy loofah as a stocking stuffer gift this year. 
46. Hair clips
Depending on the length of her hair and how she styles it, hair clips can make excellent cheap stocking stuffers for women. 
There are hundreds to choose from on Amazon, like these multi-colored clips from EAONE.
47. Boho headbands
The Boho look is IN.
Come summertime, these boho headbands will get some use! Try to choose colors and patterns that fit her palette, and you'll surely score some points.
48. Cosmetic bag
These cosmetic bags from Loomiloo are absolutely adorable and will be a Christmas stocking stuffer hit! I mean, just look at those little sloths. 
49. Cosmetic brushes
Another excellent stocking stuffer for women is a new set of cosmetic brushes. Because, let's face it, we don't change these nearly often enough. EcoTools set of brushes are made from recycled materials and are 100% cruelty free and vegan.
50. Burts Bees lip balm
Who doesn't love Burt's Bees?
This Burt's Bees chapstick multipack will fit nicely in his Christmas stocking and keep her lips soft and smooth.
51. Razor blade refills
Razor blades are ridiculously expensive.
So save her some money and buy a couple razor blade refills
as a stocking stuffer. She'll love you for it!
Cheap Gift Card Stocking Stuffers for Women
When in doubt:
Revert to gift cards!
This'll add that little something extra to her Christmas stocking and let her pick out exactly what she wants at one of her favorite places.
For each of these gift cards, you can choose an amount as little as $10. And even though it may not sound like a lot, that little bit will go towards something she really wants.
I'm a huge proponent of gift cards, and I think most people would rather get a gift card (free money) than a gift they don't want or need!
So here are some gift card ideas for her Christmas stocking:
52. Starbucks gift card
53. Amazon gift card
54. Sephora gift card
50+ Cheap Stocking Stuffer Ideas for Women
You might also be interested in these other gift idea articles: