50+ Cheap Stocking Stuffers for Men (Christmas 2023)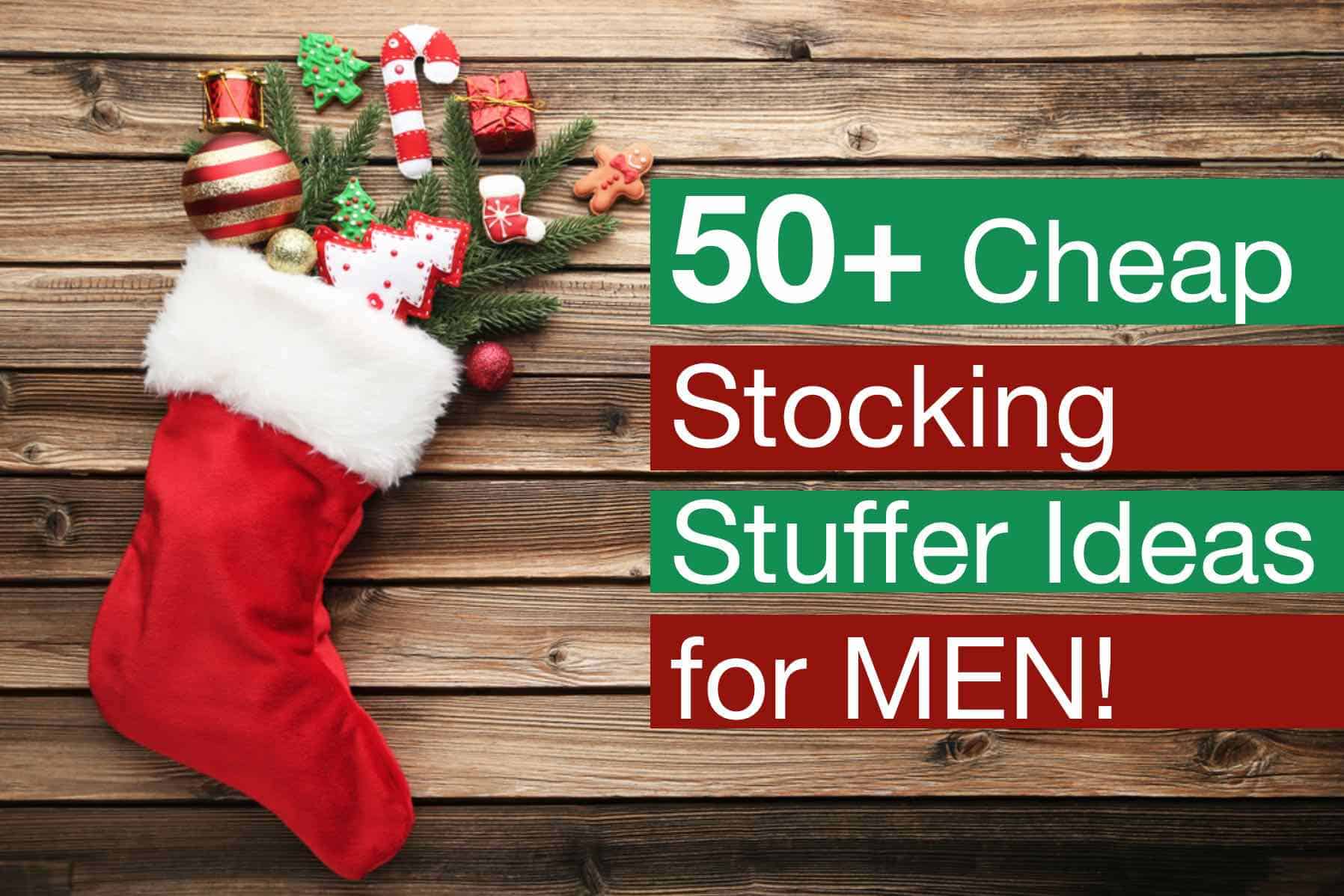 This post may contain affiliate links. If you decide to purchase through my links, I may earn a small commission. Read my disclosure page for more info.
Another year over, and another Christmas season upon us!
Which means:
It's time to brainstorm the best, most creative, and thoughtful gifts for the men in our lives. Which is where things start to become a bit challenging…
See, men aren't always the easiest to shop for, especially when it comes to stocking stuffer ideas. I mean, what things will they appreciate and enjoy that'll also fit in that tiny Christmas stocking on the mantelpiece?
The trick is to no only stuff men's stockings with practical items, but also throw in a bit of fun, clever gadgetry and accessories that'll have them relishing in their hobbies and interests.
So without further ado, here are 50+ excellent, cheap stocking stuffers for men that'll have them as excited, if not more excited, to open than their Christmas tree presents.
I've done my best to group them into categories to make browsing them easier for you. I'd recommend choosing a few from a couple different categories to really add variety to your guy's Christmas stocking!
This is part of a series of gift ideas articles, including:
Cheap Electronics Stocking Stuffer Ideas for Men
1. Earbuds clip and cord organizer
I don't know about you, but I've watched my guy untangle is earbud headphones more times than I can count!
That's where the TopHome Cord Organizer and Earbuds Holder comes in. All you have to do is wrap the earbuds around the holder, then snap it closed. Done.
The TopHome Cord Organizer is a great stocking stuffer for men who're on-the-go and tired of their headphones cord getting those pesky tangles.
2. Echo Auto
There are usually some excellent deals on these during Christmas, so I had to add it to the list even though it's not cheap year-round. Amazon's Echo Auto allows you to connect to Alexa on the road!
Echo Auto works via bluetooth or an auxiliary cable to your car stereo. Then, you can make phone calls, listen to Amazon Music, Apple Music, or Spotify hands-free!
3. Tile Mate
It's 7am: he's late for work and searching around like mad for his car keys.
Here's Tile Mate to the rescue!
With Tile Mate, you attach it to your key ring and it can locate your keys via bluetooth! You just open the Tile app on your phone and press and button to locate your items.
4. Ear buds
Purity True Wireless Bluetooth Earbuds are so affordable, it's unreal.
These earbuds are the perfect size to stuff in your man's stocking, giving him wireless listening while at the gym, putzing around the house, or on his commute to work.
5. Usb thumb drive
Nothing's worse than not having a USB flash drive when you need one.
Your man can always have a spare with this affordable Sam Data 2 pack 32GB USB thumb drive. It's the perfect stocking stuffer, because who doesn't need a backup USB?
6. Penlight
Penlights are the perfect tool to have handy in your car's glove compartment. If your car breaks down or gets a flat tire while driving home at night, you'll wish you had a penlight to hand!
This Coast G20 Inspection Beam Penlight features an LED flashlight with a beam distance of 65 feet!
7. Laptop case
Laptop cases are one of those things that everybody needs, but we so rarely replace with a better one. I'm guilty of using my laptop cases until they're falling apart!
So why not get him something that's better than what he has? Ytonet's laptop case is minimalist in style, water resistant, and gives him convenient pockets to fit other odds and ends with his laptop.
8. iPhone bike mount
Whether he's a cyclist or a motorcyclist, Roam's Universal Bike Phone Mount is a gadget that he needs!
This phone mount fits any phone, from an iPhone to a Samsung Galaxy. It also adjusts to fit the handlebars of almost every kind of bike!
If he gets this in his Christmas stocking, it won't disappoint.
9. Charging stand dock station
No on likes seeing an untidy nightstand covered in wires and devices.
This 3-in-1 charging dock station will keep his nightstand organized and stylish. It'll charge his AirPods, iPhone, and Apple Watch all in one place!
10. Small bluetooth speaker
Probably the best stocking stuffer you can get him is this portable bluetooth speaker from Kunodi. I mean, even I want one…or three.
It's waterproof, ready for the outdoors, and small but with mighty sound! He can clip it on his backpack, and it'll be ready to go whenever he wants some tunes.
It also comes in fun colors, so you can pick one that's just right for him.
11. Amazon Fire TV Stick
Not sure you need much convincing when it comes to Amazon devices. They're reliable, feature Alexa, and turn your home into a smart home seamlessly.
Especially around Christmas time, Amazon offers some great deals on all of their devices including the Amazon Fire TV Stick. This little guy will turn any TV into a Smart TV with Netflix. You can also stream live TV channels with a YouTube TV or Sling TV subscription.
12. Bluetooth Beanie
Yeah, you read that right. I honestly had no idea these even existed until I started doing some research for this post.
But OMG. This will forever solve the frozen ears he gets while podcasting or listening to music in the wintertime. And, he'll still be styling.
This ASIILOVI bluetooth beanie comes in multiple colors and features bluetooth headphones, a microphone, and play controls disguised as a tag! While the price on this one is bit high for a stocking stuffer, it would also make an excellent Christmas gift on its own!
13. Echo Flex
The Amazon Echo Flex helps you expand your smart home even further!
All you do is plug it into any outlet and Alex is ready at your command.
Did I mention:
It's also the perfect size stocking stuffer gift!
14. Storm Trooper Night Light
This is one of those stocking stuffer gifts that he would never buy for himself, but would be ecstatic to get from you!
Every Star Wars fan needs this cheeky little Storm Trooper Night Light. It has an LED bulb and gives you multiple colors to choose from.
It's a great stocking stuffer to make his man cave just a little bit cooler.
15. 3D Illusion Star Wars Night Light
Okay, so this one might be a bit too big to fit in his Christmas stocking, but I just couldn't leave this one off the list! I'm partial to all things Star Wars.
This 3D Illusion Star Wars Light makes it look like a hologram! He can choose from R2-D2 and C-3PO, the Mandalorian, Darth Vader, or Baby Yoda, as well as chose from a range of colors.
Take a peek at some of the reviews and buyer photos and you'll see just how cool this is.
Cheap Accessories Stocking Stuffers for Men
16. ProCase Screen Cleaning Pads
His touch screen devices will never be covered in fingerprints and smudges again.
ProCase's screen cleaning pads have a faux suede pad that is safe to use on all touch screen devices. It's the perfect little stocking stuffer idea for him that he didn't know he needed.
17. Brew House beer chillers
Nothing's worse than a room temperature beer.
Good thing these beer chillers freeze in 45 minutes and keep his beer colder, longer!
If he's a beer lover, then he'll love you for these little stocking stuffers, that's for sure.
18. 3D Skull Ice Cube Molds
If your guy enjoys whiskey or mixing you and him up some cocktails, then these skull mold ice cubes will take his drinks to the next level.
…and make his whiskey look bad*ss.
19. Han Solo ice tray
Yet another Star Wars stocking stuffer idea, but perhaps the best one!
This Star Wars ice tray will turn his ice cubes into little odes to Han Solo.
20. The Art of Manliness Book
Teach him to be even more of a gentleman with The Art of Manliness: Classic Skills and Manners for the Modern Man.
An entertaining and enlightening read, The Art of Manliness is one of the biggest men's lifestyle blogs on the web with over 10 million monthly visits.
As you can imagine, this book comes highly recommended as a practical guide to being a gentleman and an overall happier, more emotionally aware man.
21. Travel Mug / Tumbler

Who doesn't need a new mug? These things get dropped, nicked, dinged and dented.
A travel mug or tumbler is a great cheap stocking stuffer for men because, let's face it, we all need our coffee by our side.
22. Bacon car air freshener
I will never understand the male obsession with bacon.
But, this isn't my Christmas stocking.
So for your bacon lover, get these bacon scented car air fresheners, so he'll never be without that bacon.
23. Glasses Holder for Car Visor
There's one thing I know about sunglasses:
They're almost never there when we need them. And when they are, we forget them somewhere else.
Keep his sunglasses ready at his side with these glasses clips for his car's sun visor.
24. Wallet
Alright, alright. So this is kind of traditional, but for good reason.
Every guy needs a new wallet now and then! I mean, think about how many bags and purses we have…yeah.
A spanking new wallet is an inexpensive stocking stuffer that he's sure to appreciate.
25. Keychain Organizer and Holder
This is another gadget he never knew he needed.
The DBR Tech Keychain Organizer will stop those bulky, jangling keys from filling up his pockets!
This thing holds up to 8 keys and makes it so he's never searching for the right key again.
26. Flask
This one goes without saying, but every dude wants his very own flask.
It's just…so James Bond.
Good thing for you is that they're actually fairly inexpensive! This stainless steel flask by Top Shelf is cheap, yet trusty.
27. Gecko Adhesive Phone Wallet Sleeve
If you're a fan of the show Broad City, then you know the importance of remembering your P.K.W.
Phone, Keys, Wallet!
Well Gecko's phone wallet sleeve will ensure that he only needs to remember his keys from now on.
Maybe I need this in my life too…
28. Beer bottle stoppers
Stale beer. Umm…Ewe.
Put these little bottle stoppers in his Christmas stocking so he never has to experience that.
And there's a bonus:
They work for wine too! WIN.
29. Hot sauce set
Just like their fervent passion for bacon, for some reason men seem to really love their hot sauces as well.
This set of 5 different hot sauce flavors is a great stocking stuffer for men who love spicy foods. It includes flavors inspired by Mexico, Puerto Rico, Brazil, Cuba, and the Australian Outback.
30. BBQ Seasoning Set
It may be winter, but outdoor BBQs are on the horizon.
Get him this barbecue rub seasoning set to add a bit of variety to his grilling!
Even if it's the only stocking stuffer he gets, it won't disappoint.
31. Magnetic Wristband
If he's the handyman of the house, then this magnetic wristband would make a nice little surprise in his Christmas stocking.
This clever wristband holds everything from drill bits, to nails, to screws, to bolts, and any other odds and ends he needs to finish up those projects around the house.
32. Universal Socket Grip Tool
Now, I don't profess to know much about around-the-house projects, but I do know that this universal socket grip has thousands of positive Amazon reviews.
Like the magnetic wristband above, this universal socket will save him trips to the toolbox and can fit almost any sized nuts and bolts.
33. Neoprene Beer Bottle Holder
Heading to a backyard BBQ? Or maybe a friend's house for a movie night? For any BYOB situation, make sure his beer stays cold!
This 6-pack neoprene beer holder will keep beers chilled and not split like plastic bags or cardboard beer holders.
34. Ice Ball Molds
For your whiskey drinker, this ice ball mold tray will add a bit of class to his drink.
The tray is made of BPA-free silicone and is also dishwasher safe. It'll mold perfect spheres that are slow melting and don't dilute his drinks!
35. Bike Repair Tool Kit
If your guy is a cyclist or mountain biker, then he'll want to have this bike repair tool handy at all times!
It's a 16-in-1 multifunctional repair tool with all the Allen keys, screwdrivers, and wrenches he needs.
36. Do Not Disturb Gaming Socks
It's the weekend and he's sitting in the living room, feet on the coffee table, playing his Playstation.
Add these clever gaming socks to the mix, and you have a picture-worthy moment.
But just make sure you follow the socks' instructions. Do Not Disturb!
37. Playstation Drink Coasters
If he's a Playstation guy, then these metal Playstation button-inspired coasters will be a great addition to his gaming room or man cave.
They'll fit perfectly in his Christmas stocking and are useful for those cold beers!
38. Zelda Drink Coasters
I can't get through a list of stocking stuffers for men without throwing a bit of Zelda in here.
Because…Zelda.
These Zelda drink coasters are gorgeous. Get them for every Zelda nerd you know.
39. Millennium Falcon bottle opener
Perfect for your Star Wars geek, this Millennium Falcon bottle opener fits on his keychain and also gives it a bit of personality.
Also, Han Solo would definitely approve.
Cheap Clothing and Personal Care Stocking Stuffer Ideas for Him
40. Dockers comfort sport crew socks
Okay, so I know what you're thinking: socks are such a cliché stocking stuffer.
But for good reason!
Umm, they're practical, every man needs news socks at times, and for the wintertime–they're warm and comfy!
Trust me. He won't mind the "unoriginality" with these Docker's comfort crew socks.
41. Badger Balm Muscle Rub
This Badger Balm muscle rub is the perfect soother to sore muscles.
A little bit of this after a hard day's work and he'll love you for it! It's a great cheap stocking stuffer for him that he's sure to use.
42. Working Hands Hand Cream
Winter is killer to your hands. A month in, and they're dry, peeling, and red.
O'Keeffe's is one of the most trusted brands and their Working Hands hand cream is a wintertime staple.
43. Beard grooming kit
A dude's beard is precious to him.
Get him something like this beard grooming kit to keep that beard healthy and stylish.
44. Beard balm
This Viking Revolution beard balm is 100% natural and made from Argan oil, mango butter, and beeswax. It'll keep his beard moisturized and soft through the cold, dry winter ahead.
45. Chapstick
Who doesn't love Burt's Bees?
This Burt's Bees chapstick 2-pack will fit nicely in his Christmas stocking and keep his lips soft and smooth.
46. Shoe cleaner
A man needs shiny, clean dress shoes for work. It's a fact.
Help him get rid of those smudges and scuff marks with a shoe shine kit like this one from Kiwi.
47. Belt and tie hanger
If his belts and ties are stuffed in a drawer or falling off that regular hanger he's got, then this is his answer.
A good belt and tie hanger will help him keep his clothes organized and tidy.
And we like tidy.
48. Beanie
Nothing's cozier than a good beanie in winter. And most men love a good beanie.
Good news for you is that they're pretty cheap and fit inside that Christmas stocking.
49. Cooling Towel
If he works outside in that hot summer heat, then a good cooling towel will help him stay cool and hydrated all day.
Again, this is something he might never get for himself but would be an excellent surprise stocking stuffer gift.
50. Thermal gloves
For cyclists or any guy who spends a lot of time outdoors, these waterproof, windproof, thermal gloves are a must have.
51. Razor refills
Okay, so razors aren't the cheapest.
But:
They're a must have and something you can be sure he'll need and use!
So throw a couple razor refill blades into his Christmas stocking and save him some money!
Cheap Gift Card Stocking Stuffers for Men
When in doubt:
Add that little something extra to his Christmas stocking with a gift card to his favorite places.
For each of these gift cards, you can choose an amount as little as $10. And even though it may not sound like a lot, that little bit will go towards something he really wants and can pick out himself.
I'm a huge proponent of gift cards, and I think most people would rather get a gift card (free money) than a gift they don't want or need!
So here are some gift card ideas for his stocking stuffers:
52. Xbox Giftcard
53. Playstation Gift card
54. Nintendo gift card
55. Starbucks gift card
56. GameStop gift card
57. Amazon gift card
50+ Cheap Christmas Stocking Stuffer Ideas for Men
You might also be interested in these other gift idea articles: