47 Best Gifts for D&D Players and Dungeon Masters Under $30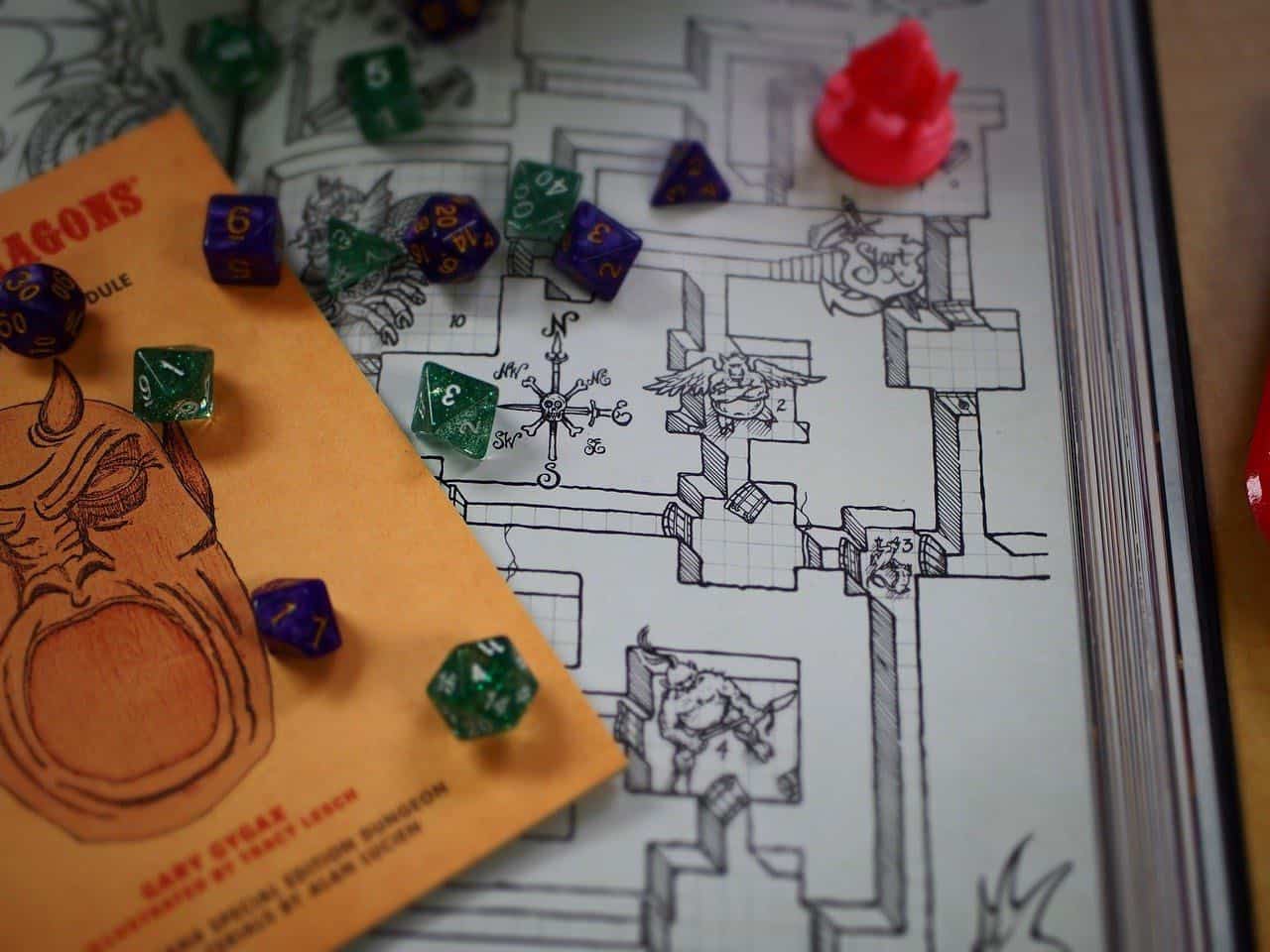 This post may contain affiliate links. If you decide to purchase through my links, I may earn a small commission. Read my disclosure page for more info.
You know they're into Dungeons and Dragons, but you have NO idea what gift to buy them. 
Maybe you've never played D&D and are buying for a Dungeon Master, or maybe you're a D&D player yourself looking to score points with your DM. 
No matter who you're buying for or what level of Dungeons and Dragons knowledge you possess, I've created the ultimate list of gifts for D&D players and Dungeon Masters. 
And the best part?
These items are all under $25, so you can rest assured your gift buying won't get out of hand. 
So without further ado, check out my 47 best gift ideas for D&D players and Dungeon Masters under $25!
All Things Dice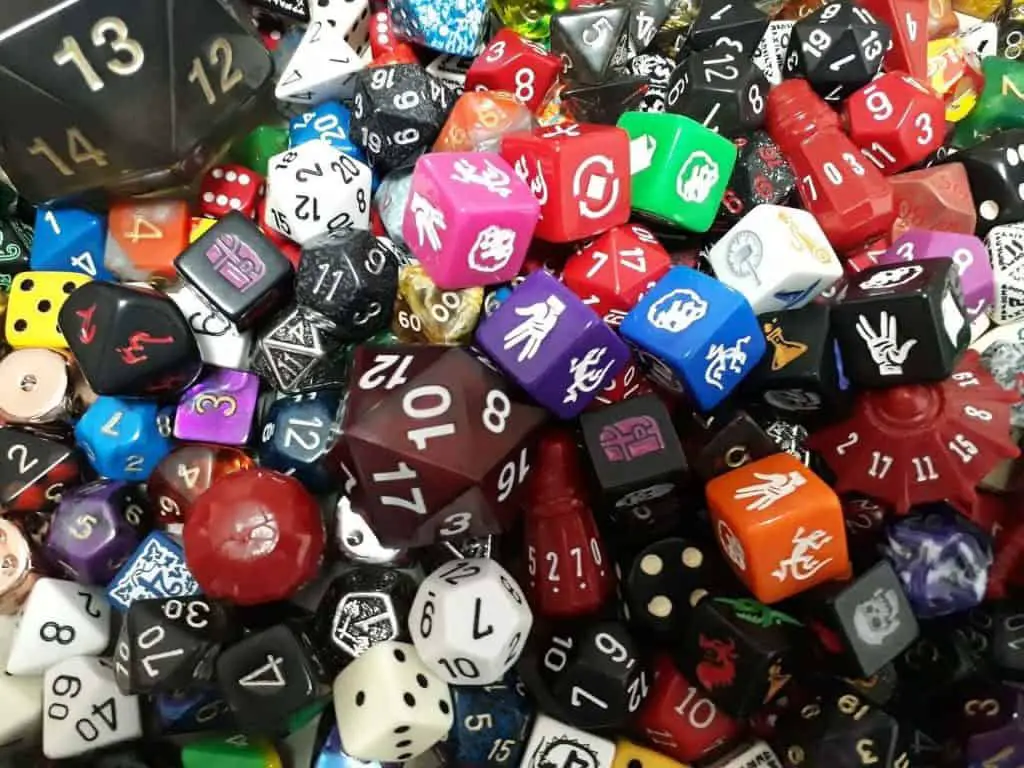 If you've ever played Dungeons and Dragons (D&D or DnD), then you'll know that a simple roll of the dice can determine whether you live or die, or whether that beautifully shot arrow strikes down an enemy or goes sailing right over their head. 
Not to mention that before a DnD campaign can even begin, each characters' abilities (…or inabilities) are decided by a roll of the dice! Roll high, and your character's strength is high. Roll low and, well, you'll have to let others do the hand-to-hand combat. 
Now, as you can imagine, D&D players can be quite superstitious when it comes to their dice. If one die keeps rolling low, you best believe we're chucking that one out of the bunch and replacing it with another. (I'm, of course, speaking very much from experience here…) 
Also, different numbers and types of dice are needed throughout a D&D campaign, so each player will need a wide variety of dice to play.
A standard Dungeons and Dragons dice set will include 7 dice: a d20 (20-sided die), d12 (12-sided), two d10 (10-sided), d8 (8-sided), d6 (6-sided), and d4 (4-sided). 
However, D&D players and especially Dungeon Masters will often need multiples of each of these in order to play. For example, determining a weapon's damage might require a roll of 8 d6 dice!
Therefore, one of the best (and cheapest!) gifts for D&D players and Dungeon Masters (DMs) is a nice, new set of dice and/or dice accessories. 
After all, their characters' lives are on the line!
1. Dice
Dice, dice, and more dice! 
There are so many varieties of dice colors and materials, that it's hard to figure out which one best suits your D&D player. 
So to help you pick just the right dice, here are my dice recommendations based on the level of your player (be they new to D&D or a seasoned pro), so that your gift can be a bit more bespoke and sure to please. 
Beginner D&D Player or Dungeon Master
For the beginner D&D player or Dungeon Master, these dice sets from SmartDealsPro are the perfect dice starter pack. It includes 5 dice sets, each with the 7 dice needed to play Dungeons and Dragons. This will be enough for 1 DM and 4 players! And, they come at a hard-to-beat price for the quantity you get. 
Intermediate or Regular D&D Player or DM
If you're buying gifts for an intermediate Dungeons and Dragons player, get them a new dice set that's unique and different to other members of their D&D group. These Titan Dice are jumbo dice and feature intricate gold designs on them. They also come with a beautifully engraved wooden dice box for portability and classiness!
Advanced D&D Player or DM
Remember what I was saying about dice superstition? Well, there's actually some truth to that…
See, most dice are plastic and therefore likely to become bent or misshapen over time, which will impact how they roll on the table. This means old, worn-down, and misshapen dice could very well fall on low numbers (read: BAD) more frequently than balanced or in-tact dice. 
So for advanced players, or people who take their DnD seriously, metal dice are the holy grail of dice. They're balanced, long-lasting, weighted, and won't reduce a D&D players' odds!
Haxtec is one of the leading metal dice manufacturers. They offer a variety of colors and styles of metal dice, from an antique metal look to rainbow metals. You're sure to find the perfect colors for your player, and they'll have a dice set to last them (maybe not their characters) a lifetime!
2. Dice Bags
Dice bags are another great gift for D&D players because—just like they'll need more dice—they'll need more ways to carry them!
Like dice, dice bags come in a wide variety of materials and colors. You'll really need to consider the personality of the player you're purchasing for, as well as their aesthetic tastes. 
For most D&D players, these luxury velvet dice bags will certainly be an upgrade from their current one. They have a drawstring to keep dice inside and are stylish to boot.
If you're looking for something a bit more clever, this large dice bag features the saying: "The Dice Giveth and the Dice Taketh Away", which is sure to make your D&D player chuckle…because, well, it's true. 
Leather and faux leather dice bags are another great gift for regular Dungeons and Dragons players and Dungeon Masters. 
Take a look at this handmade leather dice bag which also serves as a dice tray of sorts! 
Or, this beautiful faux leather dice bag featuring a dragon insignia. 
And last, but certainly not least, this Haxtec Dragon Eye Dice Bag is sure to be a hit with advanced players and especially Dungeon Masters. I mean, it's almost as intimidating as the DM's power is to players. 
3. Dice Tray
With all this rolling of the dice, die are bound to end up on the floor. 
But a good dice tray will keep dice in one place and save players from having to chase them across the room. 
Dice trays come in almost every color imaginable and are a great cheap gift for D&D players. 
This dice tray by Stylifing is made of faux leather on the outside and has a soft velvety inside to roll dice on. Just snap the corners and your D&D players' dice will be secure! 
4. Dice Case and Tray
Another gift idea for your D&D player or DM is a dice case and tray all-in-one. That way, they'll have fewer items to carry on there way to a Dungeons and Dragons get-together. 
GeekOn makes this affordable padded dice case that includes a velvet tray for rolling. It'll fit more than one set of D&D dice and make sure they don't get bent or unbalanced. 
5. Dice Tower
Sometimes rolling dice on a small tray can feel a bit stifling, like your dice aren't given a chance to fall on better numbers. 
I know, more superstitions. 
But one way to solve this is with a dice tower that ensures your dice rolls as many times as possible (without flying across the floor) before it determines your ultimate fate. 
Dice towers feature multiple levels for the dice to fall and bounce off on, increasing the number of rotations so players get a nice, healthy roll. 
And the best things about this?
A dice tower is a great gift because your player probably won't already have one. Dice towers aren't nearly as popular as dice trays. 
Luckily, there are two great choices of dice towers on Amazon that'll be a cool gift for D&D players. 
There's this castle dice tower with a dragon engraving that's super portable for traveling. It also has wonderful details to it that make it look like a real medieval castle!
Another great dice tower, especially for advanced D&D players and Dungeon Masters, is this bamboo dice tower. It too features a cool dragon insignia and compacts for portability. 
Character Creation Gifts for D&D Players and Dungeon Masters
Creating a D&D character is (arguably) one of the funnest parts for Dungeons and Dragons players. This is where elves, dwarves, monsters, halflings, and beyond come to life. 
But creating a D&D character isn't easy; there's a lot that players need to consider in order to really flesh out a character. D&D Beyond has a great resource that shows you every step involved when creating a character, including:
Choosing a Race
Choosing a Class
Determining a Character's Background, Personality, and Alignment

 

Determining Ability Scores
Choosing Equipment
Whew, that's a lot! 
And this is where you, the gift giver, can come in. There are a number of excellent character creation tools that both D&D players and DMs need in order to make a character original and fun to play. 
Here are some great gifts for D&D players and Dungeon Masters that they're sure to need when building their characters and world.
6. Player's Handbook
Dungeons and Dragons books aren't cheap, and this one may not fall under $25. Check Current Price on Amazon. 
But, the good news is that these books will often go on sale at reduced prices, which is when you need to snatch them up!
New D&D players, and even season Dungeons and Dragons players need their very own copy of the Player's Handbook.
This is a must in the DnD world, and instead of your player borrowing it from others, why not gift them their very own copy?
The Player's Handbook is an essential reference guide in the D&D world. It has the rules regarding character creation, skills, combat, equipment, spells, and more. 
Again, if your D&D player doesn't have this…get it!
7. Tasha's Cauldron of Everything
Check current price on Amazon. This may be over $25.
Like a lot of the D&D books, and especially because it's just been released, Tasha's Cauldron of Everything might be a bit above your $25 budget.
BUT:
If you can spare an extra couple of dollars, your D&D player will LOVE you for it! They'll be one of the first to own it and devour all the new content.
Inverse.com has called Tasha's Cauldron of Everything: "the most important new D&D book of 2020". 
Woah. 
The great things is that it's just been released, making it a great gift for ANY D&D player or even professional Dungeon Master!
Tasha's Cauldron of Everything will give players more freedom in character creation and expanded rules. 
It'll be a MUST have on every Dungeons and Dragons bookshelf!
8. Monster Manual
This may also be over $25. Check the current price on Amazon.
If the person you're buying for is a budding Dungeon Master or even seasoned DM, then chances are they already have the Dungeon Master's Guide. (If not, get it for them!)
But if they're looking to expand their DMing abilities and really create unique worlds and enemies for their players to encounter, then they'll need the classic Dungeons and Dragons Monster Manual. 
The Monster Manual is filled with descriptions and illustrations of more than 150 DnD monsters and creatures. 
Your DM won't run out of ideas with this on his shelf! 
Must-Have DnD Books — Best-Sellers
Sale
Bestseller No. 1
Sale
Bestseller No. 2
D&D Monster Manual (Dungeons & Dragons Core Rulebook)
Fill your Dungeons & Dragons games with pesky goblins and mighty dragons for players to battle or…
Over 150 ready-to-play D&D monsters
Over 400 stat blocks—with all the info a Dungeon Master needs to run encounters
Detailed descriptions and beautiful illustrations
1 of 3 D&D Core Rulebooks for 5th edition—the Player's Handbook (rules for playing the game),…
Sale
Bestseller No. 3
Sale
Bestseller No. 4
Mordenkainen Presents: Monsters of the Multiverse…
Sparkling with the musings of the wizard Mordenkainen, this tome features a host of creatures for…
Compiling and updating monsters that originally appeared in previous D&D fifth edition releases,…
Hardcover Book
Dungeons & Dragons (Author)
English (Publication Language)
Sale
Bestseller No. 5
Dungeons & Dragons Core Rulebooks Gift Set (Special Foil…
ALL THE TOOLS: The Dungeons & Dragons Core Rules Gift Set includes a copy of all three core…
PLAYER'S HANDBOOK: The essential reference for every D&D player, the Player's Handbook contains…
DUNGEON MASTER'S GUIDE: Teaches how to run D&D adventures for other players and how to give them…
MONSTER MANUAL: Helps the Dungeon Master (the game's narrator) fill games with iconic fantasy…
DUNGEON MASTER'S SCREEN: Helps the Dungeon Master keep die rolls and notes hidden from players….
9. Grid Paper Composition Notebook
For Dungeon Masters, world building and planning a campaign are not easy tasks. 
Be it this campaign or the next, your DM will need a new notebook for map creation, designing weapons, writing narration, and more. 
A good grid paper composition notebook is a must for world building and keeping track of campaigns. 
And it makes a nice cheap gift for Dungeon Masters as well!
10. Double dragon leather journal
Another great gift idea for D&D players is this double dragon leather journal by AzureGreen. 
This journal is unlike any other and will get your D&D player or Dungeon Master in the mood for RPG-ing!
It's made of genuine leather and has over 100 blank pages inside, making it a great multi-purpose RPG journal. 
11. D&D Spellbook Cards
Especially for D&D players looking to really get into character, Dungeons and Dragons Spellbook Cards make an excellent gift. 
These are nice to have handy during campaigns and help players keep track of their spell casting abilities and requirements. 
Trust me:
Spells can get quite complicated and hard to remember!
D&D Spellbook Cards are sold based on a character's class, and even if your D&D player is currently playing a different class, a set of spellbook cards for a different class will prepare them for future campaigns!
So as a gift giver, who may or may not know anything about D&D, these spellbook cards are listed from most to least popular (roughly). If a player doesn't have the ones listed at the top, go with those!
You can also find other spellbook cards on Amazon, including ones for a Ranger or Bard.
12. Pocket compendium
For a player, it's nice to have an easy way to review your spell cards without shuffling through them and getting them all scuffy.
So if your player has or receives spellbook cards, then another great gift for your D&D player is this pocket compendium! 
It provides a D&D player with sleeves to put their spell cards in and flip through spell cards like a book! They can place the spells they're currently using inside and always have a reference for each nearby. 
13. D&D Monster Cards
A great gift for Dungeon Masters are the D&D Monster Cards. I wouldn't recommend these if you're just buying for a D&D player, however, because they aren't the one running the campaign and therefore won't need (and shouldn't have) access to stats on the enemies they're fighting. 
But if the person you're buying gifts for is serious about Dungeons and Dragons and will one day venture into DMing, then these can still make an excellent gift!
Monster Cards are used by DMs to easily reference enemies' stats and abilities during combat. Instead of having to flip back and forth through pages of the Monster Manual, Monster Cards are a much faster reference point. 
The Monster Cards challenge 0-5 are a great gift for Dungeon Masters who are currently at the start of a campaign or for the beginning of future campaigns. Essentially, every DM can use the 0-5 set because players always start at low levels and these are the easier monsters to fight. 
For DMs in the middle of a campaign or DMs that run long campaigns, the Monster Cards challenge 6-16 gives them higher-level monster cards for reference during combat. 
Whichever ones you choose, ANY Dungeon Master will appreciate the ability to save space behind their DM screen with a set of monster cards!
14. Character Journal (with D&D character sheets)
No matter what race or class of character one is playing, a D&D player always needs a journal to keep track of ability scores, background information, weaponry, spells, and more. 
The solution to this is a RPG character journal that includes D&D character sheet pages, spell lists, inventory pages, and note-taking paper. 
Trust me:
This journal WILL get used!
15. D&D Pre-Painted Minis
Dungeons and Dragons is a full-on hobby in and of itself! 
Add into that miniature painting and, whew! That can be a full-time job. 
So for those Dungeon Masters or future DMs who aren't interested in learning how to paint minis themselves, pre-painted minis are the key. They're ready for battle right out of the box!
Pre-painted minis from the Icons of the Realms series are the perfect gift for a budding DM. Any of the following would make a great gift for Dungeon Masters:
16. Nolzur's Minis (Unpainted)
When it comes to buying miniatures for a D&D player or DM, it's nigh impossible to tell you exactly which one you should pick. Every player has different preferences as to which creatures they prefer or heroes they like to play. 
But, if you're looking for unpainted miniatures to buy for someone, then Nolzur's Minis (really ANY of them) would make a great gift for your D&D player. 
Browse the selection on Amazon and make sure to choose one (or a few) that's just right for them!
17. Hero Forge custom miniature
I don't think there's ANYTHING cooler than a custom miniature made to look just like you…or rather, a fantasy-inspired version of you. 
So give your D&D player or DM their own custom character!
At Hero Forge, you can create a custom mini that looks like them for prices starting at just $19.99! 
It's a nice, more personal touch to your D&D inspired gift-giving that they'll LOVE. 
18. D&D Miniature Paint Set
If a D&D player or Dungeon Master is looking to start miniature painting, then you can't beat the Army Painter paint sets that come with a miniature!
There's the Adventurer's Paint Set or the Underdark Paint Set to choose from. I'd recommend going with the miniature that you, the gift giver, most like the look of. Either one will come with the exact paint colors they need, a painting guide, and a paint brush!
19. Army Painter Brush Set
You can imagine that painting miniatures requires darn good paint brushes. 
So another great gift idea is this Army Painter Hobby Starter Brush Set, which comes with the 3 best brushes for beginner painters. 
For a more experienced mini painter, get this Army Painter Most Wanted Brush Set that'll give them the 3 most popular Army Painter paint brushes.
Gameplay Gifts for D&D Players and Dungeon Masters
Everything's ready to go: 
The D&D group, the dice, and finally the characters. 
And now it's time to get the campaign started! 
During Dungeons and Dragons gameplay, the D&D group will need certain tools at hand to not only play the RPG, but also visualize the world within the game and bring it to life. 
It's not easy visualizing an entire world, and especially getting all the members of a campaign to visualize it the same! Everyone needs to know what the environment looks like, where the enemies are, and at times, where the nearest exit is!
So for DnD gameplay, these gifts are perfect for D&D players and DMs to take their RPG-ing to the next level. 
20. Dungeon Master Screen
As I've said before, DMs have A LOT of information to keep track of. 
Also, most of the information needs to remain hidden from players, otherwise: spoiler alert! 
So every Dungeon Master needs a quality screen to shield enemies' stats from players as well as keep track of all the details within the world they've built. 
Therefore, this customizable dungeon master screen makes an excellent gift for dungeon masters, both new and seasoned pro. It has sleeves so DMs can choose exactly what information they want handy during a campaign and is also dry erase! 
It's a DM screen ready for every campaign!
21. Battlemat
A battlemat is needed for combat scenarios during a D&D campaign. This enables players to see where enemies are and how to best attack them. 
But, players won't just fight on 1 type of terrain. 
So a great gift idea for D&D players is this battlemat set with 4 different terrains/styles. It has a dry-erase surface and comes with dry-erase markers, an eraser, a 7-dice set (always need more of those), and a tube to carry it in as well! 
22. Terrain Tiles
If your D&D player or DM already has a battlemat, then you can help them make more interactive terrain!
CZYY makes modular terrain tiles and brick walls tiles that fit together to create a more immersive experience for players! 
Let me tell you, these are cool. D&D players will love the versatility of these!
23. Dungeon Tiles
During a Dungeons and Dragons campaign, you can bet there are a lot of dungeons to raid. 
Help your D&D player or DM bring these dungeons to life! (So to speak)
EnderToys offers a whole range of modular dungeon tiles, including this deluxe locking dungeon tile set that allows players to build a dungeon room. 
Umm, yes please!
24. D&D Tokens Set
Sometimes there just aren't the right miniatures laying around for a particular combat situation. 
That's where these D&D tokens come in!
These make great gifts for D&D players and Dungeon Masters because they'll sure to get used and are cheaper than buying miniatures to represent all of these different monsters and creatures!
25. Combat Riser
When combat becomes airborne, DMs need a way of representing these scenarios to players. 
So another gift idea is a combat riser, which allows the D&D group to better visualize and interact in vertical space. 
This is something a lot of Dungeon Masters won't already have, making it an excellent gift!
26. Condition Rings
Like combat risers, condition rings are another thing that a lot of D&D players don't already have. 
You can get your D&D player or DM a set of 96 colorful condition rings, and not break your budget! 
27. Dungeon Mayhem
For a Dungeons and Dragons enthusiast, sometimes you won't always have access to your D&D group, miniatures, battlemats, and more. 
So you can help them take D&D on the road with this D&D inspired card game—Dungeon Mayhem. 
The original game is for 2-4 players, but you can also gift them this Dungeon Mayhem Monster Madness game which is for up to 6 players!
Clothing and Accessories for D&D players
If you're looking for gifts for D&D players or Dungeon Masters, then chances are they're a huge fan of all things Dungeons and Dragons.
Umm, duh. 
So, why not give them an item that'll show off their love of D&D?
Here's a quick list of great Dungeons and Dragons inspired clothing items and general accessories that'll transform their boring everyday into a D&D haven! 
28. D&D tshirt
29. Of Dice and Men book

30. D&D Player Mug

31. D20 Throw Blanket

32. D12 Mug

33. Coaster Set

34. Carpe DM Mug

35. Dungeon Master "Tears of My Players" Mug

36. Hoodie

37. Stranger Things D&D Starter Set

38. Socks

39. Pajama Pants
40. Keychain

41. Beanie
Gift Cards for D&D Players and Dungeon Masters
42. Wyrmwood
Wyrmwood is renowned in the Dungeons and Dragons world because of their extremely high-quality gaming supplies. 
So although a lot of Wyrmwood products are out of our price range for this post, you can still give your D&D player a $25 Wyrmwood gift certificate so they can put it towards whatever they want!
43. HeroForge
If creating a custom mini is a bit intimidating, why not give them a gift card to Hero Forge so that they can create the mini of their dreams? 
To get a Hero Forge gift card, first visit HeroForge.com, then click BUY, then Gift Cards! You can select $10 or $25 gift cards. You'll receive it via email. 
44. DMs Guild
For Dungeon Masters, get them a gift certificate over at DMs Guild! 
At Dungeon Masters Guild, they can buy whatever books, campaign guides, etc. that they need to get their next campaign ready to go. 
45. Etsy
Another great gift idea for your D&D player is an Etsy gift card. Etsy is filled with amazing, custom, D&D resources, knick-knacks, and clever accessories!
46. Local game store
If there's a local game store in town, chances are they carry D&D resources and products that your D&D player or DM needs. 
So a great gift for them is a gift card to your local game store. They get to go on a little shopping spree, and both of you will be supporting a local business!
47. Amazon
Amazon has hundreds of D&D items. If you're not 100% sure what they'd want off this list, then get them an Amazon gift card and be certain that your money won't go to waste! 
47 Great Gift Ideas for Dungeons and Dragons Players and Dungeon Masters under $25
You might also be interested in these gift ideas articles:
For more ways to save money, check out these articles: